Luke Perry's Career-Long Act of Generosity
The actor, who died on Monday at 52, continued to embrace Dylan McKay, his most iconic and beloved character, long after Beverly Hills, 90210 ended.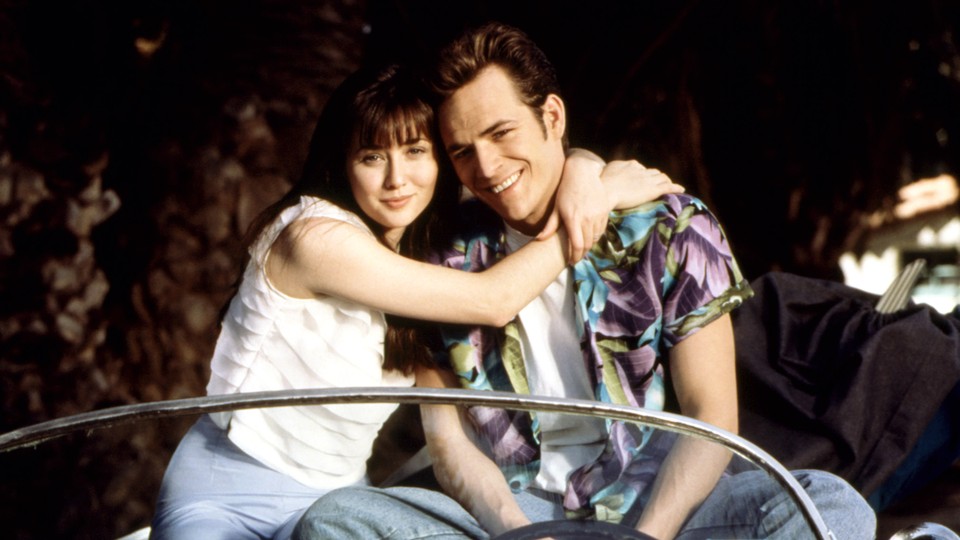 There's a character, in a 2005 episode of Will & Grace, who makes a cameo appearance for a brief plot line involving Jack, Karen, and, improbably, the wildlife of New York City. Aaron, the character is named, wears a khaki-colored vest studded with a comically large number of pockets. He has thick glasses and speaks into a voice recorder, observing his surroundings in a tone of hushed wonderment. Jack encounters Aaron because, glimpsing this binocular-wielding fellow outside Karen's window, Jack assumes the man is a stalker. He is incorrect: Aaron, it turns out, is merely a bird-watcher. You do a double take before you realize that the birder in question, swathed in the stereotypically drab clothing of the city-bound nature enthusiast, is Luke Perry.
The jokes that revolve around this plot are extremely Will & Grace (Karen gets a bird drunk; Rosario mocks her for it; Jack makes a thoroughly inevitable comment about having had a cockatoo). The episode's primary punch line, however, is of the fourth-wall variety. The big joke among all the small ones is that the producers of Will & Grace had contracted Luke Perry, the heartthrob—the man who, through his role as Dylan McKay on Beverly Hills, 90210, launched a thousand young crushes—to appear as a guy who was completely oblivious to his own radiant charisma.
It was a good joke. Dylan, a character who managed to seem simultaneously deep and above it all, was supremely self-aware. Perry, the actor who gave him life—the actor who died of a stroke, on Monday, at age 52—made him that way. In the cauldron of intense self-consciousness that was West Beverly Hills High School, Dylan simply did not care what other people thought. And Perry, in his portrayal of Dylan, managed to convey the notion that the detachment was not the result of self-absorption, but rather its opposite: Dylan felt. He hurt. He longed. He loved poetry. He was the cliché about still waters running deep made manifest. The magic of Perry's performance of his most iconic character was his way of insisting that Dylan, a paragon of coolness, was in fact made of more heated stuff. In a burst of emotion, reeling from the inattention of his absentee father, Dylan once threw a ceramic planter off a ledge. The explosion of the hard vessel as it hit the even harder ground lives on as both a work of subtle camp and, also, as a metaphor.
90210 was dizzyingly melodramatic and often clunkily written and even more often clunkily acted. It did the thing, however, that the best high-school soap operas will: It took the lives of young people seriously. It acknowledged what being a teenager feels like, how fraught and freighted it is to navigate the space between childhood and adulthood. The show telegraphed the conflicted attitudes American culture nurtures, still, about adolescents—the imperious demands it often places on them both to grow up and to stay young at the same time. One of the running jokes about 90210 was that it assembled a cast of young adults to play teenagers; the emotional upshot of that production decision, however, was the show-by-show suggestion that the lines between the teen years and the later ones are not as bright as people had been led to believe.
No one embodied that idea more resonantly than Dylan McKay, who was introduced in the show's second episode as an agent of youthful gravitas, and who, indeed, radiated a "beyond his years" kind of melancholy: He was an emancipated minor. He largely lived on his own. He was in recovery for alcohol addiction. As Perry played him, Dylan was both much too old and much too young for everything that would happen to him. Dylan was sometimes described as a "bad boy," but he wasn't, really; he was too good for that. He was merely coping, just as every teenager will have to. It was that fact—Perry's portrayal of Dylan as the fusion of hard edges and a molten core—that helped turn him into a romantic hero. (The eyes whose expression was permanently set on "Smolder" didn't hurt the cause, either.)
Perry could have coasted on Dylan for the rest of his career. He could have capitalized on the camp and the nostalgia and the character-revivifying affordances of reboot culture. What he did instead was to keep working, keep going, keep trying on new roles, keep proving his immense versatility. The cameo in Will & Grace was accompanied by similar appearances in Spin City, and Clone High, and Family Guy, and Raising Hope, and Community, and What I Like About You, and The Simpsons (he played Krusty the Clown's brother, Sideshow Luke Perry, and Krusty fantasized about shooting his absurdly handsome sibling out of a cannon). There were many others. He made an appearance on Pound Puppies as a character named Fang—a coyote with "a bad attitude"—in an episode titled "Rebel Without a Collar."
Sometimes, in these appearances, Perry played himself, or the version of himself that was wrapped in the iconography of Dylan McKay. Often, however, he simply played roles as a more anonymous character actor would, transcending his own past. His career was one that refused to take itself too seriously. He poked fun; he seems to have had fun, as well. He was a working actor in the best sense. In addition to the lighthearted cameos, he appeared in dramatic roles in Oz and in the rodeo film 8 Seconds. He starred as Fred Andrews in Riverdale, and is as a result affectionately known, by a new generation of young people, as simply "Archie's dad."
Perry seemed to understand, in a way so many actors don't, the intimacies of pop culture: the relationship that can emerge between a character and a viewer—and, for that matter, between an actor and a viewer. And the outpouring of love he has received, as the news of his death has spread, has been a further testament to that truth. Perry played, in addition to so many other characters, both a fantasy boyfriend and a fantasy father, but he knew that the key element, always, was fantasy. He treated acting as an art; he also used it more simply, as a mode of connection. He realized how intensely Dylan McKay had woven himself into people's lives, and he embraced that relationship. He could have mocked Dylan. He could have distanced himself from him. He did the opposite. "I'm going to be linked with him until I die," Perry said of Dylan in 2008, "but that's actually just fine." Perry knew that, even when he played a bird-watching nerd on Will & Grace, he would on some level be playing Dylan McKay. And—shrugging, chuckling, smoldering still—he embraced it.