On Not Believing Leaving Neverland
The HBO documentary provides a detailed exploration of Michael Jackson's alleged abuses; it also hints at what happens when faith and fandom get blurred.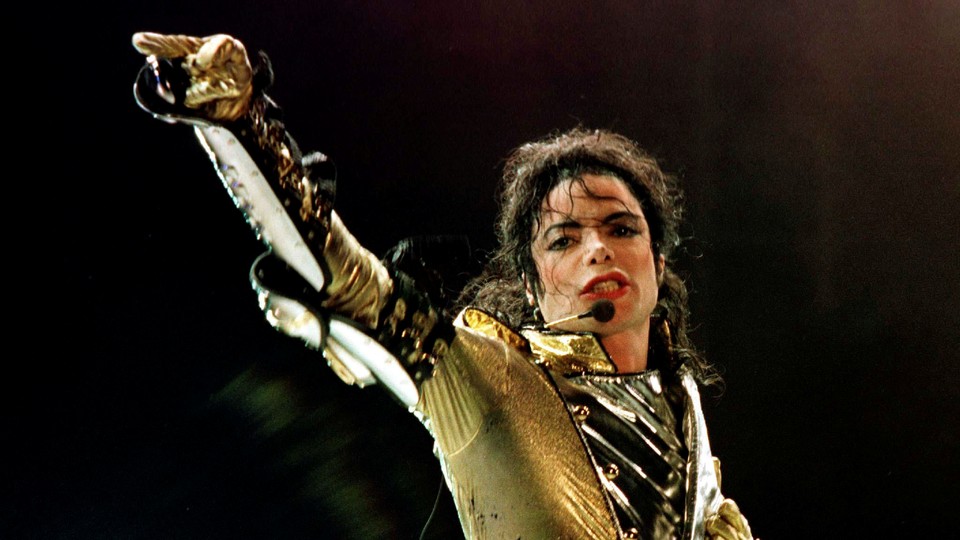 When Leaving Neverland premiered earlier this year at the Sundance Film Festival in Utah, it was greeted with trepidation, fanfare, and also bomb-sniffing dogs. The festival's organizers were worried that fans of Michael Jackson—not the people who had posters of him in their room growing up, or those who have warm memories of dancing to "Smooth Criminal" at their cousin's wedding, but those who feel personally protective of Jackson's legacy—would reject physically what they had already rejected epistemically: the director Dan Reed's four-hour-long documentary telling the stories of Jimmy Safechuck and Wade Robson, both of whom have accused Jackson of molesting them when they were boys.
The precautions of Park City were overreactions, it would turn out, but they neatly presaged what would take place on Sunday evening, as the first installment of Leaving Neverland aired on HBO: The Jackson truthers emerged, this time in ethereal form. The hashtag #mjinnocent trended on Twitter. Jackson's estate—which has steadfastly denied the men's allegations, and which has sued HBO for $100 million for airing the documentary—shared rare video of Jackson in concert. The footage, a vaguely grainy reminder of Jackson the performer at his most dynamic and compelling and ingenious, is, in all, two hours long, the precise length of Leaving Neverland's first episode. The estate's implication is clear: Michael Jackson was a superstar, and superstardom is its own defense.
Americans are accustomed to talking about fame using the heady language of the cosmos: the celebrity as a celestial truth, situated above us; the superstar as a force in the firmament, all heat and light and gravitational demands. Jackson's environmental form of fame—music that permeated people's lives, iconography that saturated American culture—anticipated the intimate version of celebrity that is the default today. It is fitting, in that regard, that celebrity itself functions as a spectral character in Leaving Neverland. Jackson was acutely aware of the affordances of fame; he leveraged them, the documentary suggests—and, ultimately, he weaponized them. Joy Robson, Wade's mother, recalls Jackson making a request of her; she recalls, as well, that when she refused it, he coolly informed her: "I always get what I want."
Leaving Neverland suggests that, on some level, he was correct. Jackson was introduced to Safechuck and Robson because they were impersonating him—Safechuck in a Pepsi ad, and Robson as a Jackson-inspired dancer in Brisbane, Australia; the boys, and their families, were awed by him. And he led them to believe, Leaving Neverland argues, that his fame could be made transitive. He dangled the promise of celebrity—and of fruitful careers in a fickle industry—before them like bits of shimmering bait. In one way, Jackson's insinuation into the boys' lives was deeply personal, to the extent that both Stephanie Safechuck and Joy Robson came to think of him, they say in the film, as a surrogate son. He'd have dinner at the Safechucks' house in Simi Valley, California, and hours-long phone calls with both the boys and their relatives. But these were the bonds of show-business families. Jackson told Safechuck, who became interested in directing, that he'd help make him the next Steven Spielberg, Safechuck says. According to Robson, Jackson promised him the ability to learn the art of choreography at, literally, his feet.
The boys, at first, couldn't believe their good fortune, to orbit around such a force. "My idol and my mentor and my god," Robson recalls thinking of Jackson.
The mingling of the social and the professional, of the artistic and, eventually—allegedly, horrifically—the sexual: The dynamics are similar to those described by the people who have spoken out against R. Kelly, and Ryan Adams, and so many others. "Here's this person in front of me that I think is, like, the world," Lizzette Martinez, one of the women who accused Kelly of physical and emotional abuse, recalls in Surviving R. Kelly. (Kelly denies the charges against him; Adams's lawyer has denied the allegations against him, as well, denouncing some as "grousing by disgruntled individuals.") Martinez is describing lines that blur, perniciously. Here is a culture that, despite so much evidence to the contrary, continues to embrace myths of meritocracy; and a man, rich and powerful—a person whose whims get alchemized via fame into collective truth—telling them that they, too, are anointed. Here is the King of Pop himself reportedly promising Safechuck and Robson that their unique talents would be seen and appreciated and remunerated and loved, just as his own had been. One of the simmering horrors of the story Leaving Neverland tells is that through his alleged manipulations of them, Jackson was promising the families a version of justice.
Those who defend Jackson—even after all the new information about the singer has come to light—attempt to turn those long-ago promises into an urgent defense. They're just in it for the money, they often say of the accusers. (This, of course, has its own resonances with many other #MeToo stories.) Leaving Neverland is not a balanced work of legal inquiry—"woefully one-sided," Entertainment Weekly called it—and that, Reed has said, is by design. "This isn't a film about Michael Jackson," he told CBS This Morning last week. "It's a film about Wade Robson and James Safechuck, two little boys to whom this dreadful thing happened long ago." That focus, however, provides some fodder for the critics by eliding some of the details of Safechuck's and Robson's interactions with the Jackson estate—in particular, the civil suits they have filed against that estate.
But in an environment that conflates the seeking of justice with the seeking of money, such suits are, of course, no reason to doubt the veracity of the stories the men are telling. On the contrary, one of the gifts Leaving Neverland gives, to its subjects and to its audience—one aligned with the gift Surviving R. Kelly and other similar works have provided of late—is to help dismantle lingering and dangerous assumptions about the "perfect victim." Leaving Neverland explores the deeply complicated reasons behind both men's earlier decisions to testify on Jackson's behalf when the star was previously tried for child sexual abuse: Jackson, the men suggest, manipulated their young minds so thoroughly that telling the truth simply wasn't an option.
Jackson conducted a mock wedding ceremony with Safechuck, then 10 years old, Safechuck tells the film's camera, holding up, with a slightly shaking hand, the diamond-and-gold band he says Jackson gave him as evidence of their lifelong romantic bond. Jackson told Robson, Robson says, that their sexual encounters were a demonstration of love—but that if other people found out about them, other people being ignorant and judgmental, they'd both go to prison for the rest of their lives. These apparent manipulations, entwining love and fear and authority and vulnerability, made for another blurring of lines. Jackson, the film suggests, created an environment in which it became effectively impossible for the boys to tell where Jackson's welfare ended and their own began.
In ignoring all that—in emphasizing the not-guilty verdicts of the trials, in dismissing the allegations as defamations spurred by greed—the Jackson truthers fall prey to the same myopias that faith-based reasoning will usually involve. But their perspective has a grain of truth: It's much easier, after all, not to believe. It's intensely preferable to live in a world in which Michael Jackson, the groundbreaker and the advocate and the entertainer and the genius, is innocent. It's much simpler, when "Billie Jean" comes on, to give way to the beats you know in your bones, and to dance with joyful abandon, and to sing along to the profoundly familiar voice when he intones, "And mother always told me, be careful of who you love / And be careful of what you do, 'cause the lie becomes the truth."
Jackson, as many predators will, hid, allegedly, in plain sight. He included kids in his music videos. He founded a charity aimed at the betterment of children. He took a plot of remote Southern California landscape, its expanse walled off from windswept oaks and sunburnt grass, and turned it into an amusement park and a train station and a zoo—a physical endorsement of the insidious fiction that childhood is merely a state of mind. He named the property Neverland, and it was a work of whimsy that doubled as a character witness: Michael Jackson, his own carefully constructed mythology insisted, was merely a boy at heart, robbed of his own childhood, a sympathetic character who had never gotten around to growing up. What cruel adult would refuse Peter Pan the gift of innocence?
One of the several gutting details Leaving Neverland includes in its story is the extent to which the castle at the heart of Neverland became, for the boys, indistinguishable from a prison. Jackson's residence, both Safechuck and Robson recall, featured a complex of corridors, with rooms sealed behind a series of locking doors; Jackson used those architectural features, the men suggest, to distance parents from their children, and crimes from their discovery. He used the trappings of his power and fame, the film argues, to ensnare people who wanted deeply to trust him. Americans might talk about celebrities as celestial forces, but celebrity is also, Jackson knew, a kind of infrastructure: an architectural fact around which other truths, whether art or talent or funding or the longings of the human soul, will assemble themselves. Ancient cultures looked to the stars for orientation; we denizens of the modern world do the same. What we haven't figured out yet is what to do when the ground starts to rumble and the sky starts to shake and, all around us, the stars begin to fall.