Leaving Neverland Asks: What About the Parents?
In featuring the mothers of Michael Jackson's accusers, the HBO documentary shows that adults are not immune to cons, charm offensives, and self-delusion.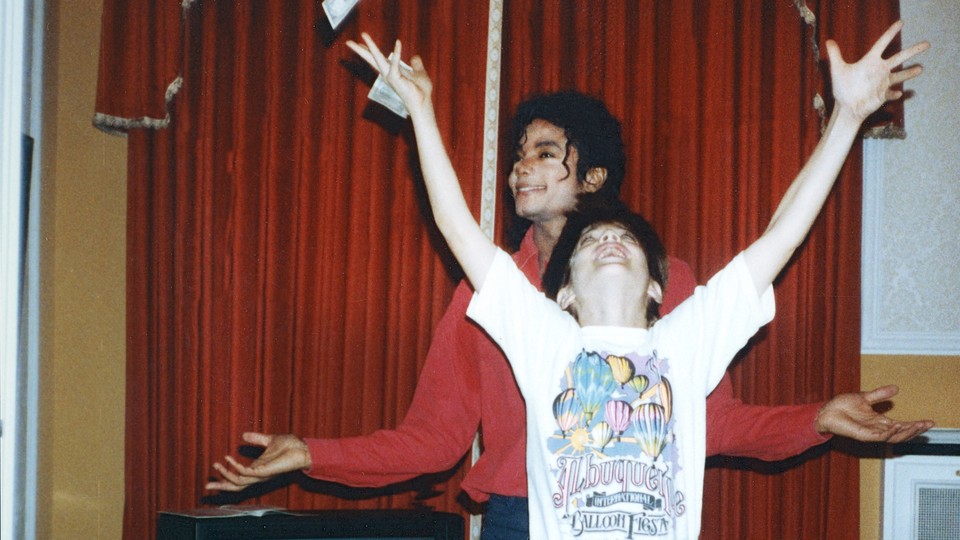 "He should sue his mom for letting him go sleep with Michael Jackson when he was 7 years old."
That's what one TMZ staffer quipped about Wade Robson's 2013 lawsuit alleging sexual abuse by the late King of Pop. Shown in the second part of Leaving Neverland—HBO's calmly devastating documentary about Robson and James Safechuck, another alleged victim of Jackson's—the TMZ clip not only highlights the ridicule that the accusers have faced, but also gets at a central issue regarding the Jackson accusations over the years. (The star was never convicted of child molestation, and the Jackson family maintains his innocence.) Ever since the first stories of abuse surfaced in 1993, one of the most common ways of responding to the notion that the man who made "Thriller" also routinely groomed young boys for sex, has been this: Blame the kids' parents.
Moms and dads who brought their kids to Neverland Ranch "should be investigated and possibly prosecuted themselves," the columnist Rochelle Riley said on NPR in 2005. Regarding Jordy Chandler, who was 13 years old when Jackson allegedly abused him, The Irish Times' Brian Boyd wrote, "Arguably, Chandler's parents did more damage to him than Jackson was ever alleged to have done." A 2003 Fox News story asked, "What's wrong with these parents who let their kids sleep over at Jackson's Neverland Ranch, and what are the authorities going to do about them?" This line of thinking does not merely say the parents were complicit in Jackson's supposed crimes. It puts those parents on the same level of alleged monstrousness as Jackson—and in a way, it takes some of the heat off the beloved icon, who might also have been a pedophile.
Leaving Neverland grapples with the culpability of parents by giving Robson's and Safechuck's mothers, Joy and Stephanie, about as much screen time as their sons. By the end, though, the women are not exonerated. The final scene is of Safechuck saying he's "working on" forgiving his parents. Robson's brother says he might never forgive Joy. Joy and Stephanie do not forgive themselves. Says Stephanie, "I didn't protect my son. That will always, always haunt me. I had one job, I had one child … and I fucked up."
But if the parents are not excused by Leaving Neverland, they are left better understood. As child sexual abuse moves back to the center of the cultural conversation due to high-profile documentaries—including Lifetime's Surviving R. Kelly and Netflix's Abducted in Plain Sight—what's being reckoned with is not only the awfulness of men who would allegedly target young people. It's also the actions of young people's parents, who demonstrate eerily commonplace kinds of gullibility—about fame, about power, about the dark intentions that might lie behind a smiling face.
---
How does a parent let her child sleep in an adult stranger's bed, even if she believes the context to be platonic? Leaving Neverland revisits the early days of friendship between Jackson and the families who came into his orbit. Deception, naïveté, and foolhardy ambition play roles in what is alleged to have happened. But so does, apparently, a skewed form of love.
Robson says he was 7 when he had his first sleepover with Jackson, but he was even younger when they first met. At home in Australia, the child became—as many kids of the era did—obsessed with the superhero on TV named Michael Jackson. Unlike most children, though, he was an incredibly talented performer. When he was 5, his mother entered him in a dance competition. He won, and the prize was to meet Michael Jackson backstage at a concert.
Robson's mother, Joy, tells of that first encounter as feeling supernatural and wonderful—and as something that could positively transform her son's life. Jackson said during the meet and greet that if he'd known Robson was at the show earlier in the night, he would have invited him to perform with him. "The stage mother in me kicked in," she recalls. "I said, 'We'll be there tomorrow night,'" referring to Jackson's second of two concerts in Brisbane.
The footage from that next evening testifies to how miraculous that episode must have seemed. Little Wade, outfitted in buckles in an adorable evocation of the "Bad" video, steals the spotlight from Michael Jackson and the other kids he brought onstage. He was so caught up in his kick-and-point routine that he kept going even after the other performers started to file offstage. Jackson, with a laugh, ran back and took Robson by the hand.
Jackson's tour left Australia, but Robson's fascination with the singer persisted. His talent for impersonating the King of Pop led to him becoming the star of a dance troupe, which eventually booked a gig at Disneyland, in California. On that trip, Joy cold-called someone in Jackson's camp to let them know that the little boy from the concert a few years earlier was in town. Not much about that is strange, a mom trying to make magic happen for her son. What's strange is that Jackson enthusiastically responded, inviting the Robson family to his recording studio, and then to his Neverland Ranch.
Robson describes that linkup as a brush with "the impossible. You don't just come to America and start calling some numbers and get in contact with Michael Jackson somehow, and then you're going to see him again. That was just not a normal scenario." Says Joy, "It was surreal for all of us. Hollywood and this whole entertainment business was on another planet from where we were." Upon arriving at the manicured grounds of Neverland, Robson's grandmother, as Joy recalls her saying, felt she'd "died and gone to heaven."
Call it another world, call it an afterlife—either way, for the Robsons, reality seemed to shift. The rules were suspended. So when Jackson invited Robson and his older sister, Chantal, to sleep in his quarters, Joy says she didn't think much of it. Nor when Jackson offered to let Robson stay with him for a week while the Robson family visited the Grand Canyon. To say no would mean bringing real-world logic into a dream that had come true, thus ending the dream. Robson says that the "trippy part" was that even though Jackson was a stranger, "it felt like we knew him: He'd been in my living room every day," via TV, posters, and music. For a child to want a slumber party with him was like wanting a slumber party with Mickey Mouse.
In the case of Safechuck, the boy first met the star while filming a Pepsi commercial at age 8: a big break for an aspiring actor. Over time, Jackson—childlike himself and professing that he was lonely for friends—courted the Safechuck family with phone calls, home visits, and gifts. "I came to feel like he was one of my sons by how he behaved," Stephanie says. "I loved him." Even so, on their first vacation with Jackson, Stephanie nixed James's request to sleep in the star's room. But gradually, with Jackson bringing Safechuck on tour, the arrangement changed. "It seems like it was a natural thing that happened," Stephanie says. "My husband and I had to have said, 'Yes, you can sleep with Michael.'" But she doesn't recall the moment when that would have been.
Even in these circumstances, the parents say they did not entirely drop their guard. Stephanie recalls going and listening at the door sometimes when James and Jackson were together. Joy recalls eavesdropping on her son's phone calls. Both women say that what they overheard seemed innocent. When the first allegations of child molestation broke, leveled by another boy Jackson knew, Joy and Stephanie say they were taken aback and immediately confronted their sons. Robson and Safechuck insisted then that Jackson had never inappropriately touched them; today, the men say they were coached by Jackson to do so. It would be decades before they told anyone they'd been molested. "Because we were so close to Michael, I wanted to believe that [he was innocent]," Joy says. "But more than anything, I believed my son."
So not only is Jackson alleged to have exploited the trust he accrued—trust inflated through the distorting power of stardom and his sheer audacity—but also the trust between child and parent. And because children are assumed to be dangerously credulous, it is up to the adults who care for them to be more skeptical. But if the present era of the scammer has taught us anything, it is that adults are not immune to cons, charm offensives, and self-delusion. Clarity often only comes with time. At one point in the 1990s, Joy and Robson moved from Australia to America in hopes of boosting his entertainment career with Jackson's help, leaving behind his dad and older brother. Before they boarded the airplane, Joy's father asked her whether she'd lost her mind. "That has stayed with me for 26 years," she says in the documentary. "Because there are many times I look back and think,Yes, I think I had."
It's clear, according to Leaving Neverland, that the families of the alleged victims have been irreparably damaged and are still working out questions of blame and reconciliation. When Robson finally spoke about his alleged molestation, his wife, Amanda, forbade Joy from visiting their young son for months. Robson told his mother, to her face, that he felt no emotional connection with her. But what business is this to the public? There is only one clear monster implied by the allegations against Jackson. And in a society that desires the neat delineation of victims and villains, these parents, unsettlingly, must occupy both statuses.