The Surreal Testimony of R. Kelly's 'Girlfriends'
The young women, living with the 52-year-old star and cut off from their families, say they love him. It's the same story told by other women who now say Kelly abused them.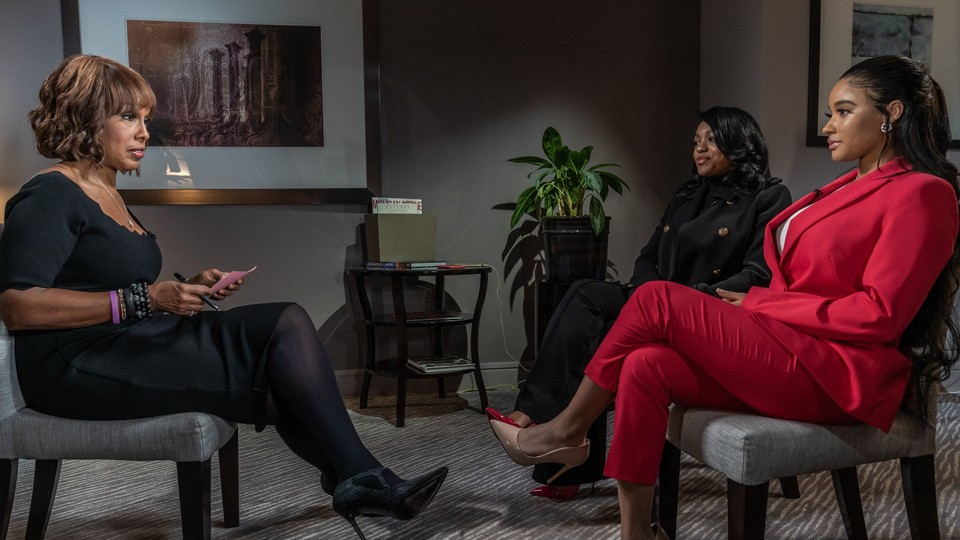 Two alleged victims of R. Kelly went on national television Thursday morning to insist, with anger and tears, that they were fine. Azriel Clary, 21, and Joycelyn Savage, 23—whose families have not been able to see them for years—sat with CBS News's Gayle King and said that the R&B star has not been holding them against their will. They were, they insisted, in healthy relationships with him. If they were victims, they were victims of their own parents, who had tried to extort Kelly. "This is all fucking lies for money," Clary said. "And if you can't see that, you're ignorant and you're stupid."
What a brain-bendingly sad situation. Kelly, Clary, and Savage assert a somewhat different set of facts from the ones that Kelly's accusers do. But there's no disagreement about some fundamental, and wild, realities of the matter. Kelly, 52, really has been living with multiple women who are decades younger than he is. They really are not in touch with their families. The debate that's playing out on CBS is over whether this is a problem.
The parents of Savage and Clary worry that their daughters are ensnared in the same reported "sex cult" that multiple other women have spoken about suffering through. In the Surviving R. Kelly documentary that aired on Lifetime in January, alleged victims of Kelly, as well as one former employee of his, depict Kelly as a tyrant, enforcing harsh and dehumanizing rules on the women he seduced. They allegedly couldn't eat, travel, or go to the bathroom without Kelly's say-so. They supposedly were forbidden to talk to their families, friends, or even other women in Kelly's entourage. Offending Kelly could mean a slap or a beating, some of the women have said. Or it could mean being confined to a room for days without food.
Kelly, in the same interview in which he went berserk while pleading innocence (CBS has been dribbling out footage over days, and the full interview will finally be aired Friday night), dismissed as "stupid" the notion that he was a hostage-taker. In Thursday's broadcast, Clary and Savage did not discuss the alleged "cult" rules, but they did say they were in healthy relationships with Kelly. To hear all three of them tell it, offenses by their parents are the reasons that these women have been out of touch with their families for years. (Kelly's camp is now reportedly arranging a limited meet-up between Savage and her family; this week, she and her family had a taped phone call in which she mostly just repeated one line about being happy where she was.)
Clary says that when she was 17, her parents pushed her to have sex with Kelly so as to obtain blackmail material. Savage nodded along and suggested that her situation was similar. Both had been pursuing singing careers. Both now say that they hadn't ever really wanted to be singers; their parents forced them into that vocation and then tried to extract money from Kelly. (The families deny these assertions.) By this account, neither Clary's nor Savage's relationship with Kelly is an exploitative bait and switch so familiar in the music industry. It is instead one with a man saving a girl from her venal parents.
Clary relayed this version of events passionately; Savage did so robotically. But King told her co-anchors that Kelly had seemed to be interfering. He'd agreed to stay out of the room where the interview was being conducted, at his Trump Tower apartment in Chicago. But King said he remained just around the corner and would at times cough loudly, as if to remind Clary and Savage that he was listening. At other moments, he told CBS staffers he was considering cutting the interview off. This comports with the wide suspicion that Kelly scripted and coached the women to defend him.
Beyond the accusations from these two women's families, Kelly faces a growing list of troubles. In his King interview, Kelly talked about being in financial peril due to associates stealing from him over the years, and on Wednesday, he was sent back to jail for failing to pay the more than $160,000 in child support that he owed. Before that, he'd been released on bond after police in Chicago charged him with 10 counts of aggravated sexual abuse, involving four women, three of whom were allegedly underage when Kelly had sex with them. RCA Records has dropped him. Some radio stations have stopped playing his music.
Kelly's supporters continue to maintain that the backlash to Kelly is the result of conspiracies against him. In this, there are striking parallels with the other case of long-alleged sexual abuse by a musician making headlines this week: Michael Jackson's. HBO's Leaving Neverland documentary focuses on two men, James Safechuck and Wade Robson, who say Jackson abused them as boys. But for years, they'd told the media and legal authorities that the molestation allegations against Jackson weren't true. Those denials, Leaving Neverland suggests, stemmed both from the shame of victimization and from Jackson's personal coaching of them. There was very real love between Jackson and the boys, Safechuck and Robson both say. It just took a long time for them to realize there was also abuse.
In both the Jackson and Kelly situations, too, defense of the celebrity rests on the demonization of the alleged victims' parents. King asked Kelly what kind of love would result in his "girlfriends" no longer speaking with their families. "What kind of father, what kind of mother, will sell their daughter to a man?" he replied. "How come it was okay for me to see them until they wasn't getting no money from me?" It would seem a self-incriminating kind of defense, implying that Kelly bought Savage and Clary, as if they were indeed sex slaves. But Kelly's intention might just have been to tar the parents.
The women who live with Kelly are following that approach as well. "That's the world we live in. Negativity sells, gossip is what sells, rumors are what sell," Clary told King, explaining why her parents would be lying about her. King replied that rumors weren't the issue. Decades of allegations were. "We're not here to talk about decades," Clary shot back. "We're here to talk about what our parents are doing right now."
Of course, not talking about "decades" makes the spectacle unfolding with Savage and Clary almost indecipherable. Many other women have been in much the same position they now appear to be in: living with Kelly, cut off from the outside world. One of them, Dominique Gardner, told CBS that Kelly used to have her and other women rehearse what to say to their families. Jerhonda Pace, who met Kelly when she was 16, said that it took him spitting in her face for her to finally decide to leave his control. Woman after woman who remembers once feeling as though she loved him now labels herself a survivor. Their stories felt as present during the Savage and Clary interview as Kelly, monitoring from feet away, did.