Why Zion Williamson Is Poised to Change the Course of NCAA History
It's clear that the Duke freshman doesn't need the league as much as it needs him. This makes the phenom uniquely positioned to revolutionize the game.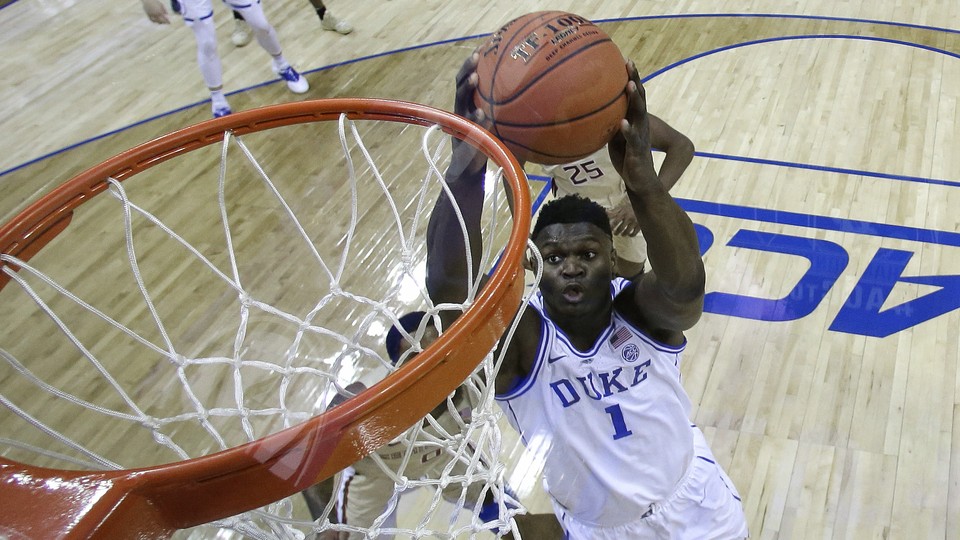 Currently there is no more exciting player in college basketball—in all of basketball, perhaps—than Duke's Zion Williamson. He dunks with power and grace. He blocks shots that most defenders would consider lost causes. He literally dents basketballs. To learned hoops druids such as The Ringer's Jason Concepcion, the 6-foot-7, 285-pound freshman forward seems like something out of a comic book, "like if a cinder block got bit by a radioactive spider." From his opening tip in Blue Devils livery, Williamson had lived up to his billing as the second coming of LeBron James, placing among the Atlantic Coast Conference's leaders in steals (2.2), rebounds (8.8), and points (21.6)—all while making shots at a mind-bending 68 percent clip. And then, on February 20, top-ranked Duke played host to eighth-ranked North Carolina, and the wheels fell right off.
Thirty-six seconds into that game, a hotly anticipated affair that fetched Super Bowl–steep ticket prices and attracted notables from Barack Obama to Spike Lee to Hayden Panettiere (whose celebrity couldn't even secure her a courtside seat), a dribbling Williamson planted his left foot to separate from a Tar Heels defender, ripped open his shoe, and tumbled onto the floor clutching his knee. As he limped off the court, the air inside Cameron Indoor Stadium and the vibe on Twitter, where scores more fans were second-screening with ESPN, were thick with disappointment. Later, Williamson was diagnosed with a Grade 1 knee sprain. He spent close to a month on the shelf before his emphatic return to the starting lineup for Duke's triumphant run through the ACC tournament, claiming MVP honors for himself after leading the Devils past Florida State in the final on March 16.
Of course, he wasn't the only injured party in the slipup that has come to be known as Shoegate. The sneaker in question, Nike's PG 2.5 PE, was essentially deemed a public health hazard. Paul George, the Oklahoma City Thunder star behind that shoe, took a fair amount of heat for Williamson's fall on social media. Nike finished the next day's trading down 1.1 percent—the rough equivalent of a $1.1 billion loss. The NCAA had it even worse. When Williamson ripped his shoe, he revealed more than a size 15 foot. He tore open the massive irony of him playing college basketball in the first place.
Here he is, headlining the NCAA tournament with the nation's top overall seeded team because he's 18 years old and the NBA-draft eligibility age limit is 19. Had Williamson come along 14 years earlier, he could have turned pro out of high school with stars such as Kevin Garnett and Kobe Bryant. But Williamson can't, because Garnett's and Bryant's overnight success in the pros inspired many more top-rated high-school seniors to make the jump, several of whom turned out nowhere near as good (Kwame Brown, Eddy Curry, Leon Smith). Not surprisingly, the lack of seasoning had adverse effects on the NBA's professional aesthetic. So then-commissioner David Stern—who in those days was ever keen to present the NBA as America's most sophisticated sports league—did two things: He instituted a dress code, and then he set the NBA age limit at 19 years old, mostly because the players' association wouldn't let him set it at 20.
In the process, college basketball also became more sophisticated. Kentucky's coach, John Calipari, practically stopped recruiting potential four-year contributors to pursue would-be NBA teens, and drew sharp criticism for chasing short-term success. But when his 2010 Wildcats ticked off 35 wins, reached the NCAA tournament's final eight, and saw four freshmen selected in the first round of the draft (including the point guard John Wall with the first pick), Calipari's NBA-oriented approach to roster construction became a model well worth emulating—especially after a 2016 NCAA amendment allowing underclassmen to "test the NBA waters" without risking their eligibility. Even Duke's Mike Krzyzewski, a coach whose commitment to building his program around four-year players once bordered on puritanical, got into the "one and done" game. In 2015, he won his fifth national championship with three freshman starters.
But for all the preferential treatment these "power conference" schools lavish on the nation's most talented underclassmen, they're still not trying to cut them a check. Instead, the rewards go to recruiters such as Calipari and Krzyzewski, who owe their place atop college coaching's wage scale in part to lucrative apparel deals that restrict their players' ability to outfit themselves. Because of Krzyzewski's pact with Nike, Williamson must play in Nikes—even if, like almost everything else on the court, they can't contain him.
Likely for Williamson, any free will on footwear decisions will have to wait until Duke's run in the NCAA tournament is over, at which point he'll be able to fulfill his destiny as the projected top pick in this year's NBA draft. And as he makes for the door, there's no doubt that the tectonic plates beneath college basketball are shifting. The day after Williamson's Shoegate game, news broke that the NBA's commissioner, Adam Silver, submitted a proposal to the Players Association to lower the draft-age limit to 18, effective by the 2022 draft—which Calipari supports for good reason. Ten of the first 15 picks in the 2018 NBA draft were college freshmen; through the past 11 drafts, 64 one-and-done players have been snatched off the board within the first 14 picks.
The league's shift to a wide-open, offensive style of play predicated on high-percentage shots and team defense is tailor-made for young players such as Williamson, who can run the floor and dunk in games while he improves as an outside shooter and defender in practice. What's more, the G League, the NBA's minor-league offshoot, is tendering $125,000 a year to prospective one-and-done players. While power conference schools can offer a vastly more opulent style of living—oh, and an education, one supposes, if a player can fit classes around practices—the G League at least is willing to drop whatever wealth it has at its disposal right into its players' hands without the lingering threat of a courtesy call from the FBI.
Couple all that with the fact that Williamson (a national phenomenon prior to his arrival in Durham) doesn't need the NCAA (whose tournament ratings are tapering) as much as the NCAA needs him, and, well, it seems just a matter of time before the entire house of cards falls down. And when that day finally comes, doubtless more than a few will search the past for the event that triggered it all and say, "Well, it's gotta be the shoe."