The Queens Rapper Connecting American Hip-Hop to African Audiences
Bas, raised in New York, wants to bring his music to his Sudanese parents' homeland and to the broader continent. And so do his fans.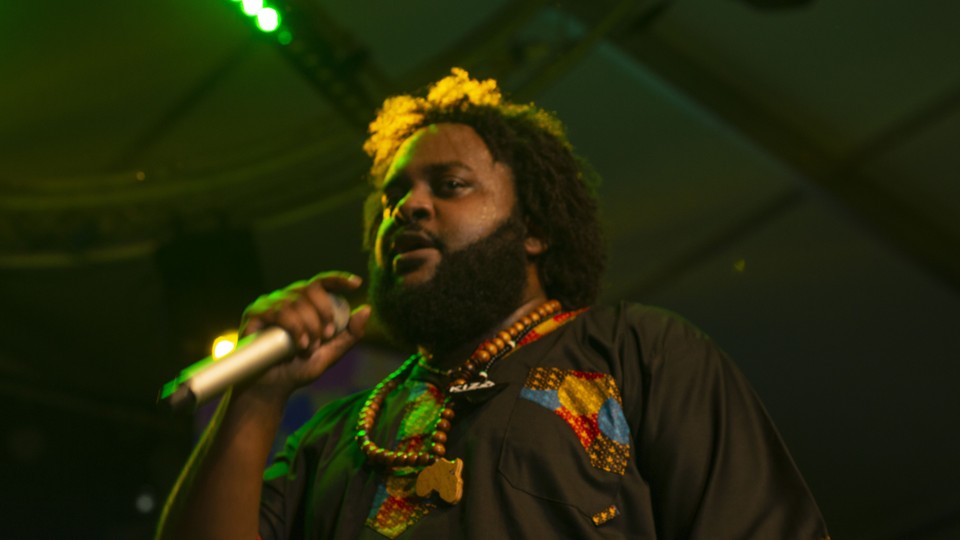 It all started one night in Lagos, Nigeria. The first time that Bas, the Queens-bred rapper signed to J. Cole's Dreamville label, performed in front of an African audience was surreal. He'd accompanied Cole on tour following the release of KOD, the North Carolina rapper's 2018 album. Bas, the son of two Sudanese immigrants, had gone to Nigeria just to kick it with his labelmate and longtime friend from Fayetteville.

But when Cole asked him to come perform a few songs, Bas planned to play two from his March 2016 album, Too High to Riot. "I figured we'd do 'Housewives' and see how it goes. By the time we get to 'Night Job,' Cole's on that, so odds are they'll know that one," Bas said of the Lagos audience when we spoke backstage before his show in Nairobi, Kenya, last December. "But we started 'Housewives'—Cole's not featured on it—and it was just like 5,000 [fans] going word for word with me to the point where, at one point, me and Cole exchanged this look onstage, and we were like, What is going on?

"I almost forgot to rap my next bar," he said with a laugh. "I was like, Oh, lemme get back to the show!"
For Bas, the audience response was flattering, but more important, it was confirmation of a dream he'd long been working toward: bringing Dreamville's music, and American hip-hop acts, to Africa more regularly. "I remember calling Cole and being like, 'We gotta stay longer than we usually stay; we can't do the three-day trip,'" Bas said of the period before the Lagos show. "And really tryna explain to him that I think we're in a really special time as far as, like, the continent and the culture coming out of it and the music being created … and just wanting to play my part."
That conviction is what led the 31-year-old rapper to plan a series of shows on the continent beginning last December in Nairobi, where he performed alongside the Brooklyn rapper Desiigner and the British Jamaican rapper Stefflon Don. At the Nairobi show, fans from several East African countries greeted Bas with rapturous applause. The ground rumbled, fans' enthusiasm seeming to spill out of the massive tent where the event was held. Bas was among kin.
The final concert of the series was meant to take the rapper home to Khartoum, the capital city of Sudan, where he'd spent many summers as a kid. But then Sudan entered a protracted period of social unrest, most immediately in response to the announcement of widespread hikes in the prices of basic goods in the country. President Omar Hassan al-Bashir framed the staggering price increases, particularly for staples like bread, as a necessary response to rising inflation. But these untenable economic conditions were just one reason that tens of thousands of people began to protest and demand the president's resignation.

Bashir, who has been in power for nearly 30 years, has also sown ethnic conflict and antiblack sentiment in the East African nation; he has been ruthless in his attempts to consolidate and maintain power. He responded to the wave of protests that followed the price hikes with brute power. Within weeks, government forces had killed or grievously injured dozens of protesters, many of them young people and women.
Following this unexpected swell of protests and state-inflicted violence throughout the country, Bas's Khartoum show was
canceled
. When we spoke again in February, Bas reflected on his disappointment upon hearing the news. "It just became [clear that] it'd be dangerous to have, like, a large congregation of youth turnin' up," he said, adding that he didn't want to endanger his fans by placing them within the state forces' target area. "I was really looking forward to the show, but I definitely think it was the right decision. I would've just loved to give people—especially the kids—a night of escape."
Bas, née Abbas Hamad, was born in Paris, the youngest of five children. The son of a career diplomat, he moved to Queens, New York, at the age of 8, though his parents always made sure they spent summer vacations back in Sudan. "Even when we didn't want to necessarily—we didn't realize the magnitude or the opportunity or really the blessing of having that identity. It was just, All my friends are going to basketball camp or football camp. I wanna do that."
Indeed, some of Bas's early trips to Sudan were spent pining for American customs, a hallmark of diaspora-kid behavior. He recalls feeling separated not just from the activities of his New York friends, but also from the music they had access to. "All I had was a CD player with, I think it was [the] Red Hot Chili Peppers' Californication," he said. "It was like my only ties to the Western world, so I just bumped it for two months straight while I was out there."

Even so, these summers were foundational to Bas's cultural identity and musical fluency. Much of that inspiration arrived in ways he didn't quite notice as a child. His mother's family hails from Halfaya, a neighborhood in Bahri, a suburb of Khartoum, known for its musicality. "They literally let us get away with things that most of the country doesn't as far as like parties and just music," he noted. "It's really part of the DNA of the neighborhood."

Music is also part of his familial legacy. Bas's uncle, Bashir Abbas, is a world-renowned player of the oud, a wooden string instrument similar to a lute. "He's kinda like the Berry Gordy of Sudan. He's really credited with forming the music industry there in a sense," the rapper said of his uncle, who lives in Canada now. Bas's aunt catalyzed Abbas's career, her influence as much a product of the social climate as of her talent: "My auntie Asma, she actually taught him how to play the oud. It's just, at that time, it wasn't really acceptable for a woman to be a big musician."
The rapper's four older siblings also shaped much of his musical diet as a child. "Everything kinda came through them. My sister used to play West African music and Keziah Jones and all types of stuff like that, and then Moma [the popular New York DJ] kinda ran the gamut—everything from, like, Daft Punk and Jamiroquai to Digital Underground and A Tribe Called Quest," Bas said. "And then you get to my next in order, Ahmed, he was a huge Pac fan, and then Ib[rahim], who started Dreamville with Cole, he was always playing Nas, and we would go to Jamaica Avenue and buy … all the real gritty New York shit. So I really took something from every level of my siblings. I'm kinda just a melting pot of their musical tastes."
Bas also first met J. Cole through his brothers. Like Cole, both Ib and Moma attended St. John's University. The Hamad brothers grew close with the North Carolinian, with whom they used to play basketball and attend parties, but Bas didn't realize that Cole had started pursuing music. "One day, I remember Ib[rahim] was like, 'Jermaine raps,' and I was like, 'Light-skinned Jermaine?! Like, 'Maine 'Maine?!'" Bas recalled with a laugh, then adding that Ib "played me [some early records] and we were just all energized by that. Me and all the homies were handin' mixtapes around in Queens to everyone we knew.
"It took away that jaded New York mentality of, Why would you chase a rap dream? It's not gonna pay your bills; it's not gonna put money in your pocket," Bas said of Cole's early ambition.
It would be years before Bas began embracing rap himself. At one point in his early 20s, months after a series of near run-ins with the law, Bas was in dire need of an outlet for both his creative energy and his admitted recklessness. Moma, who had begun establishing himself as a DJ, gave his younger brother a laptop so Bas could try his hand at opening up some New York gigs. By then, Bas had dropped out of Hampton University, in Virginia, and come home to the city. His high-school friend Derick Okolie, now his manager, enlisted him to DJ parties for the New York University basketball team at an apartment they called The Carter. ("Back then we loved Lil Wayne, and it was also a bit of a drug den," Bas said of the name. "It was an experimental time for all of us, so we just named it The Carter after Wayne and New Jack City.")
On his 23rd birthday, his friends finally succeeded in cajoling Bas to rap over makeshift GarageBand beats. "I didn't realize how addictive having a form of expression was," he said. "I didn't grow up drawing, painting, playing an instrument … It was the first time I attempted to creatively express myself, and I woke up the next day like, I wanna do that again. I woke up the day after that like, I wanna do that again. You know, pretty much every day since."


In the years since that first overture, Bas has released three mixtapes and three studio albums; he's also appeared on two of Dreamville's compilation records. He's collaborated extensively with J. Cole, as well as artists including A$AP Ferg, DJ Khaled, and 50 Cent. He's steadily climbed the Billboard charts with sounds that marry the brusque New York lyricism he grew up with to the kinds of percussive production most often found in music from various parts of Africa and the Caribbean. He's toured North America, Asia, and Europe. But he always finds a way to come back to his roots.
Moma, 10 years Bas's senior, marvels at how the brothers' relationships to one another and to music have come full circle in the past few years. "I've been disenchanted with hip-hop for so long that I just didn't want my brothers to be involved with wack shit. But their shit is good; I'm so happy!" he said with a hearty laugh when we spoke over the phone recently, referring to Bas and Ib's work at Dreamville. "I would've supported them no matter what, even if I felt like the music was disposable, but because I feel like they're actually making timeless music, it's that much more fulfilling and rewarding to watch them grow."
For Cole, watching Bas's come-up has been both professionally thrilling and personally heartening. "I really got to see, from not even day one, like pre–day one, when this was nowhere even in his mind," the rapper said of Bas in a recent phone conversation. "It's not like I met Bas as some aspiring rapper, 'cause I became a family friend. For me, it's really special 'cause, you know, it's like watching your little brother turn into something."

That little brother has also pushed Cole to reconsider some of the reasons he'd long heard that American hip-hop artists rarely toured in Africa. "When I was younger … maybe four, five years ago, I just accepted the answer of, like, Nah, it's too difficult," Cole said. "And then I started asking more questions and learning, and then made decisions like, Oh, you know, I'm not really interested in making a ton of money or any money, I just wanna go do it."
The Lagos show, for example, wasn't J. Cole's first sojourn to Africa, but it helped broaden the musician's concept of what Dreamville can achieve. "It's all of these intricacies that I had to learn, and that we're learning. Bas is out there learning it right now, 'cause he really just strung together, like, a successful amount of shows," Cole continued. "We're learning, and I feel like that's a big priority for us."
Some of Bas's pre-tour acuity came from the musician's 2017 trip to Sudan. It was the first time he'd traveled to his parents' birthplace since becoming a rapper, and his first trip to the country in nearly 10 years. "Last time I went, I wasn't even doing music. And then this time I went, and I felt like a national treasure damn near," he said. "It was kids like, 'Yo, you make me proud to be Sudanese,' and all these things that I never would've fathomed were going on.
"It felt like Ali bomaye, like I was running through the streets, like getting ready for the rumble in the jungle and all the kids got in the street and ran with me," he said of being embraced as an artist by his fellow Sudanis. "That's what it felt like. I felt like a champion."
Now, with the Khartoum performance indefinitely postponed and Sudan in a Bashir-declared state of emergency, Bas is nervous, if cautiously optimistic, about how he might be able to show up for the people in his homeland. As he closes out his tour, he's still keeping his eyes on the country. "It's long overdue," he said. "I just wanna do it as a homecoming."