Hollywood Makes Way for the Disney-Fox Behemoth
The merger—inked for $71.3 billion—will dramatically reshape the entertainment landscape.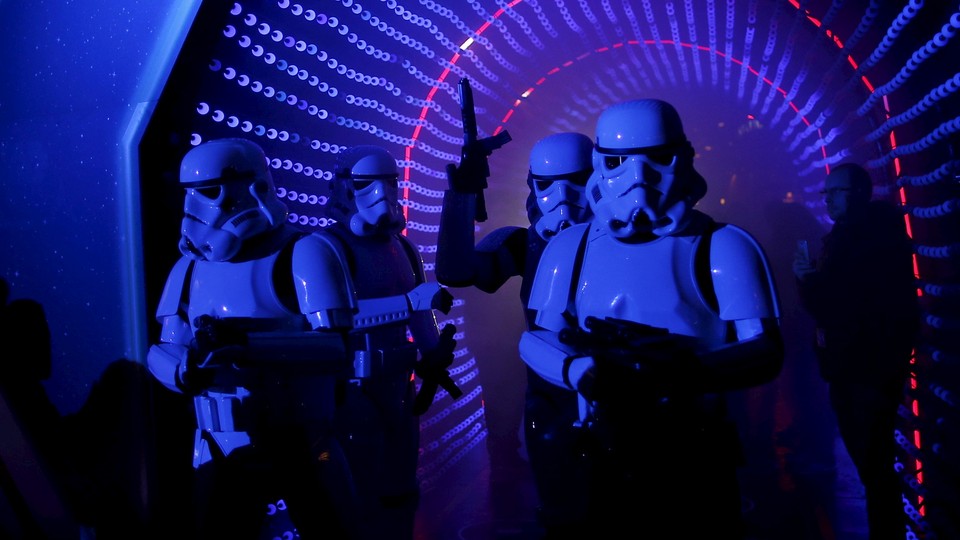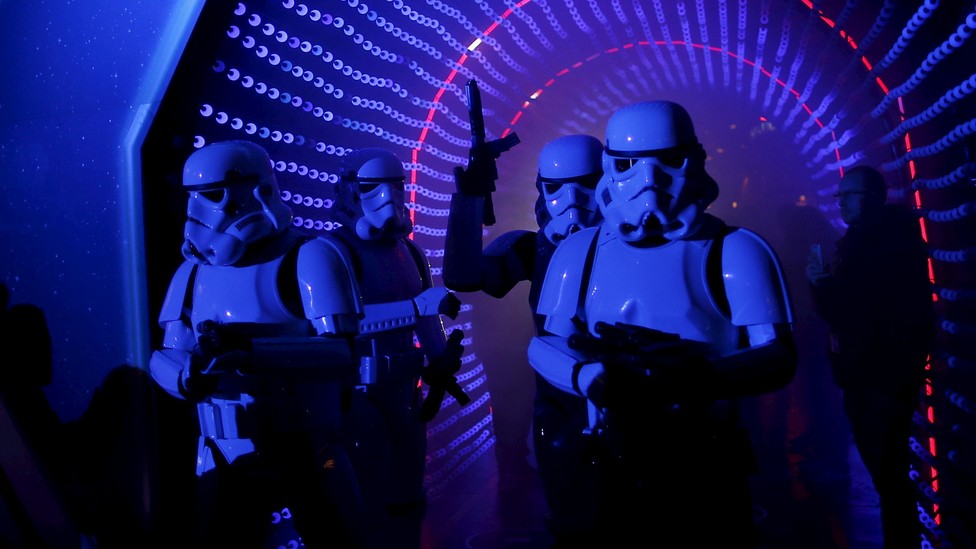 The Disney Death Star has finally arrived. The company's merger with Fox, completed this week, will radically reshape the Hollywood movie landscape. The math reveals a staggering picture: Last year, Disney's overall market share for the domestic box office was 26 percent—placing the studio ahead of its five major competitors, not to mention a host of smaller independent companies. 20th Century Fox, a longtime rival, had the fifth-largest share (9.1 percent) and more than 1 billion dollars in grosses. Together, Disney and Fox now command 35 percent of the movie market—a historic number for cinema.
The chilling implications of such a merger have been widely explored since the deal was first mooted in 2017. Disney had already become a pop-culture juggernaut after its acquisition of the Star Wars and Marvel brands over the past decade, on top of its existing animation studios (Walt Disney and Pixar). In 2016, Disney set a record for worldwide grosses in a calendar year; in 2018, it recorded the second-highest total in history. The company's dominance of the film industry was already indisputable. But with Fox, it has gained a tremendous new asset.
Disney didn't acquire the entire company, leaving behind its network-TV channel and news and sports programming (which are now part of the rebranded Fox Corp). But along with 20th Century Fox, Disney now owns the prestige film company Fox Searchlight; the cable channels FX and National Geographic; Fox's TV production company (which owns The Simpsons); most of Hulu; a huge library of classic films stretching back more than 80 years; and (most crucially to many a comic-book fan) the rights to Marvel's X-Men and Fantastic Four characters, who can now be folded into the massive Marvel Cinematic Universe. The initial announcement of the merger stirred up so much online excitement about many of these details that some of the larger implications of the Disney-Fox deal got drowned out.
The merger essentially confirms that a new age of entertainment has dawned in Hollywood, one where simply releasing blockbusters in theaters isn't enough to give a company a healthy profit margin. As my colleague Derek Thompson wrote in 2017, Disney's acquisition of Fox is its first shot in the ongoing streaming wars—a sign that the company is building an arsenal to take on Netflix and any other tech giant that's muscling into the entertainment business. Disney is getting ready to launch its own subscription streaming service, Disney+, and the Fox assets will pad out that library nicely.
The undeniable benefits of consolidation are why the Disney rival Comcast (which owns NBC and Universal Studios) tried to horn in on the deal with its own $66 billion offer, which only drove up the buying price for Disney. Also making moves is AT&T, the new owner of Warner Bros. (and its various other media properties, gathered under the new WarnerMedia umbrella), which has begun proposing radical changes at companies, including HBO. Even Paramount, the smallest of the "big six" studios (which are now the "big five" after Fox was subsumed), is positioning itself for a "renaissance" under the new CEO, Jim Gianopulos, after years of contraction.
All these efforts might not be enough in the end. Disney and its rivals are competing with an entirely different brand of media provider in Netflix, which pumps out "original content" at a staggering rate, backed by ambitious venture-capital funding. Disney released 10 movies in 2018; Netflix debuted 93. Even with the extra apparatus of Fox, the studio will likely continue to make big event films rather than pursue Netflix's quantity approach. With Fox under its wing, Disney can add giant-scale projects such as the upcoming Avatar sequels to its slate, pushing out a major release every month in order to control the box office.
Disney and Netflix offer the two clearest visions of Hollywood's future. The former is a media company that's as old-fashioned as they come, trying to make movies that will pull audiences en masse to the theater. The latter is a tech company that's largely uninterested in the theater business but has won subscriber loyalty by offering a wealth of viewing options. As the cinema business continues to evolve, perhaps only the biggest films will survive as in-theater experiences, with streaming becoming an equally profitable venue. By adding Fox, Disney has gained ground in that second sphere, but other studios could get left behind in the race.