Two Superstars Gamble on Record-Breaking Deals
Bryce Harper's and Manny Machado's contracts are similarly lucrative, but they represent two different approaches to the same bet.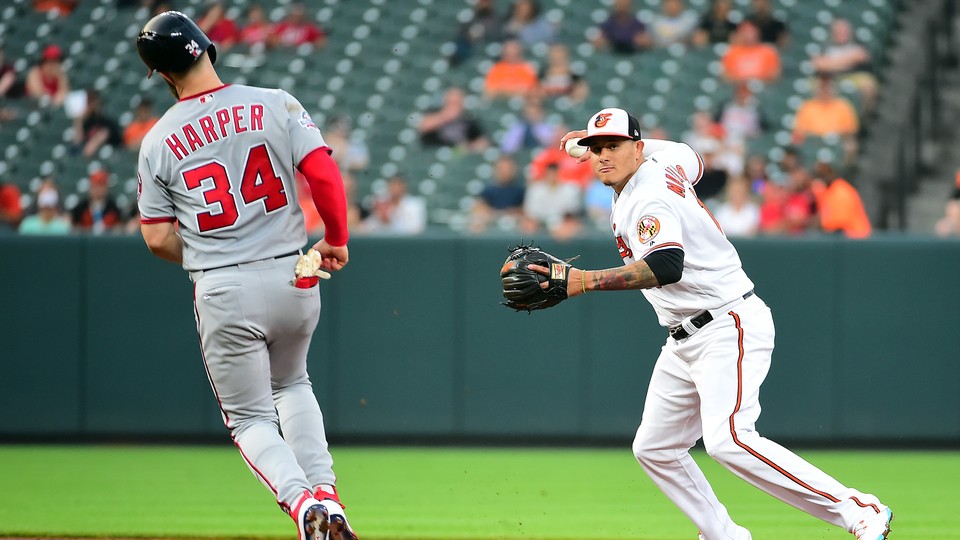 After months of waiting, Major League Baseball's premier free agents have finally found new homes. First, Manny Machado, one of the game's top young infielders, signed a 10-year, $300 million contract with the San Diego Padres. Nine days later, the superstar outfielder Bryce Harper inked a massive contract of his own, signing with the Philadelphia Phillies for 13 years and $330 million. With Machado potentially playing his first exhibition game against his previous team, the Los Angeles Dodgers, on Thursday, all eyes have already turned to whether the players will live up to their new deals.
Those eye-popping, record-breaking numbers are possible because it's extremely rare for a player of Harper's or Machado's caliber to enter free agency so young. More intriguing, though, is how small differences between the two contracts make Harper's a bet on the value of long-term stability—and Machado's a bet on the possibility of short-term growth.
With the important caveat that outsiders rarely learn all the details of what happens in closed-door negotiations, every contract in sports represents a balance between two basic interests: Teams want to get as much value as possible for their money, and players want to get as much money as possible for their value. Though both contracts will pay fairly evenly from start to finish (Harper's tapers somewhat, from $30 million his first year to $22 million his last, while Machado's stays at $30 million), it's unlikely that either team believes the players will still be worth that much money in their mid to late 30s. After all, athletes in any sport typically decline in productivity as they age. A contract such as Machado's or Harper's is priced based on the years when they're expected to be in their prime—in baseball, until about age 30—and those that follow. Instead, each team appears to be betting on its new player putting up enough value in the next five or so years to soften the later sting of potentially overpaying an aging superstar.
While there have never been contracts exactly like Harper's and Machado's, previous blockbuster deals have generally followed that pattern, with players outplaying their price tags enough early on to make the overall investment worth it. Not only that, but both teams appear to be going all in on the prospect of building a World Series–caliber squad in those first few years—the Phillies with a series of other trades and free-agent signings to buttress their roster, and the Padres by cashing in on the top-ranked minor-league "farm system" they've developed through years of trading veteran players for draft picks and prospects.
This is where the small difference between Machado's and Harper's contracts matters. It's not just that Machado is making roughly $5 million more a year, or that Harper will make $30 million more overall. It's also that Machado, like many previous superstar free agents, has an "opt out" clause in his contract that will allow him to become a free agent again after the 2023 season if he so chooses—and Harper doesn't.
That one difference could open the door for Machado to play his way into an even bigger payday, whether or not he and the Padres saw it like that. Though both he and Harper have been inordinately successful already, there's always room for improvement. If in the next five years Machado suddenly becomes the greatest shortstop and third baseman of all time, he could potentially renegotiate an even higher annual salary. Even if Harper turns into the next coming of Babe Ruth, he doesn't have that option. He's irreversibly signed on until he's 39, by which time even most great players are ready to retire.
But if Harper and Machado follow their expected aging curves—putting up a few more elite seasons before beginning to decline—Harper is arguably in better shape. If Machado doesn't renegotiate after the 2023 season, it's hard to envision him being valuable enough to persuade a team to sign him for the additional $30 million that distinguishes his total contract from Harper's, simply because few players at his position are that good at age 36.
As always, there are other complicating factors. The first, and arguably most important, is the steady inflation of baseball contracts. Despite a small drop in 2018, the average MLB salary has almost doubled over the past 15 years, from about $2.3 million in 2004 to just shy of $4.1 million in 2018. (With some free agents still unsigned, the exact number isn't available yet for 2019.) Though that figure partly reflects megadeals such as Harper's and Machado's, the bigger driver is the continual growth of MLB's overall revenue, which topped $10 billion for the first time in 2017. If the trend continues, by the time his contract ends in 2029, Machado may no longer have to be nearly as good as he is today to be worth $30 million to the Padres.
Thanks to the U.S. Supreme Court's recent decision to allow legal sports gambling across the country, MLB might soon be seeing a huge new source of money that could speed up that growth even more. Absent big changes in the revenue-splitting agreements among players, owners, and MLB's front office, that influx of cash could push inflation into overdrive and further increase the value of baseball players' contracts. If it does, that will make Machado's deal look even better: He'll have a chance to opt out and obtain a higher annual value without even having to show significant improvement.
But there are still other extenuating circumstances that could instead make Harper's look like the smarter deal. Much has already been made of the stagnant free-agent market that has resulted in star free agents going unsigned well into spring training or inking contracts well below initial predictions. As I noted earlier, in 2018 these trends contributed to the first year-over-year decline in average contract value since 2004. This year, multiple top-tier free agents, most notably the pitchers Dallas Keuchel and Craig Kimbrel, remain on the market with just weeks to go before the season begins. Another, the catcher Yasmani Grandal, signed for significantly less than expected, in both dollars and years. That suggests the recent slow winters might point to more systemic troubles that curtail the longer-term tendency toward inflation.
Which leads to the worst-case scenario: MLB and the Major League Baseball Players Association will be negotiating a new collective-bargaining agreement, or CBA, in 2021. Though the most recent round of negotiations in 2016 ended without incident, many (including some players) are already predicting that tensions between the two parties could result in the first MLB players' strike in more than 25 years. While the sample size is admittedly small, analyses of previous lockouts suggest they ultimately hurt players' bargaining power, potentially leading to smaller contracts down the line, which would make it even harder for Machado to close that $30 million gap. If that's the case, Harper's choice of a longer contract with more guaranteed money could end up looking more prescient.
It might be tempting to write off these questions as problems that solely afflict the already rich and famous: Not only are professional athletes often exceptionally wealthy, but Harper's and Machado's deals also put them well above even their own competition. Still, the kinds of trade-offs they face are relevant down the ranks of baseball. Just below them, free agents such as Grandal decide each season whether a one- or two-year deal carries more risk. For young players still on their rookie contracts, it's a question of whether to sign a contract extension that might undervalue them during their prime years, but will ward off the possibility of losing out later because of injury or decline. And down at the bottom, minor leaguers and players in the independent leagues toil away in obscurity for little or no money, with many deciding whether to keep playing in the hope of making the big time—or to hang up their cleats and find a more consistent line of work with no path to superstardom.