The Transcendent Final Season of Catastrophe
The boisterous Amazon Prime series from Sharon Horgan and Rob Delaney ended with a finale that honored the love and grief of its protagonists and creators alike.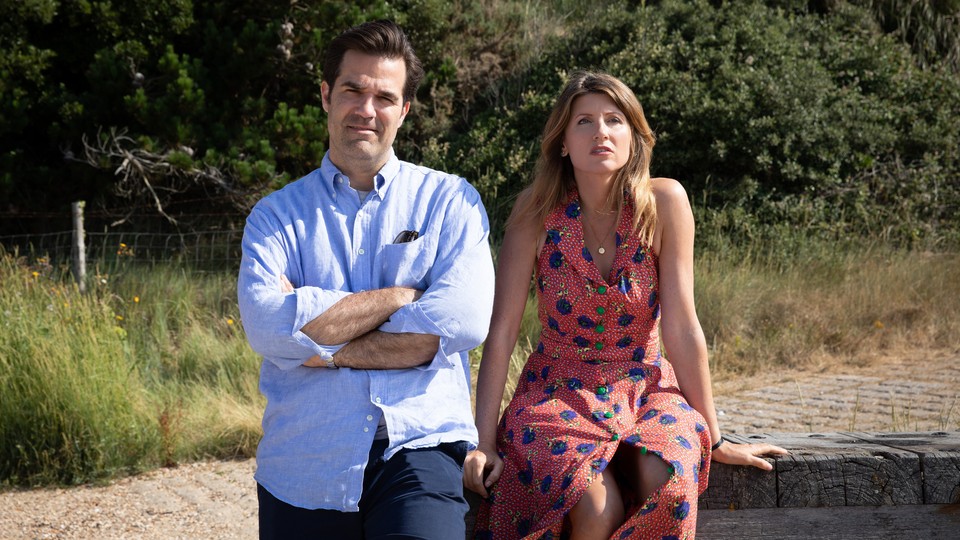 This story contains spoilers for the entire fourth season of Catastrophe.
When viewers first met Sharon Morris and Rob Norris, the protagonists of Amazon Prime's Catastrophe, the two had just embarked on a dizzying, if also unorthodox, romance. After a six-night stand with Sharon during a business trip to London, the Boston-based advertising executive learns a month later that "Sharon London Sex"—as the Irishwoman is saved in his phone throughout the show—is pregnant. Soon after, Rob moves to London to begin an earnest attempt to turn their dire circumstances into something approximating a happily ever after.
Catastrophe, which released its fourth and final season last Friday, has offered a caustic but warmhearted exploration of the mundane tribulations that follow the grandiose gestures and sweeping declarations of early courtship. It's a show, above all, about the work of love and the incomparable rewards of that labor. Sharon Horgan and Rob Delaney, who also serve as executive producers and the show's writers, play their Morris and Norris counterparts with equal parts relatable misanthropy and tenderness. Their lightning-fast banter elevates the drudgery of life after love's first gasps to a kind of partner sport.
In the first three seasons, Rob and Sharon endured a slog of obstacles, among them Rob's adjustment to London; the premature birth of their son, Frankie; the near-immediate arrival of their second child; a false sexual-harassment claim and ensuing employment lapse; the death of Sharon's father; a faint brush with infidelity; and Rob's slowly building relapse into alcoholism. Season 3 ended with a jolt: Rob crashed into another car while drunk, and confessed to a frantic Sharon that he wouldn't pass the mandatory Breathalyzer test.
The Season 4 finale finds the couple once again navigating perilous territory. After their planned beach vacation is overtaken by the news of Rob's mother's death and the logistics of her funeral, he and Sharon fight about a central fissure in their marriage toward the end of the episode: "From the day I met you, I've struggled to make you happy, and it never works," Rob tells Sharon. "Have you ever done one thing—I mean one thing—just for me?" She balks: "What—other than grow and feed and raise all of your babies?" It's a tense exchange, a fight that could easily portend the demise of their union.
But the scene soon gives way to a far more poignant moment, in which the two sit beachside as Sharon attempts to smooth their fight, and her husband's grief, while also informing him that she's pregnant, a fact Rob had already deduced: "I saw the test in the trash can," he notes. "You left it, like, on top of the pile of trash." After a quick deliberation, Sharon offers a tentative question, an inquiry and a plea: "Do you think we would have ended up together? I mean, if you hadn't got me pregnant. The first time." After all the two have faced, Rob's reply, a characteristically crass and sincere rejoinder, functions as a thesis statement both for the series and for long-term partnerships in general: "If I met you right now, I'd still want to fuck you for a week. And get you pregnant. And marry you. And mess it all up from there."

That Catastrophe is capping its run with Season 4 is at once devastating for loyal viewers—selfishly, I want as many episodes of the series as Horgan and Delaney are willing to give—and evidence of the show's self-awareness. The series, and its finale, end on a note so apt, it stops a hair short of cliché. In the final scene after the beachside exchange, an initially reluctant Rob follows a skinny-dipping Sharon into the water after he notices a sign that indicates the water is unsafe to swim in because of rip currents. The two embrace in the ocean after Rob lumbers in to reach her, and the camera pans away as they swim back to shore. When the shot fades, the two are still adrift—but together.
It's as gorgeous and transcendent a finale as the series deserves. Season 4, more meditative and tonally heavy than Catastrophe's preceding installments, ends the show with an eye toward Rob and Sharon's future, in addition to that of their stellar supporting crew, and an insistence that love is, fundamentally, a series of promises. (As well as a parade of gentle roasts—in Episode 3, for example, Sharon tells an alabaster turtleneck-clad Rob that he looks like "a college poetry teacher who tells girls he invented the MeToo hashtag.") Even when Rob and Sharon's commitment to each other wavers, Horgan and Delaney's conviction in their show never does. In moments of conflict, the series finds its leads engaging each other with the kind of candor that deepens their relationship and viewers' investment in it.

Notably, Season 4's moments of tension do not emerge, as they did in earlier seasons, primarily because of Rob and Sharon's children or the pair's adjustment to parenthood itself. Prior to the beachside adventure, the pair had already been presented with a number of potentially life-altering circumstances. Rob was offered a job in Boston by an old friend, played by an oddly cast David Alan Grier. (Another forgivable distraction is that the final episode, with its reflective sky an aesthetically pleasing tapestry of pinks and oranges, is visibly not set in Massachusetts.) Catastrophe wrestles with the guilt Rob feels about being away from his family, particularly his mother, before her death.
In its treatment of Mia Norris's funeral, Catastrophe also offers a touching tribute to the late actor Carrie Fisher, who gave one of the final performances of her life in the show's third season. As Rob's sister, Sydney, the impeccably cast Michaela Watkins is electric on-screen and a grounding presence for her brother in his darker moments (as when their estranged alcoholic father arrives unannounced). At Mia's funeral, Rob shares a eulogy that alternates between bemused appreciation and reverence, while threading in political commentary in Mia's singularly brash voice: "She raised money for spinal surgeries for kids through her eBay sales. I guess there's a button on eBay where you can donate, and—and that's what she did," Rob said to a small crowd. "Her friend Sally gave me an email that she sent her. I'll read it: I heard about these babies. Their spines are like corkscrews, but once they have these surgeries, it's beautiful. They can play hockey or Rollerblade. I mean, I wouldn't have to do it at all if this government gave a rat's ass about disabled kids … I bet Mike Pence spends his Sundays throwing disabled kids out of windows."

The reference to the vice president, and to America's punishing health-care system, is one of several nods to Delaney's own recent battles with the weight of grief (and to the writers' politics). To watch the actor, who recently lost his 2-year-old son after the boy was found to have a malignant brain tumor, play a bereaved adult child on Catastrophe is a heartrending experience. But, like the series itself, the weighty finale buoys the struggles of its characters, creators—and perhaps also its viewers—with a simple reassurance: Drifting, no matter how far, isn't as scary when you're not alone.