What It Takes for Black Artists to Win Big at the Grammys
There's a long history of these musicians losing out in the award show's major categories. Winning, it seems, requires fitting into a specific mold.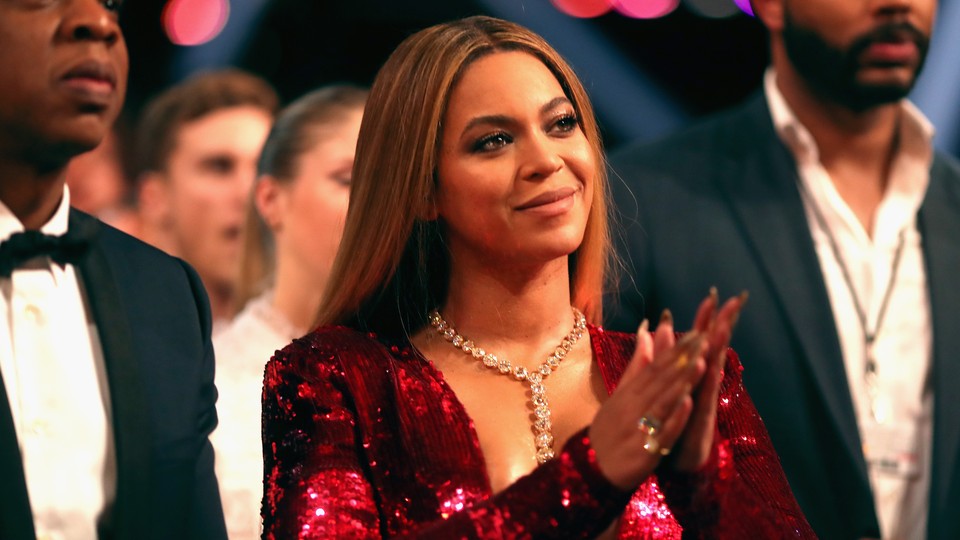 After a year of introspection—panels and listening forums on music-industry inequity, diversity-increasing membership drives spearheaded by the Recording Academy's Task Force on Diversity and Inclusion—there is widespread hope that the winners' circle at this year's Grammy Awards will be more reflective of the rich tapestry of voices that make up contemporary popular music. The 2019 show's shortlists appear to be the result of successful activism, as the Recording Academy has implemented broader cultural mandates for inclusion. The "Big Four" General Field categories—Album, Song, and Record of the Year, and Best New Artist—are full of women and artists of color from a wide array of genres. All told, half of the Record of the Year and Song of the Year nominees are black, and five of the eight nominees for the headliner Album of the Year category are black as well. Women-led acts account for five of the eight nominations in each category for Song, Record, and Album of the Year, and for six of the eight noms in Best New Artist.
But on closer examination of the black musicians, it becomes clear that their odds of winning may still be very long. This group, historically, is among the most nominated in any given year, though General Field wins are few and far between. And the handful of black artists who have taken home General Field trophies often fit into a specific mold: They are perceived as individual auteurs, creators whose work stands alone, outside the broader black mainstream. For black musicians to hoist a golden gramophone in one of these four categories, the Academy's voters essentially have to be convinced that the work of these artists is excellent because of its singularity.
This sets up a fascinating contrast among many of the artists nominated in this year's General Field, where more popular, straight-ahead hip-hop faces off against a trio of black concept albums from artists whose candidacies would seem to rely on a perception of holistic artistry. A win in a category such as Album of the Year for the former—Cardi B's Invasion of Privacy, Drake's Scorpion, or (God help us) Post Malone's Beerbongs & Bentleys—would be a major surprise, indicative of the Grammys' growing acceptance of hip-hop. Meanwhile, the newcomer H.E.R.'s self-titled debut, Janelle Monáe's Afrofuturist Dirty Computer, and the Kendrick Lamar–helmed soundtrack for Black Panther all suggest broader narratives and themes. Monáe's high-concept aesthetic (which includes an album cycle known as the Metropolis Saga) has been widely acclaimed, and Dirty Computer was accompanied by a nearly 50-minute "emotion picture" film. H.E.R's identity was shrouded in secrecy upon the release of the artist's sparse, moody album, in part because the work is supposed to represent a metaphorical everywoman's coming-of-age tale. And while Lamar is a household name, the Black Panther soundtrack is a more artistically minded, conceptual project than his three previous releases (all of which have been nominated for Album of the Year, all of which have lost).
Not counting guest appearances, a black musician hasn't won Album of the Year since Herbie Hancock in 2008. Alicia Keys, Luther Vandross, and Beyoncé won for Song of the Year, in 2002, 2004, and 2010, respectively, and these are the only wins for black artists in the category since 1996. Similarly, Ray Charles's Record of the Year win in 2005 has been the only one for a black artist within the past 23 years. Contemporary hip-hop's heavy hitters are almost always nominated across these Big Four categories, but again the wins are few. This phenomenon—one that I've called a "glass ceiling on black art"—suggests that high visibility on nomination lists has historically produced insufficient results for these musicians.
And when black artists do break through that ceiling, their auteurist bona fides are what carry them to the podium. Consider the list of black Album, Song, and Record of the Year winners since the turn of the century: Lauryn Hill (Album of the Year, 1999), Keys (Song of the Year, 2002), Vandross (Song of the Year, 2004), Charles (Record and Album of the Year, 2005), OutKast (Album of the Year, 2004), Hancock (Album of the Year, 2008), and Beyoncé (Song of the Year, 2010). (Yes, that's really it.) All these artists (save Beyoncé) stand outside the mainstream hip-hop/R&B footprint. Keys was a child prodigy whose classical piano training set her apart. OutKast's Speakerboxxx/The Love Below was two individual creators making crossover statements, anchored by the omnipresence of "Hey Ya!" Hill's Miseducation was a neo-soul concept album that drew its name from a book that advocated autodidacticism. Vandross, Charles, and Hancock all won in their twilight years long after their creative peaks; Hancock won for, of all things, a record of jazz covers of Joni Mitchell songs. (And even still, a comprehensive aesthetic statement wasn't enough for Beyoncé's Lemonade to beat out Adele's 25 in 2017, a result that is even more annoying given this history.)
This issue traces its roots to the first black Album of the Year winner—Stevie Wonder—who took home the night's biggest award in 1974 (and again in 1975 and 1977), 15 years after the first Grammy ceremony. What prompted Wonder's win? The singer was framed by the media and the industry as a unique figure, an artistic "genius" who was held back by a controlling label, one focused on the collective "Motown Machine" at the expense of his true singular artistry. Only after much-publicized contract negotiations in 1971 was Wonder released from the label's strictures, free to pursue his artistic vision with full creative control. Coverage that followed affirmed him as a transcendent auteur, and with his 1974 win, the Grammys made clear what a black General Field winner needed to be: standing alone and "above" typical black music.
There's a very real chance that the next black General Field winner may represent, in effect, a referendum on what the Academy counts as "artistry" within the broader stylistic, sonic, and genre-based palates of black music. Drake and Cardi both stick to a more conventional sound, while Lamar, H.E.R., and Monáe's records follow the artist-as-creator narrative, where their broad concepts fuel their candidacies. If any of them wins a major award on Sunday, it will say a lot about the Academy's efforts and whether it's truly committed to rethinking its position on black artistry.