The Accusations Against Ryan Adams Are All Too Familiar
How far are the harassment and career-derailment allegations against the rocker from, say, the A Star Is Born story?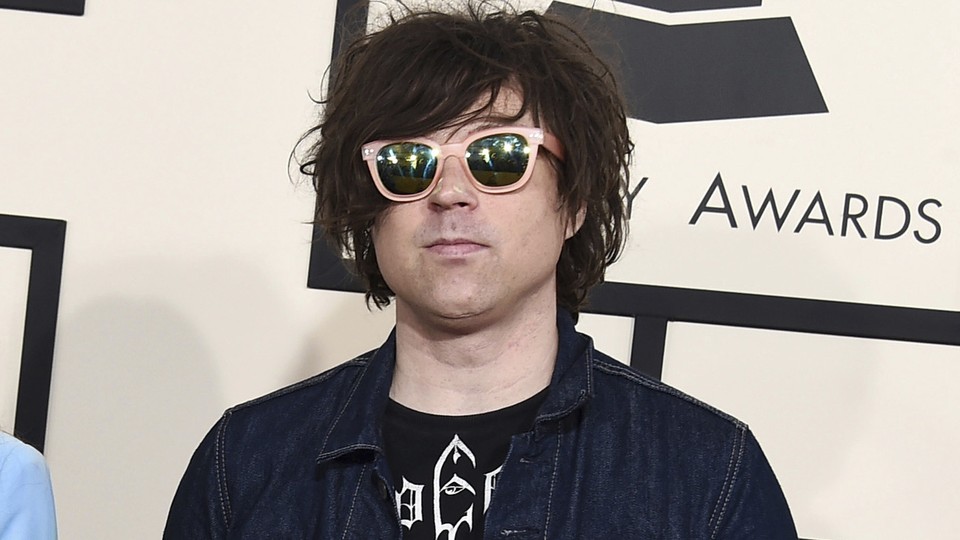 An established musician lavishes an unknown one with praise and career help: recording sessions, songwriting advice, a spot on a tour. What to call the two of them? Boss and employee? Nothing so straightforward. Collaborative equals? Not if one's success depends on the other's largesse. Really, they're mentor and mentee, a central arrangement in pop-music mythology, most recently given Hollywood glorification in A Star Is Born.
But in real life, that story can involve the mentor exploiting power for sex, and without actually helping the mentee. The #MeToo tales to emerge in the music industry have, to an overwhelming extent, exposed men who tried to trade access to the music industry for access to a musician's body. Many of the women allegedly abused by R. Kelly were young, aspiring singers lured into his orbit by the prospect of professional development. It happens in formal arrangements, too: Among the women alleging rape by Russell Simmons is Tina Baker, an artist he managed. Now the accusations surfacing about the rocker Ryan Adams offer a stark reminder of how such mentorship can be weaponized.
Adams's country-tinged rock won acclaim and sold hundreds of thousands of albums in the early 2000s, and since then he's been an alternative-music fixture, releasing a steady stream of songs and engaging in splashy collaborations. A New York Times article published on Wednesday quotes multiple women—some famous and some not—who allege that Adams dangled career boosts only to then pursue sex. Again and again, that pursuit is reported to have resulted in exactly the opposite of the fruitful partnership Adams promised. These women say he sabotaged their ambitions.
Ava, a bass player who was 14 when Adams reached out on Twitter, says his texts and video messages mingled talk of recording together with explicit come-ons. Phoebe Bridgers, a now-acclaimed singer-songwriter, received promotion, distribution, and production assistance from Adams—and says their relationship quickly turned not only romantic but also emotionally abusive. Another musician, Courtney Jaye, says she received a Twitter message from Adams asking her to jam with him, but when they met up, Adams made physical advances on her.
There is also Mandy Moore, the onetime teen pop star who now acts on the NBC show This Is Us. She and Adams were married for six years. During that time, she alleges that he took over her music career, promising to record her next album—while shooing her away from other music producers—but never following through. Moore reports that belittling comments ("You're not a real musician") intermingled with other forms of harsh treatment by Adams. The experience resembled the emotional abuse alleged by another Adams ex, Megan Butterworth.
In many of the cases, the women describe Adams damaging or derailing their career. Jaye told the Times, "Something changed in me … It made me just not want to make music." Said Moore: "His controlling behavior essentially did block my ability to make new connections in the industry during a very pivotal and potentially lucrative time—my entire mid-to-late 20s." Regarding Ava, the Times writes, "the idea that she would be objectified or have to sleep with people to get ahead 'just totally put me off to the whole idea' of being a musician, she said. She never played another gig."
Adams's lawyer has denied the allegations and called some of them "grousing by disgruntled individuals." Adams took a somewhat more conciliatory tone on Twitter, writing, "To anyone I have ever hurt, however unintentionally, I apologize deeply and unreservedly." But he added, "The picture that this article paints is upsettingly inaccurate. Some of its details are misrepresented; some are exaggerated; some are outright false. I would never have inappropriate interactions with someone I thought was underage. Period." He also tweeted this: "As someone who has always tried to spread joy through my music and my life, hearing that some people believe I caused them pain saddens me greatly."
As someone who has always tried to spread joy through my music: It's a statement that resurfaces old bromides about creativity and genius. Over the years, Adams's general public presentation has been that of a hard-partying bad boy who's also arguably the dean of alternative rock, prolific with albums and team-ups and covers. The allegations in the Times piece draw a clear line between his clout and his reported ability to manipulate and hold back women. "Music was a point of control for him," Moore said, and the pattern even predates the Times story. When Moore in 2017 spoke publicly about their divorce, Adams hit back on social media by mocking her as a cultural lightweight, someone he was now embarrassed of. In one tweet he wrote, "She didn't like the Melvins or BladeRunner. Doomed from the start …" Another compared being married to Moore to being "stuck to the spiritual equivalent of a soggy piece of cardboard."
The dichotomy he drew in those tweets—which he later apologized for—painted him as a serious man who deigned to associate with an unserious woman. It is a deeply ingrained idea in pop culture, bound up with the way mentor-mentee relationships between men and women are so easily and destructively sexualized. Take the 1960s story of the singer Marianne Faithfull. She found entrée into the industry through the Rolling Stones, whose manager referred to her as an "angel with big tits." In 1967, she became the object of public mockery when she was discovered wearing only a fur rug during a police bust of Keith Richards's home. It took a decade before she returned to music-making, and her string of profoundly moving albums has continued up through the present. "The whole thing of being considered a chick on the arm of a great rock star is an insult to me," she said in 2014.
You see glimmers of the alleged Adams pattern even in A Star Is Born, a basket of beloved tropes about men conferring greatness upon unknown women—and falling in love with their body at the same time. Bradley Cooper and Lady Gaga's version explicitly plays with the notion of gravitas-steeped guys who first lend credibility to women and then try to control them by calling them frivolous and putting the woman's professional goals in tension with their personal relationship. The fable Hollywood clearly wants to tell is how a woman can benefit from a man's affections, and then transcend his resentment and vindictiveness. But the reality, as Adams's accusers hint, doesn't often work out that way.
It's of course not just a myth that men can help aspiring women succeed—it's simply a reality based on who holds power. #MeToo-era conversations about why it's been so hard for women to "step up" into successful music careers make clear that the story told by the Adams allegations is part of a systemic problem. How to unwind it? For many musicians, the workplace has no formalized hierarchy or HR departments. When an unsigned artist gets harassed by a rock star who's positioned himself as her A&R man, producer, and promoter, who does she complain to? When a consensual relationship devolves into manipulation and career undermining, what's the recourse?
The law gets you only so far: The Times story overtly suggests one potential criminal violation, regarding the case of Ava, who Adams's attorney says he didn't know was underage. For Moore, Bridges, Butterworth, and Jaye, though, the alleged offenses are to the women's careers and sense of self. Protecting other aspiring artists will take the rewriting of myths and the naming and shaming of supposed heroes. It will also take replacing some of those heroes from the ranks of women who'd otherwise be thwarted.