The Uncomfortable and Profound Authenticity of Roma
What it's like to watch Alfonso Cuarón's sweeping drama when you've been in the shoes of both the maid and the children she cares for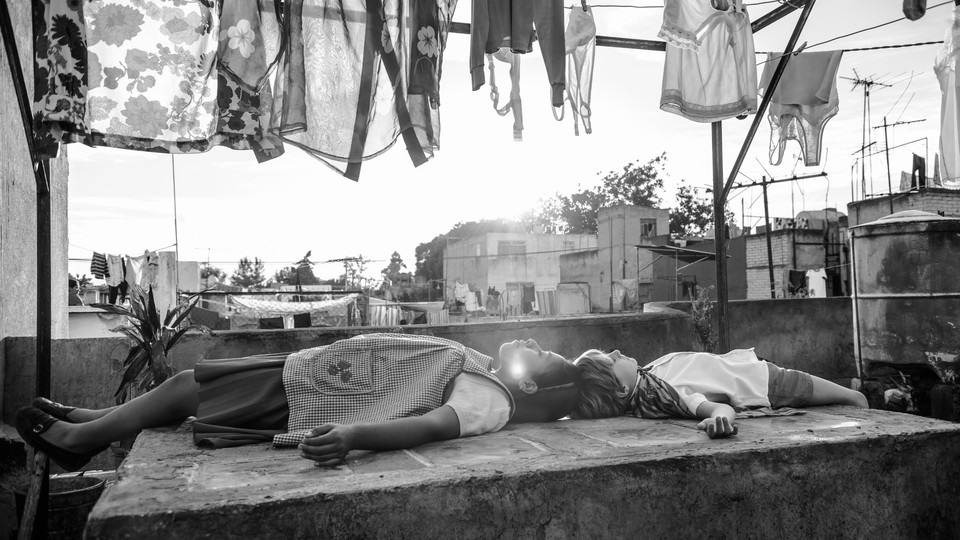 That was me, I whispered to myself when, early in Roma, a maid named Cleo (played by Yalitza Aparicio) perched on the edge of a sleeping child's bed one morning. I whispered those words again when Cleo peeled eggs for young Pepe (Marco Graf) at breakfast while he shared his dreams of becoming a pilot. As I watched Alfonso Cuarón's sumptuous black-and-white Netflix drama about a domestic worker employed by a middle-class family in the La Roma neighborhood of 1970s Mexico, I flitted back and forth: I was Cleo. I was also the children.
As someone who was raised by maids and who later worked as one, I found that the most authentic moments in Roma were also the subtlest: the silent expressions and gestures of tenderness that blur the line between family member and employee. It's this in-between space where the complicated love between Cleo and her employer's family takes root.
Whether in France where I worked, in Singapore where I was raised, or in Mexico where Roma is set, many live-in maids do similar tasks: preparing meals, washing laundry, cleaning the house, caring for pets, and watching over children. In Roma's opening scene, the camera lingers on a shot of soapy water flowing toward a drain before panning to introduce a slight, dark-skinned figure. By her dress, her posture, and the deftness with which she handles her brush and bucket, we know she is a maid. The repeated images of the dog feces Cleo is forced to clean from this driveway underscore Cuarón's sympathy for the tedious, filthy work maids do, how invisible and lonely the labor is.
But Roma—which is competing for 10 Oscars, including Best Picture, on Sunday—would be empty and arduous if it only re-created the pain of domestic work. A semiautobiographical tale dedicated to Cuarón's childhood maid, Liboria "Libo" Rodríguez, the movie is most profound when it amplifies the complex role of a maid within a family. As I learned in my childhood home, and later as an adult, outside the realm of housework lie other unspoken forms of responsibility: pleasing the patriarchs and matriarchs, guiding the children through emotional turmoil, having to be everyone's caretaker and broken-heart-mender, all the while being subject to a family's mercurial moods.
Take the particular intimacy between Cleo and her employer, Sofía (Marina de Tavira, who's nominated for an acting Oscar alongside Aparicio). In one scene, a desperate Sofía, agitated at her strained relationship with her husband, scolds Cleo for not cleaning the feces off the driveway, as if that mess could've been why the man deserted his family for another woman. Later, when Sofía's son listens in on his mother's conversation about her impending divorce, Sofía emerges from the phone call frantic and embarrassed. She alternates between reassuring her son and shouting at Cleo for not stopping the boy from eavesdropping, an outburst that's more cathartic than instructive. Sofía has the luxury of maintaining her composure with her children in part because she can take out her anger on an ever-patient Cleo.
So often, maids like Cleo are expected to be the unflinching center of calm to whatever hurricane might be swirling in the household where they work. I learned this at home in Singapore. Even though my family was relatively poor, we always had a woman at home to pick up after us. If my mother were distraught over her husband or children, the maid also quietly absorbed those frustrations. Years later, I experienced this dynamic from a different perspective while working as an au pair in France; a father coming home late at night might mean I'd be the outlet for his wife's unhappiness. Maybe a maid doesn't seem fragile because she—80 percent of the 67 million domestic workers in the world are women—is ostensibly outside the family's struggles. Maybe the employer just can't fathom that a maid could feel a family's sorrow as well.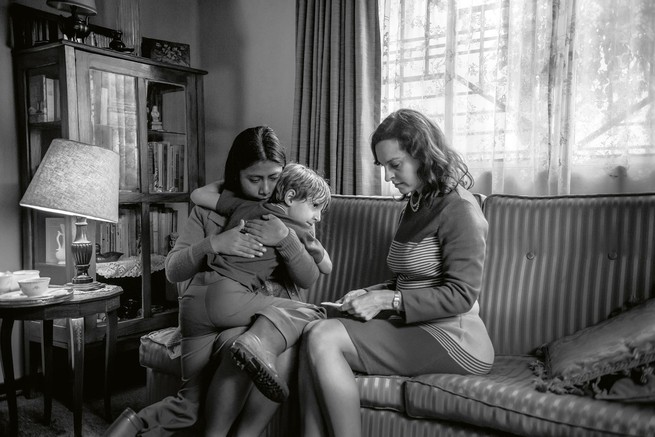 The connection between Sofía and Cleo, as in many employer-maid relations, is all the more fraught because Sofía's anger is interspersed with gestures of affection—like when Cleo reveals news of her pregnancy, and later when Sofía declares to Cleo in solidarity: "We women are always alone!" Cleo, herself abandoned by the boy who impregnated her, becomes an ally when Sofía requires it. This dynamic was familiar to me: When my parents divorced because of my father's affair, my mother became volatile. Sometimes she was exceptionally gentle and friendly toward Amy, our maid then; other times, she was aggressive and violent. Amy, in return, always tended to my mother kindly, as though she were her wounded ward.
In Roma, the way de Tavira veers between fawning wife, doting mother, and erratic boss makes for an unsettling but lively performance well deserving of an Oscar nomination. A first-time actor, Aparicio more than holds her own, treading around de Tavira with unnerving poise. When her employer slights her, Cleo reacts with a practiced deference and collectedness that's heartbreaking to watch.
As knotty as the relationship between Cleo and Sofía is, Roma is most fascinating when it examines the love between the maid and the four children in her care. In an early scene, Cleo has to stop washing clothes to soothe Pepe after he's snubbed by his older brother. She plays dead with Pepe on the roof; together, they're two small bodies lying down and looking at the sky in one grand, wide shot. While Cleo is hired primarily to clean and to shepherd children, Cuarón understands that what makes her special is what she's not explicitly hired for: to be a surrogate parent; an older, wiser sibling; or a playmate, as the situation entails. That isn't par for the course with "caretaking," but something Cleo and many maids I know go above and beyond to do, out of love. These women become patchwork parents, balancing menial chores with the hard emotional labor of filling the gaps in the family unit.
In my memories of being cared for by nannies, I often felt as if I had a second mother, one who was consistent, present, and generous with her time, and whose emotional clockwork mirrored mine. When my father left the family, our maid at that time, Lena, cried with me and my grandmother in the kitchen. "Poor thing," Lena murmured as we pressed into her. She held both of our trembling frames, trying to be strong, yet her face was as wet as ours. And when my younger brother was diagnosed with diabetes, Jane, our maid then, broke down in sobs late at night—something I only know because I shared a room with her. She followed his health changes with fervor, traded days off to keep my brother company. Eleven years later, when I met her in Dubai, where she was working, she was glad to see me but admitted,"How I wish your brother were here." He'd been on her mind the whole time.
Later, when I worked as an au pair, I learned my place was not on the family's couch, but in the kitchen, where I could whip up treats for the children before I put them to bed. Still, I'd hold them after their parents yelled at them for not doing their homework well, or for not finishing their food. I dried tears, combed hair, fixed collars. If they didn't behave, it was my fault; if they were upset and didn't calm down, I wasn't doing a good enough job. I was 22, and it seemed as if the welfare of the entire family rested on my shoulders. So I learned, as an outsourced proxy parent, how to dote without being in the parents' way. I understood the soft power of domestic work, having been taught by maids in my own home, and being on the receiving end of their love for years.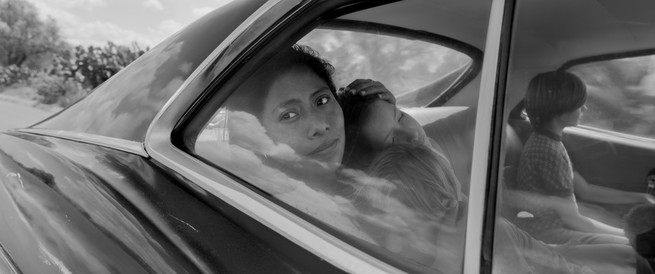 One of the most poignant images in Roma is of Cleo gazing out the window with a child lying on her after she has lost her own. In an apparent effort to be kind, Sofía invites Cleo on a family trip to the beach, claiming it will take her mind off her stillbirth; in reality, Cleo is still supposed to keep an eye on the children and support Sofía when she breaks the news of her divorce at dinner. Watching these scenes, it's hard not to get the sense that Cleo's enormous capacity for love is being redirected from her own child onto Sofía's kids—so much so that Cleo risks her life to save two of them from drowning, despite being unable to swim. In a scene of surreal calm captured in a lengthy tracking shot, Cleo strides through rising waters without flailing her arms or screaming. Cuarón keeps us wondering: How did she do that? Who is she?
The director portrays Cleo as a saintly figure of unfathomable love and responsibility. In her commonplace job, she's a miracle worker who always endures—a depiction that frustrated some writers. "Instead of lending her character dimensionality, Cleo's tribulations begin to feel cartoonishly grim," Dan Schindel argued in Hyperallergic."And even if the film's climax doesn't ultimately affirm that Cleo is 'part of the family,' it still feels like it overly sentimentalizes her position with them." But I'm not sure I read the climactic scene on the beach as excessively sentimental. The film's most famous image,  in which Sofía and her children heap like wet sand to Cleo after her lifesaving act, looks a lot like entrapment: Cleo is their pillar of strength, yet she is completely overcome by them. Cuarón himself has said "that embrace is as much a hug as a cage."
And if the movie's view of Cleo seems "clouded" and distant, as Schindel writes, that might be because a maid's role is truly so enigmatic, as I've explored. There's a good reason Roma has garnered so much attention not just from arthouse-film enthusiasts, but also from activist groups and domestic workers who've praised the movie's accurate portrayal of the delicate dance maids must perform. Some critics weren't convinced of Roma's authenticity, however. In a tweet, The New Yorker's Richard Brody (who also wrote a longer takedown of the movie) criticized "upper-middle-class filmmakers depicting heroic manual laborers as deprived of discourse, as strong silent (terse and quiet) types," calling such movies "failures of observation and imagination."
But it seems, at least to me, as though Cuarón is being realistic. Being strong and silent is a necessity for many maids, and in my case as in Cleo's, communication is made much harder when we're not able to work in our native language. (I was tottering in French; Pepe explicitly orders Cleo not to speak in her indigenous Mixtec language, Tu'un Savi, at the beginning of the film.) And if Roma is uncomfortable to watch, that's perhaps because it also shows how class divisions and hierarchies are ingrained from an early age. By virtue of having a maid, the family's children now have a grown woman at their disposal, to fetch them food or save them when they stray too far, whose language they can dictate.
In Roma, I saw what looked like a man's attempt at some sort of atonement. The film reads like a way for Cuarón to process how much his maid, Libo, might have had to put up with on his behalf, an effort to see the politics and loaded gestures he missed as a young child. In Cuarón's enormous ambit as producer, writer, cinematographer, editor, and director, he can be seen as indicting a family—for perpetuating class-based inequalities, for being ambivalent about their maid's struggles—and by extension his own. I expected Roma to touch some nerves, particularly because it shows the callous, inconsistent, and often selfish treatment of domestic workers. Yet I'd hazard that Cuarón would hardly be surprised at this reaction. It seems exactly as he intended.