When a Yearbook Is a Current Event
The time capsules are also metaphors: for broken systems, and for communities' tendency to protect, at all costs, those they consider their own.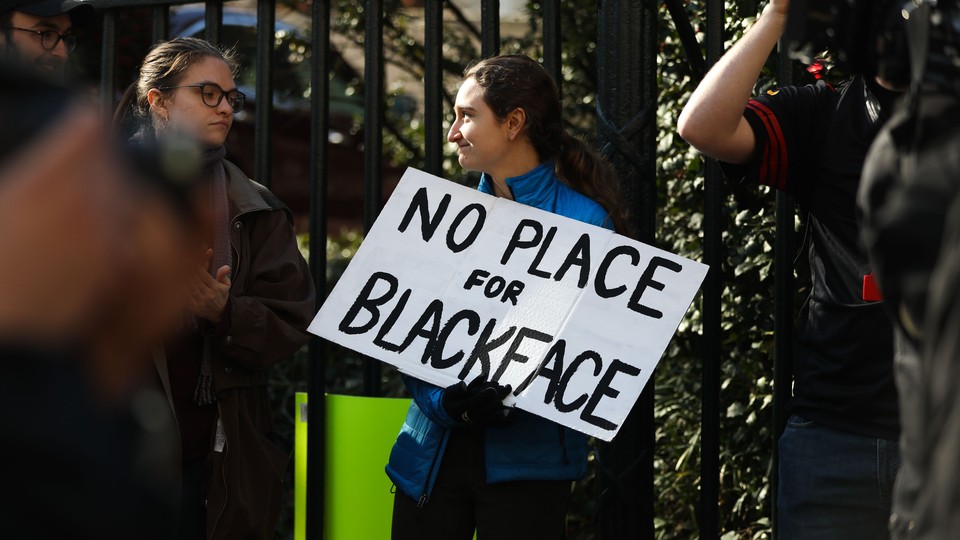 On Thursday afternoon, The Virginian-Pilot, the daily paper based in Norfolk, Virginia, broke news that was at once shocking and deeply predictable: another Virginia politician, another instance of racism captured in a yearbook. This time around, the lawmaker was Tommy Norment, the majority leader of Virginia's state Senate; the publication was the 1968 issue of The Bomb, the Virginia Military Institute's yearbook, for which Norment had served as managing editor. Among the images the Pilot cited from that year's issue were one of a man standing in a bank of snow, clutching a Confederate flag, and another of white men in blackface, their arms slung around one another, grinning, posing, amused, proud. They are wearing sunglasses.
There is racist text, too, in the book meant to mark the passage of another year within the violence and turbulence of the late 1960s. "The N-word is used at least once," the Pilot reports. And "a student from Bangkok, Thailand, is called a 'Jap' and a 'Chink.' A caption under another unidentified man's photo reads: 'He was known as the "Barracks Jew" having his fingers in the finances of the entire Corps.' "
Norment initially professed indignation at being associated with words and images that had, until this week, lived mostly in archives and attics. In a statement issued through a spokesperson on Thursday, he said, "The use of blackface is abhorrent in our society and I emphatically condemn it. As one of seven working on a 359-page yearbook, I cannot endorse or associate myself with every photo, entry or word on each page." He added that he had supported VMI's integration and, later, its inclusion of women. He also blamed the messenger: Norment was "not surprised," the statement read, "that those wanting to engulf Republican leaders in the current situations involving the governor, lieutenant governor, and attorney general would highlight the yearbook from my graduation a half-century ago."
But that's the thing about a yearbook: It is its own evidence. (This particular yearbook, as it happens, is fully digitized.) Later on Thursday, by the time Norment gave an interview to the Pilot, his indignation had adopted a note of contrition. Norment reiterated that he hadn't taken the photos and that he'd been one of several editors of the yearbook—"I was kind of the first sergeant," he said of his role—but he also allowed that, as one on a team responsible for the content of the yearbook, "I'm still culpable." He didn't have much choice about admitting that: The words and images, made permanent in pulp and ink, admitted it for him. The yearbook has the receipts because the yearbook is the receipts.
There has been a remarkable amount of receipt sharing this week in the state of Virginia. Yearbooks—publications meant to capture the truths of a gauzy past—have taken on a revealing kind of currency. There was, first, Governor Ralph Northam's medical-school yearbook from 1984. Northam's page featured a photo of a man in blackface, holding a beer, posing next to a person wearing the outfit of American racial terrorism: Ku Klux Klan robes and a hood. Northam initially apologized. But then he changed his mind, insisting that, on second thought, neither of the people in the photo on his yearbook page was him. And then he amended his story once more: Though the yearbook was false evidence, he maintained, he had, indeed, engaged in blackface on another occasion.
On Wednesday, Virginia's attorney general, Mark Herring, acknowledged that he, too, had worn blackface—this time at a college party in 1980 (he'd dressed and performed as the rapper Kurtis Blow). The week wasn't limited to revelations of racism: On Thursday, Vanessa Tyson, a professor at Scripps College and a fellow at Stanford University, came forward with her allegation that Justin Fairfax, Virginia's lieutenant governor, sexually assaulted her in 2004.
Fairfax has denied Tyson's claim, insisting that he'd thought their encounter was consensual. He remains in office, as do Northam and Herring and Norment, leaving the past to hover like poison in the present. The unsettled events of the week—their interplay of evidence and denial, of accountability and impunity—have done, in their way, what yearbooks are meant to do: mark a moment in time. Their contradictions serve as their own neat parable. It was me, it wasn't me; maybe we should use facial-recognition software to determine that it wasn't me: The news follows the beat of a Shaggy song, its whiplash fit for a country that reliably assumes itself to be better than it is.
It was telling that yearbooks would be such a common factor in the revelations. "It has been the objective of this year's Bomb staff to concentrate on the VMI as it exists in actuality, not in theory," Norment wrote as part of his managing-editor's note in that 1968 yearbook, and the insight was apt: Yearbooks are meant to double as time capsules. There's aspiration woven into their portrayals of things, certainly—evidence of how individual people wanted to remember themselves, and of how communities did—but the aspiration also "exists in actuality." Yearbooks began as school-specific extensions of commonplace books—notebooks that rose in popularity in early-modern Europe, journals people used to cite bits of information and wisdom they wanted to remember. In the America of the late-17th century, the writer Jennifer Billock put it, students began taking the idea of the commonplace book—Evernote, basically, for the analog age—and applying it to their classmates. They began creating scrapbook-style books meant to preserve physical artifacts of the school year just passed (among them dried flowers, newspaper articles, and … hair clippings).
If commonplace books were meant to convert collective insights into individual ones, the yearbooks that have suddenly become news stories do the opposite. They take individual truths and put them into a communal context. The objective element of the yearbook (things captured, as evidence of a moment in time, for anyone to read) collides with the subjective (these are stories told by people about themselves). Reading someone else's yearbook—whether it's Tommy Norment's from 1968, or your mom's from 1988, or even your own from 2008—can be an intensely alienating experience: all those unfamiliar acronyms. All those references to extremely school-specific traditions. All the bits of humor whose whole point is how aggressively unfunny they will be to anyone who isn't already in on the joke.
Yearbooks as metaphors for insularity: It's hard to read the news about Northam and Norment and not think about another yearbook that recently became, against all odds, a current event. Brett Kavanaugh's yearbook page—this one from 1983, this one from Georgetown Preparatory School—initially read as its own kind of receipt about the man whom Christine Blasey Ford accused of drunkenly assaulting her at a party: "Malibu Fan Club." "Beach Week Ralph Club." "Devil's Triangle." "Judge—Have You Boofed Yet?" "Renate Alumnius." All those in-jokes converted, through the workings of news stories and Senate testimonies and Saturday Night Live, into collective truths.
The New York Times spoke with the woman referenced in that last caption, Renate Schroeder Dolphin, one of many women of Kavanaugh's acquaintance who had signed a letter of support testifying to his character. Dolphin had not been aware of the yearbook caption in which the future Supreme Court justice seemed to brag about sexual exploits with her. The claim wasn't true, she said. It was "hurtful," she said. It was, in fact, "horrible."
But in arguing against the claims made about him by Ford and other women, Kavanaugh employed, essentially, the yearbook defense. He summoned the idea of yearbooks—and of elite institutions—as fundamentally insular things, their meaning opaque to anyone who isn't part of them. He suggested, in the testimony to Congress that focused on his yearbook page, that the content of the page was effectively irrelevant to the matter at hand: The yearbook had been misinterpreted, he implied, by those who did not speak the very specialized dialect of Georgetown Preparatory School as it existed in 1983. Devil's triangle, Kavanaugh told Senator Sheldon Whitehouse, was merely a drinking game. And his fellow Georgetown Prep alums backed him up. What happens at Georgetown Prep stays at Georgetown Prep: The point of a yearbook is that its signals and symbols are legible only to those who are remembered in its pages.
Except, of course, it is not fully that. The kind of insularity that, last fall, helped to convince a sizable enough portion of the U.S. Senate that Kavanaugh deserved a Supreme Court seat is the same kind of insularity that a group of Northam's schoolmates summoned when they put out a statement, this week, in his defense: "We attended classes with the Governor," they wrote. "We socialized with him. We knew him very well." And "we do not believe the Governor ever engaged in, promoted, tolerated, or condoned racism."
This time, the argument was less successful. Pictures speak for themselves in ways even words cannot. The images in a yearbook are different from the words in a yearbook—and they are, as Northam is learning, extremely difficult things to argue out of. There will very likely, and very soon, be more yearbooks excavated from the archives, their contents damning not only because of how much American culture has changed over the past decades, but also because of how much it hasn't. There will very likely be more lawmakers who defend themselves by insisting that they can't be blamed, because they were part of a team of editors, a collective of participants—simply one of many who treated hatred as a joke. More power brokers who fail to see the irony of using systemic failure as their defense.
This week, news broke about Eastern Virginia Medical School, Northam's alma mater: In 2014, The Washington Post reported, the school's administration stopped publishing yearbooks altogether. The reason for the decision was the revelation of a yearbook in which three white students had chosen to dress, in the pictures meant to serve as warm memories for their future selves, in the uniforms of the Confederacy. One of them wore a thin smile. Another held a gun. All of them, those soon-to-be doctors, posed before that most regressive of in-jokes: the Confederate battle flag. Their yearbook was published in 2013.