Dave Cullen's New Book on the Parkland Shooting Is Surprisingly Illuminating
With unrivaled access to the student survivors cum activists, the journalist brings new perspective to the massacre, one year later.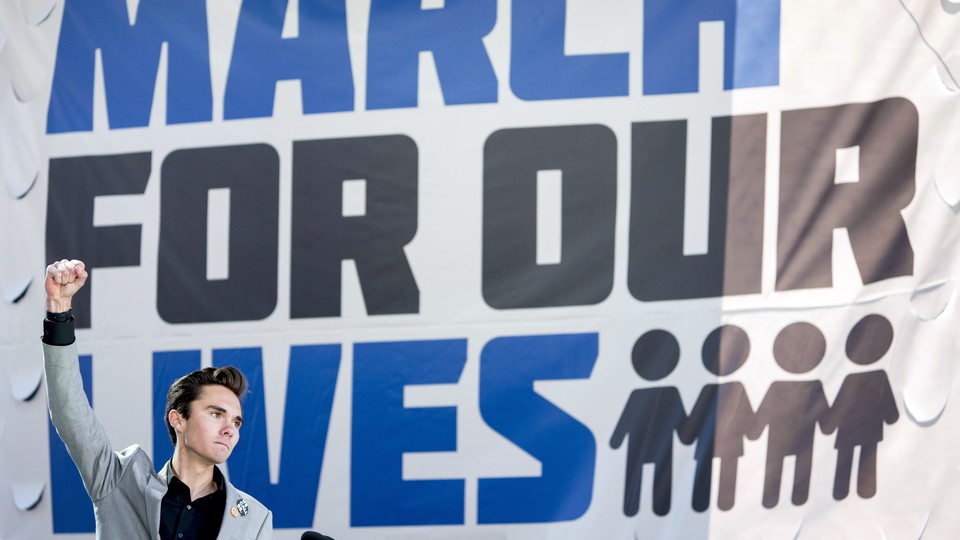 After a gunman murdered 17 students and faculty on February 14, 2018, at Marjory Stoneman Douglas High School, Nicole Hockley was urging patience. Hockley had just flown to South Florida from California, where, as co-founder and managing director of the anti-gun-violence organization Sandy Hook Promise, she had been working to prevent the type of mass shooting that had just occurred in Parkland.
Hockley met me two days after the shooting, at a bagel shop in Coral Springs. I'd come to interview her for the South Florida Sun Sentinel, where I worked as an editor and reporter some 11 miles east of Stoneman Douglas. Patience, Hockley told me, would be crucial during the difficult time ahead for the shooting's survivors and the victims' families. Well-wishers and journalists needed to understand that grief manifests in innumerable ways, and that shared outrage and loss will lead to calls for action, some immediately, others gradually. Change will come, she insisted, though it likely will be at the grassroots level, small and incremental. Sandy Hook Promise, after all, spent more than a year researching gun violence, school safety, and mental health before implementing its platform.
"When the people are really ready to raise their voices and demand things, that's when you'll get change," said Hockley, whose 6-year-old son, Dylan, was killed in the 2012 shooting in Newtown, Connecticut. "Until then, until people are really engaged, you're not going to see meaningful change at [the state and federal] level."
What Hockley didn't know—what no one did—was that a group of Stoneman Douglas shooting survivors was gathering that same day at the home of Cameron Kasky, a gregarious theater kid who would, like some of the other fed-up teenagers at that meeting, fast become one of the most recognizable gun-control activists in the world. The speed at which Kasky and his friends created their movement, alternately known as #NeverAgain and March for Our Lives, and the conditions that allowed it to flourish, are the focus of the journalist Dave Cullen's book Parkland, published this week to coincide with the first anniversary of the massacre. It follows January's Parkland Speaks: Survivors From Marjory Stoneman Douglas Share Their Stories, a heartrending book edited by a Parkland English and journalism teacher, Sarah Lerner, and other works published last year that feature essays, speeches, and reportage by Kasky, David Hogg, Emma González, Delaney Tarr, and other students-turned-household-names.
Parkland is the first book about the shooting that's not marketed toward teens and young adults. It also may be the most optimistic of the bunch. Cullen is less concerned with recounting the horror that took place in the school's freshman building, and analyzing the institutional and societal failures that led to it, than he is in capturing the urgency that propelled the movement from Kasky's living room to voting booths across the country.
As Cullen illustrates how the teenagers braved intractable politicians, death threats, and their own traumas to pursue their mission, Parkland can be an inspiring read. His behind-the-scenes interviews and interactions with the group's leaders provide a lot of insight into their strategies and expectations—he spent 10 months texting and talking with the kids. As a clear sign of the students' trust in him, Cullen was one of the few journalists—in fact, he was one of the few adults—allowed into the movement's secret meeting place in "a nondescript strip mall" a short drive from the school. Here, he found kids being kids.
"There was a massive photo of Cameron's brother Holden in the hallway, nearly floor-to-ceiling, just his head with a huge grin," Cullen writes. "On a front wall they'd made a photo montage from some of the favorite cards they'd received. A big close-up of Emma [González] had been accessorized with a curly mustache." Best of all is the way the teens mockingly posted to a wall nasty notes they'd received via snail mail from a troll who went so far as to include his return address. Cullen obviously connected with the kids, and he movingly relays their confidence that real and lasting change is within reach. If only he had taken more time to tell their story.
His previous book, Columbine, a deep and impressive work of investigative journalism, was published 10 years after that school shooting. Parkland arrived just 363 days after the Stoneman Douglas murders. As such, the narrative often feels hurried, and Cullen occasionally succumbs to the first-they-did-this-and-then-they-did-that method of storytelling. His prose can seem unbridled. ("The kids were on a wild ride and their parents were buckled in with them.") And one passage appears twice in the book: "Young voters have long been a sleeping giant of American politics, because most of them stay home. If they ever turned out in percentages to match their older counterparts, they could swing most elections." Cullen swapped "most elections" for "many elections" in the repeated section, but every other word is the same.
Still, the author makes a strong case that America, after hitting "rock bottom" following the Pulse nightclub shooting in 2016 and the Las Vegas and Sutherland Springs, Texas, shootings in 2017, was ready for a movement on the scale of March for Our Lives. At the end of the book, he enumerates MFOL's pre- and post-midterm wins, including the formation of nearly 100 chapters around the country, the "highest recorded turnout" (31 percent) of voters younger than 30 since 1994, and exit polls that "showed gun control as voters' fourth-most-important issue, surpassing any previous result." Progress continues beyond the book's pages: Last week, Congress held its first hearing on gun violence in eight years, and the Giffords Law Center to Prevent Gun Violence issued Florida its first passing grade (C-minus) on the organization's annual gun-law scorecard, a feat that the center credits to "high school activists [who] stepped up and spoke out."
With the election behind them, and with some having graduated from high school or about to, March for Our Lives' core members have been reevaluating their long-term plans. The kids know that to keep saving lives, they must lead lives of their own. They were burned out, and some of them, such as Kasky, needed to deal with the depression and anxiety they had tried to suppress during the campaign season. "I have to apply for college; I have to get a job," the shooting survivor and activist Alfonso Calderon tells Cullen. Jaclyn Corin, the group's chief organizer, hopes to see gun violence eradicated by her 30th birthday: "We want [March for Our Lives] to demolish itself so it doesn't have to exist. It shouldn't have had to exist ever."
In the epilogue of Parkland, Cullen recalls seeing Springsteen on Broadway on the June night when the Boss broke from his script to praise March for Our Lives. Evidently still floating on the moment, Cullen closes the book with some hopeful, if romanticized, Bruce-like lyricism, an imagining of the kids waking up "weary, bleary" one morning on their cross-country Road to Change tour: "Time to stuff their suitcases, board the Bus to Somewhere, recharge each other with road giggles, and exhale that hope and wonder into another American town."
And yet, in Florida, where the movement began, hope remains tempered by present realities. On January 23, a month after Cullen finished editing his book, in a town 150 miles north of Parkland, a 21-year-old with a 9 mm handgun walked into a bank and murdered five women. Florida's Republican senators and its newly elected, NRA-endorsed governor offered little more than the usual thoughts and prayers. Less than two weeks later, U.S. Representative Matt Gaetz, a conservative Republican from the state's Panhandle, tried to expel two Stoneman Douglas fathers from a congressional hearing on gun violence.
The road to change might have gotten shorter in the past year, but even a book as ultimately optimistic as Parkland understands that much asphalt and many obstacles remain.