How the Oscars Made Do Without a Host
With no official emcee, the 91st Academy Awards were brisk—but a little lacking in personality.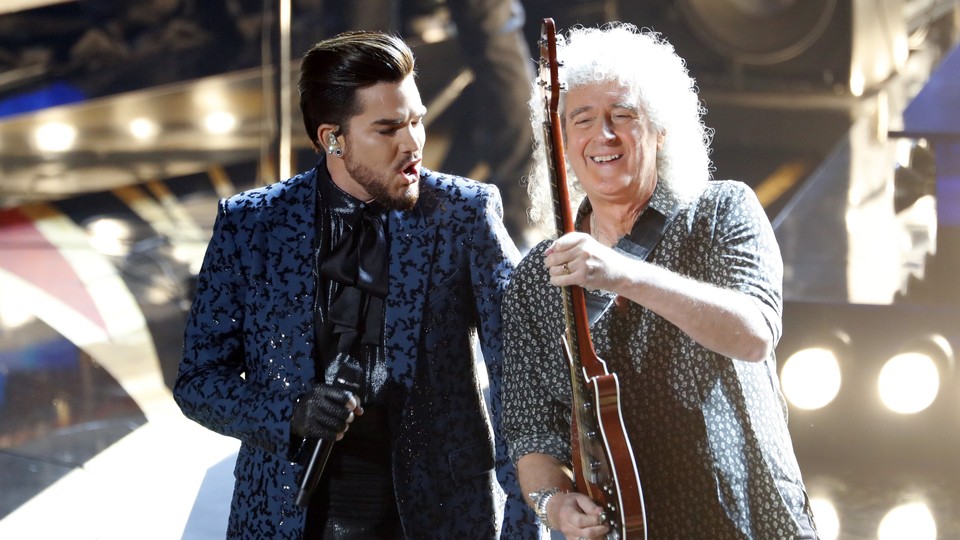 The last time the Oscars didn't have a host, the show didn't exactly move briskly. The 61st Academy Awards, which aired in 1989, opted to go without an emcee and instead began with a baffling musical revue featuring Rob Lowe and a then-unknown actress playing Snow White. The ceremony was such a disaster that it took 30 years for the Academy to risk going hostless again. This time, it did so only after the debacle of Kevin Hart's hiring, the uproar over the comedian's past homophobic tweets, and Hart's subsequent decision to step down. But with ABC reportedly pressuring producers to make the telecast as short as possible, going without an opening monologue certainly saves some time, and this year's ceremony felt speedy as a result.
To kick things off with somewhat of a bang, the show producers Donna Gigliotti and Glenn Weiss enlisted the surviving members of Queen, fronted by Adam Lambert. The band performed a medley of "We Will Rock You" and "We Are the Champions" to an awkwardly half-seated, half-dancing crowd of celebrities. It was no Snow White fantasia, but it wasn't exactly a rousing spectacle either—aside from the cloud of controversy over Bohemian Rhapsody itself, the entire affair felt more like a middling number at the Grammys, not the Oscars. But it did serve the broader purpose of moving things along quickly.
Usually, with a comedian performing an opening monologue (and a few humorous sketches), the first award isn't presented at the Oscars until 20 to 25 minutes in. When Queen wrapped up, the show transitioned right into Best Supporting Actress, after only eight minutes had elapsed. Tina Fey, Maya Rudolph, and Amy Poehler presented, serving up a miniaturized comedy routine (the trio would be great hosts themselves). It was right to business for the Oscars this year, and it's an approach that, surprisingly, worked.
The ceremony has been dogged with complaints and backtracks since last year. There were the announcement and retraction of the "popular film" category, the idea to present four awards during commercial breaks (abandoned after protests), and even an attempt to cut some of the song performances. All the hullabaloo seriously dropped the bar for this year's show; Sunday night's proceedings just had to feel competent to clear it. By and large, they did. Some presenters livened things up, like a heavily made-up Brian Tyree Henry and Melissa McCarthy awarding Best Costume Design. More important, one-third of awards were given out in the first hour, which is the kind of pace ABC (and Gigliotti and Weiss) was hoping for.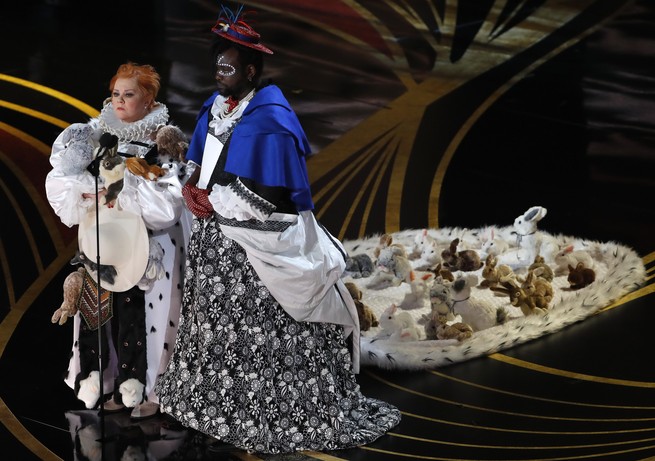 Still, it was also a ceremony that felt a little lacking in personality. No host means no viral moments such as Ellen DeGeneres's selfie with audience members, or Jimmy Kimmel's stunt of bringing in "real people" from a nearby theater. Some of those stunts were hotly debated, some of them widely celebrated, but this year's Oscars in contrast will mostly be remembered for not having much flair at all. Whether the lack of a host will have an effect on ratings, ABC's highest concern, remains to be seen.
The Oscars is still a glitzy enough event that it can be held up with its own prestige. Big stars are always happy to present awards, and while major comedians might shy away from the big gig (several reportedly turned down the hosting job this year), they'll contribute some funny lines while handing out trophies. If anything, the hostless show has been a sign of the ceremony's institutional power. Take a host out of the Oscars, and it turns out—it's still the Oscars.