Your 2019 Oscars Crash Course
Get up to speed for the 91st Academy Awards with a roundup of our best stories.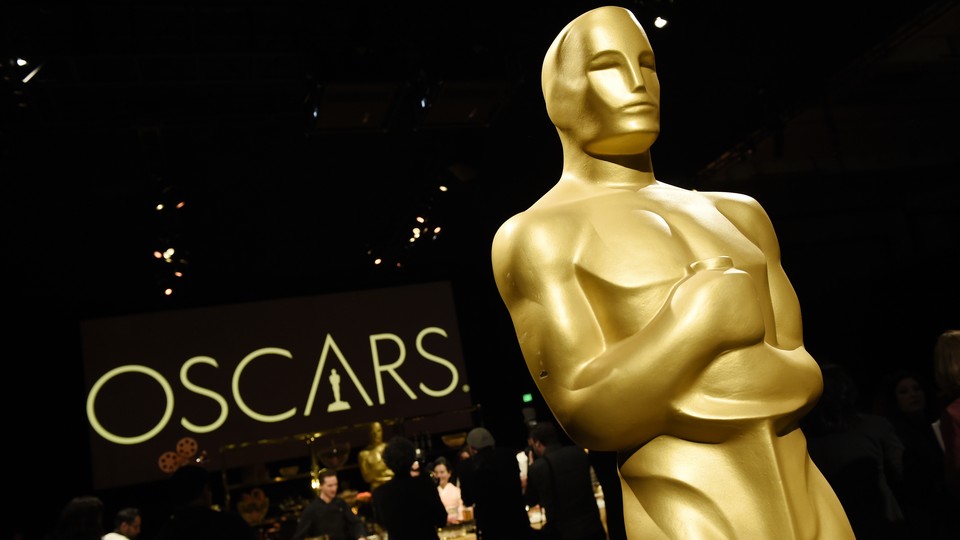 The Oscars are usually rather predictable. The red carpet is replete with glamorous stars and cringeworthy sound bites; the ceremony starts off with a speech that's either inspiring or dull, and it may or may not include an ill-advised musical number. Favorites get snubbed or rewarded for their cinematic accomplishments, and teary speeches drag on too long or get cut off too soon.
This year, however, the Academy of Motion Picture Arts and Sciences has paved its path to the big night with so much controversy that the ceremony will, at the very least, offer the unexpected. Before you tune in on Sunday, catch up on the highs and lows of the past year in film with this roundup of The Atlantic's best Oscars-related coverage.
---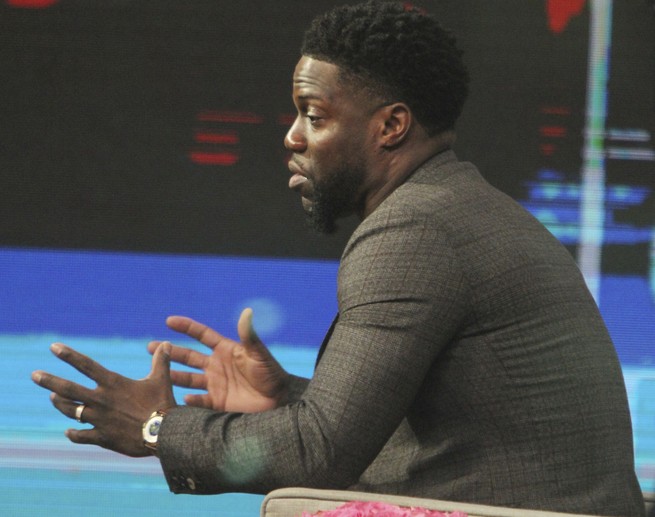 A Controversial Start
For the first time in 30 years, the Oscars will go hostless. The Academy's original pick, the comedian Kevin Hart, stepped down amid heavy criticism for a slew of homophobic tweets he had written in the past. (In a televised interview with Ellen DeGeneres, he claimed to have already apologized for the tweets, though reporters have been unable to track down those apologies.) In lieu of a host, the show will be guided by a group of presenters that includes Angela Bassett, Chadwick Boseman, Laura Dern, Samuel L. Jackson, Melissa McCarthy, Allison Janney, Awkwafina, and Tessa Thompson.
Plans for the ceremony have also been revised a dizzying number of times. In August, the Academy announced that it would be giving an award for "outstanding achievement in popular film" in addition to the usual Best Picture trophy. The decision was swiftly denounced by critics, including The Atlantic's David Sims, who wrote that the change would shunt "genuinely impressive works of art into a category defined primarily by commercialism." The Academy scrapped the new category a month later.
Then there is the issue of time. To keep the lengthy ceremony to a maximum of three hours—last year's ran for approximately four—the Academy reportedly planned to allow performances for only two of the five nominees for Best Original Song. In addition, the awards for Best Cinematography, Best Film Editing, Best Live Action Short Film, and Best Makeup and Hairstyling would be relegated to commercial breaks. Both of these changes, however, were met with backlash and have since been reversed. Producers announced in January that artists would be invited to perform condensed, 90-second versions of all five songs. And the technical categories are safe, after numerous high-profile cinematographers, directors, and actors signed an open letter that called their exclusion from the telecast "nothing less than an insult to those of us who have devoted our lives and passions to our chosen profession."
That's not to mention the controversies surrounding two of the Best Picture nominations—but we'll get to that later. All the decisions that have been announced (and then retracted) thus far point to an Academy that is struggling to course-correct amid its show's dipping ratings. It's also willing, as Sims writes, to diminish its own stature in the process.
---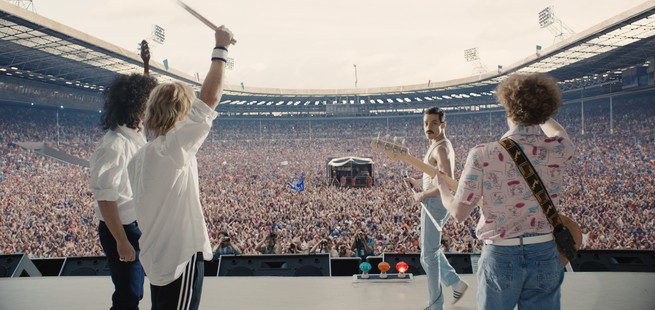 What's Up With the Best Picture Nominees?
January's Golden Globe Awards upended the Oscars race when the best-film prizes of the night went to Bohemian Rhapsody and Green Book, while the critical darling A Star Is Born was left with only one trophy, for Best Original Song, out of its five nominations.
The Atlantic's critics describe Bohemian Rhapsody, a biopic about the Queen front man Freddie Mercury, as a film that lacks personality and attempts to moralize over Mercury's sexuality. The film—in Sims's words, perhaps "the worst-reviewed Best Drama Globe winner in recorded history"—was also hampered by production setbacks that resulted in the firing of its original director, Bryan Singer. Singer has been accused of sexual misconduct and coercion, often involving underage subjects, in incidents spanning more than 20 years, as detailed in an investigation published by The Atlantic weeks after the Globes were broadcast. (Singer denies the allegations.) Although Dexter Fletcher took over filming after he was fired, Singer is still Bohemian Rhapsody's credited director.
Peter Farrelly's Green Book, based on the true story of the musician Don Shirley's friendship with his driver, Frank "Tony Lip" Vallelonga, also makes for an unexpected Oscars front-runner. The Atlantic's Christopher Orr writes that the performances by the film's two leads, Mahershala Ali and Viggo Mortensen, help to elevate an otherwise flimsy tale. However, as Sims notes, Green Book has been criticized for its heavy-handed approach to American race relations, as well as for a portrayal of Shirley and Vallelonga's friendship that has been disputed by Shirley's family. In January, Farrelly apologized for past behavior that included flashing his genitals at people while on set. Within days of that scandal, Nick Vallelonga—the son of Tony and one of the writers for Green Book—also apologized, for a 2015 tweet that supported a false, anti-Muslim claim made by Donald Trump about the September 11 attacks.
Controversies aside, the race for Best Picture also includes Spike Lee's BlacKkKlansman, which, Sims writes, brings "artistic and political verve" to the story of a black policeman who infiltrates the Ku Klux Klan. Another contender, Ryan Coogler's Black Panther, deftly contemplates the past and future of the African diaspora, in Vann Newkirk's words. Sims calls Yorgos Lanthimos's The Favourite "deliciously nasty." According to Nina Li Coomes, its characters are unique and compelling in part because of the powerful ways they move. Orr finds Vice, Adam McKay's Dick Cheney biopic, to be "goofy" and "heavy-handed;" however, as Todd S. Purdum notes, it successfully humanizes its polarizing subject. Roma, from Alfonso Cuarón, depicts the complicated relationship between a maid and the well-off family she works for in a profound and authentic way, says Keshia Naurana Badalge. Bradley Cooper's box-office sensation A Star Is Born rounds out the list, reinvigorating Hollywood's most enduring tale.
If Black Panther wins, it will be the first comic-book film to do so. Roma could also be the first Best Picture win for Netflix, which released the film in theaters specifically with awards in mind.
---
A World of Possibilities
With its nominations for Best Picture and Best Foreign Language Film, Roma is poised to make history on Sunday night as the first movie to win both awards. But Cuarón's ode to Mexico City has plenty of competition in the foreign-language category. Sims praises Japan's Shoplifters, directed by Hirokazu Kore-eda, as a "devastating" work that teases out the bonds within a family living on the edges of society. Cold War, Pawel Pawlikowski's entry for Poland, "meditates on exile, nationalism, and love" during a time of conflict, Rachel Donadio writes. And Orr describes Germany's Never Look Away, directed by Florian Henckel von Donnersmarck, as an "epic yet intimate" history that shows "the redemptive power of art."
---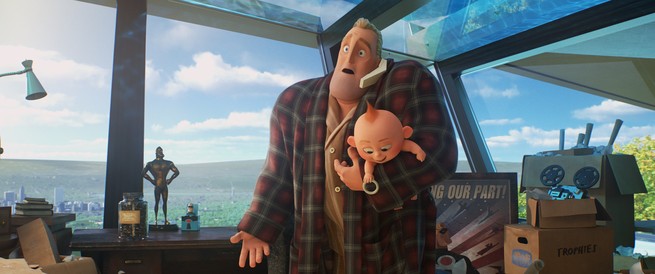 Animated Features for All Ages
The Best Animated Feature Film category shows a wide range of stories and styles this year, with Incredibles 2, Isle of Dogs, Mirai, Ralph Breaks the Internet, and Spider-Man: Into the Spider-Verse all nabbing nominations. Sims describes the long-awaited Incredibles sequel, which comes 14 years after the original, as an "exhilarating ride" with a "charming" B-plot that features the family patriarch in the role of stay-at-home dad. Where the Marvel and DC franchises have sprouted seemingly endless chapters, the director Brad Bird's superhero sequel is different: As Sims explains, it's a story that actually examines "American culture's tendency toward hero worship, perhaps making it the only blockbuster this summer that dares to question its own existence."
Wes Anderson's Isle of Dogs, Orr writes, is a beautiful and sad work of stop-motion animation, set in a fictional Japanese city where dogs have been exiled to a trash-filled island. The location is worth unpacking: Coomes argues that Anderson's version of Japan is a plot device used to create unfamiliarity, whereby Japan is rendered for Western viewers "as a mysterious land with an incomprehensible people and culture." Coomes also explores the deeper reflections of the Japanese animated film Mirai, which tells the story of a young boy, his sister, and their father—"a man finding his footing at a time when traditional gender roles for Japanese parents are being widely challenged."
---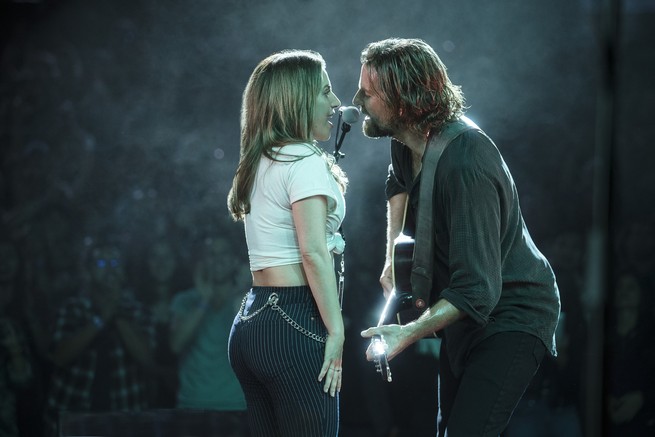 Cinematic Music With Deep Messaging
On the heels of a lackluster Grammys night, the Academy will take its turn at judging some of this year's best and most-talked-about music. As Spencer Kornhaber writes, Lady Gaga and Bradley Cooper's "Shallow," from A Star Is Born, embodies much of the tension present in the film's commentary on authenticity and fame. It's certainly a favorite for Best Original Song, and the duo is set to perform together at Sunday's ceremony in what's likely to be a strikingly different follow-up to Gaga's divisive Grammys rendition. Kendrick Lamar and SZA's "All the Stars," from the Black Panther soundtrack, is another strong Best Song contender. Though it won't be performed at the Oscars, you can check out the song's music video, which Taylor Hosking describes as a "visually stunning voyage to Africa that's loaded with symbolism and references to the continent's many cultures." Black Panther is also nominated for Best Original Score.
The other Best Original Song competitors include "When a Cowboy Trades His Spurs for Wings," from the Coen brothers' The Ballad of Buster Scruggs, and Jennifer Hudson's "I'll Fight," from the documentary RBG. The fifth song on the list is "The Place Where Lost Things Go," which helps to convey what Megan Garber describes as the message of Mary Poppins Returns: that magic isn't about finding easy solutions, but about learning how to cope with the disappointment and pain that exist in the real world. As for the Oscars, audiences will find out Sunday night what sort of magic they might bring.