Maroon 5's Halftime Show Felt Designed to Be Forgotten
SpongeBob, Travis Scott, and Big Boi joined for a pageant of doing the least.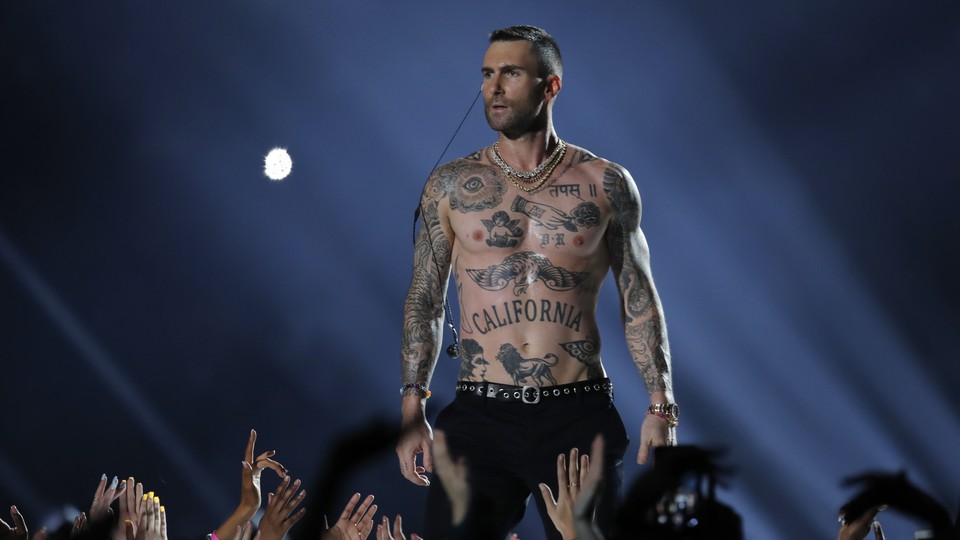 Possibly the most distinctive voice in Maroon 5's halftime show was Drake's, prerecorded and piped in, praising Xanax as a sleep aid. The most recognizable face was that of SpongeBob SquarePants, who popped up on viewers' screens just before a cartoon comet hit Maroon 5's set, sending it into polite spouts of patio-furniture flames. The apocalypse, the implication seemed to be, will be tepid.
How fitting that the main attractions of Maroon 5's concert were characters not on the stage, and not even in the stadium. To the extent that this halftime show will be remembered at all, it'll be for outside factors: a boycott of the NFL triggered by Colin Kaepernick's protests against racism; Atlanta's queasy clearing of homeless camps in preparation for the Super Bowl; Tom Brady's sixth ring; the trauma of seeing the Bud Knight's skull crushed by a Game of Thrones brute. "Moves Like Jagger" is the sort of prescription-grade jingle meant to jam brain circuitry, but even it couldn't, on Sunday night, whistle away the show's dreary context.
Maroon 5, masterful at creating hits that take an active mental effort to distinguish from one another, did not enter this gig with the burden of great expectations. But the band still might have delivered neat arena gimmicks, like a giant swiveling The Voice throne or something. Instead they did the minimum, which perhaps was one of the things that the M-shaped stage stood for. The only story line came in the form of the singer Adam Levine's striptease. At the start, his proto-Facetune cheekbones glinted above a chassis of athleisure; by the end, abs flaunted clip-art tattoos. To think it was a scandal when Janet Jackson removed such a smaller fraction of her shirt.
Mild pyro, drone-lamp skywriting, a drum line dressed for a gay bar, an imported black choir: All are tropes from more spectacular halftime shows of past, and they were mostly deployed here in a subdued, budget-friendly fashion. The exception was the gospel singer whose geyser of a voice highlighted just what Levine hadn't achieved all along. His whimpery croon generally offers the only unique flavor in Maroon 5's stews, but here its cloying tang was barely discernible. At no point did he convey that he wanted the folks at home to pause in their analysis of Brady's shaky first half, though many of them no doubt did so anyway, for a moment, to sing along about the girl with the broken smile.
At least Levine's vocals were broadcast on TV. Travis Scott, the Houston rap experimenter who really has nothing to do with Maroon 5, saw long patches of his "Sicko Mode" verses squelched by censors. The profanity of his lyrics would have seemed to present a foreseeable and work-aroundable problem, but—again—this was not a show that created the impression of anyone stretching for excellence. Scott still gave a shot at interesting visuals, radiating wolfish energy as he stalked around while wearing some sort of alien tool belt. Big Boi of Outkast brought a greater jolt of electricity later on, as well as the show's most effective Atlanta shout-out, by rapping his caffeinating 2003 hit "The Way You Move" while swaddled in a majestic fur.
What was SpongeBob doing there? Fans of the Nickelodeon meme machine have long lobbied for a halftime tribute to a beloved SquarePants scene set at a football game, and after the show creator Stephen Hillenburg's death at age 57 this past November, the call was heeded. The Yellow One's inclusion was … touching isn't the right word, because the backstory to the shout-out wasn't conveyed to viewers. Charming—sure, SpongeBob is always charming. But maybe the best term for the interlude is useful. It filled time, it changed the subject, and it assisted in Maroon 5 fulfilling what felt like a hidden agenda suited for tense times: to be forgotten.