Even Maroon 5 Can't Avoid Controversy This Super Bowl
Halftime-show performers aren't immune to backlash from the NFL's most recent critics.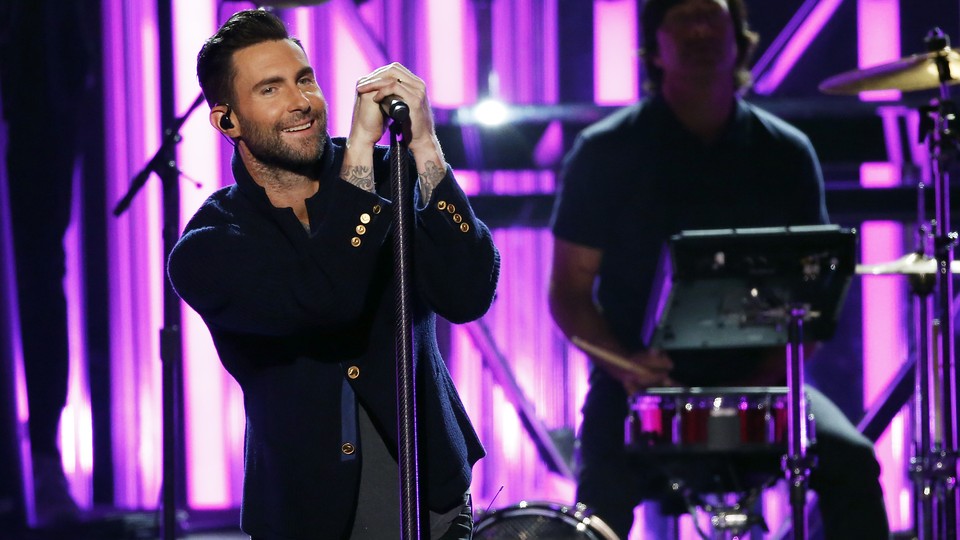 There's no bigger concert stage than the Super Bowl halftime show. Year after year, more Americans watch the game than any other TV event, and even with cord-cutting and controversy eating into NFL ratings recently, the Super Bowl still draws more than 100 million viewers from red and blue America alike. No musician would ever otherwise have that kind of audience for a single performance.
Which is why the halftime show has historically been often dazzling, often disappointing, and perpetually contested. Big-tent icons—Prince, Bruce Springsteen, Madonna—have put on defining performances. But popular culture's fault lines have a way of surfacing, too. Janet Jackson's "wardrobe malfunction" kicked off debates about decency and double standards. In M.I.A.'s middle finger, America experienced the revenge of the punkish types whom the mainstream routinely steals from and defangs. And Beyoncé helped usher in a new discussion about race by punctuating Coldplay's set in Black Panther Party couture.
The issue of race has indeed put the 2019 halftime show—and the game around it—in a strange spot. The former San Francisco 49ers quarterback Colin Kaepernick's 2016 decision to begin kneeling during the national anthem at the beginning of games, a gesture against institutional racism, set off a domino line that's still falling today. Kaepernick spurred a protest movement among players, which drew an intense backlash that Donald Trump gleefully stoked. The situation has built to the point where even the most milquetoast entertainer will have a tough time navigating halftime.
When Kaepernick left his contract with his team at the start of the 2017 season and was not hired elsewhere despite solid performance stats—raising suspicion that he was being blacklisted for kneeling—he filed a legal grievance with the league. By the fall of 2018, his followers had taken up a boycott effort in solidarity. Meanwhile, on the right, Trump has called for tuning out pro football because it's not been more punitive to "that son of a bitch" Kaepernick and his peers.
Into this maelstrom comes the supposed diversion of the halftime show. Rihanna, Jay-Z, and other stars have spoken publicly about declining the 2019 gig out of allegiance to Kaepernick's cause. And the comedian Amy Schumer said she turned down a Super Bowl commercial because of the athlete. Still, after a reportedly difficult search, a willing headliner was found: Maroon 5, the Los Angeles septet that's released airy-voiced diet-pop-rock smashes since 2002.
In any year, Maroon 5 would seem like a suitably bland choice for the Super Bowl stage, in line with the smiley mass appeal of the previous performers Coldplay and Bruno Mars. Pop's provocateurs can't be called on every time. And in a moment of division, maybe the fact that no one can't hum along to "She Will Be Loved" could be thought of as unifying. Perhaps since this is not really a band known for politics—the members seemed genuinely unaware of the "alt-right" connotations of their 2017 album title, Red Pill Blues—they would be exempt from the fray.
But a boycott drive is a boycott drive: The point, for Kaepernick's supporters, is that no one should sing. And so a petition with 112,000 signatures and counting calls for Maroon 5 to drop out of the Super Bowl, and some celebrities, such as Schumer, have echoed the message. The band's keyboardist, PJ Morton, told People that they thought carefully about whether to play, and decided they could toe the line: "We can support being against police brutality against black and brown people and be in support of being able to peacefully protest and still do our jobs. We just want to have a good time and entertain people while understanding the important issues that are at hand." On Tuesday, the NFL said the band would skip the traditional pregame press conference, a likely attempt to sidestep tough questions.
Even more controversy has attended the black artists who have considered joining Maroon 5 onstage. At the outset, it seemed likely that hip-hop would be involved, given that one of the capital cities for America's favorite genre is Atlanta, the venue for this year's game. But a rumored half-dozen rappers or R&B singers were approached, according to Variety, and none said yes. Cardi B, an obvious pick, given that she has a hit single with Maroon 5, declined the gig "because of how she feels about Colin Kaepernick and the whole movement," according to her rep.
Two rappers have opted in, though. One is Big Boi, half of Outkast, the hip-hop pioneers synonymous with Atlanta (check the disapproving replies to his announcement tweet). The other is Travis Scott, the Houston star who rose to ubiquitous status last year via his single with Drake, "Sicko Mode." Public pressure on Scott to not participate has been intense. He said he spoke with Kaepernick before accepting the gig, and "while the two did not necessarily agree, they emerged from the conversation with mutual respect and understanding," according to a source interviewed by Variety. But Kaepernick's partner, the radio host Nessa, tweeted, "There is NO mutual respect and there is NO understanding for anyone working against @Kaepernick7 PERIOD. #stoplying."
It's quaint to remember now, but the only controversy Justin Timberlake's sluggish concert last year had was over how he'd pay tribute to Prince. In the months since then, Kaepernick's broadly focused campaign against police brutality and discrimination has taken up the specific cause of his treatment by the NFL. His legal grievance comes at a time of general scrutiny toward football due to the physical toll on its players, its handling of misconduct, and, according to Trump, a general wimpification. Ratings have declined for the regular-season NFL, as has youth participation in football—but not so much that football is close to losing its status as the nation's No. 1 sport.
There's something unsettling about this drama happening at the same moment when the Oscars can't find a host and the White House Correspondents' Dinner has all but disintegrated. The causes vary: For the Super Bowl, it's the league's handling of peaceful protest; with the Oscars, the proposed host, Kevin Hart, was unwilling to reckon with his bigoted jokes; with the Correspondents' Dinner, Trump's attacks on the press proved poisonous. In all cases, the issues at stake—bigotry or authoritarian tendencies—are so grave that they kill the pretense that differences of opinion don't matter.
For now, Maroon 5 might be able to croon and clap through their set without setting off trip wires. The band and Scott have tried to offset the appearance of siding against Kaepernick via charity: Maroon 5 (with the league and their record label) is donating $500,000 to Big Brothers Big Sisters of America, and Scott is having the NFL send the same amount to the social-justice organization Dream Corps. Some have called for the musicians to take a knee during the performance, a notion that, if it comes to pass, would send the arguing into a yet higher register. One rumored gesture, however, shouldn't offend anyone: Maroon 5, it appears, may play a song in tribute to the late creator of SpongeBob SquarePants.