There Was No One Like Karl Lagerfeld
Chanel's creative director, who died at 85, winkingly played into the stereotypes of a great couturier. But he also refused to be pigeonholed.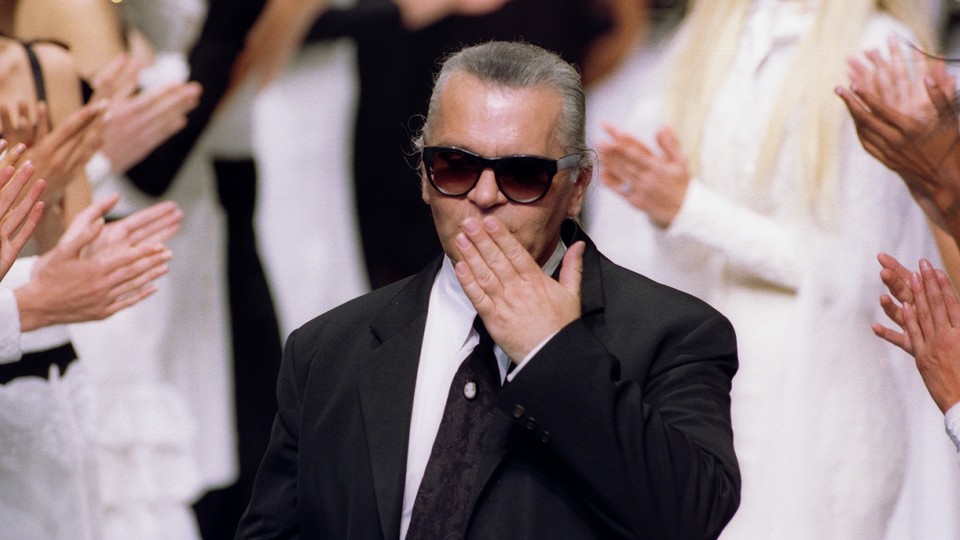 In an industry that rarely rewards longevity, it seemed like Karl Lagerfeld would live forever. Thus it's with a sense of bewilderment that the fashion world mourns the death of Chanel's creative director on Tuesday, at the age of 85 (ish). Like his famed predecessor, Coco Chanel, Lagerfeld habitually lied about his age, and he seemed to stop time by adopting a personal uniform that was instantly recognizable and endlessly parodied—by Ashton Kutcher, by Neil Patrick Harris as Gunther in Netflix's A Series of Unfortunate Events, and, frequently, by Lagerfeld himself, who created Fendi fur key chains in his likeness, employed a phalanx of Karl look-alikes as waiters at the launch of his limited-edition Diet Coke bottles, and voiced the male model turned villain Fabu in the animated film Totally Spies! The Movie.
Born—by most accounts—in Hamburg, Germany, in 1933, Lagerfeld moved to Paris as a teenager. At the tender age of 21, he won the International Wool Secretariat award in the coat category, sharing the podium with another fashion prodigy, Yves Saint Laurent, who won for his dress design. (It was the beginning of a fierce personal and professional rivalry, rivetingly chronicled in Alicia Drake's The Beautiful Fall: Fashion, Genius, and Glorious Excess in 1970s Paris.) The accolade led to an apprenticeship with the couturier Pierre Balmain, after which Lagerfeld was named head designer at the now-defunct couture house Jean Patou. In 1963, he began freelancing for the ready-to-wear label Chloé, becoming its artistic director in 1974, while also serving as creative director for the Italian fur company Fendi.
Lagerfeld made the leap from fashion-industry stalwart to pop-culture icon when he was appointed creative director of Chanel, showing his first couture collection in January 1983. It's a sign of his transformative influence that few remember that Chanel was in genteel decline at the time, adrift since the death of its eponymous founder in 1971. Lagerfeld gave the ailing Parisian label an adrenaline shot to the heart, cunningly remixing the house's classic looks for a younger, more international clientele. "Suddenly, everyone is talking about Chanel," Vogue marveled in June 1983.
Despite Lagerfeld's eventual success, the appointment of a German-born ready-to-wear designer to the storied French couture house—at a salary rumored to be a then-astronomical $1 million per year—also prompted a scandal. It was doubly controversial because Coco Chanel herself had declared Lagerfeld's longtime rival, Saint Laurent, her rightful successor, and Saint Laurent desperately wanted the job. Though the idea of bringing in a buzzy designer to shake up a staid heritage brand has since become a cliché, it was an unprecedented move at the time, and Lagerfeld was already 50 years old—ancient by fashion-industry standards.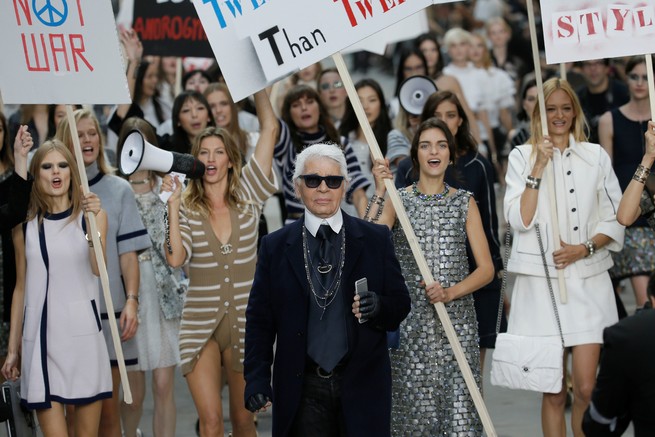 Yet Lagerfeld had never quite shed his early reputation as an enfant terrible, and he successfully refashioned himself as "the kaiser." A rococo-art aficionado (he auctioned his French furniture collection for $21.7 million in 2000), he powdered his graying ponytail like an 18th-century dandy. His trademark sunglasses, fans, and fingerless gloves further camouflaged the effects of aging. A gym-obsessed bodybuilder in his youth, he kicked his Coca-Cola addiction and shed nearly 100 pounds in the early 2000s, a physical transformation that he chronicled in his book The Karl Lagerfeld Diet and accentuated with formfitting black suits and starched white collars by Hedi Slimane for Dior Homme. But Lagerfeld never lost his outlandish personality, nor his penchant for grandiose sound bites that ranged from irreverent ("Sweatpants are a sign of defeat") to offensive ("No one wants to see curvy women").
When it came to his work, Lagerfeld had far too much creative energy for just one job. As other couturiers tentatively dipped their toes into lower-priced diffusion lines, Lagerfeld leapfrogged ahead to fast fashion, designing a capsule collection for H&M in 2004 before launching his own budget-friendly label, Karl, in 2011. At the time of his death, he was simultaneously designing multiple collections a year for Chanel, Fendi, and his own line, as well as working as a photographer, an author, a publisher, and a furniture designer. "Why should I stop working?" he asked in a 2012 VogueTV interview. "If I do, I'll die and it'll all be finished."
It's tempting to declare this the end of an era. Lagerfeld's death marks the passing of the last of the great couturiers, a tribe of (mostly) men—Charles Frederick Worth, Jacques Doucet, Paul Poiret—who lived like kings, collecting masterpieces, dabbling in the arts, crafting flamboyant public personas, and making pompous pronouncements on how women should dress. For Chanel, which just announced Lagerfeld's longtime collaborator Virginie Viard as its new creative director, this is certainly a major turning point. But if Lagerfeld winkingly played into certain stereotypes, he also defied neat pigeonholing. He may be remembered as a fashion legend, but in terms of marketing, branding, and financing, he was also an artist of reinvention.