The Documentary That Bucks Oscar Trends—And Still Got a Nomination
Hale County This Morning, This Evening's nod is a diversion from the Academy's typical recognition of black cinema.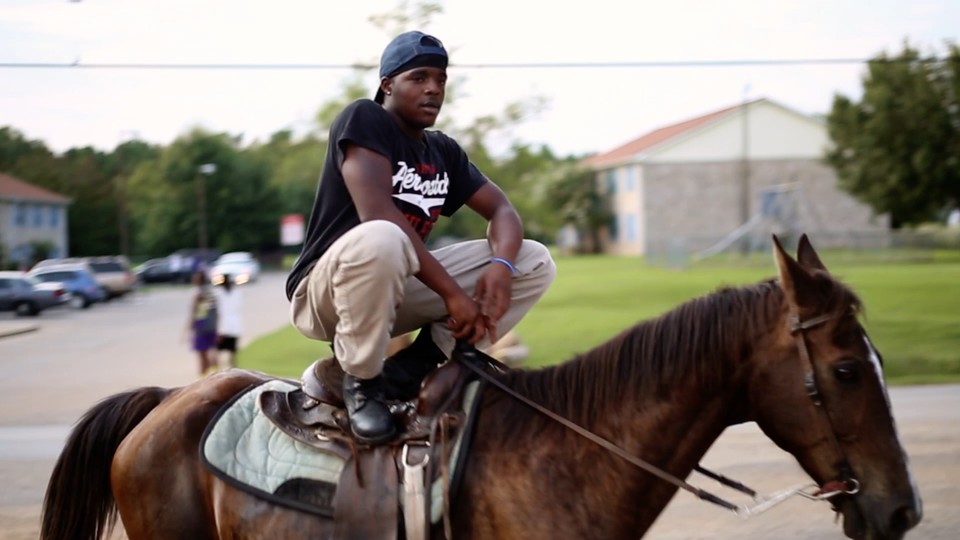 RaMell Ross's stunning directorial debut, Hale County This Morning, This Evening, has garnered critical acclaim and a host of accolades, including an Academy Award nomination for Best Documentary Feature. An impressionistic and avant-garde film set in Hale County, Alabama, it examines the quotidian and intimate moments of its African American protagonists and the community in which they live. In his use of poetic images and nonclassical structure, Ross resists easy quantification and quick summary about black life in the South, making Hale County's nomination a choice unlike any other in the Academy's contemporary history.
If Ross were to win, he would be the third African American documentarian (following T. J. Martin for Undefeated in 2012 and Ezra Edelman for O.J.: Made in America in 2017) to do so in the category, an acknowledgment that speaks more to the Academy's wavering race politics than to a lack of worthy films by black filmmakers. While the Oscars, an inefficient if much heralded mechanism of promotion for the U.S. film industry, has mostly disavowed the works of these artists, Hale County's provocative formal style buttresses its potential to win.
Before he began filming in 2012, Ross strategized to "shoot from, not at" his subjects. He moved to the area in 2009 to teach photography and coach basketball, and later met and befriended the film's protagonists, Quincy Bryant and Daniel Collins. Immersing himself in their lives, Ross privileges interpersonal and communal exchange and experiences. As both participant and observer, he recorded 1,300 hours of footage over five years, condensing the film into 80 powerful minutes that provide snapshots into the lives of Quincy, Daniel, their respective families, and their rural southern town.
Quincy is a new father to an energetic toddler, and Daniel is a basketball player at Selma University. Ross rejects didactic documentary modes that spectate and collate the experiential aspects of being black, as he states, "however big and vast and multifaceted" that experience is. In this regard, Hale County is less about Quincy's and Daniel's life journey and more a meditative composite of the complexity of the individual and collective black southern experience.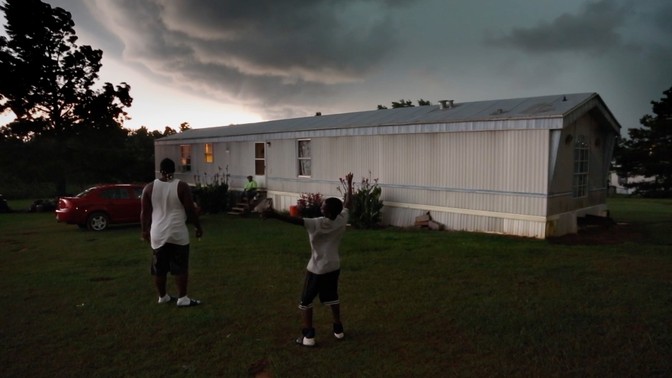 The fact that Hale County received an Oscar nod is significant. In terms of documentaries about black subjects, over the past three decades, the Academy has nominated 28, including Richard Kilberg's Adam Clayton Powell (1990), Spike Lee's 4 Little Girls (1998), and Ava DuVernay's 13th (2017). Of this group, just six documentaries (two of which were directed by black men) have won the coveted award. Half of these winning films (When We Were Kings (1997), Undefeated, O.J.) interrogate the fraught politics of black male athletes' value, fetishization, and/or repudiation in the public imagination. While excellent works in their own right, most of the winners sensationalize the stereotypical binary of black people as either exceptional or deviant and, in some cases, both.
Hale County is interested in the realm of sports—principally through Daniel's collegiate basketball career—but the film reframes how audiences image and imagine black athletes. For example, Ross films a brief scene where a player dunks during a game. Shot in slow motion from behind a seated Daniel, the scene shows him standing and cheering from the bench. With the sound distorted by the slow-motion effect, Daniel turns to look back at the camera, crying out "Oh, no!" before the image cuts to the inside of a car that has been pulled over by the police. Daniel, who is in the front seat, states: "Man, I don't think if we were white he would have did all that." Looking into the back seat directly into the camera at Ross, Daniel asks: "What you think?"
The camera then cuts to a close-up of the rearview mirror, revealing the white police officer who pulled them over. The image is layered with the sounds of Daniel's distorted voice from back on the court, witnessing the slam dunk, and calling out: "Oh my God, whose child is this?!" As the audience ponders "what it thinks" about black men being treated differently than white people by the cops, Daniel's exclaimed query enters the scene as both celebration and condemnation of the ways in which black people are spotlighted in American society.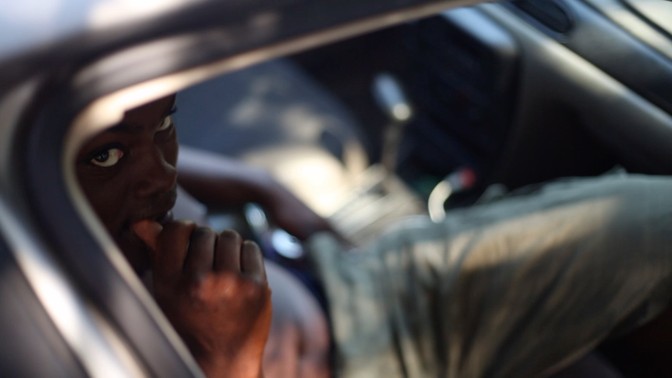 Scenes like this show audiences that Hale County is not a "hoop dreams" story, a narrative fascinated with the prospect of ghetto escape, money beyond measure, and the meritocracy of sporting ability. Ross's film is a cinematic portrait of black men living and loving, being and becoming, existing and resisting in the cultural realities and fantasies of the American South. It is also about repudiating Hollywood's dominant representational regimes, which, as per the Academy's history, is often limited to the black athlete or the black criminal.
With Hale County, Ross shows how cinema can do more than just relay a narrative, linking him to a legacy of independent black film artists dedicated to formally reimagining blackness on-screen. In describing the L.A. Rebellion, a cohort of black university-trained filmmakers from the late 1960s to the 1980s that included Charles Burnett, Haile Gerima, and Julie Dash, among others, the artist Cauleen Smith charged that  "cinema in general is lagging behind all of the arts in terms of its experimentation and innovation … It has ceased to do anything other than serve narrative; and that is all audiences want it to do." Ross and a dynamic new wave of black film and video artists such as Khalil Joseph, Ja'Tovia Gary, and Arthur Jafa are, as Smith describes, attempting to "retrain audiences to see and experience film on another level so that their pleasure [isn't] solely coming from being spoon-fed the narrative with complimentary and pleasurable images."
In this vein, Ross's cut from the basketball game to the police car without explanation is reminiscent of Bush Mama (1979), where Gerima cuts from a black man leaving for a job interview to him being in prison. Gerima said in a 1983 interview: "Now, one of the experiences of being black in America is not going where you want to go, being stopped … It is a truthful representation to cut from him leaving for a job interview to a prison scene without justifying how he got in jail … That one cut in Bush Mama satisfies a truthfulness to a black experience."
Both Ross and Gerima use editing to create logical bridges. Hale County has no narration and no clear plotline. The film does not explain itself; it just unspools as a series of cinematic vignettes with fleeting characters and resonant cultural memories. From a young boy and girl getting their hair done to a man standing atop a horse to show off because, as he explains, not everyone can achieve such a feat, these distinct and disjointed moments move both audience and story forward. Eschewing a diagnostic treatment of southern black life, Ross's experimentalist work captures the idea of black film, to use the film theorist Michael Boyce Gillespie's words, "as art, not prescription."
The process of retraining audiences is consequential to understanding Hale County's nod in the Academy's Best Documentary Feature category. Ross upends cinematic conventions, and in doing so, he shows blackness in a way that is rarely seen on-screen. And while the film's campaign for the award has proven successful in terms of a nomination, whether Hale County has actually pushed a majority of the white voting Academy to see blackness and black people anew remains to be seen.