Finally Scrutinizing the Men Behind the Grammys' Curtain
General criticism of the show has turned into specific controversy involving the Recording Academy president, Neil Portnow, and the producer Ken Ehrlich, who has been in his position since 1980.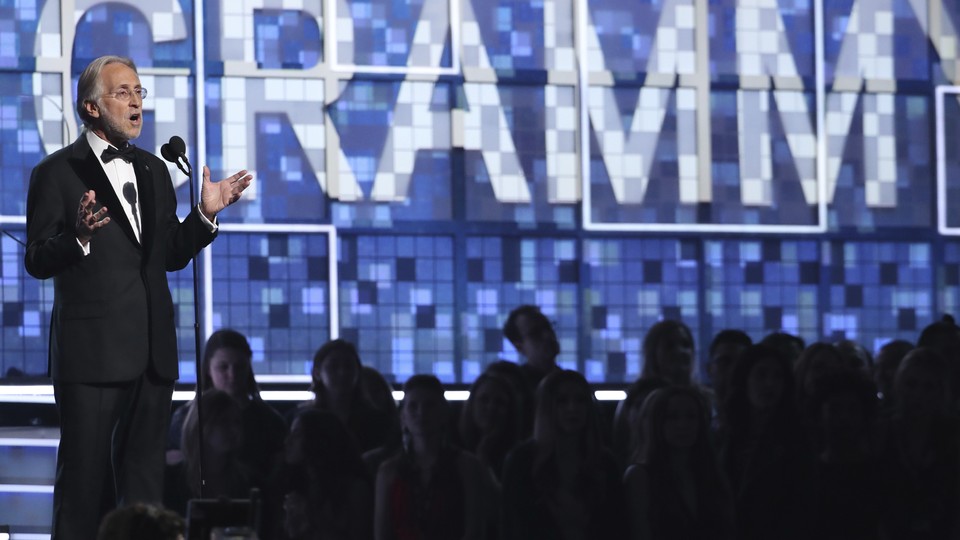 As the Grammys dragged into its fourth hour on Sunday night, the storied producer Jimmy Jam told the audience that it was time to pay tribute to yet another titan of music. Dolly Parton had already presided over her own medley and Diana Ross had thrown herself a birthday bash; Aretha Franklin's memorial was still to come. The recipient of the next fete, rather, would be Neil Portnow, the bespectacled, white-bearded 71-year-old who has routinely bored Grammys audiences since he became the Recording Academy's president in 2002.
It's Portnow's last year in his run as the longest-acting chief in Grammys history. So after a montage about the Recording Academy's good works—museums, charities, concerts, opportunities for Portnow to pose with Barbra Streisand—another montage had musicians rave about Portnow's tenure. Celine Dion bid bon voyage. Chick Corea said, "You've helped us keep the music fires burning bright" and played a piano riff. Then it was Portnow's turn to talk, which he did for longer than any musician's acceptance speech.
It was a lot of time devoted to a bureaucrat, and Slate, helpfully, has put together a gallery of more Portnow content for the precisely zero people who were left asking for it. This was not just any insider indulgence though; it was an attempt to polish a damaged image. More and more, when it comes to the well-publicized flaws of the Grammys—and really, of gatekeeping institutions of all sorts—public scrutiny is turning toward the behind-the-scenes types who've called the shots for extreme lengths of time.
Portnow found himself in pop-culture controversy in 2016, when Kanye West requested a meeting about making the Grammys more "relevant," which is partly to say, more inclusive of hip-hop, a genre that hasn't won an Album of the Year award since 2004. Portnow said he was game to collaborate, but he also gave interviews in which he made statements such as, "No, I don't think there's a race problem at all" with the Grammys. West hasn't attended the ceremony since then, and not until 2019—the first show after long-overdue expansions were made to the Academy's voting body—did a rapper (Childish Gambino) win Song of the Year or Record of the Year.
But Portnow only became a true celebrity bête noire when, after the 2018 Grammys telecast gave out just one trophy to a female artist, he said women needed to "step up" in the music industry. Rebuking female artists and execs who'd long spoken about the structural obstacles facing them, the comment displayed breathtaking ignorance or insensitivity from someone with so much ostensible power in the industry. The ensuing backlash was fierce. Sheryl Crow and Pink tweeted complaints. Fiona Apple played a concert in a Kneel, Portnow tee. Vanessa Carlton campaigned for him to step down. Portnow apologized quickly, and after another scandal—accusations that the Grammys show siphoned money away from charity—announced that he would retire soon.
The brouhaha wasn't forgotten Sunday so much as loudly atoned for. There was lots of celebrating women in music from the host, Alicia Keys, who started the show by summoning the team of Michelle Obama, Lady Gaga, Jada Pinkett Smith, and Jennifer Lopez. The female artists Kacey Musgraves, Cardi B, H.E.R., and Dua Lipa took televised prizes, though the latter did so with a dig at Portnow's "step up" rhetoric. Then there was Portnow's speech, which advocated inclusivity in parodically mealymouthed fashion. An actual quote that is not from a seventh grader's civics essay: "The need for social change has been a hallmark of the American experience from the founding of our country to the complex times we live in today."
The reaction shots from women in the audience during Portnow's speech didn't exactly radiate approval. The length and dreariness of his talk, in fact, asked frustrating questions of the viewer. Who wanted this combined display of contrition and self-celebration from Portnow? What could he say to cover up the fact that he had run the Recording Academy for more than 15 years and was still able to suggest in 2018, at the height of the #MeToo wave, that women are just not trying hard enough? How much denial did he have to be in about the resentment facing the Academy to say, "Please know that my commitment to all the good that we do will carry on as we turn the page on the next chapter of the storied history of this phenomenal institution"?
The Grammys—ever tepidly reviewed and rated—is, of course, not just Portnow's mess. Which is why it was fitting that days before the show, another backstage figure made headlines for unhappy reasons. Ariana Grande had been advertised as a performer at the Grammys, but ended up pulling out. Ken Ehrlich, the telecast's producer, told the Associated Press that it was just a logistical issue. "When we finally got the point where we thought maybe it would work, she felt it was too late for her to pull something together for sure," he said.
But Grande, on Twitter, called Ehrlich a liar: "I can pull together a performance over night and you know that, Ken. It was when my creativity & self-expression was stifled by you, that I decided not to attend." Grande said she'd offered three songs, presumably from her new album, to play at the show—but was encouraged to do something else in the interest of political game-playing and favor trading. It's a flap that recalls reports from 2018 that Lorde, the only woman nominated for Album of the Year, didn't play because the Grammys' producers had only offered collaborative, not solo, performing slots, including in a Tom Petty tribute.
You know that, Ken has quickly become a catchphrase among Grande fans, one that—as with the Portnow controversies—brings new attention to a power player who's been in plain sight for a very long time. The 76-year-old Ehrlich has been producing the Grammys since 1980, which is more than one and a half the amount of time Grande has been alive. He understandably has pointed to that epic tenure when defending himself. "The thing that probably bothered me more than whatever else she said about me is when she said I'm not collaborative," Ehrlich told Rolling Stone.
"You can ask Christina Aguilera, who I asked to do 'It's a Man's World' for James Brown," he continued. "You can ask Melissa Etheridge, who finished her cancer treatment and I put her out on stage, bald, doing Janis Joplin. You can ask Ricky Martin, who overnight became the creator of the Latin-music revolution. Ask Mary J. Blige, who was scared shitless to go out there and do 'No More Drama.' I basically worked with her to mold it."
That litany indeed includes some of the highlight moments from Erhlich's reign. Producing an event like the Grammys is an enormous task involving an overwhelming number of elements—personnel, equipment, creative concepts—and that he's met that challenge for so long is a real feat. But Ehrlich's 39-year stint has also seen perennial grumbles from viewers about strange performance choices and overlong, tribute-packed, gimmick-obsessed mediocrity, all of which was well on display Sunday night (one top-of-the-head example: J. Lo, of all people, doing the Motown medley).
It's also seen, in recent years, mounting outcry from not just Grande and Lorde, but also other huge artists such as Frank Ocean and Justin Bieber who for one reason or another have been alienated from what's supposedly "music's biggest night." After Sunday's show, Nicki Minaj joined their ranks by blasting Ehrlich by name. "I pissed off the same man Ariana just called out for lying," she tweeted. "Grammy producer KEN. I was bullied into staying quiet for 7 years out of fear." The full details of their spat would be revealed soon, Minaj promised, building suspense in much the same fashion she has when beefing with rappers. Ehrlich has yet to respond.
Identity-based theories for why two white male Baby Boomers with incredible job security are in this position may be easy to come up with. But whatever the reasons, Ehrlich and Portnow have been very publicly faltering in the crucial superstar-relations department. Take last night's viral moment when Drake popped up in a rare Grammys appearance to accept the Best Rap Song win. His speech mildly dissed the entire concept of giving awards for art: a classic gripe that he simply put in new terms. But when the show seemed to cut him off to go to commercial, it gave the appearance of producers with thin skin. Later, Grammys sources told The Hollywood Reporter that Drake actually finished his speech and was given a chance to return to stage. That they're having to make such clarifications at all, though, hints at something amiss in the control room.
Ehrlich has one year left in his production contract, and has said he's unsure about what comes next. Portnow has given his last Grammys speech, and the Recording Academy has not determined its next president. The latter leaves behind laudable things: legislative victories, philanthropic work, many supporters in the industry, and, as of this year, reforms in voting and awards giving to address widespread criticisms about representation and relevance. But the fact that such critiques were being made so fiercely for so long is explained, surely on some level, by the fact that the people in charge have been so long-serving. With new blood, maybe this show can be saved after all.