Why Rap and R&B Still Might Not Triumph at the Grammys
Kacey Musgraves and Brandi Carlile will compete for Album of the Year against the award show's most snubbed genres.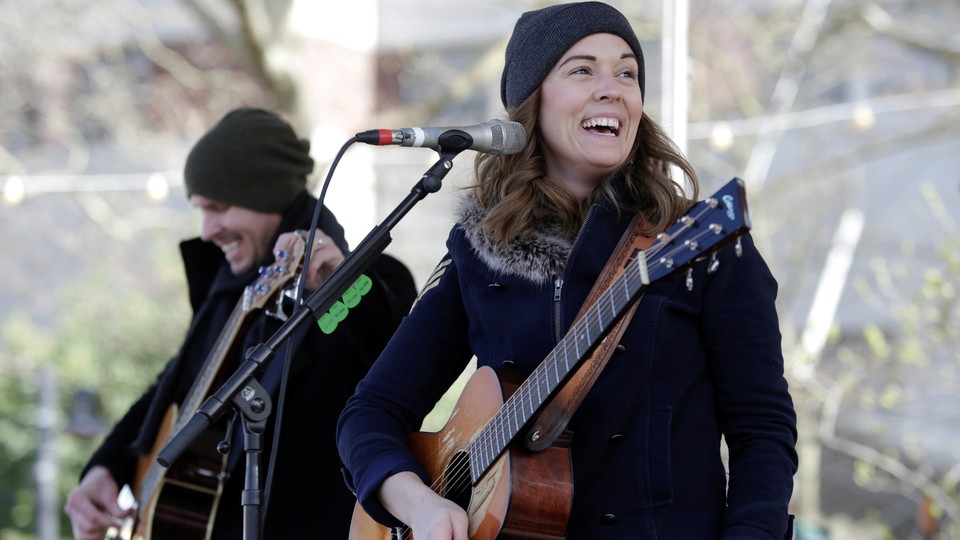 Given that this is the award show where Christopher Cross beat The Wall, the Grammys are—historically, presently, perhaps eternally—bound up with a sense of confusion. But the confusion this year might, at least, be of a novel sort. Rarely has predicting the outcomes been more of a challenge.
That's because the Recording Academy expanded the nominee pool for each of its "big four" cross-genre awards—Album of the Year, Record of the Year, Song of the Year, and Best New Artist—from five to eight. At the same time, its nomination committees snubbed the sort of stars who might have been labeled "inevitable" winners, such as Taylor Swift and Ariana Grande, name-brand singers who fit a familiar trophy-winning model. Instead, the Grammys nominated a number of well-respected but relatively obscure types from R&B and alt-country, as well as some super-famous rappers.
These are reforms meant, presumably, to address long-running criticisms that the Grammys are not only out of touch, but that they're sexist, racist, and genre-ist. The most flagrant example is hip-hop. America's most vibrant category of music has never generated a Song of the Year or Record of the Year winner, and it hasn't won the best-album award in 15 years. A more diverse voting pool has been assembled, though, and rappers are well represented in the big categories this time. Drake, Cardi B, Post Malone, Kendrick Lamar (via the Black Panther soundtrack he produced), or the sometimes-rapper Janelle Monáe could walk away with Album of the Year, the night's most prestigious prize.
But having eight nominees adds statistical complications. The six of the eight Album of the Year contenders that are rap or R&B (the artists named above, plus the newcomer H.E.R.) could split votes from Academy members sympathetic to their styles—a bloc that, at least in previous ceremonies, was not large enough to ensure winners in the general categories. This leaves open an opportunity for representatives of another constituency often done wrong by the music industry: women with guitars.
The only nonrap, non-R&B Album of the Year nominees are Kacey Musgraves's Golden Hour and Brandi Carlile's By the Way, I Forgive You. Both are the work of singer-songwriters inspired by Nashville, but not at the center of the popular country scene, in which radio programmers are known to be reluctant about promoting female singers. The two artists possess different sounds, backgrounds, and approaches—and while it's possible they too will split votes, it also seems plausible that one of them might pull away with an Album of the Year win that could leave some viewers saying huh?
Musgraves seems set for cross-genre stardom. Her 2014 debut, Same Trailer Different Park, drew the kind of praise that played up her contrasts with Nashville's commercial mainstream. The singer was direct and original rather than platitudinal and formulaic; she wrote catchily but without bombast; she had a hint of progressive politics, heard in the gay-is-okay anthem "Follow Your Arrow." The spoils included Grammy wins for Best Country Song and Best Country Album.
She kept rolling on, and might well take this year's biggest prize. Golden Hour, her third album, delivers sturdy melodies amid a mood of surrender, of being washed over, that was inspired by her dabbling with LSD. Vocoder and disco beats add mild spice, and it's easily accessible but still personality-driven. If that approach hasn't paid off with big radio hits, Musgraves's sold-out concerts—and the Country Music Association Awards' Album of the Year trophy—indicate the devotion of her audience. Gigs such as guest-judging RuPaul's Drag Race All Stars and her No. 1 placement on several critics' year-end lists suggest the broadness of that fan base.
Still, in her relatively chipper sound and telegenic marketing, Musgraves could read as "pop" in a way that hasn't always appealed to Grammys voters on the hunt for overdetermined gravitas—the folks who boosted Beck's solemn Morning Phase above Beyoncé's culture-shaking self-titled album at the 2015 Grammys, for example. Which is why a win for Carlile, among the least-popular nominees, isn't that far-fetched. The Washington State resident has been making savory, emotive, and well-reviewed Americana albums since 2005. With 2018's By the Way, I Forgive You, she swung big toward a sense of profundity, and her haul of Grammy nominations—six in total—shows that it's connected with gatekeepers.
Produced by the alternative-Nashville fixtures Dave Cobb and Shooter Jennings, By the Way, I Forgive You telegraphs a sense of rawness and reserve with its album cover, a darkly tinged painting of the singer. The songs are reverb-swathed and moody, with plenty of space for Carlile to shred her vocal chords and show off a writerly sensibility. On "The Joke," which is nominated for both Song of the Year and Record of the Year, her ragged singing and upward-arching chorus are viscerally moving. But its lyrical encouragements to the bullied—women, sensitive guys, immigrants—make for the sort of omnibus message song that some listeners (politically sympathetic and not) squirm at. Others—including Barack Obama, Elton John, and maybe some Grammy old-timers looking to atone for the Academy's previous myopia on gender—are obviously dazzled.
Carlile is a singular talent, and as a lesbian, wins for her would be historic. But squint and you can see her standing for the kind of values associated with previous winners like Beck, Adele, and Taylor Swift. Again and again, the prestige afforded by gatekeepers to artists with songwriterly affect, acoustic instruments, and white skin has kept forward-thinking rap from getting its due. Then again, the Recording Academy has shaken up its rules, and it's not like Cardi B, Drake, and the Black Panther soundtrack appeal only to hip-hop fans. Janelle Monáe, who is queer and musically subversive in a straightforward sort of way, has credibility across demographic blocs, too.
So Album of the Year really could go to any of the nominees, and almost any win would be symbolically significant in one way or another. Yet prizes for the country women on the ballot would present a paradox, one that's confusing in that special Grammys way. It would be progress, but it would also suggest that the window for who can win music's most important accolades hasn't been opened all the way.