Everybody Knows Is a Slow-Burning Thriller
Asghar Farhadi's new family drama starring Penélope Cruz and Javier Bardem centers on a mysterious kidnapping that unearths long-buried secrets.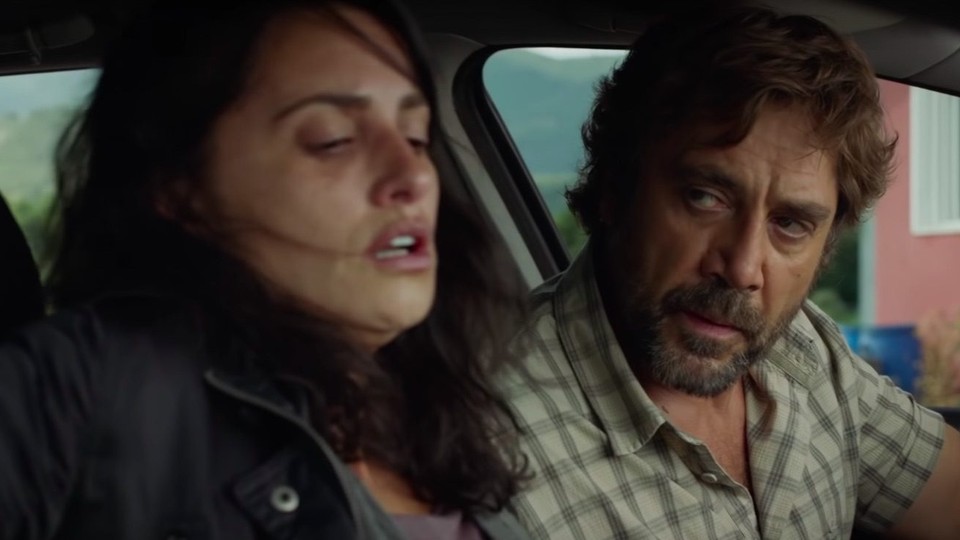 Everybody Knows, the new film by the acclaimed Iranian director Asghar Farhadi, opens with an image of ancient, heavy gears clanking away. These are revealed to be the workings of a clock in an old church tower, and they perform purposes both literal and metaphorical. It is in this clock tower that one character offers another the titular phrase, "Everybody knows." (It is the first, but not only, time we will hear this line.) The gears also represent the film that is about to unfold: a meticulous, methodical tale of interlocking secrets and misunderstandings.
Penélope Cruz stars as Laura, a Spanish expat returning home from Argentina for her younger sister's wedding. Laura brings her two children—a teenage daughter and preteen son—but not her husband (Ricardo Darín), who has remained behind for work-related reasons. After she arrives, she settles into the family's large, charmingly dilapidated townhouse, which she shares with her aging parents, her older sister, and said sister's husband, daughter, and infant granddaughter.
It is a fairly long while before menace intrudes. In the meantime, we're treated to the picturesque town, the Iberian sunlight, and a procession of beautiful people. Among them are Paco (Javier Bardem, Cruz's real-life husband) and his wife, Bea (Bárbara Lennie). As a boy, Paco had been Laura's best friend; as a man, he became her lover. Before Laura left for Argentina, she sold him family land that he and Bea have since converted into a successful vineyard. Cruz and Bardem smolder provocatively, of course, because for either not to smolder would take altogether too much effort.
The wedding takes place and, following it, a party that goes late into the night. (Farhadi captures the festivities so vividly, one would think he'd lived in Spain his entire life.) Laura's rebellious daughter, Irene (Carla Campra), sneaks wine and cigarettes, but later feels ill and goes to bed. The adults continue to dance and (especially) to drink, even after the power goes out for the whole town.
When Laura finally goes to Irene's room to check on her, the girl has vanished. Left behind on the bed is a pile of newspaper clippings about children who have been abducted for ransom. Soon, Laura receives the first message on her phone: "We have your daughter. If you call the police, we'll kill her." Oddly, subsequent demands are sent not only to Laura, but also to Bea, Paco's wife.
As the mystery of Irene's kidnapping moves forward, suspicion begins to fall on those who attended the wedding and, ultimately, on the household itself. Who else could have known that Laura's husband had the wealth for a ransom? Why is it that Bea is also receiving texts from the kidnappers? To answer such questions, Farhadi's film burrows into the past. Laura's once-wealthy family is no longer so wealthy, and resents the vinicultural success of Paco, the son of one of the family's former servants. And while "everybody knows" that Laura and Paco were once lovers, it is studiously unclear what else there is to know, and who might know it.
Farhadi has specialized in tales of long-buried family secrets, of grudges and jealousies, in such movies as The Past, A Separation, and The Salesman—the latter two of which both won the Oscar for Best Foreign Language Film, placing Farhadi in rarefied company. As one would expect, his writing and direction are precise, each new revelation fitting together as neatly as the gears in his opening shot. The cast is exemplary, from the leads down to the supporting players.
But while Everybody Knows is a family drama and a character study, it is also a mystery, a crime film, the story of a girl's abduction. And while Farhadi is a master of the drama, his gifts are at times an awkward fit for a kidnapping thriller. It is almost as if one bought a ticket for a Liam Neeson movie and wound up instead in a Strindberg play.
I exaggerate, of course. But Farhadi's slow, deliberate style—Everybody Knows clocks in at more than two hours—inevitably ratchets down the tension and leaves on the table much of the suspense that might otherwise have accrued. Despite the film's edge-of-your-seat premise, most viewers will probably find that their fannies remain comfortably ensconced. Which is fine. Not every thriller needs to literally thrill. But the slight mismatch between Farhadi's talents and the story he's telling render Everybody Knows a movie that, while very much worth seeing, is not at the level of the director's best work.