How Documentary Now! Spoofs Male Genius
The IFC mockumentary series from Fred Armisen, Bill Hader, and Seth Meyers is better than ever in its third season.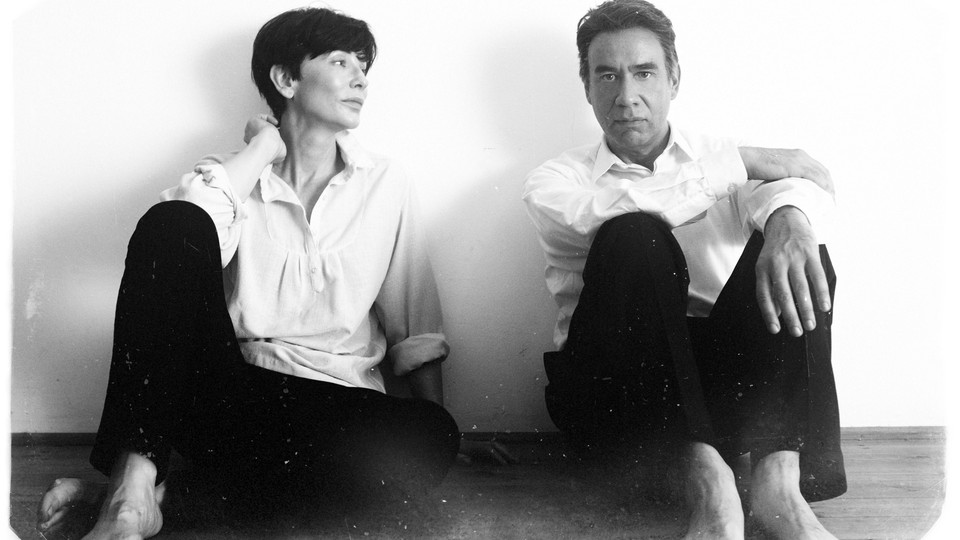 Part of the strange magic of Documentary Now! is that it's a spoof that takes its efforts very, very seriously. The IFC series from Fred Armisen, Bill Hader, and Seth Meyers is irreverent in tone and fanatical in approach, drawing out the absurdity in classic nonfiction films such as Grey Gardens and The Thin Blue Line even as it painstakingly mimics their craft. Documentary Now! is obviously a passion project—a fanboy costume party in the archives of film history. But the show is never so enthusiastic about the medium that it can't also poke at its flaws, or consider its more questionable hallmarks.
In Season 1, Hader, wearing sweatpants as a turban and cavorting with the camera as Little Vivvy in "Sandy Passage," offers both a master class in comic physicality and a question: What did the Maysles brothers think they were doing in publicly broadcasting a reclusive woman's eccentricities? "DRONEZ: The Hunt for El Chingon" similarly questions the motivations behind the gonzo, overtly macho style of contemporary news outlets such as Vice. Trundling into its third season this week, apparently unconcerned with its modest ratings and blessed by its creators' connections, Documentary Now! is better than it's ever been: absurd, joyful, and characteristically precise. And the new episodes still manage to pick thoughtfully at the intentions and methods of filmmakers, particularly when it comes to portraying genius.
The previous two seasons primarily featured Armisen and Hader in the lead roles, but Hader's preoccupation with his Emmy-winning side project means that he's absent from Season 3, popping up only as a writer in one episode. What this presents, though, is an opportunity for the series to expand its narrative format beyond its two stars. The first two episodes are ensemble pieces: "Batsh*t Valley," a gleeful mash-up of Wild Wild Country and The Source Family that stars Owen Wilson and Michael Keaton, and "Original Cast Album: Co-op," a loving interpretation of D. A. Pennebaker's cult documentary capturing the cast recording of Stephen Sondheim's Company.
If "Batsh*t Valley" is aimed at a wider audience, "Original Cast Album: Co-op" is pure fan service. Pennebaker's original is an obscure, almost accidental work whose dramatic arc in the third act hinges on whether Elaine Stritch will deliver a rendition of "The Ladies Who Lunch" that's sufficient to stop a tortured Sondheim from burying his head in his hands. "Co-op," written by Meyers and John Mulaney, imagines an entire musical about an apartment building in New York, even to the point of commissioning original songs by the composer and lyricist Eli Bolin. In the episode, Mulaney plays the composer Simon Sawyer, Taran Killam is the director Benedict Juniper, and Hamilton's Renée Elise Goldsberry and Red Oaks' Richard Kind feature among the cast members.
Alex Buono, the director of "Co-op," mimics the cinematography of Original Cast Album: Company to the letter, from the grainy film stock to the shaky handheld segues to the abrupt cuts to Mulaney's sideburned, perpetually smoking Sawyer. The composer's presence comedically haunts proceedings, whether Sawyer is delivering advice in run-on sentences ("When you lean into a rhyme you shatter the conversational tone it's like nails on a blackboard to me I love you all") or closing his eyes in mute despair. The stylistic details of the parody are so observant that when I rewatched the original I almost forgot which work was which. But Buono's commitment to accuracy doesn't spoil any of the humor in Bolin's lyrics, or in Goldsberry's and Kind's exasperated performances.
"Batsh*t Valley," by contrast, has less work to do, given the myriad plot twists of the stories it's tackling. Like Wild Wild Country, it features a standoff in Oregon between a mystical cult and a rural, God-fearing community; like The Source Family, it unpacks a sexually charged countercultural community led by a bearded Hollywood restaurateur. Wilson is the serenely smiling swami, while Necar Zadegan plays his fearsome deputy, a woman whose antics bring the conflict to a head. It's a serviceable enough pastiche, but the source material doesn't seem to lend itself to the same kind of mad-scientist enthusiasm that makes Documentary Now!'s best works so delightful. "Any Given Saturday Afternoon," a play on the 2006 bowling movie A League of Ordinary Gentlemen, feels similarly restrained.
The standout episode of the season is "Waiting for the Artist," a mockumentary inspired by Matthew Akers and Jeff Dupre's 2012 portrait of Marina Abramović that manages to be peculiarly emotional and somehow transcendent. Cate Blanchett is Izabella Barta, a Hungarian performance artist approaching a retrospective of her work and struggling to conceive of new ideas for her show. The episode is written by Meyers, and its brilliance lies in how tenderly both he and Blanchett approach Barta, a woman whose installations have included getting strangers to pass her toilet paper and pretending to be a cat. Performance art is so ripe for parody that it almost resists it. But Meyers, whether accidentally or not, finds some real meaning in Barta's work, which attempts to expose the absurd suffering of the human condition.
In practice, this means watching an Oscar-winning actress in a fur coat lap milk from a bowl while shrieking "I am human!" over and over. Blanchett, in a long black wig and red-framed glasses, is uncannily akin to Abramović, and the directors Buono and Rhys Thomas perfectly imitate the artist's key works, from the clothes she wears to the cavernous galleries she often performs in. Armisen plays Barta's longtime lover and collaborator, Dimo (modeled after Abramović's former partner Ulay), a feckless Italian artist whose core creative goal is "to deconstruct the idea of working," and their relationship becomes the secondary pull of the story. Slyly, "Waiting for the Artist" critiques biopics that reduce female artists to their formative romantic relationships, while giving Blanchett's Barta the triumphant final word.
If it's not inconceivable that a series conceived, written, and directed entirely by men is so clear-eyed about the cost of putting complicated male genius on a pedestal, it's at least pleasantly surprising. "Long Gone," inspired by the 1988 Bruce Weber documentary Let's Get Lost, mines the topic further, starring Armisen as a version of the jazz musician Chet Baker who's indulged for his talent and enabled in his bad behavior (Natasha Lyonne makes a gorgeous cameo as the abandoned mother of the musician's two children). And in "Searching for Mr. Larson: A Love Letter From the Far Side," Armisen plays Brad, the kind of goofy, self-absorbed documentarian who constructs an entire movie around his personal hero's journey. Decked out in plaid, and callous in the most banal way imaginable, Brad mows through ethical lines on his mission to gratify his instincts as a fan.
Documentary Now! never makes that mistake. For one thing, it's satire, and it's hard to compromise people who are invented. But the series is also the strangest and most vital of tributes to an art form: ferociously attuned to detail, deeply enamored with its subject, and yet able to be critical. And it's insightful, in ways that seem to transcend a comedy show in which Killam wears a wig that looks like a bombe glacée. Whether the bosses at IFC are content to keep letting Armisen, Hader, and Meyers go wild in the annals of documentary history for a small but heartfelt audience indefinitely is up to the network. But whatever it decides, it's hard to think of a product that so deftly manipulates artistic obsession and fandom while exemplifying their possibilities.