Better Things Finds Magic in Change
The third season of Pamela Adlon's FX show considers the implications of being forced into a new reality.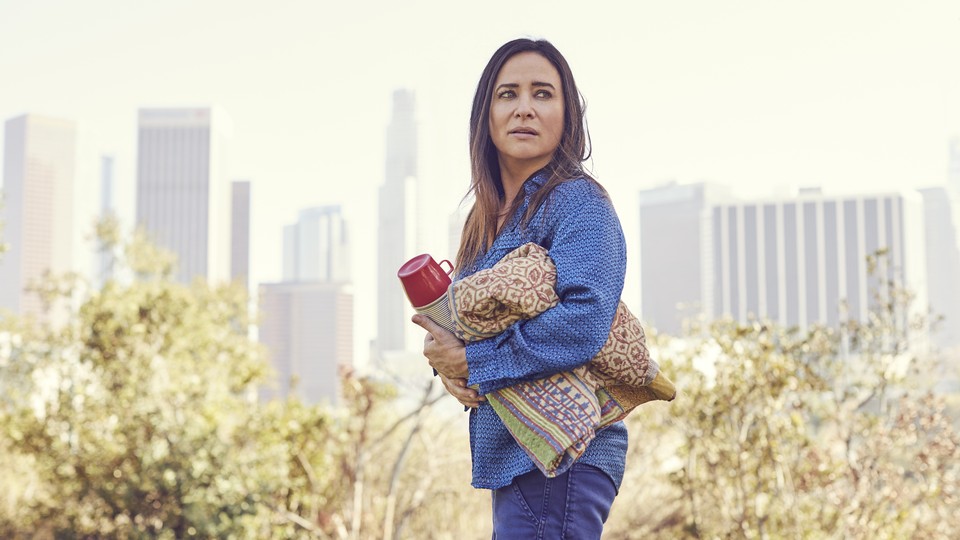 Better Things has always been a television show that's interested in the varying indignities and heartbreaks and wounds of being a woman, from the physical (sex, blood, depilation) to the abstract (identity, career, memory). Sam Fox (Pamela Adlon) is a single mother and an actor in Los Angeles, and between those two roles she's constantly being asked to do the same thing over and over. Say lines. Put on zombie makeup. Appease people. Draw boundaries when they've gone too far. The semi-autobiographical-ish FX series, which Adlon co-created with Louis C.K. in 2016, unfolds in dreamy, fragmented interludes, which layer together to form a singular, candid illustration of Adlon's life—a rich tapestry of shitty experiences that's somehow beautified by the way she pulls it all together.
Never is this exemplified better than in the first episode of the third season, which airs February 28, when Sam goes on a feverish drugstore sweep for her eldest daughter, Max (Mikey Madison), who's starting art college in Chicago. "Condoms, condoms, pads, pads," Sam chants, piling products into her cart. She adds diva cups, ramen, vaginal contraceptive foam, Plan B, pregnancy tests, Advil, Benadryl, Motrin, Emergen-C, and more condoms, as if the Everest she's building out of little branded cardboard boxes will somehow insulate Max from adversity. Instead, the purchases are totems of everything Sam knows Max is going to feel and endure, big and small. Cramps. Pregnancy scares. Allergies. The pains of adulthood, so innumerable that they can barely fit into one woman's grocery cart.
The third season of Better Things isn't just a continuation of Adlon's mission to put these subjects on television, in a series that's funny, empathetic, and experimental all at once. The eight episodes made available for review also seem to think about the inevitability of change, and what it means to handle change with grace. Sam is facing menopause, approaching her "gland finale, like the fireworks at the Fourth of July," as a particularly blunt doctor tells her. She's having a colonoscopy and hot flashes, and struggling to fit into her clothes, and experiencing disturbing sex dreams about her ex (Matthew Glave). Duke (Olivia Edward), her youngest daughter, is entering puberty. Max is leaving home. Sam's mother, Phil (Celia Imrie), is increasingly forgetful and enraged by any attempts to check her dangerous driving.
The changes happening in the show, whether intentionally or not, also reflect change behind the scenes. In November 2017, when episodes of Better Things's second season were still airing, The New York Times published reports from five women that C.K. had sexually harassed them. The public disgrace of Adlon's longtime friend and collaborator, the person who had championed Adlon and helped usher her show into being, left her reportedly wondering whether to continue with Better Things at all. Eventually, she severed ties with C.K., fired her manager, Dave Becky (whom she shared with C.K., and who apologized for helping the comedian cover up the misconduct allegations), and persisted with the show.
Season 3, then, offers the first batch of episodes that Adlon has spearheaded on her own. She hired four new writers to replace C.K., but, as with the second season, directed every episode herself. The hallmarks of the series remain—Better Things is more a montage of different sequences than a linear story with straightforward episodic arcs, and the humor is as strange and irreverent as ever. But Adlon also seems to be taking more risks, both as a creator and as a star. In the first episode, as Sam and Max arrive in Chicago, the scene is presented through the lens of Max's camera, in poignant black-and-white portraits and video fragments. The scene is moody and impressionistic, conveying the bond between the women. They appear to be trying to capture the essence of each other in images, Sam flipping off graffiti dedicated to "Daddy," Max surveying her surroundings to see how they'll photograph. They're together in the portraits, and then they're alone.
Back in L.A., Sam returns home to increasing truculence from her middle daughter, Frankie (Hannah Alligood), and a car that her mother has apparently banged up. She's shooting a big-budget zombie movie helmed by a feckless director (Love Actually's Kris Marshall), and she's haunted by men both real and supernatural. In addition to her violent dreams about her ex, Sam keeps seeing visions of her father in the 1970s, swilling a martini and delivering platitudes and bad advice. ("Be smart, don't be stupid," he tells her, when she's debating making a stink at work over unsafe conditions. "Someone else will say something. You gotta hang on to your job.") It's tempting to read these presences as a manifestation of the male energy Adlon's trying to shake off in reconfiguring her show on her own. The scenes with Sam's father in particular can be maddeningly elliptical, but as with so much on the show, Adlon seems to be evoking a feeling rather than saying something concrete.
When it comes to Sam's physicality, though, Better Things is freely, graphically literal. Sam sweats, she vomits, she clogs her toilet. (One episode spends considerable time charting her preparations for that colonoscopy.) Adlon presents Sam's body with unflinching honesty—in this season's very first scene, she's wrestling with herself in her closet, trying to force her too-small clothes to fit. She's changing ("degenerating," as her charming doctor puts it), but she's not remotely beyond being desired—piquing the interest of a ferocious female manager (Marsha Thomason), a therapist (Matthew Broderick), and a lecherous stranger outside a grim motel who mistakes her for a prostitute.

The more surreal moments in Better Things don't always work out of context (one particularly offbeat scene involves Sharon Stone and a monkey), but, experienced among other vignettes, they form something distinct. Adlon doesn't just take heavy subjects (an ineffectual HPV vaccine, a troubling medical diagnosis) and infuse them with humor. She shares her own humiliations and anxieties so freely that things that should be dark become affirming instead, through the weird trick of solidarity. "No one told me it was gonna be this hard," Sam's friend (Judy Reyes) confesses at a birthday dinner. The magic of Better Things is that Adlon is telling, and making something striking in the process.