The Hollywood Producer Behind Bryan Singer's Stalled Movie
With his Barnumesque persona and mixed reputation, Avi Lerner has gained significant success—and notoriety—in the film industry. But who is he, really?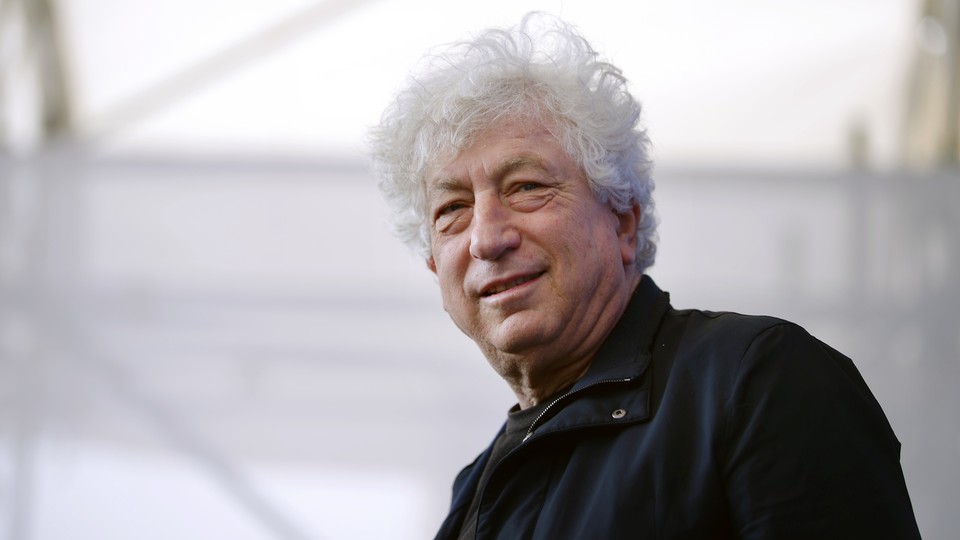 LOS ANGELES—He got his start in the movies as a theater projectionist in South Africa, and later managed the first drive-in in his native Israel. The Hollywood Reporter once dubbed him the low-budget "King of the B's" and "The Most Unlikely Movie Mogul." He is so frugal, a filmmaker who worked with him recalls, that he once suggested an Oscar-winning movie star like Diane Keaton should drive herself to and from a location shoot in a budget rental car.
Eighteen months ago, a deal to sell a majority stake in his company to a Chinese holding company collapsed, and only last month Deadline reported that it would receive a cash infusion of undisclosed size from the Russian energy oligarch Andrey Georgiev. His flattering profile on IMDb reads as if he wrote it himself.
He is Avinoam "Avi" Lerner, the pugnacious 71-year-old producer whose Millennium Films is behind The Expendables and the reboots of Sylvester Stallone's Rambo, and at the moment he is the subject of a flood of atypically unwelcome publicity. That's because, for roughly two weeks, he was just about the only figure of any consequence in Hollywood who publicly stood by Bryan Singer, the director of Bohemian Rhapsody and several of the X-Men movies, after a years-long string of allegations was detailed in this magazine—allegations of sexual misconduct by Singer against teenage boys.
At first, Lerner issued a statement denouncing The Atlantic's account as "agenda driven fake news," saying he felt "very comfortable" retaining Singer as the director of Millennium's forthcoming remake of Red Sonja, based on a Marvel Comics heroine originally depicted as a survivor of rape. He cited Bohemian Rhapsody's gross ticket sales of more than $800 million as testament to Singer's "remarkable vision and acumen." A week later, he told The Hollywood Reporter that he'd approved his publicist's initial statement without reading it and that it "came out the wrong way," though he added, "I don't want to apologize. I just want to clarify [the statement]. I think victims should be heard and this allegation should be taken very, very seriously. I just don't agree to judge by the Twitter." Finally, on Monday, Deadline broke the news that while Singer had not been officially fired, Red Sonja was no longer on Millennium's upcoming list of films and would not be marketed at the European Film Market in Berlin this week.
Lerner, who came up through the exhibition side of the film business, and then branched into distribution and production, did not return messages seeking comment, and his office said he did not wish to be interviewed. But those who know him and have worked with him say that his distancing himself from Singer in light of the latest allegations against the director—just days after stoutly defending Singer in an interview with Israel's Ynetnews—is a sign of Singer's status as persona non grata in Hollywood, even with a producer whose guiding light has always been the bottom line.
"From what I've been picking up," one longtime producer and former senior studio executive told me before the latest announcement about Red Sonja, "no one and no company will go near Bryan Singer, and there is an expectation that Lerner and Millennium will eventually recognize that his company's investment might backfire and they'll find a way out, a way to go with a different director. On the other hand, Singer is creatively and commercially a sound choice for Red Sonja, and perhaps the thick-skinned Lerner will stick with it. For Lerner, it's all about return on investment." A range of senior studio executives, producers, and directors with whom I spoke echoed these sentiments.
One veteran Academy Award–winning director, referring to Lerner, offered an even more jaundiced view: "He's had some success. He's made low-budget films, some of which have paid off hugely. He's from a fringe element of the picture business. He was never a major. But he did get stuff made. You have to say that."
Indeed, it was Lerner's one-man, no-frills ability to get financing for movies—in a Hollywood studio culture that was growing steadily more corporate and risk-averse—that helped propel Millennium to greater prominence beginning about a decade ago, in the wake of the 2008 recession. The surprise $275 million box-office smash of The Expendables, a 2010 CIA thriller starring Stallone and featuring Bruce Willis and Arnold Schwarzenegger, made the industry take notice. Lerner was no longer just the producer of dreck like Scar City and Cyborg Cop III, but a force to be reckoned with.
In 2011, Lerner hired Mark Gill, a veteran executive at Miramax and Warner Independent Pictures, who'd had a hand in movies including March of the Penguins and Under the Tuscan Sun. Gill helped Millennium raise its sights, as the company produced films like The Paperboy, a crime drama directed by Lee Daniels and starring Nicole Kidman and Matthew McConaughey; The Hitman's Bodyguard, a thriller with Ryan Reynolds and Samuel L. Jackson; and Olympus Has Fallen and London Has Fallen, thrillers with Morgan Freeman, Gerard Butler, and Aaron Eckhart. Lerner fired Gill in 2017, a person close to the company told me, after Lerner changed his mind about selling Millennium to the Chinese company Recon Holding, in a transaction that would have installed Gill as the head of the newly owned company. A deal in which Lerner would have sold 51 percent of his company to Recon later collapsed in the face of Chinese controls on export of capital, the person close to the company says.
Lerner is a Barnumesque persona, more akin to an old Hollywood press agent than to the sleeker executives who dominate the industry today. He is the hero of his biographical entry on the aforementioned IMDb.com, a generally reliable industry bible. It describes him as "one of the most experienced, prolific and successful independent filmmakers of our time," whose "reputation, business acumen and impact on the motion picture industry is known worldwide," and it variously credits him with having produced more than 230 or more than 300 films in the past two decades. His entry also lists no fewer than 19 titles as being in pre- or postproduction or merely having been "announced," a strikingly high total. On the other hand, Millennium's slate of eight to 10 or more movies a year is itself unusually high for a scrappy independent outfit.
Lerner once told the Los Angeles Times that while a movie's creative elements are important, "I will not make something for the sake of art—I refuse to do it." He was born in Haifa, in what was then the British mandate of Palestine, one year before Israeli statehood, the son of a Polish mother and a German father who'd escaped the Nazis. According to a person who knows him well, he had a difficult childhood, and his father drank too much. He "certainly wasn't handed anything" in life, this person says. He went to work as a teenager washing dishes and making pizza, and by 18 was a paratrooper in the Israeli army, later fighting in the Six-Day War of 1967. Lerner told the L.A. Times, "I'm a tough guy because I have to be tough today, not because I had to be tough when I was younger."
In 1969, Lerner moved with his father to South Africa and took a job as a projectionist at a drive-in movie theater in Johannesburg, eventually becoming its manager before persuading some Jewish South Africans to help him build the first drive-in theater in Tel Aviv, in 1972. He later expanded into ownership of a chain of theaters and a refreshment-concessions business. By the 1980s, he was branching beyond exhibition, and sold his theaters to the Israeli producers Menahem Golan and Yoram Globus, the partners best known for a string of Charles Bronson and Chuck Norris action films under their American company, Cannon Films.
Lerner moved into film production with Golan and Globus, in London and South Africa. Their business relationship eventually ended in acrimony—there are conflicting reports about the precise reasons—but Lerner used proceeds from the partnership to help launch his own production and distribution business, Nu Metro Entertainment, with his partners, Danny Dimbort, Trevor Short, and his brother, Danny Lerner. (Golan died in 2014, but Globus remains active in Hollywood under the banner of Rebel Way Entertainment; he did not return messages left at the company's offices on Sunset Boulevard.)
In 1992, Lerner and his partners moved to Los Angeles, starting a new foreign-films sales company, Nu Image, and later a production arm, Millennium Films. In the past 20 years, Lerner has worked with directors such as Stallone, Brian De Palma, Richard Donner, Neil LaBute, and Antoine Fuqua, and stars including Willis, Richard Gere, Nicolas Cage, Al Pacino, and Robert De Niro.
Lerner himself has not been immune to allegations of misconduct. In 2017, a former female employee identified only as Jane Roe but described as a "creative executive," filed a lawsuit alleging that she and other female employees were subject to a discriminatory and misogynistic work environment in which actresses were described as "too fat," "too ugly," or "too old." The employee alleged that shortly after telling management that she needed back surgery, she was fired. (Lerner responded saying that the suit is "all lies" and "a joke.") One source reported that the suit was settled last August for undisclosed terms.
As my Atlantic colleague David Sims notes, in 2018, the actor and former NFL player Terry Crews told the Senate Judiciary Committee that Lerner had pressured him to drop a sexual-harassment case against the Hollywood agent Adam Venit, as a condition of appearing in the fourth Expendables movie. (Lerner said that he was simply asking for "some kind of peace.")
By all accounts, Lerner has built a successful business with Millennium, part of which involves relying on outside investors. The previously noted investment by Georgiev—the chair of Rusneftekhim, which began as a crude-oil trading company in 2005 and now also owns a group of gas-condensate fields—will help fund Millennium's forthcoming slate of films. That group had included Red Sonja, as well as The Outpost, based on the CNN anchor Jake Tapper's best-selling book about the Afghan War and starring Scott Eastwood. Now at least one of those projects is still on track, but the other is very much up in the air.