21 Savage and the False Promise of Black Citizenship
The callous response to the rapper's detainment by ICE shows how easily the rhetoric of law-enforcement agencies can influence public opinion.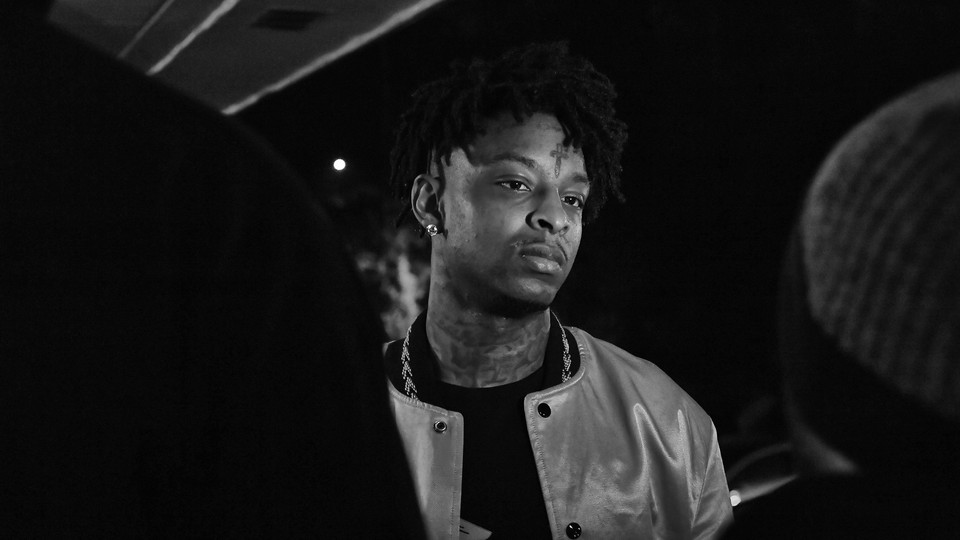 In an interview for a 2016 Fader cover story, the rapper 21 Savage offered a rare glimpse into one of his most deeply held inspirations. The artist born She'yaa Bin Abraham-Joseph, who gained notoriety for his deadpan delivery of eerie tales said to be culled from his experiences with poverty and gang life in Atlanta, spoke about his longtime practice of Ifa. The West African religion is common in many Caribbean countries and Afro-diasporic communities in the United States, and he'd briefly referenced its role in his life earlier that year, during an interview with The Breakfast Club, the syndicated radio show. But here the rapper described a holistic reason Ifa appealed to him: "I'm African American. I'd rather follow an African religion," he told The Fader before describing its tenets. "That's my heritage."
Though casual listeners know the rapper primarily for his chart-topping raps about worldly excesses—illicit drugs, emotionless sex, and riches of dubious provenance—21 Savage has also long exhibited an investment in the cultural products and historical legacies of black people around the world. Ifa, for example, is a Yoruba spiritual tradition; the practice finds its roots in what is now southwestern Nigeria and parts of Benin and Togo. Like many hallmarks of the African diaspora, Ifa's primary route of travel to the Americas was the transatlantic slave trade.
For both the religion and the rapper who practices it, that pathway is a contested voyage. On Sunday morning, shortly before the Super Bowl commenced, the 26-year-old musician was reportedly detained by U.S. Immigration and Customs Enforcement. According to The Atlanta Journal-Constitution, 21 Savage was taken into custody following a "targeted operation" in the Atlanta area. ICE authorities allege that the artist came to the country on a visa in 2005, which he overstayed when it expired the following year. In a statement that emphasized Abraham-Joseph's felony conviction (though not its later expungement), the agency spokesperson said that the rapper has been placed in "removal proceedings before the federal immigration courts." The statement referred to him as a "United Kingdom national," and later messaging cast the rapper's Atlanta-driven popular image as a calculated falsehood: "His whole public persona is false," the agency spokesperson reportedly told CNN's Nick Valencia.
The rapper's representatives have now publicly stated that he was brought to the United States at the age of 7. Alleging that he is under 23-hour lockdown, they referred to the arrest as a civil-law violation. Much of their ire rests not just with the circumstances of his arrest, but also with ICE's framing of Abraham-Joseph's inherent criminality: The agency did not note that he was brought to the U.S. as a minor (a circumstance many Dreamers share), or that he filed a visa application in 2017. Nor was there any explanation of the rapper's ethnic background; Abraham-Joseph was born in London, but his family has direct links to Dominica, as he has discussed in interviews.
Immediately following news of the detainment, narratives echoing ICE's language proliferated online. Many American-born fans did not further inquire about the rapper's history, or consider that living in the U.S. through his early teen years might have influenced his decision to use the slippery catchall identifier "African American." Instead, perhaps unsurprisingly, rap enthusiasts and casual observers alike began to recycle markedly unfunny and callous jokes. There were references to redcoats, Queen Elizabeth II, Hogwarts, and of course, tea—plus a dubbed-over rap video and edits to the cover of his latest album, i am > i was. Naturally, there were plenty of Drake comparisons.
These quips relied on the dangerous logic of ICE's statement: the implication that Abraham-Joseph's newly revealed immigration status renders him a fraudulent cultural interloper. This, despite the rapper having spent his formative years in Georgia's DeKalb and Fulton Counties. The uncritical responses reflected an unfamiliarity with the agency's wide-ranging tactics to discredit its detainees, and the broader systems that contribute to that targeting. Absent from many of the responses to the rapper's detainment was a nuanced understanding of how dangerous the process of immigration can be, how mandatory assimilation can feel upon arrival in America, and how easily black humanity is revoked.
---
In her 2006 book, Lose Your Mother: A Journey Along the Atlantic Slave Route, the critical theorist Saidiya Hartman chronicled and contextualized a trip she took to Ghana as a descendant of African people enslaved in the United States. Hartman framed her oft-thwarted attempts to reconstruct familial and ethnic histories as the lingering effects of a forced cultural amnesia: "Everyone told me a different story about how the slaves began to forget their past. Words like 'zombie,' 'sorcerer,' 'witch,' 'succubus,' and 'vampire' were whispered to explain it," she wrote. "In these stories, which circulated throughout West Africa, the particulars varied, but all of them ended the same—the slave loses mother."
Implicit in the idea of "losing mother" is the tragedy of losing the right to belong, or the ability to trace one's history and attendant social context. It is a kind of internal displacement. Consider, then, the important comparison Hartman makes later in the text, between the forced migration that enslaved people endured and the conditions that drive Ghanaians on the continent to migrate from their country (most often to the U.S. or Europe):
In Ghana, they joked that if a slave ship bound for America docked on the coast today so many Ghanaians would volunteer for the passage that they would stampede one another trying to get on board.

But who would ever envy slaves or view a cargo hold as an opportunity or risk death to arrive in the Americas? … Each year young men and boys risked deadly voyages to escape poverty and joblessness, while girls fled to Abidjan and other cities and were trafficked internationally as prostitutes. It was the dire circumstances of the present that caused Ghanaians to make wisecracks about volunteering for the Middle Passage.
To understand the links between the conditions that shaped blackness in America and those that affect people outside the country, it's instructive to consider antiblack violence—physical, psychological, social, and economic—as a global phenomenon. If Ghana, like many African and Caribbean nations, still grapples with the lingering effects of European colonial intervention, then even its highest-status citizens are not wholly free. More pointedly, exodus toward the U.S. from black nations is a doubly fraught endeavor: Even well-heeled immigrants are often leaving countries still dealing with the afterlife of colonial violence; on top of that, they must traverse oft-difficult conditions only to arrive in a country shaped by the peculiar institution of transatlantic slavery.
Black people born in the U.S., in turn, cannot always meaningfully lay claim to American citizenship. The birth certificate as a tool of identity verification was long denied to enslaved peoples and their descendants. Proving one's citizenship without the kind of documentation regularly refused to black people in this country has been a profoundly difficult task. Tracing genealogy, for example, turns up reminders of both institutional violence and legal dead ends. But even black people in America who can point to verified legal documentation must contend with the constant suspicion of their foreignness: Former president Barack Obama, the Hawaii-born son of a Kenyan immigrant, spent much of his tenure plagued by rumors of a falsified origin story.
Pervasive antiblack sentiment challenges the accessibility of U.S. citizenship—but it also haunts the work and lives of the country's most famous black thinkers. The profound racism that pushed W. E. B. Du Bois, James Baldwin, Josephine Baker, and others out of the United States is most often discussed as a personal decision, but it also constituted a kind of forced de-citizening. As the professor and critic Hortense Spillers notes in her provocatively titled 2006 article "The Idea of Black Culture": "Du Bois died in Accra, estranged from the land of his birth, on the eve of the 1963 March on Washington; slated to have appeared on the podium that day, Du Bois might be said to have missed the moment of a certain fruition."
A similar de-citizening affects poor and disenfranchised people, at a much more granular level. ICE did not exist until 2003, but in the time since then, it's ballooned to "more than 20,000 law enforcement and support personnel in more than 400 offices in the United States and around the world … [with] an annual budget of approximately $6 billion." Its tactics often echo the existential divisions of Hartman's "losing mother" idea. "The agency talks about, and treats, human beings like they're animals," the then–congressional candidate Dan Canon told The Nation last year. "They scoop up people in their apartments or their workplaces and take them miles away from their spouses and children."
---
In the fiscal year ending September 30, 2018, ICE ordered a reported 287,741 deportations, with African immigrants representing the biggest proportional spike. For black immigrants, who are overrepresented in ICE holdings, the agency's labyrinthine workings can operate in concert with the more localized discrimination propagated by the criminal-justice system.
Such discrimination affects native-born black Americans as well. Last April, the Florida resident Peter Sean Brown, who was born in Philadelphia, was detained in immigration holdings and told he would be deported to Jamaica, a country he said he'd never seen. Brown's place of residence "is among more than a dozen Florida counties that in January 2018 entered a new arrangement with ICE under what are called 'Basic Ordering Agreements,'" The Washington Post reported. "They stipulate that the federal agency compensate sheriffs to the tune of $50 for extending the detention of 'criminal aliens,' as the National Sheriffs' Association put it in a statement."
Immigration authorities have said that 21 Savage's detention was the result of an early morning traffic stop. But his arrest also happened a week after the rapper addressed the border crisis during his performance on The Tonight Show Starring Jimmy Fallon, days after he performed at a Super Bowl concert alongside fellow Atlanta musicians, and hours before fans of the Los Angeles Rams and New England Patriots traversed Atlanta's newly revitalized downtown area to enter the $1.6 billion Mercedes-Benz Stadium. If not in intention, then certainly in symbolic effect, the rapper's highly publicized detention also underscored a troubling dynamic spurred by many commercial sporting events: a palpable uptick in surveillance, jailings, and social ostracizing of vulnerable populations in the host area—a reminder of who local authorities deem worth protecting.
On Tuesday evening, two days after 21 Savage's arrest, President Donald Trump gave his 2019 State of the Union address. In the speech, he employed a familiar strategy: praising ICE and his own efforts to build a wall along the nation's southern border, while stoking anti-immigrant sentiment among his base. "In the last two years, our brave ICE officers made 266,000 arrests of criminal aliens, including those charged or convicted of nearly 100,000 assaults, 30,000 sex crimes, and 4,000 killings," the president said, before pledging: "I will never abolish our heroes from ICE."
Such rhetoric and the policy decisions that it inspires have taken "the handcuffs off law enforcement," as ICE's former acting director Thomas Homan once said, praising Trump's approach to immigration. Since the news of 21 Savage's detention was reported, it's the rapper's identity—not the difficult hurdles of immigration—that has been called into question. Abraham-Joseph's representatives have made various statements addressing the status of his visa. Still, his birth certificate has been leaked, an uncomfortable parallel to the Obama birtherism that first propelled Trump into the spotlight as a political figure. The rapper's case is shocking, but its foundation is familiar: the country's steadfast tradition of scrutinizing black people and immigrants alike.