The 1969 Academy Awards Captured a Shifting Moment in Movie History
Fifty years ago, the Oscars showed old Hollywood giving way to the new—in ways that feel strikingly resonant today.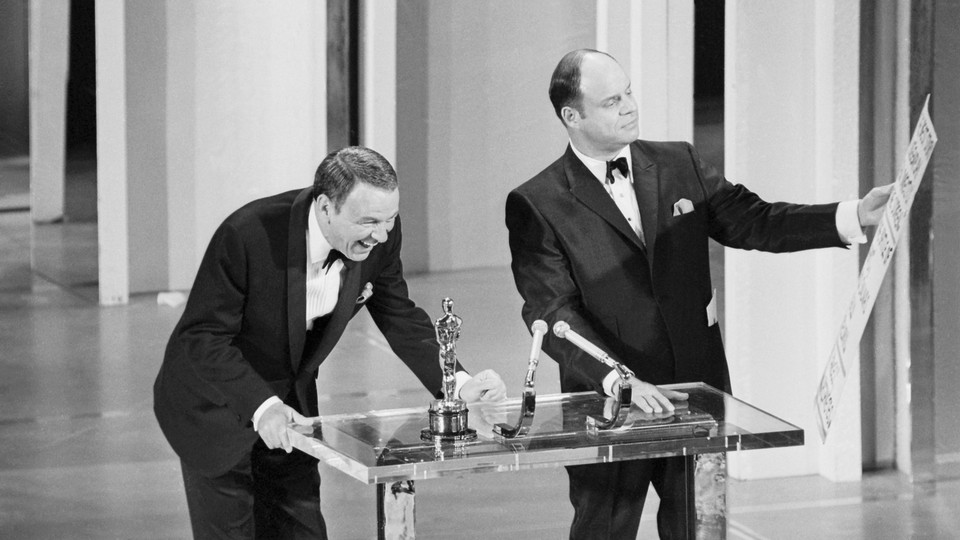 LOS ANGELES—For the first time in years, the Oscars ceremonies had no host. The Academy of Motion Picture Arts and Sciences was pressing to diversify its aging membership in the face of changing times. A divisive Republican president had taken office and civil discourse was strained. A charismatic, blue-eyed actor had made his critically praised directorial debut, but the Academy's directing branch had denied him a nomination.
The year was 1969, not 2019. Kevin Hart was 10 years from being born; the president was Richard Nixon, not Donald Trump; and the actor-director was Paul Newman, not Bradley Cooper. But 50 years ago, just as today, the annual Oscars telecast captured a shifting moment in movie history, as the old Hollywood gave way—tentatively, haltingly, sometimes grudgingly—to the new. Then, as now, declining attendance at movie theaters was the existential threat, even if streaming-video services had yet to be dreamed of, and the future of old-line studios looked uncertain at best. And then, as now, the systems and methods of financing and making movies were changing. That very year, Warner Bros. was acquired by a parking-garage company, though no one could presumably imagine that it would one day be owned by AT&T.
At the previous year's awards, breakout films such as Bonnie and Clyde and The Graduate had taken the industry—and the Academy—by storm. "Hollywood, which had held insistently to its own ways for so long, was suddenly moving forward, impelled by the demands of an audience that had … made its wishes for a new world of American movies so clear that the studios had no choice but to submit to them," Mark Harris wrote in Pictures at a Revolution: Five Movies and the Birth of the New Hollywood, his sparkling cultural history of the Best Picture race at the 1968 ceremony. "The outsiders were about to take flight, and to discover that the motion picture universe was now theirs to re-create, to ruin, or to rule."
Change was certainly in the air. In 1967, Gregory Peck, then just 51, had assumed the presidency of the Academy from 73-year-old Arthur Freed, the longtime producer of MGM's lavish musicals, and immediately set about recruiting newer, younger members into the fold, relegating some old-timers to nonvoting "associate" status. As the 1969 awards season approached, Peck waived the usual rules and invited Barbra Streisand to join the Academy even before her debut film, Funny Girl, had been released. He was determined that the April 14 broadcast, on ABC, would strike a fresh note.
For similar reasons, Peck recruited Gower Champion, the Hollywood dancer turned Broadway choreographer, to produce the show. Champion insisted it be moved from the cavernous Santa Monica Civic Auditorium to the Dorothy Chandler Pavilion at the Music Center in downtown Los Angeles (which would become the Oscars' longtime home). He dispensed with the services of the perennial emcee and perpetual non-nominee, Bob Hope ("a bore," Champion said, according to Mason Wiley and Damien Bona's Inside Oscar), in favor of 10 "friends of Oscar." They would share hosting duties and were to include Sidney Poitier, Jane Fonda, Diahann Carroll, Natalie Wood, and Warren Beatty, along with such elders as Burt Lancaster, Rosalind Russell, Ingrid Bergman, and Frank Sinatra (whom Fonda cheekily introduced onstage as "Nancy Sinatra's dad"). Champion devised a setting of panels, mirrors, and rear-projection effects, and relaxed the dress code from white tie to black.
But even Champion could not avoid acknowledging the split-screen mix of old-fashioned middlebrow entertainment and edgier fare that constituted that year's nominees. And so he opened the show with a shot of the actors Ron Moody and Jack Wild, in costume as Fagin and the Artful Dodger from Oliver!, the cheery musical version of the Dickens classic, musing about whether they'd have to pick a pocket or two to go home with an Oscar that night. Indeed, though the previous year's Best Picture contest had seen 20th Century Fox's overblown musical version of Doctor Dolittle competing alongside In the Heat of the Night, the 1969 lineup (for the films of 1968) was just as jumbled. It included, besides Oliver!, The Lion in Winter; Funny Girl; Franco Zeffirelli's sexually frank Romeo and Juliet; and Paul Newman's quiet domestic drama, Rachel, Rachel, starring his wife, Joanne Woodward, who had received a nomination for Best Actress.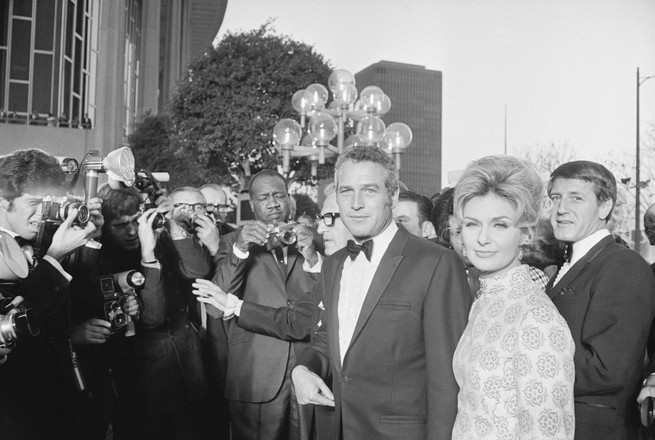 Newman's non-nomination in the directing category had so incensed Woodward that she at first threatened "a total boycott!" of the awards in an interview with the Variety columnist Army Archerd, as described in Inside Oscar. But Newman told her she was being "emotional" and she relented, offering the not-very-feminist explanation, "My husband decided I should go and I do what he says." (Newman himself was the victim of an Oscar jinx, having been nominated for Best Actor seven times before finally receiving an honorary Oscar at the 1986 ceremonies, only to win a competitive award at last the following year for The Color of Money, and later racking up two more nominations in competitive categories and the Jean Hersholt Humanitarian Award, to boot.)
In fact, with the hindsight of history, some of the Academy's decisions in 1969 seem almost incomprehensible. Bullitt remains one of the all-time-great cop movies, but it won only for editing. Stanley Kubrick was nominated for Best Director and Best Screenplay for 2001: A Space Odyssey, but won only for special visual effects—the sole Oscar he ever won. Roman Polanski was nominated for Best Adapted Screenplay for Rosemary's Baby (he was booted from the Academy in 2018 after pleading guilty to unlawful sex with a minor), but the movie won only the Best Supporting Actress award for Ruth Gordon, who had begun her film career in 1915 and told the audience, "I can't tell you how encouraging a thing like this is." (Tony Curtis, drafted as a "friend of Oscar" because Warren Beatty had either the mumps or a new girlfriend, depending on which trade paper you trusted, gave Gordon her statuette.) On the other side of the ledger, Mel Brooks did win the Best Original Screenplay award for The Producers, a choice amply vindicated by the passage of half a century.
The Best Actor winner was widely regarded as the result of an old-fashioned promotional campaign, one that today's aggressive campaigners might have envied. Cliff Robertson was a mid-range star who'd never quite clicked with audiences but was rich by virtue of his marriage to the Wall Street tycoon E. F. Hutton's daughter Dina Merrill. He had advertised relentlessly on behalf of his starring role in Charly, a film based on the short story "Flowers for Algernon," about a man with an intellectual disability who undergoes an experiment that turns him into a genius, but soon regresses to his original condition. (Robertson was filming on location in the Philippines, so Sinatra accepted the award for him.)
Late in the broadcast, Bob "I wanna tell ya" Hope did make an appearance, after all, to present the Hersholt Humanitarian Award to his old friend and fellow visit-the-troops-trouper, Martha Raye. He wedged in a brief monologue and a terse Nixon–Franco-American relations–Vietnam–Cold War joke: "By the way, they're giving President Nixon a best acting performance outside the industry award, for spending two whole days smiling at General de Gaulle."
By far the most dramatic moment of the evening came when an astonished Ingrid Bergman announced that the award for Best Actress was … a tie! Katharine Hepburn (for The Lion in Winter) and Streisand had each received an identical number of votes. It was not the first or only tie in Oscars history (though it remains the only tie for Best Actress), and assuming Streisand voted for herself (and, really, who wouldn't exercise enlightened self-interest in such circumstances?), she had Gregory Peck's early-admission policy to thank. "Hello, Gorgeous," she murmured as she held her golden statue, echoing her first line in Funny Girl. Skeptics wondered about the result, but the Academy's accountants at Price Waterhouse insisted that the outcome was a precise tie.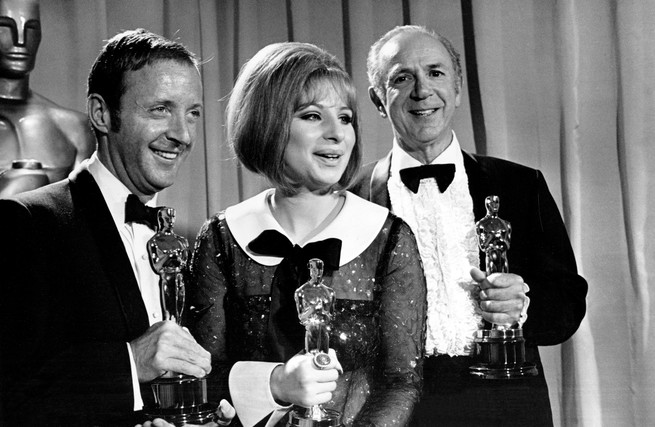 All five female "friends of Oscar" appeared to hand out the award for Best Director and, perhaps in a gesture of solidarity with Newman and Woodward, complained that female protagonists were barely represented in the five nominated films in that category (just as female directors have been shut out this year). "The only girlish thing about 2001: A Space Odyssey was a computer with a noticeable lisp," Rosalind Russell complained. The winner was Sir Carol Reed, directing his first (and last) musical film. The climax of the evening was the Best Picture award—also to Oliver! Peck ended the show on a somewhat elegiac note. "Oh, on your way home," he said, "stop in and see a movie. If you're already home, go out and see a movie. Goodbye."
Oliver!'s victory was something of a surprise—and also something of a last gasp. Because perhaps the most important development in American film in 1969 occurred not on Oscars night at all, but three months to the day later, on July 14, Bastille Day, when Easy Rider opened and shocked the world with its exuberant examination of the drug-and-motorcycle culture. Arguably nothing in Hollywood would ever be the same again.
"Easy Rider was the film that did the most for young filmmakers to prevail in Hollywood over the status quo," William Friedkin, who just a few years later would have his own breakout as the director of The French Connection, told me. "And it said to the people who ran the studios that there's something happening out there. And those of us who were in my age group, Coppola and Bogdanovich and Brian De Palma, we all of a sudden were elevated to the status of some of the great directors of the past who were still around but finding it difficult to get their films made."
"They were resistant to change," Friedkin recalled of the Hollywood powers-that-were in those days. "They didn't get it. They were from another world. But it was changing. And when the change became overwhelming, that's when they had to give way to it to some extent."
And, to some extent, they did. The following year, at the 42nd annual Academy Awards, on April 7, 1970, the Oscar for Best Picture went to Midnight Cowboy, John Schlesinger's gritty portrait of New York hustlers, the first and only X-rated movie ever to win the prize.