What Jazz in 2019 Will Sound Like
In its 15th go-around, the New York City Winter Jazzfest featured newly mature musical hybrids and a refreshing number of women artists getting their due.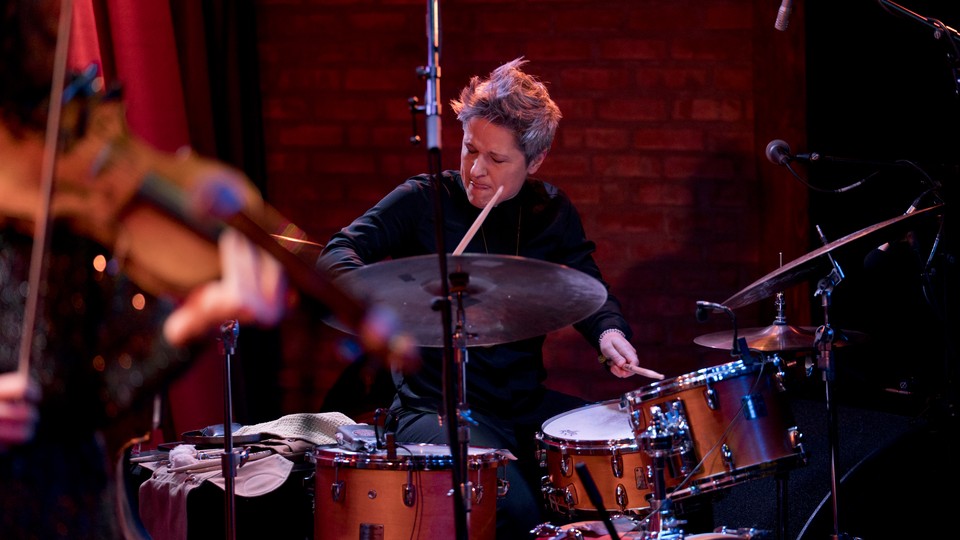 The best improvised music destabilizes expectations. That could happen when a taut groove suddenly dissolves into a free-jazz breakdown, a trick the band Science Fair pulled in a set Saturday night at Winter Jazzfest in New York City. It could happen via the surfeit of groups at the festival, such as Science Fair, that are led by women in a genre that has long been male-dominated. Or it could happen when confronted with the scene a few blocks away at the Bowery Ballroom, where there were two unusual sights in the jazz world: long lines to get in, and patrons unable to resist the impulse to dance inside.
As I have written in the past, Winter Jazzfest is a good opportunity to take the temperature of jazz and improvised music each year. The festival, which is now in its 15th year, featured nearly 150 acts across 12 venues over more than a week this year, and while the stars may not be household names, they are among the brightest in the genre, including artists such as the pianist Vijay Iyer, the bassist Christian McBride, the saxophonist Gary Bartz, and the jazz trio Medeski Martin & Wood. Because of the festival's sprawling size, neatly summarizing it is futile. But two big themes emerged from my own listening at this year's edition. First, while the relationship between jazz and hip-hop is decades old, there's an exciting moment today as musicians fluent in both genres produce newly mature hybrids. Second, the present and future of jazz are female. While women have been part of this music scene since the start, they've often been marginalized. Not this year, and not at this festival.
A sad milestone of 2018 was the premature death of Roy Hargrove, the trumpeter who cracked the code to melding hip-hop and jazz before any of his colleagues. Miles Davis had tried, gamely but ineffectively; Branford Marsalis got closer with Buckshot LeFonque. Hargrove rose to prominence as an avatar of orthodoxy, but he found a way to combine the genres that didn't cheapen either through his membership in the Soulquarians, the collective that played on records by the Roots, Erykah Badu, and D'Angelo around the turn of the century. (A festival event joined a Lincoln Center concert the same week in paying tribute to Hargrove.) His passing in November tacked a sad coda onto a year of noteworthy hip-hop inflected jazz, from the saxophonist and Kendrick Lamar associate Kamasi Washington's eagerly awaited, underwhelming Heaven and Earth to stronger outings including the trumpeter Ambrose Akinmusire's Origami Harvest and the drummer Makaya McCraven's Universal Beings, both among 2018's best jazz albums. To me, these records feel more coherent and fully formed than prior excursions by musicians such as Robert Glasper—there's more grit, more grease, more groove.
McCraven played an outstanding (and oversubscribed) set at Jazzfest. On record, he takes extended jams and then edits the tape later. Live, that's not an option, but the extended jams suit the band just as well. The music is built on riffs and vamps rather than on melodies or chord structures—a concept that connects not only to hip-hop but also to Davis's oft-maligned '70s records. The result sometimes echoes sample-based music, but without sounding forced.
A series of broadly like-minded bands played the same stage over the course of a couple of nights. The Ezra Collective, a quintet of young Britons, represented London's thriving scene with a blazing set. (Nubya Garcia, a British saxophonist who has recorded with them, appeared elsewhere at the festival.) Sporting tracksuits and dropping "innits," the band mixed the same '70s Davis sound with influences from Sun Ra and the grime icon Skepta. It's not the most innovative music, but it was some of the most infectious. The drummer Chris Dave closed the festival out with guests including Pharoahe Monch and Thundercat. Another stickman, Justin Brown, played with his band Nyeusi and Georgia Anne Muldrow, an electric soul and R&B singer. Guitar and bass held down a riff while Brown gradually changed the beat underneath, tugging the music in different directions.
Something similar happened at another show later that evening in a different setting, and at a lower volume. In the packed basement at SubCulture, the saxophonist Dayna Stephens and the trumpeter Jason Palmer carried a relaxed melody, while below them the rhythm section of Science Fair worked up a frenzy. The band was one of two acts to feature the pianist Carmen Staaf and Allison Miller, a fidgety, funky drummer with a playful sense of humor and an ear for catchy tunes and band names. (Miller and Staaf co-lead Science Fair, which produced another of 2018's best; Miller and the violinist Jenny Scheinman front Parlour Game, which also appeared at the festival, while another Miller project is called Boom Tic Boom.)
Across the street at the Sheen Center, the venerable keyboardist and singer Amina Claudine Myers performed a set of classic gospel songs with a trio of vocalists. Mary Halvorson, who has solidified her position as the dominant guitarist of her generation, performed on the same stage. If last year's album Code Girl is at times more interesting than it is strictly enjoyable, its surprises make the effort worthwhile. Live, however, it became clear just how hard Halvorson's quintet—which includes the omnipresent, omnivorous young trumpeter Adam O'Farrill and the drummer Tomas Fujiwara—can swing.
Even more uncompromising than Halvorson's set was the saxophonist Lea Bertucci's. Her latest album is titled Metal Aether, and it's hard to summon a better description than that. Performing alone, with an alto saxophone, a laptop, and some effects pedals, Bertucci performed a series of minimalist drones and overtones. A horn note would emerge, warp slightly, crescendo dissonantly, then fade. The effect was awesome, in the biblical sense: transfixing, impressive, and at times nearly unbearable.
Nothing about shows featuring Miller, Myers, Halvorson, or Bertucci felt especially unusual per se. Together, they show the wide spectrum of types of improvised music that are thriving today. But they were also all led by women. Although women have long distinguished themselves musically and criticized sexism in the genre—Science Fair paid tribute to one pioneer, Mary Lou Williams, with a tune called "MLW"—the jazz world has recently grappled more openly with these problems. As many of the festival's acts showed, female composers, bandleaders, and players are at the center of the music. And this was only a sampling of the festival's bill. In addition to Garcia, the bassist and singer Meshell Ndegeocello was an artist in residence. Jaimie Branch, an offbeat trumpeter from Chicago, performed in her duo, Anteloper, and also led a late-night jam spotlighting the current efflorescence of jazz in the Windy City.
I saw at least a half-dozen other shows that deserve notice, including the innovative big band Big Heart Machine; a piano duet of Iyer and Craig Taborn; and back-to-back sets of the oddball Chicago composer Ben LaMar Gay and the Gnawa-inflected jams of Joshua Abrams and Natural Information Society. On the festival's last night, J. D. Allen welcomed his fellow tenor saxophonist David Murray for a high-energy blowout. As the set wrapped up, Allen shouted, "I had fun. I hope y'all had fun!" It would have been hard to do anything else.