Rob Gronkowski and the Cost of Greatness
As the ageless Tom Brady and Bill Belichick lead the Patriots to another Super Bowl, the star tight end shows signs of wear and tear.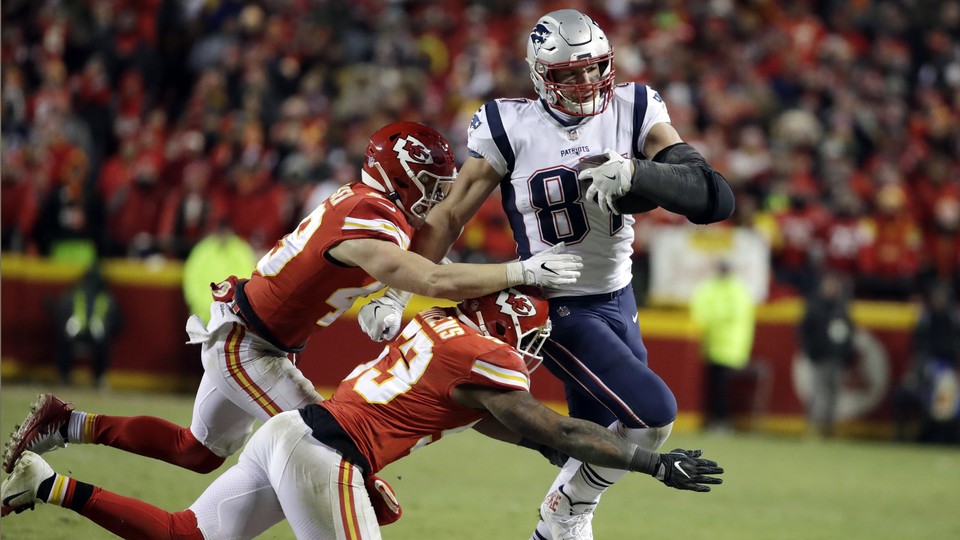 Sunday evening in Atlanta, the New England Patriots will play in their ninth Super Bowl since 2001. Their appearance in this year's game against the Los Angeles Rams, like their appearances in last year's against the Eagles and 2017's against the Falcons, only lengthens what was already one of the longest-running success stories in modern sports. Pro football is designed for turnover, but Tom Brady and Bill Belichick—at 41 and 66 years old, respectively—still show few signs of slowing.
The Patriots' stasis puts most of the standard Super Bowl story lines out of reach. They're not fresh arrivals like the Rams, who are paced by the 27-year-old defensive tackle Aaron Donald and the 33-year-old head coach Sean McVay, and this championship appearance doesn't mark a last chance or culmination; neither Brady nor Belichick has hinted at impending retirement. The 2018 regular season was business as usual: 11 wins and five losses, an NFL-record 10th consecutive division title, a ninth straight first-round playoff bye. Not much is new or expiring about the NFL's standard-bearing franchise. Boredom, as much as anything, might account for the general distaste for the Pats.
Deeper down the roster, though, New England does have a humanizing element, and it comes from an unlikely source: Rob Gronkowski, the 6-foot-6, 265-pound tight end who once numbered among the sport's most superhuman specimens. Unlike his quarterback and coach, Gronkowski isn't quite what he used to be—namely, a four-time All-Pro, Brady's preferred crunch-time target, and one of the best players at his position of all time. Years of physical play and resultant injuries have piled up; even before this season, the 29-year-old was rumored to be considering leaving the game. So if Gronkowski remains a useful contributor in this diminished state—a smashmouth blocker and an occasional downfield game-breaker—he also gives the Patriots a needed narrative heft, and fans a reason to watch. Brady and Belichick make lasting look easy; Gronk stands as proof that it isn't.
The original Gronkowski was a generational marvel, the kind of player who put his team at an uncomplicated advantage whenever he stepped on the field. He had a bionic aspect, as if he were made up of soldered-together opposites: mammoth but nimble, with a left tackle's shoulders and a wide receiver's hands. In a given sequence, he might dance past a linebacker, snare a too-high throw, and plow through a safety for extra yardage. "I don't know how you match up against the guy," the former Patriots quarterback Drew Bledsoe said in 2012 of Gronkowski. "It's kind of like having LeBron James playing tight end for you."
In 2011, his second professional season, Gronkowski put up 1,327 receiving yards and 18 touchdowns, at the time the highest totals for a tight end in league history. He would top 1,000 yards three more times in his career and tally five seasons of 10 touchdowns or more. His beer-chugging and catchphrase-coining—"Yo soy fiesta," went one poetic, if not grammatically accurate, formulation—made off-season headlines and set him apart from the more buttoned-down members of the New England organization, but they also seemed somehow of a piece with those moments when he'd treat an entire defense like a building due for demolition. Even set next to the athletes that make up the NFL, he existed at a bigger, faster, louder register.
Gronkowski's violent style of play, though, meant that it took violent hits to stop him. In 2012, he broke the same arm during the regular season and the playoffs. The next year, he missed the start of the season following surgeries on that arm and his back, returned to action, and suffered a torn ACL. Another back injury kept him on the sideline for the second half of the 2016 season. This year, though he's worked through ankle and back issues to appear in 13 regular-season games and both playoff contests, he has averaged his fewest yards per game since his rookie year and caught only three touchdowns. "It's been challenging," he admitted in November.
There's a kind of pathos to watching Gronkowski make the most of a worn-down body. While he doesn't figure into the Patriots' passing attack as often as he used to, he remains an expert blocker, a well-equipped mover of people who don't want to be moved. A healthy share of New England's success on the ground in its two playoff games, which produced four rushing touchdowns apiece, resulted from Gronkowski's cracking linemen backwards and clearing space. The task is less conducive to highlights than the old touchdown catches but, to hear Gronkowski tell it, no less fulfilling. "You've got to put your hand down and make yards the old way, the old-fashioned way," he said after the Chargers game, "and that's by running the ball."
And when he does head out along his old routes—down the middle of the field or along a sideline, with one defender shadowing him and another lining up a shot—Gronkowski now layers the immediate stakes of the game with the larger stakes of the sport. Late in the fourth quarter against the Chiefs, with the Patriots trailing by four, he slipped past the Kansas City safety Eric Berry down the left side of the field. Brady arced a high pass to him, a slight underthrow, and Gronkowski wrenched around, extended his arms back, and hauled it in. Berry crashed into his kneecaps, and Gronkowski's shoulder thudded to the turf, but the pass was complete, a 25-yard gain. It was a career in microcosm, the big plays and the toll that has always come with them.
Earlier this week, asked in an interview about the chances that this Super Bowl could be his last game, Brady held up his hand in a circle: zero. The response might have rankled fans ready for the end of the Patriots' run, but it made sense. Brady's career can be seen as a long-term paring-down of quarterback play to its sustainable essentials. He diagnoses defenses, flicks short throws around the field, mostly avoids hits, and reaches title games. When he suffered the lone major injury of his career, a tearing of his knee ligaments in 2008, the rule book changed to guard against it happening again.
Gronkowski, pressed about his own career prospects on Monday, was less committal. "That's a tricky question," he said when a reporter asked whether he planned on playing after this season, and even the hopeful outlook came couched in the language of endurance: "I mean, if you just work hard enough through the work days, you can keep going." But on Wednesday, he was more candid: "The season's a grind. It's up and down. I'm not going to lie and sit here and say every week is the best … To tell you the truth, just try and imagine getting hit all the time and trying to be where you want to be every day in life. It's tough." Whatever the future holds, Gronkowski will be the most interesting of the now-familiar Patriots taking the field on Sunday. They're the same team, but he's a different player.