Let's Invent a New Holiday
Weird Family Stories Day? Get Back in Touch Day? Resolution Revision Day? Please send us your merriest—or most meaningful—ideas.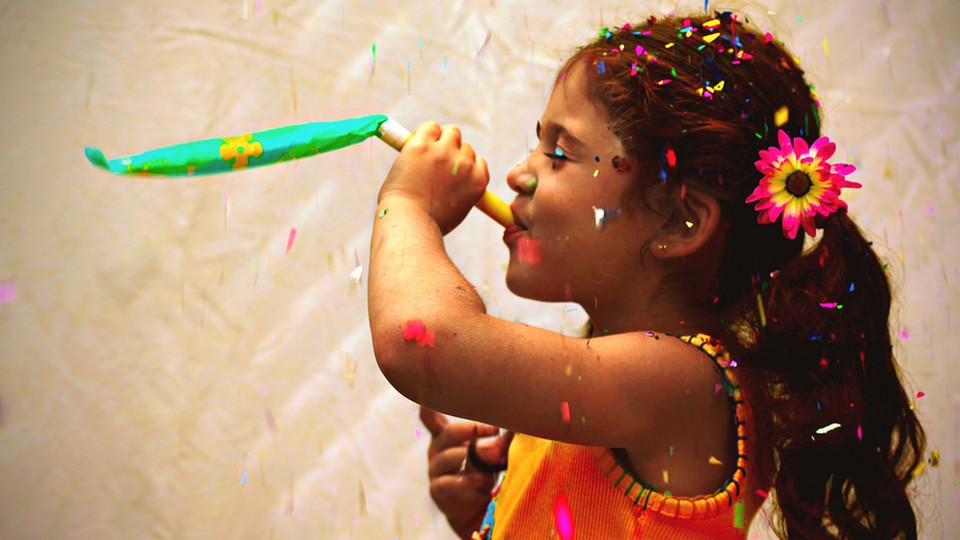 Late in 2018, The Atlantic's Family section asked readers to share some of the unique traditions their families engaged in during the year-end holiday season. The rituals you all shared with us were often quirky (one of them involved a Speedo-clad George Michael made of marzipan) and uniformly delightful. And they made us think: Why concentrate all these fantastic festivities into one always-too-fleeting month? What about the rest of the year? Couldn't those other periods stand to be a little more joyful, or a little more meaningful, or a little more fun?
With that in mind: We're in search of a new holiday. And we're hoping for your help in creating it. Maybe, for example, there should be, sometime in the dark days of winter, a National Stress-Bake Day. Or maybe February would be a little more festive were Galentine's Day to be converted from a sitcomic treasure into a more broadly celebrated holiday. A beloved local tradition that deserves more widespread recognition? Weird Family Stories Day? Get Back in Touch Day? Resolution Revision Day? Turn Off the Internet Day? (All of the internet, that is, except for TheAtlantic.com and its subsidiaries?)
If you have an idea for a holiday that does not currently exist but should very definitely exist, please let us know by filling out this form by January 11. We'll put together the ideas you send us and then, later in the month, ask you to vote on them—in a face-off we hope will end with a new holiday that, should you choose to celebrate it, will bring merriment, meaning, or, at the very least, another excuse to consume seasonally justified baked goods.
---
Here's a sample, courtesy of the Atlantic staff writer and holiday enthusiast Megan Garber:
What's the name of the holiday you'd like to bring into existence?
How would you celebrate it? Please describe the festivities, in a paragraph:
If you are a human person currently living in this hectic world, there is a very good chance that you have a bunch of tasks, big and absurdly small, that you've been meaning to do for days (or weeks! or months! OR YEARS?) … and have been putting off. Well, this is the week to stop putting them off: spring cleaning, essentially, but with a broader mandate and a specific deadline. This, to be clear, is not at all a glamorous holiday—but what Nocrastination Week lacks in flair, it makes up for in practicality. It's a holiday that allows its celebrants to give themselves the ultimate gift: the relief that comes with marking those haunting To-Dos as, finally, Done.
When do you imagine it would fall on the calendar? Will it be celebrated on a specific date—or a specific week, or specific day of the week?
Nocrastination Week should probably fall during the late winter, sometime in February or early March. It lasts the week to allow for maximum flexibility with participants' schedules. Its final day—which is also its final deadline—will be a Sunday. If you don't get your set task accomplished by sundown that Sunday, you will not, sadly, get any Nocrastination Cake (see below).
Are there any particular foods, costumes, decorations, songs, or anything else along those lines that are associated with the holiday? If so, please describe them:
Yes, there's a food! Nocrastination Cake: consumed after the day's task is complete, as a reward for getting the job done.
Why should this holiday exist?
Nocrastination Week is an antidote to the pressures and expectations of the December holidays. It's not about acquiring things; it's about doing away with things that are sources of stress. Like any good holiday, it's a celebration of stuff that, ideally, people would be practicing throughout the year. But it also acknowledges the obvious: There's nothing like a deadline.