R. Kelly and the Cost of Black Protectionism
A Lifetime series that examines long-standing abuse allegations against the singer—and the continued support he has received despite them—contains an uncomfortable truth.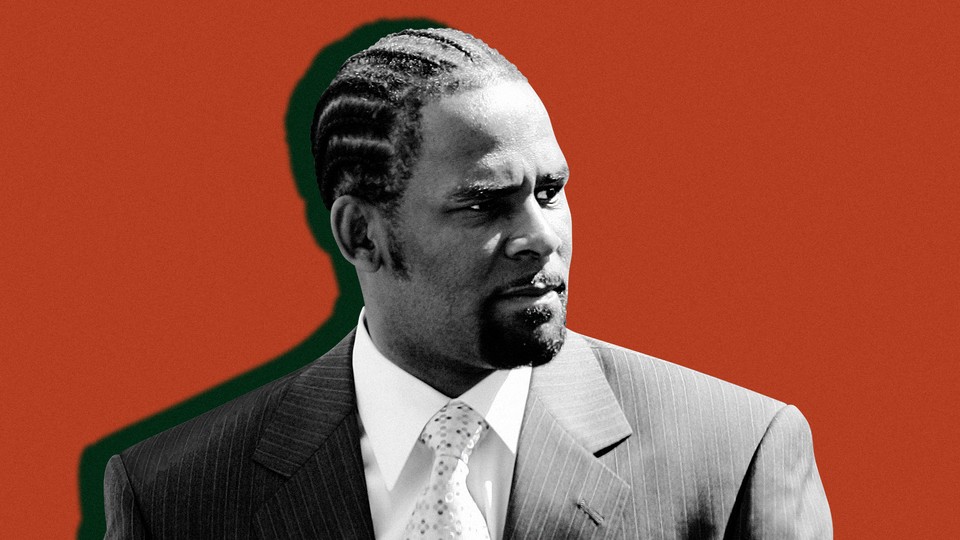 There is still so much to unpack about Lifetime's docuseries Surviving R. Kelly, a horrifying six-part examination of the sexual-abuse allegations that have followed the superstar singer for more than two decades. The stories of predation told by the women who appear on-screen—some of whom were related to people who worked for Kelly—are vomit-inducing. The heart sinks as one survivor after another describes being manipulated, controlled, and sometimes beaten, by Kelly, whose music career has largely remained in good standing despite the presence of such troubling accusations.
As awful as those accounts are, what's most haunting is the resignation in these women's voices. They seem to have arrived at the painful conclusion that regardless of the trauma they had endured, their experience would never matter the way it should have. "No one cared because we were black girls," the writer Mikki Kendall says in Surviving, speaking to the prolonged indifference to Kelly's alleged behavior.
While Surviving convincingly argues that Kelly's celebrity was a significant driving force in helping him establish a protected, predatory pattern, the docuseries picks at an uncomfortable truth that has long existed in the African American community. Black girls and women are often on their own in fighting abuse and misogynoir.
As seen in the series, the black community formed a force field around Kelly, especially during his six-year child-pornography case, which eventually resulted in an acquittal in 2008. Kelly's ardent supporters within the community seemed to completely dismiss his marriage to the then-15-year-old R&B star Aaliyah, who died in a plane crash in 2001. Their marriage was treated as salacious gossip, not abuse.
One of the more uncomfortable moments in Surviving is when footage is shown of Kelly and Aaliyah appearing together on BET's Video Soul Gold, ironically to promote her 1994 smash debut album, Age Ain't Nothing but a Number, which was produced by Kelly and Aaliyah's uncle, Barry Hankerson. As soon as the two singers are seated, the host, Leslie "Big Lez" Segar, says with a big smile: "Let's clear something up, because you know I've been getting the rundown on the street. Everybody seems to think that y'all are either girlfriend or boyfriend, or cousins, or friends. Let's just get the record straight."
There is laughter, and the mood is jovial. No one seems to be thinking, We're asking a 27-year-old grown man and a 15-year-old child about being in a relationship together. After more uncomfortable laughter, Aaliyah responds nervously: "No, we're not related. … He's my best friend … in the whole wide world."
Kelly has denied the accusations against him for years, and even when there was a video that appeared to show the singer urinating in the mouth of an underage girl, the tape—referred to throughout the docuseries as the "pee tape"—became little more than a punch line. One of the most popular bits ever done on Dave Chappelle's television show was the Kelly-inspired spoof "Piss on You." The rapper Macklemore, in his single "Thrift Shop," raps that he should have washed his mink because it "smells like R. Kelly's sheets."
The docuseries shows an army of Kelly's supporters outside the courtroom during the child-pornography trial in 2008—many of them black girls and women—insisting that he was being unfairly punished. One woman even yelled directly into a camera that they—and you can guess who "they" is—only singled Kelly out because he was black and successful. Even black girls were willingly dismissing the trauma of other black girls.
Kelly, for his part, positioned himself as a victim even in the face of damning and disgusting evidence. Master manipulator that he is, Kelly always seemed to use the fact that African Americans generally remain distrustful of the criminal-justice system to trigger racial resentment as a way to provide cover for his alleged misdeeds.
In 2000, when the Chicago Sun-Times became the first outlet to report on accusations that Kelly was having inappropriate relationships with underage girls, Kelly collaborated with Jay-Z on the song "Guilty Until Proven Innocent." Jay-Z was also embroiled in his own legal mess at the time, having been accused of stabbing the music executive Lance "Un" Rivera. Kelly boldly sang on the chorus, "Jigga, Kelly, not guilty. Try to charge me but I'm not guilty. I got, all, my mamis."
Last April, the Women of Color branch of Time's Up publicly supported the #MuteRKelly movement, a coordinated viral takedown of the singer that was started by Oronike Odeleye and Kenyette Tisha Barnes. The hope was that the campaign would finally put the pressure on Kelly's record company, RCA, and other business partners to drop him for good. The reckoning had come for Harvey Weinstein. Now, activists hoped, it was Kelly's turn.
In response to the campaign, Kelly's camp issued a statement that was clearly designed to rally support by reminding African Americans of racial oppression. The statement read:
Kelly supports the pro-women goals of the Time's Up movement. We understand criticizing a famous artist is a good way to draw attention to those goals—and in this case, it is unjust and off-target.

We fully support the rights of women to be empowered to make their own choices. Time's Up has neglected to speak with any of the women who welcome R. Kelly's support, and it has rushed to judgment without the facts. Soon it will become clear Mr. Kelly is the target of a greedy, conscious and malicious conspiracy to demean him, his family and the women with whom he spends his time.

Kelly's music is a part of American and African-American culture that should never—and will never—be silenced. Since America was born, black men and women have been lynched for having sex or for being accused of it. We will vigorously resist this attempted public lynching of a black man who has made extraordinary contributions to our culture.
Using the l-word—lynching—was a cheap, calculated move. Bill Cosby's wife, Camille, employed a similar tactic, evoking the l-word after her husband was convicted of sexual assault last April. As did Supreme Court Justice Clarence Thomas in 1991 when he called Anita Hill's sexual-harassment claims a "high-tech lynching."
As was the case with Hill, black girls and women often pay the price when black protectionism is misguided. Despite Floyd Mayweather's long history of physically abusing black women—which included a 90-day jail sentence in 2011 for hitting the mother of three of his children—the boxer received more criticism from black people for showing support for Donald Trump than he did for hitting women.
The African American community has struggled to deal with the abuse of black girls and women because addressing this widespread problem ultimately means singling out black men, which many are hesitant to do because they don't want to become another vehicle that contributes to their destruction.
But a community conditioning itself to accept abuse out of racial solidarity is not only unacceptable, it's also further jeopardizing the safety and well-being of black women and girls. According to the Institute for Women's Policy Research, more than 20 percent of black women are raped in their lifetime, a "higher share than among women overall." Black lives matter. But does that include black girls and women?
Since Surviving aired, many have posited that if any of Kelly's alleged victims had been white, the criminal-justice system would have dealt with Kelly a long time ago. I'll take things a step further and hypothesize that if Kelly had been white, the intra-community support for his victims would have looked different too.