What It's Like Making Your First Film After 18 Years in 'Movie Jail'
Mimi Leder, best known as one of the great TV directors, talks about her new Ruth Bader Ginsburg biopic and why it took so long to return to the big screen.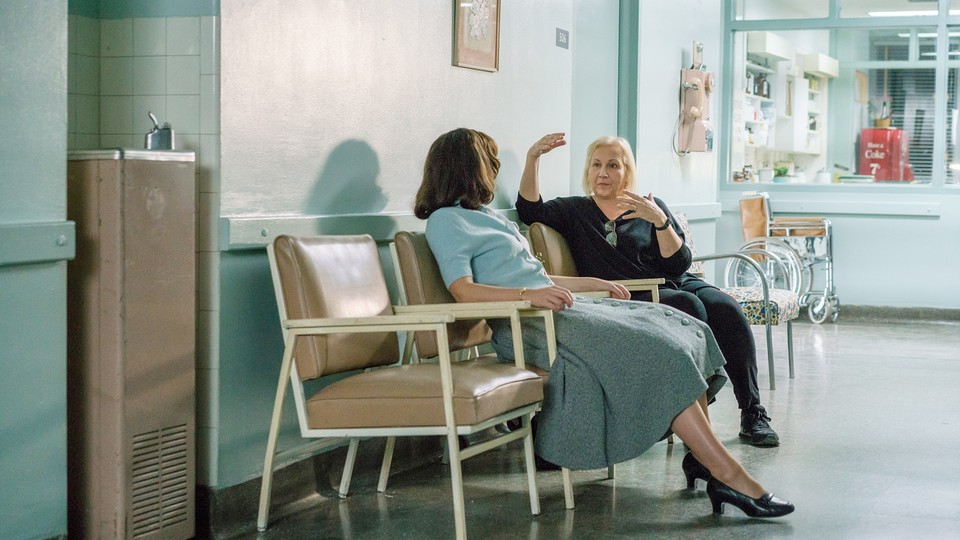 In the 1990s, Mimi Leder was a formidable name in television. As a producer and director on the military drama China Beach and the smash hit ER, she helped invent a more robust, cinematic form for a medium that had long existed in the shadow of feature films. Landmark ER episodes like "Love's Labor Lost" and "The Healers" proved that TV could tell compelling stories on a scale that felt dynamic and epic, using long Steadicam shots and hefty effects budgets to pack a visual punch. So it was no surprise when Leder moved on to film, directing the blockbuster action movies The Peacemaker (1997) and Deep Impact (1998).
Then, in 2000, Leder made an undeniable flop: Pay It Forward, a prestige drama that received poor reviews and made $33 million domestically on a $40 million budget. Those numbers are hardly catastrophic, but for Leder, they all but ended her film career. She didn't make a major studio movie again for 18 years, instead heading back to the TV world, where she once again demonstrated her considerable skill on shows including Shameless and The Leftovers. Now she has finally returned to the big screen with On the Basis of Sex, released last month. A biographical retelling of Ruth Bader Ginsburg's life, the film centers on the future Supreme Court justice's involvement in the landmark discrimination case Moritz v. Commissioner of Internal Revenue.
To make the movie, Leder ended up consulting with Ginsburg herself (played in the film by Felicity Jones) on the details of her college days and her marriage to Martin Ginsburg (Armie Hammer). "I felt a lot of commonality with her, being Jewish, being a mother, having a long-standing marriage, and understanding what that takes," Leder said of the justice in an interview with The Atlantic. That commonality extends to their statuses as pioneers in their respective fields: Ginsburg was the second-ever female Supreme Court justice, and Leder has, by her own admission, fought to "break the glass ceiling" in an industry that overwhelmingly employs male directors.
After one flop, Leder was sent to what she called "movie jail" and essentially banished from studio filmmaking. Meanwhile, many male directors have directed strings of unprofitable movies and gotten hired for bigger projects nonetheless. "I go where the storytelling needs me, and after I did Pay It Forward … I couldn't get a gig that I liked. I directed nine [TV] pilots after that," Leder said. "If you're a man who makes a $250 million flop, you'd probably get three more movies and fail upward. It's extraordinary; it's just not the case for women."
The script of On the Basis of Sex, written by Ginsburg's nephew Daniel Stiepleman, focuses on the Moritz case because it was an unheralded pivot point both in Ginsburg's career and in her fight against sexual discrimination. Argued in 1971 by both Ruth and Martin Ginsburg, it was a perfect test case because it involved a male plaintiff, Charles Moritz, who'd been denied a tax break when hiring a caretaker for his sick mother because he wasn't a woman. At the time, Ruth Ginsburg was a legal professor, having failed to find a position at a law firm despite graduating at the top of her class. A year later, she founded the ACLU's Women's Rights Project and became a leading gender-discrimination lawyer before being nominated to the federal bench and then, in 1993, to the U.S. Supreme Court.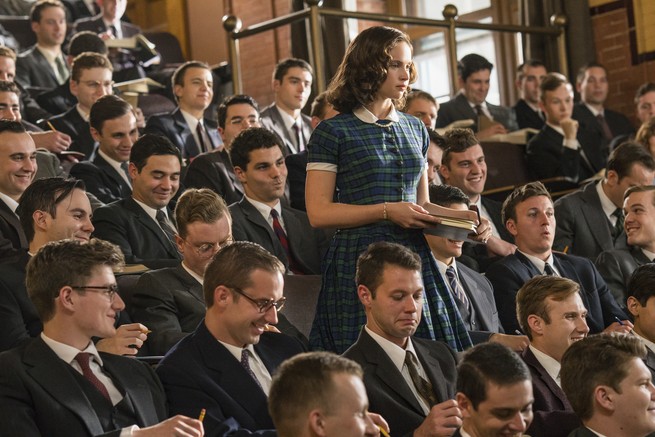 Because much of On the Basis of Sex is set during the most frustrating period in Ruth Ginsburg's career, when she had to persuade the ACLU to pick her to argue the case in court, it's not hard to see why the material resonated with Leder. "She was a woman who lived in a culture of discrimination, got many slights and pats on the back," Leder remarked about Ginsburg. "What I felt was important about this film was to see her finding her voice. When you're not given the opportunity to do it, how do you just do it?"
Leder came to the project after reading Stiepleman's script, and then met with Justice Ginsburg to sharpen some of the story details, particularly focusing on her relationship with Martin. The film depicts Ruth's husband as a strapping, popular man who's nonetheless willing to be supportive and generally take a back seat to his wife. Martin was famed for his cooking, and Hammer is often clad in an apron, echoing the stock "supportive spouse" character that appears in so many biopics (but that is more often than not a female role). "Daddy did the cooking; Mommy did the thinking," was the way the Ginsburgs' daughter put it, according to Leder.
"I wanted the movie to focus on their marriage and what a true partnership is. Theirs was a very progressive relationship that was really unique to the times," Leder said of the Ginsburgs. "[Martin] was the preeminent tax lawyer in the country, and he'd go home, he'd cook for the family, have dinner with them, and then go back to work. Who does that? The relationship, the dialogue … I wanted it to feel as authentic as it could." Many of the film's best scenes aren't the courtroom back-and-forths but the kitchen-table debates, as Ruth, Martin, and their daughter, Jane (Cailee Spaeny), wrestle over which is the better place to wage a battle for progress: in the streets or in the corridors of power. The two elder Ginsburgs obviously went the latter route, and Moritz was the only case they ever tried together. "It was a case that eventually turned over 178 laws because they were all discriminatory on the basis of sex," Leder said. "It ended centuries of discrimination."
The director's next major undertaking is once again in the television world, though it's a big-ticket project: Apple's upcoming, untitled drama about a morning show, which has assembled an all-star cast including Reese Witherspoon, Steve Carell, Jennifer Aniston, and Gugu Mbatha-Raw. On the Basis of Sex, now in wide release, hopefully won't mark the start of another long absence from the film world for Leder. But she thinks hiring demographics for directors won't really change until studios bring more women on board at the executive level.
"It's an industry that is still so sexist," Leder said. "I've mostly been hired by men, obviously. Sherry Lansing was the only woman who hired me at a studio, to direct Deep Impact. That was in 1998." Lansing, who was CEO of Paramount Pictures from 1992 to 2005 (a period of huge success for the company), was the first woman to head a major Hollywood studio. Now, with the recent departure of 20th Century Fox's Stacey Snider, there are no women in such top positions. Certainly some things have changed in the 18 years since Leder made a major movie—producers like Kathleen Kennedy, Victoria Alonso, and Dede Gardner have become powerhouses, working within the studio system and steering large projects. But given the ongoing dearth of women behind the camera, so much has stayed the same.