A Novel Made for the "Yellow Vest" Moment
Michel Houellebecq's latest provocation takes aim at the EU.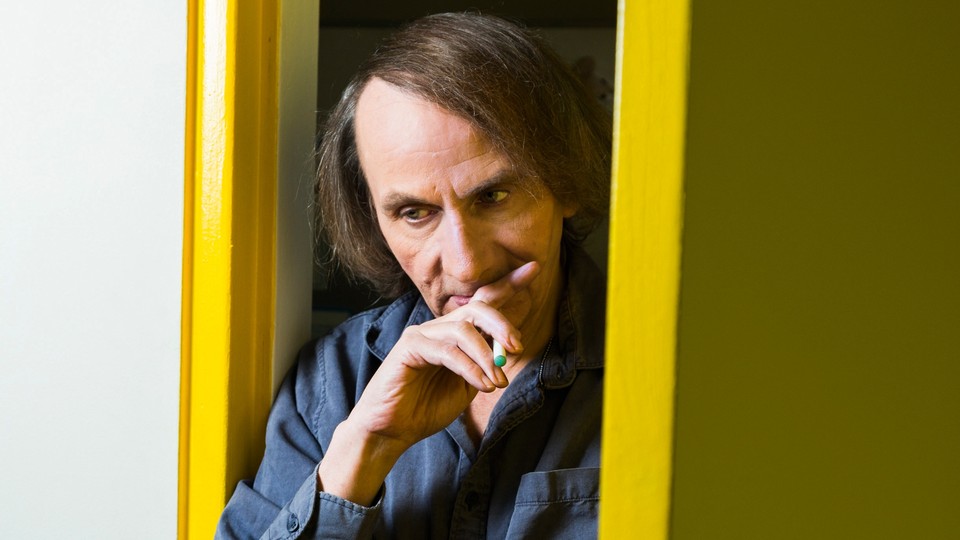 PARIS—In Michel Houellebecq's 2015 novel, Submission, the narrator converts to Islam after France has elected a Muslim president. The book's imagined future tapped into (and also questioned) a pervasive fear in some quarters of France that Muslims were taking over. It was hailed by the French right as prescient when it debuted the same day terrorists killed 12 people at the satirical weekly Charlie Hebdo.
Now France's most provocative novelist has done it again. Houellebecq's latest novel, Serotonin, came out in the country last week to rave reviews, and was an instant best-seller, capturing a new moment. It contains a scathing critique of the European Union and imagines farmers blocking roadways and taking up arms against the state. And it arrived in the throes of the "yellow vest" protest movement, an inchoate populist revolt against the government of Emmanuel Macron that sprung up last fall and is causing a national reckoning around the economy.
Although it's a sophisticated work of literature written in a mournful key, Serotonin might as well have a jacket blurb from Steve Bannon. Or from a pharmaceutical company that manufactures antidepressants. The novel, Houellebecq's seventh, takes its name from the chemical that helps generate a sense of well-being in the human body. In the book, Houellebecq draws a not-so-subtle connection between body and state, between the declining health of the protagonist and the health of French society. The work's themes include the effects of antidepressants on the male libido, the difficulty of sustaining meaningful relationships, and the impossibility of finding happiness, let alone spiritual satisfaction, in a consumer society. Consider it as The Magic Mountain for the post-Brexit era.
This time around, the typically Houellebecqian protagonist—a depressive, melancholic middle-aged man—is an agricultural engineer who, in the early days after the introduction of the euro, moves to Normandy to help promote the export of the region's cheeses. There he finds farmers, including ones from ancient noble families, whose livelihoods have been upended by free trade and milk quotas mandated by the EU, which the protagonist believes has suffocated France's economy and the country's sense of identity.
Say what you want about Houellebecq, and there's a lot to say, but he's definitely keeping the novel as a form relevant. He is indeed one of the chief engines of France's thriving decline industry, in which books decrying how terrible everything has become in the country and in the West are often best-sellers. (Other stalwarts in the industry include the French right-wing media personality and writer Éric Zemmour and the essayist Michel Onfray.) French media have reported that bookstores hope sales of Serotonin will boost business. Houellebecq's publisher has already done a second printing of 50,000 copies after an initial print run of 300,000.
Houellebecq has not given any interviews since Serotonin debuted, but he recently published an essay in Harper's Magazine praising Donald Trump, especially his free-trade policies and his dislike of the European Union. "Europe is just a dumb idea that has gradually turned into a bad dream, from which we shall eventually wake up," Houellebecq wrote, adding that he also supported Brexit. And although Houellebecq has not openly expressed support for the far-right National Rally party, formerly the National Front, of Marine Le Pen, his views put him in line with it and other right-wing sovereignist movements on the rise across Europe.
"I'm ready to vote for anyone as long as he proposes leaving the European Union and NATO," Houellebecq said in October in an interview with Valeurs Actuelles, a right-wing French magazine that put him on its cover with the headline: "Houellebecq: The Great Prophecy." For the piece, the publication accompanied the author to Brussels, where he received a prize named after Oswald Spengler, the cultural historian and author of The Decline of the West, which appeared in two volumes in 1918 and 1922. (Last year, Valeurs Actuelles also had a cover with an image of George Soros and the headline "The Billionaire Plotting Against France.")
For all his pessimism, and a new novel about the impossibility of happiness, Houellebecq actually seems to be thriving. In September, he married his third wife, Qianyun Lysis Li, a woman whom he met—wait for it—when she was writing a thesis on his work. Nicolas Sarkozy was among the guests and Carla Bruni-Sarkozy posted photos of the couple on Instagram. (Houellebecq has said he admires the former president, but didn't support him because he doesn't vote in presidential elections.)
It would seem the novelist is more interested in social diagnosis than political cure. In its interview, Valeurs Actuelles said Houellebecq "lives the paradox of being one of the most-read and least listened-to figures of our time." But what exactly is Serotonin telling us? As with Houellebecq's earlier novels, Serotonin is suffused with a nostalgic longing for an unattainable past—before the European Union, before the euro limited the economic sovereignty of member states, driving French farmers to despair and worse, and before the sexual revolution seemed to put individual pleasure before family duty.
Houellebecq has always been provocative, especially in his depictions of women. With Serotonin, this treatment flies decisively against the prevailing winds. I'm curious how Serotonin will be received when it appears in English. (It's scheduled to be published in Britain this fall and in the United States by Farrar, Straus and Giroux next year.) Pretty much every female character in the novel is described by her blow-job skills; the protagonist leaves his girlfriend when he discovers she's involved in orgies with animals; he has an affair with a black university student because he's drawn to the young woman's ass, as he puts it.
I was struck recently when an interviewer on French public radio remarked that Houellebecq "seems to have missed #MeToo"—referring to the movement less as a shorthand for women fighting against sexual harassment, than for women more broadly being considered fully-formed human beings. The host's interlocutor, Nelly Kaprièlian, a literary critic at the indie French weekly magazine Les Inrockuptibles who's written widely and thoughtfully on Houellebecq over the years, responded that, in her view, the novelist's greatest flaw is the weakness of his female characters.
Though pretty terrible on women, Houellebecq is better on economics. The narrator of Serotonin is hyper-aware of product names and doesn't seem to find happiness among the 20 brands of hummus available at his local supermarket, a message that consumer society is spiritually unfulfilling. He also remarks at one point on the fact that some Parisians can earn more money renting out their inherited apartments than they would by having actual jobs. The tension between inherited wealth and generated income is one of the key questions for the French economy today.
In Serotonin, power and powerlessness—emotional, sexual, political, economic—are big motifs. "Is he a visionary or a cynic?" Le Figaro wrote in a front-page editorial that praised the novel and called Houellebecq's books "the symptoms of the innumerable ills that are eating away at us." A radio program on France Culture dedicated to Serotonin asked if Houellebecq was "an anti-modern writer or a modern guru?" In Le Monde, Bruno Viard, a literature professor, wrote that Houellebecq might be categorized as a reactionary, but was in fact more ambiguous. "Houellebecq is fundamentally anti-liberal—unlike the left, which is anti-liberal in economics but liberal in morality, and the right, which is the opposite. So he's unclassifiable," Viard wrote.
Other French critics have commented on Houellebecq's evolution from the darling of left-wing magazines like Les Inrockuptibles to that of far-right ones like Valeurs Actuelles. But Houellebecq has captured something in his trajectory from the alt-weekly to the alt-right. It's not so much that his views have changed, but that the political landscape around him has changed in ways that reflect his outlook. Maybe he is a visionary after all. And his is a grim vision indeed.