A New Wave of Documentaries Is Taking On Sexual Assault
Allegations against R. Kelly, Harvey Weinstein, and Michael Jackson have spawned film projects—some more delicately crafted than others.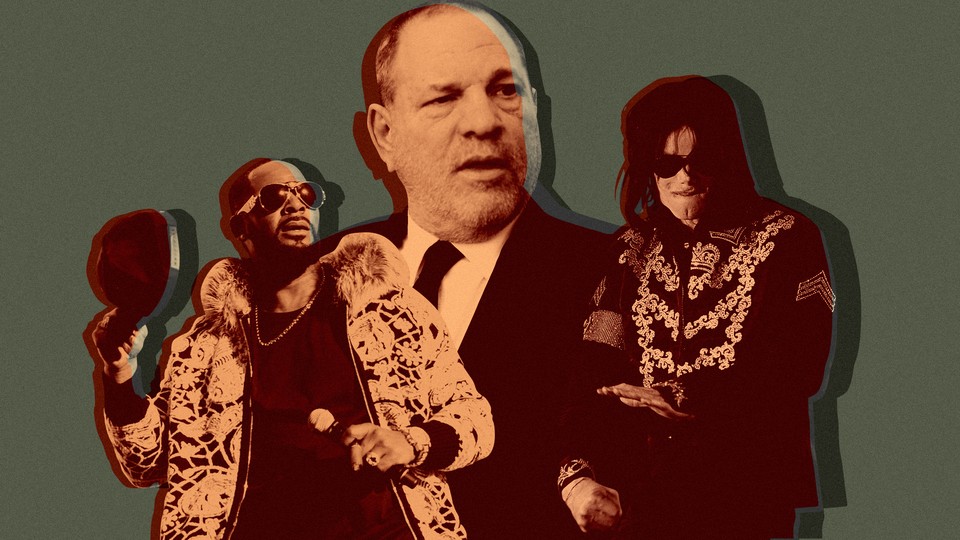 SALT LAKE CITY, Utah—Three weeks after the initial airing of Lifetime's Surviving R. Kelly, the 2019 Sundance Film Festival saw the premieres of two separate documentaries that chronicle previously reported allegations of sexual abuse. The director Ursula Macfarlane's Untouchable threads together numerous accounts of the film mogul Harvey Weinstein's alleged systematized predation. Leaving Neverland, a two-part docuseries from the director Dan Reed, follows two men as they attempt to reconcile the effect that the late Michael Jackson's alleged abuse has had on their lives. Though they vary in form and aesthetic sensibility, both new productions are jarring works that call attention to the wide-ranging effects of alleged sexual abuse and the silence that often follows it.
The men implicated in all three recent productions repeatedly denied allegations of abuse and, in some cases, intimidated alleged victims before they could speak out. But the #MeToo-era documentary is a fraught genre for reasons that extend beyond the ire of the accused (or in Jackson's case, an estate). To captivate audiences and shift public perception, a documentary must offer new reportage, deep analysis, or a freshly cohesive vision of its subject. Moving viewers with stories of sexual assault—without veering into sensationalism or kitsch—is a delicate task. It requires thoughtful aesthetic pairing, compassionate interviewing, extensive research, and a thorough understanding of how systemic abuse can work. There are many ways to err.
Perhaps the most common, and most troubling, pitfall of the sexual-misconduct documentary is the extraordinary emotional excavation it demands of alleged victims. The director dream hampton's Surviving R. Kelly, for example, is a powerful six-hour series characterized largely by gut-wrenching testimony from women who say that the singer abused them mentally, physically, and sexually. Many of them are visibly shaken as they speak. At times, such as when Asante McGee breaks down upon visiting the house where she alleges Kelly held her hostage, the footage can feel nearly impossible to stomach—particularly when contrasted with the more relaxed tone of others who appear in the documentary: the men who have supported Kelly throughout his career.
Macfarlane's Untouchable relies on similarly strenuous labor from women who accuse Weinstein of assaulting them (and on the symbolism of having premiered at Sundance, where the actress Rose McGowan alleges Weinstein raped her in 1997). The women featured in the documentary recount stories that span decades, tearily indicting themselves in front of the camera for having been ensnared by Weinstein's alleged traps. But where Surviving R. Kelly takes care to contextualize the onscreen accounts with expert testimony from psychologists and social scientists who explain foundational concepts such as grooming and social isolation, Untouchable doesn't grant its sources that same narrative courtesy. It provides no clear reminder that these women were not foolish or negligent to have been around Weinstein, or that many serial abusers disarm their victims with power, charisma, or force. Without that kind of intra-textual framing from the filmmakers, the women's testimonies are particularly vulnerable to misinterpretation by those viewers less familiar with the psychological and social ramifications of abuse.
Leaving Neverland, however, is a deeply empathetic work. Its two main subjects, Wade Robson and James Safechuck, now in their late 30s and early 40s, respectively, speak with candor and clarity throughout the four-hour documentary about meeting Jackson as children and being lured into his show-business orbit. They are remarkably self-possessed as they recount not just sexual abuse, but also the anguish of experiencing manipulation by a trusted figure. Both men repeat that Jackson was larger than life, that receiving attention from him made them feel unimaginably special. They allege that Jackson intentionally intermingled affection and abuse, referring to them as "best friend" or "little one" to keep them enamored of him even as he grew close to other boys. Their personal recounting is buttressed by archival footage, old photographs of the singer in their homes, and even copies of faxes he apparently sent to Robson, signed "apple head."
Though Jackson's alleged abuses have been reported since 1993, when he was first accused of child molestation, Leaving Neverland offers a striking new lens through which to see the late singer's legacy: the effect it continues to have on those he allegedly groomed. The documentary is a thorough, brutal accounting of Robson's and Safechuck's psychological states both as children and as adults, attempting to name what they say happened to them. In that sense, it functions less as a work of journalism—or even a heated takedown of Jackson himself—and more as a thoughtful narrative rendering of the two alleged victims' stories.
Both Robson and Safechuck have publicly defended Jackson against abuse accusations in the past, a detail that most detractors immediately reference when expressing skepticism about the men's accounts. But Leaving Neverland meticulously explores the trauma that the men say kept them from acknowledging, even to themselves, the effects that Jackson's alleged behavior had on their lives. (The film is also careful to note that both men only began to reckon with the alleged sexual abuse after the birth of their sons.) In a post-screening Q&A session at Sundance, Robson and Safechuck addressed the question that's hovered over the project (and the lawsuits they filed against the Jackson estate, which were dismissed on technical grounds): Why now?

Robson, who says Jackson began abusing him when he was 7, noted that the law is one of two arenas in which victims can hope for their accounts to be taken seriously. The other, he suggested, is storytelling. "I've never had that opportunity to tell it in this detail, at this length, and for me the biggest hope [is] that it could offer some comfort to other survivors," Robson said. "And hopefully by being able to tell the story in this detail and all the complexities, to try and raise some level—any level—of awareness for parents and for teachers and for anybody that's responsible for children to make any level of impact on prevention."

Safechuck, who says that he met Jackson when he was 10, spoke in a more quietly pointed tone: "It's an act of fighting back, and the law is the stage for us to do that," he said. "Those are the tools that we have as victims, so it's an act for me to fight for the little James."

Outside the theater, though, protesters waged a kind of counterattack. (The screening itself began late due to extended security measures.) Demonstrators stood bearing signs that characterized Leaving Neverland as mean-spirited propaganda: SEEK TRUTH THINK FOR YOURSELF, one read. Another quoted the late singer himself: LIES RUN SPRINTS BUT THE TRUTH RUNS MARATHONS. The Jackson estate, which has always defended the late singer against allegations of abuse, issued a statement referring to the documentary as a "public lynching," language that recalls defenses of both R. Kelly and the embattled Supreme Court Justice Clarence Thomas.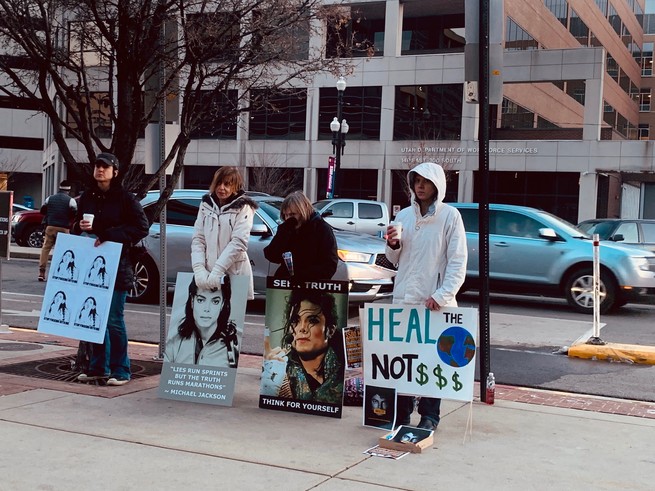 Jackson supporters' public objections to Leaving Neverland mirror the protests that arose, particularly in Chicago, following the premiere of Surviving R. Kelly. Kelly celebrated his birthday at a crowded nightclub that same weekend and referred to the docuseries as the product of a "vendetta" against him. Fans took to the streets to express their continued admiration for the singer, even as the documentary gained national attention. (Many also gathered under the umbrella #MuteRKelly to call for the music industry to abandon him.) Even the heightened security attention at the Salt Lake City showing felt eerily familiar: An early screening of Surviving R. Kelly had been evacuated following a gun threat.
That threat ultimately didn't derail Surviving R. Kelly from being aired, and the documentary has since spurred significant backlash against the singer. In the time since its release, he's been dropped by his label, RCA Records; denounced by numerous former collaborators; and become the subject of criminal investigations. He's also seen his radio play diminish, which DJs and program directors have attributed to the documentary's influence. Though organizers and the film's creators continue to push for further accountability from the artist and those who have reportedly enabled him, the documentary's impact on R. Kelly's legacy and on call-ins to sexual-assault-reporting hotlines is undeniable.

Untouchable will likely have a more questionable impact on the Weinstein story. Allegations against Weinstein are both recent and widely reported; for the film to serve as a meaningful addition to the larger discussion of his behavior, it likely would have needed to be a stronger visual project. Its uncomfortably dramatic score and soft-focus re-creations of alleged encounters (including numerous fuzzy shots of hotel hallways) lend the documentary the tone of a Cold Case Files episode. The dissonance between the women's emotional testimony and the film's aesthetic choices is unfortunate, a missed opportunity to have expanded upon the existing Weinstein reportage with nuance and care. (Worth noting, however, is the documentary's most affecting narrative choice: how centrally it foregrounds testimony from Hope Exiner D'Amore, a former University of Buffalo student who says that Weinstein raped her in a New York City hotel decades ago, an allegation that points to a pattern of behavior that would have begun well before his Miramax empire.)
Of these projects, Leaving Neverland, which is set to premiere on HBO in the spring, most rigorously and compassionately captures its chosen subject. For viewers, especially the late singer's most ardent fans, it will undoubtedly be difficult to process. But in devoting time to not just the explication of the trauma that Robson and Safechuck say they suffered but also their ongoing process of recovery, the documentary avoids the missteps of both Surviving R. Kelly and Untouchable. The alleged victims do not simply bare their difficult stories for audiences to gawk at; they are given space to insist that a path forward exists. Or, as Robson said, "I'm hoping that those wounds will turn into new opportunities for healing."