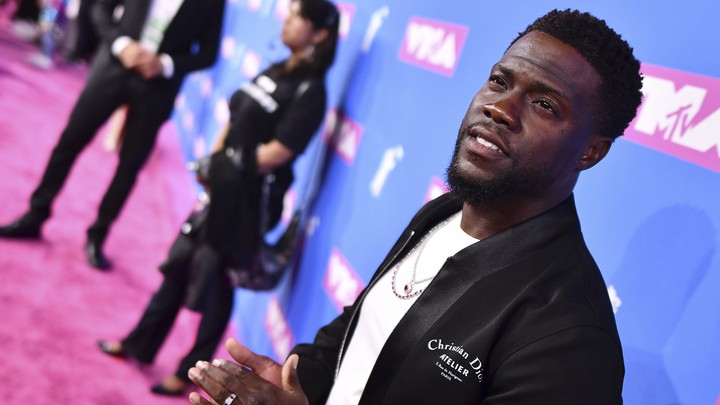 There is a vast conspiracy against Kevin Hart, Kevin Hart thinks. "That's an attack," the comedian told Ellen DeGeneres, during a bewildering appearance on the host's talk show Friday. Hart was speaking about giving up the Academy Awards hosting gig after renewed backlash from his past gay jokes. "This was to destroy me. This was to end all partnerships, all brand relationships, all investment opportunities, studio relationships, my production company, and the people that work underneath me. This was to damage the lives that have been invested in me. It's bigger than just the Oscars."
It had better be bigger than the Oscars to justify what a fuss he's made about the situation. The award show's ratings have been declining for a while, and each year's host is often quickly forgotten. Yet Hart has talked about his in-then-out-then-maybe-in-again relationship to the hosting gig with the gravity typically reserved for international conflict, and DeGeneres—now trying to reunite Hart and the Academy—has presumed to host a Camp David summit. Really, though, it's a tale about celebrity cluelessness, arrogance, and the troubling trend of dismissing all online criticism, of any validity, as "trolling."
On Ellen, Hart said he's long dreamed of hosting the Oscars, but the internet quickly ruined his "glory" in December by flagging offensive things he said in the past. A 2009 tweet by Hart called someone a "fat faced fag," and a 2010 one said someone's profile picture resembled "a gay bill board for AIDS." The comedian's 2010 stand-up routine focused on his fear that his son wouldn't be straight, a sentiment reflected in another tweet that said, "Yo if my son comes home & try's 2 play with my daughters doll house I'm going 2 break it over his head & say n my voice 'stop that's gay.'"
Read: Neil Patrick Harris might be the host the Oscars (and viewers) need
That his was arguably the most destructive kind of homophobia—encouraging parents to reject and abuse their kids in exactly the manner that contributes to high rates of LGBT teen suicide—was widely noted.
A sincere apology in response to the current-day rehashing might have defused things. But Hart's initial reaction to calls for his firing came instead in a self-pitying Instagram post that began, "Stop looking for reasons to be negative," and spoke vaguely about his growth into a better person over the years. "What's understood should never have to be said. I LOVE EVERYBODY.....ONCE AGAIN EVERYBODY." The next day, he did say sorry to gay people—in the same statement in which he announced he was walking away from the Oscars job.
On Ellen, Hart related his side of that saga. His first impulse was to ignore the backlash, and his second was to get mad. The world was ignoring that he had repeatedly apologized before, including in "a very, very heavy junket where I was asked questions about homophobia based on those tweets" in 2012 and during the promotional tour for the 2015 comedy Get Hard, a movie that was widely criticized as gay-bashing. Apologizing yet again, he felt, would just add fuel to the fire.
I've emailed Hart's PR firm for help finding the apologies to which he's referring. As far as I can tell, they're not online. What is online is a 2015 Rolling Stone article in which he explained the source of his fears about having a gay son and said, "I wouldn't tell that joke today, because when I said it, the times weren't as sensitive as they are now." That's not an apology. There's also a Get Hard Q&A in which he defends an arguably homophobic bit by saying, "Funny is funny." That's not an apology. There's also a 2014 interview in which he said he doesn't joke about gay people anymore because "I don't want that problem. I don't want any enemies." That's not an apology. In fact, each statement implies a jab at LGBT folks: You're snowflakes.
DeGeneres has now inserted herself into the situation as a character witness for Hart, giving a full hour of her show to lobby him to take the Oscars job back. She said she called the Academy and they'd like to have him. She also said, referring to his homophobic jokes, "As a gay person, I am sensitive to all of that. You've already expressed that it's not being educated on the subject, not realizing how dangerous those words are, not realizing how many kids are killed for being gay or beaten up every day. You have grown, you have apologized, you are apologizing again right now. You've done it."
Then she added, "Don't let those people win. Host the Oscars."
Those people—oof. In one breath she went from articulating the legitimate gripes of gay folks to dismissing all of them as haters and losers. This is how discourse short-circuits, how reasonable calls to show some empathy get hijacked into tribal warfare and incoherent rhetoric about "mob mentality." It's simply true that real people, not amorphous axe-grinding masses, are hurt by attitudes like the ones Hart expressed in his jokes. Some black writers, for example, have pointed out that his comments about parenting really do remind them of their own male relatives—which makes DeGeneres's spectacle of absolving him all the more presumptuous.
Meanwhile, it's Hart who's showing the true snowflakian fragility by totally losing his cool at the suggestion that he still has amends to make. "I don't have a homophobic bone in my body," he told DeGeneres, using the clichéd defense of racists who get caught in the act. The notion of bones as possibly being hateful or not belies a broken logic: It's about who you are, not what you do or say. But, in fact, one of the most pernicious ways homophobia is weaponized is through conduct.
Despite what Hart claims, the only coherent, widely circulated apologies from him arrived after the Oscars backlash, in the same instance when he made the ultimate martyr move of quitting the show. The "very, very heavy junket" and other instances where he allegedly said sorry before have not surfaced, even though he presumably has a team of image-handlers to make them go viral.
So what's changed in the last month to necessitate an intervention from DeGeneres? After she finished pleading with him to return to the Oscars—an offer he said he would go home and think about—she asked what else he wanted to discuss. Hart named his new movie: "The Upside. January 11. Excited about that."  
We want to hear what you think about this article. Submit a letter to the editor or write to letters@theatlantic.com.
Spencer Kornhaber
is a staff writer at
The Atlantic,
where he covers pop culture and music.