Kamala Harris's Political Memoir Is an Uneasy Fit for the Digital Era
The senator's new book shows the difficulty of translating short-form virality into a substantive text.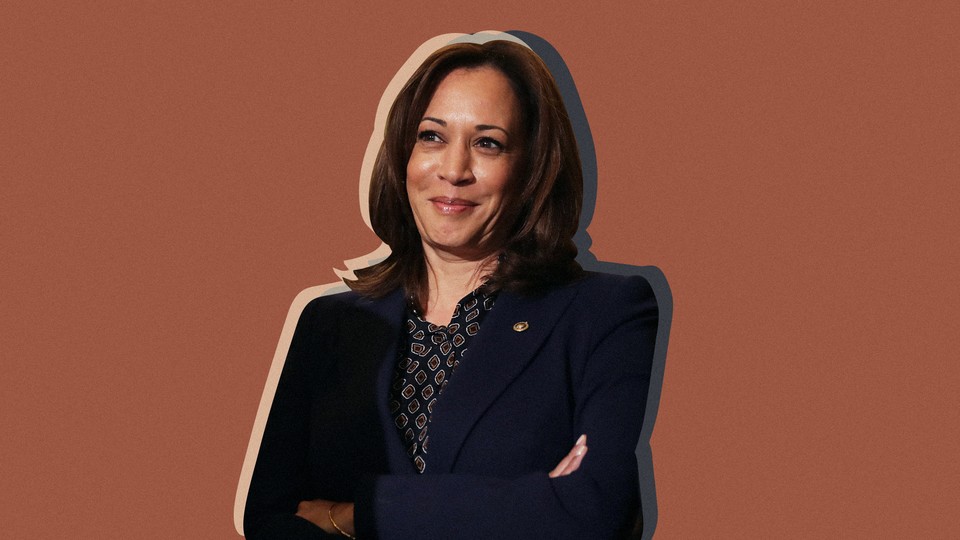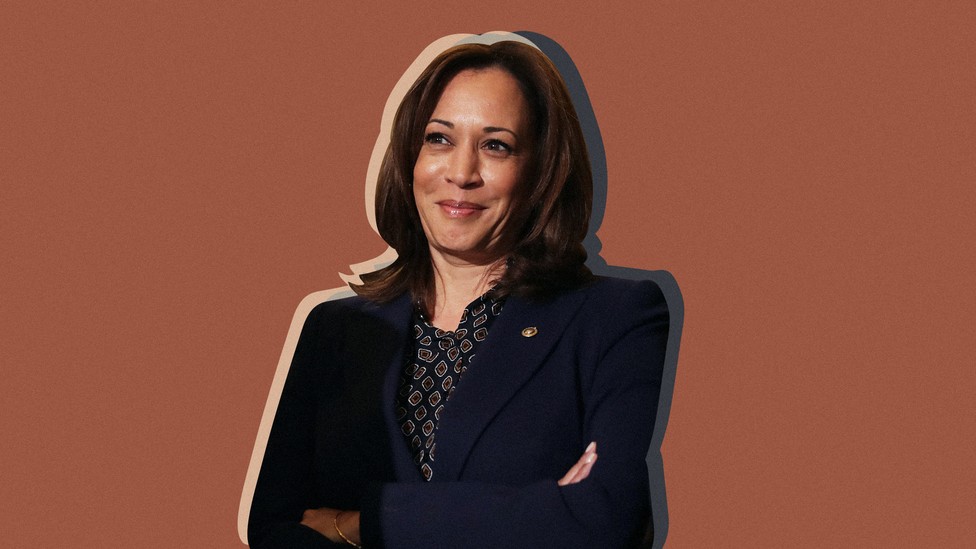 Depending on whom you ask, Kamala Harris is either a hip Hillary Clinton or a political Beyoncé. Since the election of Donald Trump, the 54-year-old California senator has emerged as one of the Democratic Party's most visible, viral faces. In addition to speaking frequently about the ills of discrimination of any sort, the former prosecutor has of late courted a liberal fandom—and many retweets—with a series of anti-establishment displays.
In January 2017, immediately following news of the president's travel ban, Harris denounced the directive as anti-Muslim and circulated a petition against its adoption. That July, she was repeatedly interrupted during a contentious exchange with then–Attorney General Jeff Sessions as part of the Senate's probe into Russian interference in the 2016 presidential election. GIFs of the weary-looking senator became a digital shorthand for women's frustrations with workplace belittling. She was widely GIFed again in September 2018, after doggedly questioning the embattled nominee Brett Kavanaugh during his Supreme Court confirmation hearing.

In other words, Harris—the daughter of an Indian mother and a Jamaican father who met, as she often says, "in the civil-rights movement" while attending graduate school in Berkeley—is becoming central to the Democratic Party's attempts to woo young, hip voters, especially those of color. Like the 29-year-old Representative Alexandria Ocasio-Cortez of New York, Harris responds to the administration's daily onslaughts with an energizing mix of frustration, tech-savvy wit, and determination. She is at once real and really profitable. There have been campaign whispers, to be sure, but also T-shirts, travel mugs, and phone cases.
The most recent publicity tool in the senator's arsenal, however, is a more traditional offering. On Tuesday, Harris released her second book, titled The Truths We Hold: An American Journey. The memoir had been anticipated as unofficial evidence of the Democrat's long-rumored intention of running for the presidency in 2020. At a book signing event in Washington, D.C.,  on Wednesday evening, amid further rumors of her candidacy, the senator walked onstage to Tupac's seminal anthem "California Love." But unlike Harris's many viral #resistance moments and meticulous snapshots of relatability, the memoir itself is a meandering work that lacks verve. More significantly, given far more than 280 characters to deliver a cohesive message, Harris doesn't meaningfully reconcile her punitive track record as a California prosecutor with her more recent activist-adjacent positioning as a national Democratic darling.

The Truths We Hold traces Harris's life and entrance into political office in 10 chapters. The book offers anecdotes meant to endear her to a diverse (or #woke) readership as well as glimpses into Harris's political worldview; the resultant mix is somewhat muddled. Recounting her years as a district attorney, for instance, she tells a fairly cringeworthy story in which she responded to colleagues' racist assumptions about an arrested man—his music taste was deemed evidence of his gang involvement—by interjecting that she, too, had a "tape of that rapper." It's the kind of ostensibly anti-racist gotcha! that might easily earn a "yass!" gif in response if it were a tweet, but doesn't translate to any substantive shift in either policy or perception. (It's also not a new anecdote.)
On the same page, she writes that she knew she'd run for district attorney in order to be there for both "the victims of crimes committed and the victims of a broken criminal justice system." Harris then explains her signature approach to what she calls "progressive" prosecution:
For me, to be a progressive prosecutor is to understand—and act on—this dichotomy. It is to understand that when a person takes another's life, or a child is molested, or a woman raped, the perpetrators deserve severe consequences. That is one imperative of justice. But it is also to understand that fairness is in short supply in a justice system that is supposed to guarantee it. The job of a progressive prosecutor is to look out for the overlooked, to speak up for those whose voices aren't being heard, to see and address the causes of crime, not just their consequences, and to shine a light on the inequality and unfairness that lead to injustice. It is to recognize that not everyone needs punishment, that what many need, quite plainly, is help.
It is, according to many of her supporters, an admirable goal. And for a career prosecutor, it's a fairly understandable worldview. But the lofty language is a tough fit with Harris's policy track record. As others have noted, her tenure as California's so-called top cop reveals a series of choices that are often incongruous with the social-justice-inflected rhetoric of The Truths We Hold.
Under District Attorney Kamala Harris, the overall felony-conviction rate in San Francisco rose from 52 percent in 2003 to 67 percent in 2006, the highest seen in a decade. Many of the convictions accounting for that increase stemmed from drug-related prosecutions, which also soared, from 56 percent in 2003 to 74 percent in 2006. As California's attorney general, Harris pushed a punitive initiative that treated truancy among elementary schoolers as a crime for which parents could be jailed. In 2014, she attempted to block the release of nonviolent second-strike offenders from overcrowded state prisons on the grounds that their paroling would result in prisons losing an important labor pool.
The following year, she defended the California state prosecutor Robert Murray after he falsified a defendant's confession that was used to threaten a sentence of life in prison, and sided with state prison leaders in contesting a transgender inmate's bid for gender-confirmation surgery. Twice in 2016, she brought criminal charges related to human trafficking against Backpage.com, an online classified website frequently used by sex workers, and later, as a senator, she co-sponsored federal bills that led to the site's seizure, a move that sex workers and activists said threatens their survival.

In considering the gaps between this track record and the smoothed-over platitudes of The Truths We Hold, one story Harris tells is particularly instructive. Early in the book, she recounts an anecdote from a summer she spent as an intern with the Alameda County District Attorney's Office in 1988. "I'll never forget the time my supervisor was working on a case involving a drug bust. The police had arrested a number of individuals in the raid, including an innocent bystander: a woman who had been at the wrong place at the wrong time and had been swept up in the dragnet," she writes. "Everything was on the line for this woman, her family, her livelihood, her standing in her community, her dignity, her liberty. And yet she'd done nothing wrong."
In this story (which she also shared for a New York Times Magazine profile in which she repeated the anecdote about her rap tape), Harris considers a number of factors about the woman's life that might mean a weekend spent in jail would have life-altering consequences: Does she work weekends? Is she going to have to explain to her employer where she was? Is she going to get fired? Of the woman's children, Harris wonders: Do they know she's in jail? The story concludes with the young Harris desperately lobbying a judge to review the innocent woman's case that same day; fortunately, "with the pound of a gavel, just like that, she was free."
Though helping to free this woman was indeed a victory, it's telling that Harris carves out narrative space for this "defining moment" in her own career without dedicating any to the fate or backstories of the others arrested as part of the raid. The vanquishing of a fairly straightforward injustice is a compelling read, but it betrays the circumstances that propelled the anecdote's other actors into the same courthouse. Harris never offers specifics of the larger story, and disappointingly, the text never questions their innate criminality.

Harris acknowledges in The Truths We Hold that drug crimes were and are among the most disproportionately prosecuted offenses. In her home state and across the country, these kinds of raids tend to target black and Latino populations, upending lives and communities with little evidence of harm committed. Harris's 2009 book, Smart on Crime: A Career Prosecutor's Plan to Make Us Safer, did little to incorporate the existential threat that these sorts of arrests posed to communities of color. "Virtually all law-abiding citizens feel safer when they see officers walking a beat," she wrote then. "This is as true in economically poor areas as in wealthy ones." It's an assumption with a glaring oversight.

In The Truths We Hold, the senator allots more space to those who may not "feel safer," drawing rhetorically from recent activism, including the Black Lives Matter movement. She notes the deep bias baked into policing systems and affirms that the law does not treat all people equally. She endorses the legalization of marijuana (with caveats), despite having literally laughed at the thought in 2014, when her Republican opponent ran to the left of her on the issue. But Harris still writes about the routine upheavals of drug arrests with detached, uninspired prose ("The cases were as easy to prove as they were tragic to charge") that can read as more facile than humane. A forthright explanation of her intellectual evolution, especially on criminal justice, would have more organically bridged the gap between the two texts.
The campaign book, of course, is a tricky text: A successful one must employ a nearly impossible mix of authentic backstory, humble retelling of career accomplishments, and accessible, soaring messaging about the nation's future. Former President Barack Obama's The Audacity of Hope: Thoughts on Reclaiming the American Dream is among the best of this genre: The 2006 book wove a convincing-enough narrative about the then senator's political vision, but it also established him as a gifted prosaist. The Truths We Hold, by contrast, lacks the literary finesse that distinguished Obama as a memoirist and endeared him to voters. Instead of weaving a political vision into the biography of its author, it assembles itself rather like a campaign pamphlet.
Like Obama, Harris has already entered near-uncharted territory in her political rise. As the first South Asian American and only the second African American woman to serve as a senator, she has attracted both bigoted ire and something more slippery, a kind of political fetishization by virtue of her identities. In the contemporary landscape of liberal politics, Harris, along with the 2018 Georgia gubernatorial candidate Stacey Abrams and Representative Maxine Waters of California, has become an avatar of the simplistic "Listen to black women!" rallying cry that emerged after postelection polling revealed black women to be the voting bloc most consistent in their support of Hillary Clinton.

By this logic, it is tempting for some to view Harris's marginalized identities as evidence enough of her progressive politics. Throughout The Truths We Hold, Harris fans this ideological beatification without deeply interrogating its roots or its consequences. For those already inclined to find her highly tweetable brand of #resistance rhetoric appealing, the memoir offers up palatably anti-establishment quotes for possible tote-bag screen-printing. If only it presented a holistic political foundation instead.