Brexit Is Chaos. The Movie About It Is Anything But.
In a new HBO film starring Benedict Cumberbatch, James Graham turns a polarizing national moment into a surprisingly cohesive and engaging story.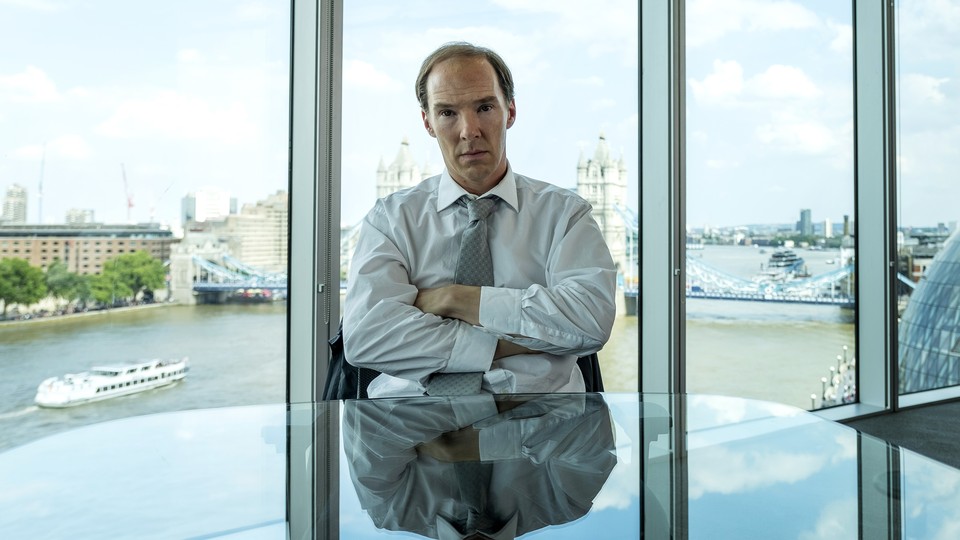 LONDON—Early on in Brexit, Channel 4 and HBO's almost inappropriately entertaining movie about Britain's 2016 vote to leave the European Union, we flash back in time to 1975, when ordinary citizens are being interviewed about another historic referendum on Europe. "I don't really know what I'm voting for," one voter sheepishly confesses. "I don't really see what good it's going to do us," another adds, somewhat huffily.
Here, in a nutshell, is the perpetual nature of Britain's relationship with the EU. It's confused. Cranky. Doggedly pessimistic. And things have only gone downhill since then. In the two and a half years since 52 percent of the nation voted to leave the world's largest trading bloc, the debate over Brexit has become the Groundhog Day no one can wake up from, with its recriminations and unsolvable paradoxes and parliamentary chaos. Even the reality that Britain is lurching painfully but certainly toward financial free fall if no agreement for leaving emerges before March 29 hasn't shifted the political mechanisms out of gridlock. It's a polarizing, infuriating, exhausting mess.
How, you might ask, does someone make a decent movie out of that?
It helps that the director of Brexit is Toby Haynes, who's handled similarly tense and nightmarish scenarios in episodes of Black Mirror and Sherlock. The inscrutably magnetic starring presence of Benedict Cumberbatch is another mitigating factor. But really, the man pulling magic from national meltdown is James Graham. The genial 36-year-old playwright is beyond rising-star status at this point, having seen two of his plays run simultaneously in the West End last year: Ink, a drama about a young Rupert Murdoch that arrives on Broadway in April, and Labour of Love, which charted the state of one of Britain's main political parties over 27 years. Graham, The Guardian's Michael Billington wrote in his review of the latter, "has a rare capacity to recreate pivotal moments from our past." But as Brexit demonstrates, he also has an uncanny gift for writing history in real time, tuning out the noise and lasering in on the most vital elements of the story.
This is, he tried to explain to me in a phone interview hours before Prime Minister Theresa May's calamitous Brexit vote in Parliament on Tuesday (spoiler: she lost), not such a novel thing. "It's what Shakespeare did, what the poets have always done," he said. "You put human beings against the backdrop of nation-changing events, and the personal and the political begin to speak to each other, and make sense of each other through the juxtaposition." Simple. But Shakespeare, not to disparage him, wasn't dealing with a story involving emerging algorithms, behavioral micro-targeting, and allegations of campaign-finance transgressions that are still being investigated. That Graham has managed to make a functioning drama out of Brexit, let alone such a riveting one, feels a little bit miraculous.
Possibly it's because he foregrounds a side of the story—and a crucial player—about which remarkably little has been said. Cumberbatch plays Dominic Cummings, the campaign director of Vote Leave (the government-designated official campaign in favor of leaving the EU). A balding, sandy-haired eccentric in a high-visibility cycling vest, Cummings—Brexit argues—is actually a sophisticated architect of chaos, the shadowy Blofeldian author of so much political pain. "In a different branch of history, I was never here," Cummings tells the camera early in the film. "Some of you voted differently and this never happened." But since it did, he's here to explain. "Everyone knows who won, but not everyone knows how."
The story that comes next follows Graham's pattern for making political dramas sing: With Cummings as a fascinating and oddly beguiling central character, he delves into the historical texture of the Brexit referendum, structuring events around a compelling dramatic narrative. The story is set within a tight timeline: the 10 months leading up to the 2016 referendum, bookended by flash-forwards to 2020, when Cummings is being quizzed for a public inquiry. Initially, at least, Vote Leave is seen as a renegade force, facing off against the full might of David Cameron's Conservative government, which endorsed the campaign to remain. Cummings's counterpart on the other side is Craig Oliver (Black Mirror's Rory Kinnear), a political strategist and former journalist who's as well connected as Cummings is disliked (Oliver describes Cummings in the film as "basically mental" and "an egotist with a wrecking ball").
Cummings is cast in the underdog role, giving Brexit the space to chart his unlikely but inevitable triumph. Rarely, though, are viewers expected to be on his side. Graham stays defiantly nonpartisan throughout, even if he heightens the three most bombastic media presences of the pro-Brexit debate—the politicians Nigel Farage (Paul Ryan) and Boris Johnson (Richard Goulding), and the businessman and political donor Arron Banks (Lee Boardman)—into caricatures, a Greek chorus of squirm-inducing comic relief. Rather than presenting a polemic or an argument, Graham said he wanted instead to consider a significant moment in British history while allowing his audience to "invest in and empathize and understand the motivations of the key players," which he sees as vital, even more so if you happen to stringently disagree with their politics.
When the trailer for Brexit was released in December, it sparked criticism from some commentators perturbed by the fact that Graham was tackling both a colossal national crisis that was still very much ongoing and allegations of criminal activity that haven't yet been fully litigated. (Vote Leave was found last year to have broken electoral law by overspending, while the question of where Banks got the £8.4 million he donated to the pro-leave cause has been referred to the National Crime Agency.) Graham found the criticism a little perplexing. "I believe passionately that the right time to be doing plays and films and TV dramas about politically sensitive events," he said, "is when you're right in the epicenter of them." Brexit isn't intended to be the definitive account of how Brexit unfolded, but rather the beginning of a larger artistic reckoning with what it all means.
Given the ongoing uncertainty regarding Brexit, the timeliness of Brexit also gives the drama more potency. The movie has already aired in the United Kingdom, where it was met almost exclusively with critical acclaim (though a reviewer for the left-leaning publication The Guardian took umbrage with the ambiguous centrality of Cummings, calling the film "superficial, irresponsible TV"), and was watched by more than 1 million viewers. Which, as Cummings would attest, is no small number of people to reach when you're in the middle of one of the most charged, divisive, and apparently unending decisions in British history.