How the Middling Green Book Became an Oscars Front-Runner
Peter Farrelly's film has taken over 2019's awards season despite mounting controversies, critical disinterest, and mediocre ticket sales.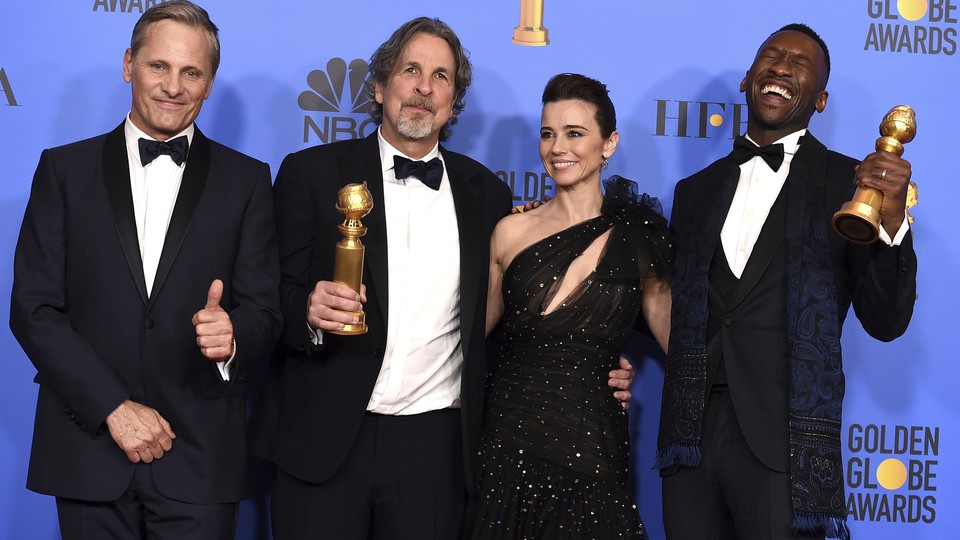 The Oscars have always been the guardians of mainstream film taste, for better and for worse. The definition of a "prestige movie," a term often deployed with derision, is a film made to attract the votes of the Academy of Motion Picture Arts and Sciences (AMPAS) and that thus often tries to win the broadest consensus possible from a group that trends old, white, and male. This approach explains how Best Picture winners such as Driving Miss Daisy and Crash became eternal punch lines: They were two middlebrow films with myopic perspectives on race relations in America that were unfortunately enshrined in history thanks to both their Oscar wins and their respective defeats of better-remembered projects such as Do the Right Thing and Brokeback Mountain.
In the past few years, we've seen Oscar consensus begin to shift. Last year's Best Picture winner, The Shape of Water, triumphed partly because it wasn't as critically polarizing as other favorites such as Three Billboards Outside Ebbing, Missouri or Dunkirk. But it was still a gory, R-rated, sci-fi film about a romance between a woman and a fish man—the kind of thing that would have struggled to even attract nominations in years prior. In general, the trend of recent Oscar winners has pointed toward AMPAS embracing more boundary-pushing storytelling from exciting auteurs, with wins for films such as Barry Jenkins's Moonlight, Alejandro González-Iñárritu's Birdman, and Steve McQueen's 12 Years a Slave. Perhaps that hint of progress is what makes the steamrolling success of Green Book all the more confounding.
Directed and co-written by Peter Farrelly, Green Book is a movie with the same blinkered blandness that defines those derided Oscar favorites of yesteryear. It's a tale of a "true friendship" in the early 1960s between fast-talking wise guy Tony "Lip" Vallelonga (played by Viggo Mortensen) and the guarded but brilliant pianist Don "Doc" Shirley (Mahershala Ali). Though the particulars of its true-story script have been challenged by Shirley's family, Green Book is pitching itself to audiences as a movie about the unlikely and astonishing bond between these two men—one a working-class, Italian American bouncer, and the other a well-educated, African American virtuoso.
Initial buzz marked Green Book as a potential word-of-mouth sensation. It won the Toronto International Film Festival's People's Choice Award, a solid bellwether for Oscar attention, and got a sterling A+ CinemaScore, a metric that gauges how well a movie meets audience's expectations. But Green Book has actually underperformed at the box office, making only $36 million in eight weeks of release. That's less than Widows ($42 million) and Hereditary ($44 million), and only slightly more than Annihilation ($32 million), three challenging, critically acclaimed genre films that are being totally ignored this awards season.
So why is Green Book still barreling toward Oscar success? It keeps scoring major guild nominations—from the Directors Guild, the Producers Guild, and the Writers Guild, and two from the Screen Actors Guild. It received seven Critics' Choice nods and four BAFTA nods, and, of course, the film won three Golden Globes, including Best Picture (Musical or Comedy), last weekend. When Oscar nominations are announced on January 22 (voting began January 7 and ends a week later), Green Book will almost certainly be shortlisted for Best Picture, Director, Screenplay, Lead Actor, Supporting Actor, and possibly a few technical awards.
The easiest explanation for the impressive awards trajectory of Green Book (relative to its middling ticket sales) is its acting. As my colleague Christopher Orr noted in his review, the film is entirely elevated by the work of Mortensen and Ali, who have tremendous chemistry together and fully commit to the "opposites attract" notion of Tony and Don's friendship. The actors manage to sell a premise that feels flimsier the more it's scrutinized: Don is helping Tony understand that black people exist beyond whatever crude stereotypes he might imagine, while Tony is also helping Don … loosen up a little and not take life so seriously.
The stakes are tremendously lopsided, which Farrelly himself acknowledged in a Vanity Fair interview about the film. "Doc Shirley didn't need a savior," the director said. "Yes, Tony Lip got him out of some earthy problems, but Doc Shirley saved Tony Lip's soul. He changed him. He made him a better human being." That point of view is reflected by the film, which gives over more storytelling time to Tony (the film begins and ends with him and his family) and was co-written by his son Nick Vallelonga.
As Green Book continues to rack up awards success, Farrelly and Nick Vallelonga have both had to contend with revelations of past behavior. Farrelly—who is still best known as one-half of a brotherly directing duo (along with Bobby Farrelly) that specialized in ribald comedies such as Kingpin and There's Something About Mary—apparently used to have a predilection for flashing his penis at people to shock them, including the Something About Mary star Cameron Diaz. "True. I was an idiot," Peter Farrelly said in a statement about the old reports. "I did this decades ago and I thought I was being funny and the truth is I'm embarrassed and it makes me cringe now. I'm deeply sorry."
Nick Vallelonga, meanwhile, has received criticism for an old tweet, sent in 2015, to Donald Trump's account, about the now-president's campaign claim that footage existed of people cheering the 9/11 attacks in New Jersey, "where you have large Arab populations." The claim has been thoroughly refuted, but Vallelonga agreed with it at the time, tweeting "100% correct. Muslims in Jersey City cheering when towers went down. I saw it, as you did, possibly on local CBS news." Vallelonga has since deleted his Twitter account, with a representative telling Indiewire, "Not sure if any comment is actually needed here." But Vallelonga released a longer statement on Thursday, apologizing to the team that made Green Book; to "all members of the Muslim faith," including Ali; and to Vallelonga's late father: "I promise this lesson is not lost on me. Green Book is a story about love, acceptance, and overcoming barriers, and I will do better."
Political debates and outside controversies often bubble up as part of the sharp-elbowed nature of Oscar season. Vallelonga's statement frames the reaction to the 9/11 tweet as a teachable moment, one in line with Green Book's narrative of forgiveness and growth. Yet the original 2015 comment also speaks to the concerns that many critics, and some of Shirley's family, had over the film's storytelling limits. As Vallelonga's apology indicates, there's a particular lack of awareness and empathy suggested by the tweet, which feels especially charged given that the star of the movie was the first Muslim actor to ever win an Oscar. But the fracas over the tweet is perhaps a useful reminder that while Green Book is presented as a story of friendship that transcended perspectives, the film cares most about one character's point of view—and redemption. The same could be said of many past Oscar winners, which is a reality that Academy voters might consider going forward.