Why People Paid Thousands of Dollars to Attend a Doomed Music Festival
Two new documentaries—Netflix's Fyre and Hulu's Fyre Fraud—investigate the origins of a nightmarish event that went viral in 2017.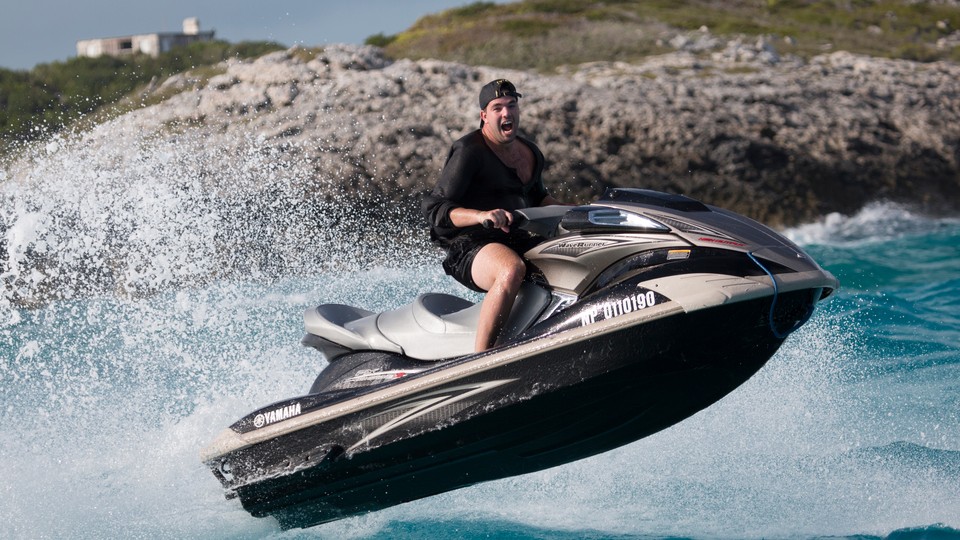 How could you market something that wasn't real? That's the question Brett Kincaid, a commercial director who helped promote the infamous Fyre Festival, is forced to confront in a new Netflix documentary out Friday. Titled Fyre: The Greatest Party That Never Happened, Chris Smith's film is a fairly straightforward accounting of the failed event that triggered a maelstrom of social-media schadenfreude in 2017, when hundreds of attendees were lured to a Bahamian island for a luxury getaway that promised major musical acts, ritzy accommodations, gourmet food, and Instagram celebrities in the middle of paradise.
What visitors got instead was an empty corner of an island littered with disaster-relief tents that had been drenched in a prior storm. There was no other housing, no staff, barely any food, no way to immediately depart, and, of course, no music or celebrities. In Fyre, Kincaid offers a defense of himself and other contractors hired by the festival co-organizer Billy McFarland, who is now serving a six-year prison term for wire fraud. "Everything was real," Kincaid insists in the documentary. "Everything looked real. If you get hired to do a BMW commercial and that BMW then has a faulty engine, how the fuck can you possibly know whether or not they're going to do good on what they said they were gonna do?"
Kincaid is trying to explain how he and celebrities like Bella Hadid and Emily Ratajkowski, who promoted the doomed festival, became part of the initial publicity wave that McFarland devised to attract ticket-buyers. The experience featured in those commercials, which showed beautiful people frolicking on a beach, was a fantasy, pure and simple. In the documentary, Fyre employees acknowledge that the shooting of the promos, which happened over a joyful weekend in the Bahamas, was the closest anyone came to actually enjoying the extravaganza McFarland had advertised.
Smith is a documentarian who specializes in using the story of an intriguing person as a lens to examine some wider cultural phenomenon. His American Movie is a wonderful portrait of outsider art; Collapse is a thrilling exploration of the blurry line between radical thought and full-on paranoia; and Jim & Andy: The Great Beyond dug into Jim Carrey's warped experience with method acting on the set of Man on the Moon. Fyre is primarily a journalistic exhumation of the Fyre Festival's ridiculous excesses. But via interviews with both dissatisfied ticket-buyers and nervy ex-employees, the movie also scrapes away the sheen of the flamboyant "influencer" lifestyle that McFarland leveraged to sell tickets and hook investors.
A rival documentary titled Fyre Fraud, released on Hulu days before Fyre was set to land on Netflix, makes that theme more prominent. While Smith's film is more focused on McFarland's management of the festival, the Hulu doc (directed by Jenner Furst and Julia Willoughby Nason) is more bluntly polemical, digging into "influencer culture" as a broader societal symptom that McFarland exploited when marketing the festival. Fyre Fraud leans on montages and step-by-step explanations of how Instagram celebrities monetize their sponsored posts and how easily McFarland could use that network to create an event he had no qualifications to run. The Hulu film also has a strange animus toward Millennials and is fond of using pop-culture clips to explain simple concepts (Billions helps to define what a U.S. attorney is, while Family Guy outlines how a high-interest loan works).
Fyre Fraud also features an awkward interview with McFarland that the documentary producers paid for—somewhat deflating the movie's invective against celebrities who translate their fame into promotional dollars, since the film arguably empowered McFarland to do exactly that. McFarland, who was not interviewed for Fyre (Smith said letting the organizer make money off the project would have felt "wrong"), is an undeniably compelling figure, a next-level scam artist who seems convinced that he can talk his way out of any accusation. But his involvement gives the Hulu documentary a particularly icky edge. The Netflix movie, in turn, was made in partnership with Jerry Media, which was also involved in the festival, and the Hulu film is much tougher on the company (for its part, Netflix has stated that Jerry Media never requested favorable coverage).
In general, Smith lets McFarland's employees and contractors tell their side of the story, and almost all of them sound like people who recently came out of hypnosis. So many anecdotes revolve around them informing McFarland that some basic goal for staging the festival—like arranging housing, or travel, or food—was going to be impossible to pull off in such a short time. McFarland would invariably either ignore the news or convince workers that there was a positive spin to be put on it. He'd occasionally leave the office and somehow return with millions more dollars made from hoodwinking investors.
The story of the Fyre Festival is certainly one of perverse fascination. When it unfolded on Twitter, part of the thrill for observers was imagining the horror of people who had paid thousands of dollars for tickets and showed up to a windswept, mostly empty beach that they couldn't escape. But Fyre is also a tale about how the delights promised by social media—think of those sun-kissed models running on the beach—are ephemeral and often illusory.
After the festival's collapse, Fyre depicts McFarland's next move with shocking, exclusive footage: The organizer holed up in a fancy penthouse with his friends, pondered how to capitalize on his failure, and then sold VIP tickets to events like the Grammys. McFarland made at least another $100,000 doing that (largely by exploiting the Fyre mailing list) before being sent to jail. Even in his seemingly lowest moment, McFarland went back to the same imaginary well of a glamorous lifestyle that anyone could have for the right price. He was hawking something that wasn't real, and people kept buying into it.