Naomi Osaka's Australian Open Victory Shatters the Status Quo
How the 21-year-old Japanese phenom cemented her position as a bona fide superstar—plus a look at what lies ahead for the men's final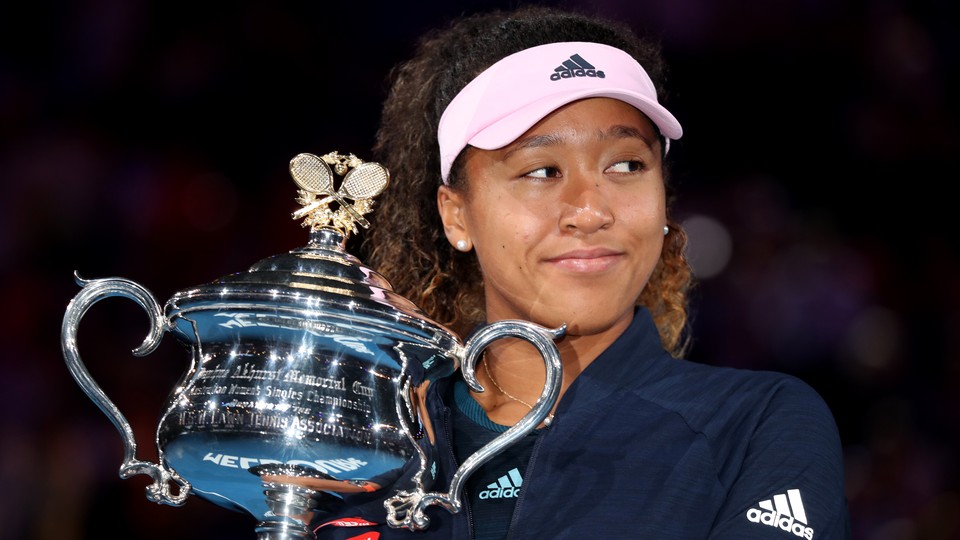 For the past half decade, women's tennis has been a paragon of parity, with one glaring exception. Twelve different women have won at least one grand-slam title since 2014; one of them, Serena Williams, has collected six in that time frame. There, in a nutshell, is the recent history of the sport: a handful of excellent players (Angelique Kerber, Garbiñe Muguruza) and one world-annihilating supernova (Williams) consistently vying for the top prizes.
But Naomi Osaka's steely 7–6 (2), 5–7, 6–4 defeat of Petra Kvitová in the 2019 Australian Open final on Saturday portends an irreparable break from the status quo. The women's tour will remain replete with exceptional players, many of whom, like Kvitová, have the talent to contend for grand slams. But Osaka's victory, her second straight grand-slam title, confirms her status as a bona fide superstar capable of rivaling Williams's preeminence. (Osaka beat Williams in the final of last year's U.S. Open, an outcome that was unfortunately overshadowed by the umpire's very poor decision making and the ensuing controversy over Williams's behavior.) Women's tennis is now a two-headed monster with Osaka set to take over the No. 1 ranking, Williams unlikely to fade away, and the rest of a deep field still lurking.
To be clear, this is not to argue that Osaka is destined to surpass Williams's career accomplishments. Williams is the greatest women's player of all time and one of the 10 greatest athletes ever. It is unlikely that Osaka will come close to matching Williams's 23 grand-slam titles, a number second only to Margaret Court's 24. But Osaka feels like the sort of superstar with requisite chops and magnetism to one day supplant Williams as the face of women's tennis. This makes her different from every other multiple grand-slam winner—Kvitová, Kerber, Muguruza—of the recent past. She's a mere 21 years of age and the only female player other than Williams to win back-to-back grand-slam titles during the past five years. The stage is set for her reign to begin.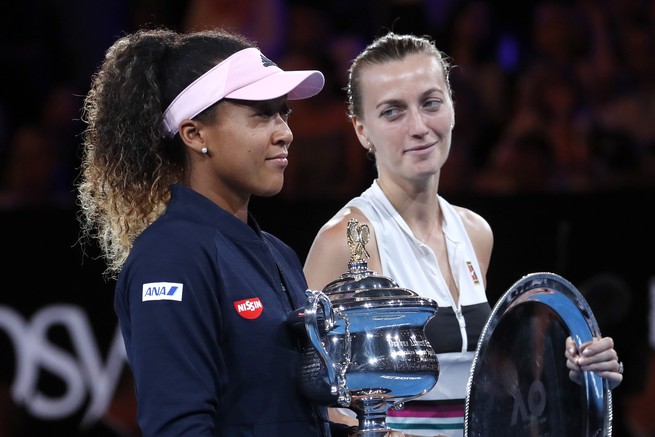 From a personality standpoint, Osaka isn't as demonstratively charismatic as Williams, whose warm-as-sunshine smile and proclivity for raffish behavior (recall her lovely, impromptu Crip Walk on the grounds of Wimbledon's Centre Court) have always commanded the limelight. But the overwhelming physicality of Osaka's game demands mass attention. Her game and personality are somewhat reminiscent of Rafael Nadal, the great men's champion who's never had as polished or charming a public persona as his great rival, Roger Federer, but whose sheer athleticism has always been too exceptional to ignore. Like Nadal's, Osaka's ground strokes are so formidable—she is one of the few women on the Women's Tennis Association tour to consistently hit her forehand at more than 100 miles an hour—that once you sit down to watch her play, you can't take your eyes off her and can't help but wonder how this person plays the game with an aggression that verges on unhinged but never spins out of control.
During Saturday's final, Osaka needed the full range of her talents to squeak by Kvitová, a celebrated power player in her own right. The two players went toe-to-toe from the baseline over three tight sets, with each hitting 33 winners but Kvitová committing 39 unforced errors to Osaka's 33. Osaka won the first in a tiebreak and held three match points on Kvitová's serve at 5–3 in the second. But the 6-foot, left-handed player from the Czech Republic saved the first match point with an absolutely scintillating inside-out forehand, a shot that floored Osaka and injected Kvitová with newfound confidence. Kvitová went on to win four games in a row and the second set, a turn of events that temporarily flummoxed Osaka, who struggled to maintain her composure and briefly left the court before the third set. But once play recommenced, it was all business from the young Japanese phenom. She betrayed almost no emotion as she went about breaking Kvitová early in the third set and holding serve throughout the set to close out the match.
In many respects, the fact that Kvitová made it to the final felt like a moral victory worth celebrating. In 2016, an armed intruder attacked Kvitová in her home in the Czech Republic, leaving her with severe knife wounds to her dominant left hand. That she's been able to come back from that incident and regain the form that helped her win two Wimbledon titles, in 2011 and 2014, is already the feel-good sport story of the year. But on Saturday, her best simply wasn't enough; Kvitová played a good match but at times seemed staggered by the speed and depth of the shots Osaka routinely sent over the net.
In victory, Osaka emanated a combination of humility, sweetness, and uncertainty. (While accepting the trophy, she told the crowd that public speaking wasn't her strong suit, then admitted she'd forgotten the notes she'd written down to guide her through the speech.) But don't be distracted by that self-deprecating humor. After sealing the match and kneeling down on the court for a moment, Osaka got up and flashed a look of pure confidence to her box. It was similar to the look she gave after sealing her semifinal victory with an ace. Naomi Osaka knows she belongs. She's a star who promises to be around for quite some time, and her victory in Melbourne represents the dawn of a new era.
---
If women's tennis has modeled parity in recent years, then the men's tour has been the epitome of hierarchy, with Federer, Nadal, Novak Djokovic, and Andy Murray winning 53 of the last 60 grand-slam titles, a run of dominance the likes of which tennis has never experienced. Before the start of this year's tournament, Murray announced his intention to retire, because of a lingering hip injury, at some yet-to-be-determined point in the future. The specter of Murray's forthcoming retirement and some superb play in the early rounds by several young players initially gave this edition of the men's Australian Open a feel of generational shift. When the 20-year-old Greek wunderkind Stefanos Tsitsipas, whose good looks and flowing locks evoke images of Apollo himself, upset Federer in the fourth round, John McEnroe literally told the gathered crowd in Rod Laver Arena, "You're watching the changing of the guard."
That sense of change was resolutely quashed in the semifinals when Nadal and Djokovic, respectively, demolished Tsitsipas and the 24-year-old Lucas Pouille, setting up a final between the top two players in the world that will start on Sunday at 3:30 a.m. eastern time. The intensity of those two beatdowns—Tsitsipas won only six games against Nadal; Pouille took a mere four off Djokovic—should serve as a reminder that any proclamations of a coming sea change in men's tennis are pure hyperbole. At the moment, Djokovic and Nadal are the two best players in the men's game by a long shot, and even at the ripe old age of 37, Federer is still a force to be reckoned with on faster courts, such as the lawns of Wimbledon. Murray's diminished status technically marks the dissolution of the Big Four, but it's safe to bet that this year's grand-slam trophies will fall into the hands of the Remaining Three.
The only thing different about this year's Australian Open is the undercurrent of discord and dissent that has accompanied it. At the beginning of the tournament, it was revealed that players on the men's side were allegedly at loggerheads over the future of Chris Kermode, the current executive chairman of the Association of Tennis Professionals (ATP), whose tenure in that position is set to expire later this year. According to those reports, Djokovic is one of the players in favor of removing Kermode, while Nadal and Federer support extending his tenure. The leaking of this story led to some finger-pointing, with Stan Wawrinka openly blaming Djokovic for the acrimony, Nadal's coach Carlos Moya claiming that Djokovic "must have his own reasons" for wanting Kermode gone, and Djokovic insisting that reports of his opposition to Kermode are not entirely accurate.
In many respects, this particular spat registers as nothing more than an inconsequential contretemps. Arguments over governance issues don't tend to spill onto the court or affect how players compete against one another. But in addition to the previously unimaginable level of dominance that Federer, Nadal, Djokovic, and Murray have unleashed upon the sport, this generation has also ushered in an almost unprecedented era of effusive sportsmanship, characterized by epic post-match bro hugs and oh-too-cute social-media shout-outs. Federer and Djokovic had a few minor disagreements early in their rivalry, but ever since then, nothing but love and respect has been exchanged between the top players. As a result, even a hint of internal strife, such as a disagreement over the ATP chairman, can be a bit disorienting.
I don't expect Djokovic and Nadal's alleged disagreement to manifest itself in any detectable way during Sunday's final. The two have already played 52 times, an Open Era record, and treated fans to every kind of outcome imaginable, from protracted nail-biters to one-sided beatdowns. Still, a match in which they offer any hint of personal drama is the only potential twist left in this storied rivalry. Maybe this will be the year.