How Ariana Grande Fell Off the Cultural-Appropriation Tightrope
With "7 Rings," the singer wears a culture as a costume.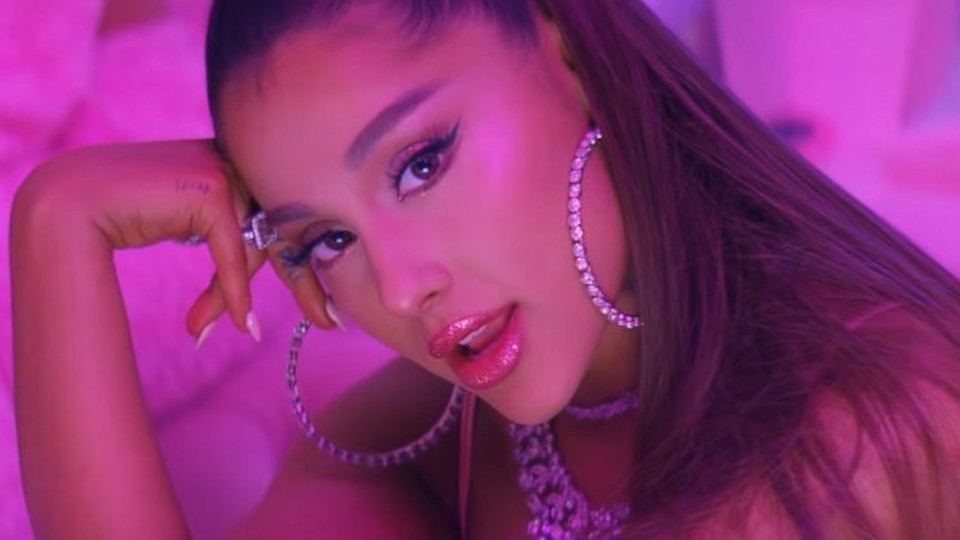 Ariana Grande's "7 Rings" lets you know, in its very first verse, that it's copying. "Breakfast at Tiffany's and bottles of bubbles / Girls with tattoos who like getting in trouble," she sings in place of the "Raindrops on roses / and whiskers on kittens" made famous by Rodgers and Hammerstein, who are listed among the 10 songwriters for the pop star's latest single.
But this is not an Austrian Alps show tune. It's a rap and R&B song, inspired by—or taking from—black artists.  For the chorus, a marching-formation beat kicks in and Grande whispers, in a clipped rhythm, "I want it, I got it, I want it, I got it." In the bridge, she raps in a kind of ranging, liquid style reminiscent of Beyoncé and Nicki Minaj's "Flawless (Remix)," with a reference to The Notorious B.I.G.'s "Gimme the Loot." After the single was released last Friday, two rappers—Princess Nokia and Soulja Boy—posted videos accusing Grande of stealing their flows. 2 Chainz suggested the music video ripped off the pink trap house he set up as a promotional and public-health effort in Atlanta, and other people noted similarities with his song "Spend It."
Whether Grande has a serious plagiarism scandal on her hands is unclear. Rap flows—particular verbal rhythms and rhyme patterns—can be viral and collaborative things, bubbling up as one emcee's innovation then quickly becoming ubiquitous. To my ear, Grande's delivery and lyrics do recall all the songs "7 Rings" has been compared to, but not so precisely that you can bet on a slam-dunk copyright-infringement case against her. Then again, we're living in the era after the "Blurred Lines" judgment, which determined that the "feel" of a song can be actionable. A lawyer just has to convince a jury.
What Grande is definitely facing, though, is that familiar pop-star chapter: a cultural-appropriation backlash. In addition to her extraordinary voice, neurotic charisma, and glittery bath-bomb aesthetic, Grande's success has increasingly relied on elements of rap and R&B culture: its slang (last year, issa was every third word Grande said in public), its beats (Pharrell injected her 2018 album, Sweetener, with thump recalling that of his band N*E*R*D), and its stars (all of the guest vocalists on 2016's Dangerous Women, the album where she made a show of leaving behind child-star innocence, were black).
This history hasn't led to the sort of controversy that, say, met Miley Cyrus when she made herself over as a gold-toothed twerker in 2013. But it has been remarked upon in ways positive and negative. Patti LaBelle lovingly called Grande a "little white black girl" while presenting an award to the star in December. But some commentators have grumbled that her "blaccent" and even her spray tan seemed part of an old story about white people profiting off of black aesthetics to project a sense of edge without feeling any of the associated struggle.
Appropriation remains one of the hardest-to-talk-about phenomena in pop culture, which is, fundamentally, a hodgepodge of widely circulated ideas that originated in specific subcultures. One line of thought puts it in economic terms: Are marginalized creators being materially harmed and erased? But on another level, there are questions of aesthetics and tastes. Does the pop star draw upon her influences in a way that feels original? Does her work disrespect or honor those influences? Is there a double standard in how her work is received?
Grande teetered the line on those questions without much incident till now. But "7 Rings" is raising hackles because it regresses to a more cartoonish, and imitative, use of black music than she's done before (not to mention the video's evocation of Japanese kawaii). She's wearing the culture as a costume—or even as a joke—not unlike white frat guys putting on fake grills for a "ratchet" party.
The lyrical concept for "7 Rings" originated from Grande coping with her super-public breakup from the comedian Pete Davidson last year. After calling off their engagement, she went with six of her best friends to Tiffany, got drunk on champagne, and bought everyone in her posse her own engagement ring. It's a tale of mega-wealthy indulgence that's both charming and sickening, a combination that Grande tacitly acknowledges with this song. She's bragging, not apologizing, about doing something wasteful—an empowering rebellion, supposedly. "Whoever said money can't solve your problems must not have had enough money to solve 'em," she sings.
Grande and her fans would say that this materialist flex is earned defiance for someone who has faced a series of profound public setbacks in recent years, and who's been underestimated time and again for being a young woman. They would also say that men get to conduct themselves this way in public all the time. True enough. But the song exploits hip-hop signifiers so insistently that the gap between Grande's experiences and the cultures she's taking from are as glaring as the reflection off a De Beers product.
The video may or may not reference 2 Chainz's pink trap house, but it does channel the notion of a pink trap house via spray paint, beat-up cars, and barking dogs (just look at the album art). The song's defining lyric goes, "You like my hair? / Gee thanks, just bought it," which also—combined with the rest of her chorus—recalls 2 Chainz's refrain "It's mine / I spend it." But "Spend It" was a victory lap for someone who's had to deal drugs since he was a teenager: "I'm riding 'round my side of town / Boxing gloves, I beat the trial." On Princess Nokia's "Mine," the chorus, "It's mine, I bought it," referred to the hairpieces of black and brown women—which, Nokia complained in song, are regularly ridiculed.
Grande's hair lyrics, by contrast, are about her famous ponytail and the extensions she buys to create it. That's certainly a reference that's authentic to her, but also one that draws a shaky connection to former drug dealers having escaped poverty and to women of color showing pride in the face of marginalization. Of course, drawing shaky connections is how all pop music works: Singers' specific stories offer metaphors that are scalable for all sorts of lifestyles. You can be white and still feel a sense of empowerment by listening to trap. But most listeners at home don't then project their fantastical appropriation of someone else's struggle to the masses in a hit song about their mega wealth.
Grande has now had to acknowledge the backlash, if not fully reckon with it. On Instagram, she reposted the podcast host Aminatou Sow's message "White women talking about their weaves is how we're gonna solve racism" and then apologized for doing so, writing about the original post:
I think her intention was to be like… yay a white person disassociating the negative stariotype [sic] that is paired with the word 'weave'… however I'm so sorry my response was out of pocket or if it came across the wrong way. Thanks for opening the conversation and like… to everyone for talking to me about it. It's never my intention to offend anybody.
It's a weird apology. If it helped black women to have a famous white woman brag about her weave, then it would stand to reason that Miley Cyrus's butt-shaking phase might have prevented Cardi B and City Girls from being slut-shamed for twerking—a story that unfolded in the past few days. What culture-jacking often does is simply take advantage of the racist way that different people receive different treatment for the same activities. "When black women wear weave it's ghetto and trash and we're bald," tweeted one listener, "but now miss Ariana says that corny ass line everyone and their mom is hype [about] it."
Many appropriation critiques incite their own backlash from people who talk about "online mobs" looking for the next target to "cancel." But the truth is that even in the face of controversy, "7 Rings" is a streaming smash, and Grande's most forceful critics say they're not out to destroy a career. "Accountability doesn't automatically mean cancel," wrote the blogger Erin Dyana. "It's literally informing said person of their wrongdoings and offenses, bringing it to their attention and other people's attention as well, since we're talking about celebrities."
Indeed, depending on how Grande handles this situation, she should be fine. She's not someone like Iggy Azalea, who built a career on racial drag. But the fact remains that a sound and an attitude that black artists used to articulate specific things about their lives in a racist society is being pushed further into the realm of catchall cliché. The average, non-black listener, after being exposed to "7 Rings," may be less able to discern the particular meanings—and social circumstances—of the original documents. In a very real way, Grande has taken other people's shine.