The Deeper Meaning Behind Ed Sheeran and Beyoncé's Clothing Clash
Sure, they're pop stars playing parts. Yes, sexism allows him to dress down. But isn't his schlumpy outfit also saying something about her spectacular one?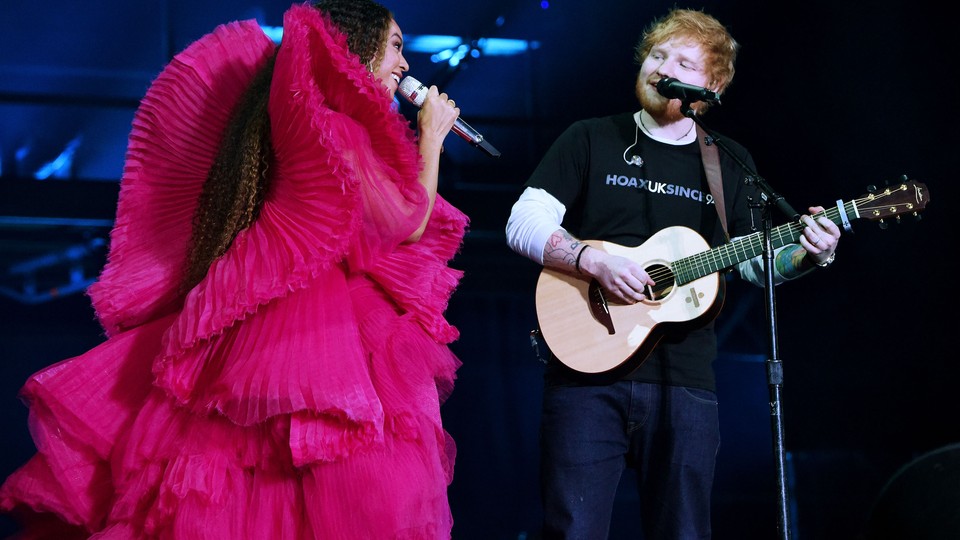 "I saw you in that dress looking so beautiful," go the words to Ed Sheeran's "Perfect," which hit No. 1 on the Hot 100 when it was re-released as a duet with Beyoncé. "I don't deserve this, darling."
In yet another example that reality is a comedy programmed by higher beings, those exact words were sung during a Global Citizen Festival performance in South Africa, where the disparity between Sheeran's outfit and Beyoncé's outfit caused an internet scandal. Beyoncé had swathed herself in ruffled magenta architecture worthy of a runway or a botanical garden. Sheeran slumped in a long-sleeved tee under a short-sleeved tee—that classic middle-schooler combo—plus jeans and running shoes that appeared loosely tied.
Twitter users then had the kind of fun that's only ever had on Twitter—acidic, easily decontextualized, and touching on identity politics. "Ed Sheeran is a 27 year old man the fact we've enabled him to feel it's ok to dress like this at all, let alone next to Beyoncé really boils my piss," wrote Shon Faye in a message that had tens of thousands of reactions. That the image of the two singers represented sexism—he gets to be a schlump, and she doesn't—seemed likely. "Ed and Beyoncé together look like roughly 75% of heterosexual couples," said R. Eric Thomas in a glorious Elle rant. "How many Instagram Stories must I watch where the woman is wearing a full face and dressed to the nines in high fashion and the guy is wearing a potato sack that has 'Supreme' handwritten on it? While on a date at Nobu?!"
The counterargument: Wasn't this just two pop stars living up to their highly specific branding? Wouldn't it be weirder if Sheeran had come out in a tux, given how he almost always looks as if he's about to take out the trash on a 40-degree morning? Tweeted the writer Andrew LaSane, "Not saying there isn't a double standard when it comes to men and women and how they're expected to dress … But y'all really choosing Beyonce and Ed Sheeran as examples? The most extra and least extra musicians of our time? Chill out."
What's so interesting about the story of the double tee and the orchid dress is that the two interpretations—gender and race on display versus pop stars wearing their respective uniforms—overlap. Sheeran's projected persona is that of the "regular guy," and the fact that regular means being held to very low expectations and not needing to impress anyone is indeed a privileged thing. A "regular girl"—whoever might be deciding what that means—would probably at least wear makeup to a headlining gig.
Beyoncé's shtick, meanwhile, is that she's not regular. She's an epitome, someone working to wow at every level. In part, this is pop's comfort with artifice allowing for an inspirational superhuman fantasy of waking up flawless. In part, it's a reaction to being underestimated for reasons of race and gender. Janet Mock's quote, as heard on Blood Orange's latest album, nicely nails the mentality: "People try to put us down by saying 'She's doing the most,' or 'He's way too much.' But, like, why would we want to do the least?"
But not all viewers pick up on, or are persuaded by, Beyoncé's assertion of power through visuals. And for them, there is Sheeran. He dresses the way he does not simply because he can. He's making a point, and on some level it does have to do with the Beyoncés of the world. You can see it clearly in the backlash to the original criticism of his outfit, with fans defending Sheeran by calling Beyoncé fake and try-hard for how she dresses.
In pop, image typically follows sound. The acoustic-guitar love song—Sheeran's commodity—has a standard costume: jeans and tee. To see how tightly linked clothes and genre are, look to Nashville, or to the flashy pop icons who've had rock and country phases.  To pluck out just one example, in 2015, Kanye West made an acoustic ballad with Rihanna and Paul McCartney, and for the related visuals, they all wore denim. Of course, when pop or hip-hop crosses over to folk, it usually comes with notably polished and tweaked versions of rootsy outfits. You really can't get less effortful than Sheeran does.
Which is ironic because Sheeran is so successful not solely because he's "normal"—the ultimate plainspoken white boy staying in his lane. Rather, it's because he has a talent for songwriting that reaches outside the authentic-acoustic realm for which he's known. Sheeran is a huge fan of hip-hop and R&B, whose innovations are often key to his songs. "Sing" from 2014 was stacked with fast and feisty #bars, co-created by Pharrell. The biggest smash of Sheeran's career, "Shape of You," used calypso-influenced sounds and hip-hop cadences, and was so reminiscent of TLC's "No Scrubs" that he had to hand over a songwriting credit to its writers (Sheeran originally intended for Rihanna to sing it). His latest album, Divide, was co-executive-produced by Benny Blanco, who's shaped many of the hugest hits across the glittering, artificial charts landscape and who started his career dabbling as a rapper.
All of which makes notable just how flagrantly Sheeran insists on the character he's perceived to be: unsmooth, unpolished, unfunky. That great groaner, "The club isn't the best place to find a lover, so the bar is where I go," from "Shape of You," is a typical bit of posturing—he's a creature of the pub, not of bottle service, even if elements of his music might indicate otherwise. His projected image of himself as sweet refusenik against pop culture's superficiality really never breaks. "I'm all for people following their dreams / Just re-remember life is more than fittin' in your jeans," he sings on Divide's "What Do I Know?" On "Eraser," a song about resisting fame's temptations, he again mentions legwear, boasting of playing a stadium with "my beaten small guitar, wearing the same old jeans." Schlumpiness is thus portrayed not as laziness, but as a kind of purity and trueness.
Some fans deeply relate to that schlumpiness. Others might sense a racial and gendered element to his performance of purity, given the diversity of today's spectacle-rich, rap-and-R&B-inflected pop landscape. Sheeran would certainly never say he's out to shade Beyoncé, and the two are clearly mutual admirers. But when he stands next to her, the visual contrast plays to each of their respective constituencies' attitudes about aesthetics and identity. The game he's playing isn't all that different from hers, and there's a case to be made that her presentation is the one that's more transparent about it.