What Dumplin' and Queen America Say About Female Beauty
A new crop of works uses pageants to explore outdated ideals of physical perfection.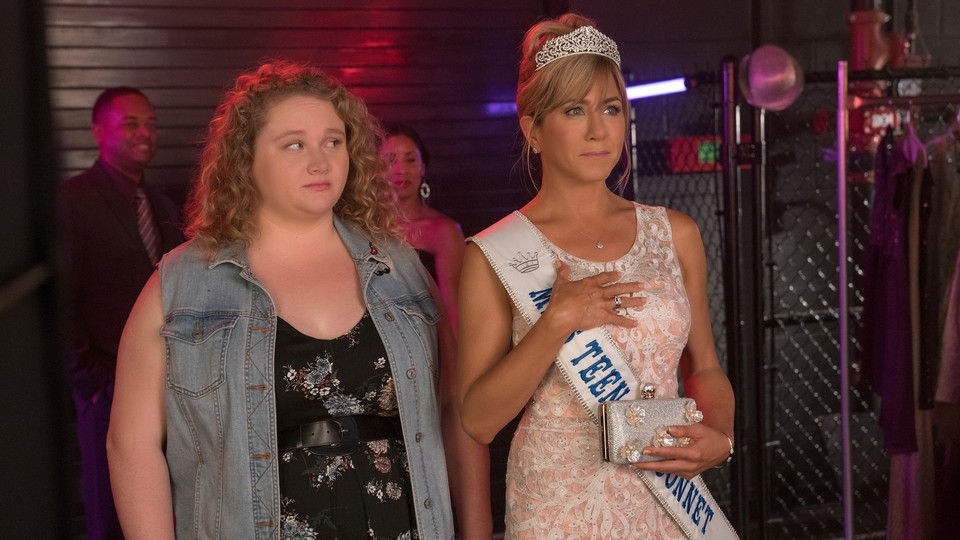 Midway through the 1999 movie Drop Dead Gorgeous—still one of the most caustic satires of beauty pageants and their scarily dedicated contestants—the mockumentary's camera crew goes to visit the reigning Mount Rose American Teen Princess, Mary Johanson (Alexandra Holden). The interview takes place in the eating-disorders wing of a hospital; Mary suffers from such severe anorexia that her hair is falling out in clumps and she can't walk. She smiles, radiant and grotesque at the same time, while describing her preparations for last year's pageant. Two weeks before the contest, she says, inhaling carefully, "I was practicing my talent, finishing my costume, brushing up on current events, and running 18 miles a day on about 400 calories. I was ready."
Lona Williams, who wrote Drop Dead Gorgeous, knew intimately the toll that pageants could take on the women and girls who participated—she'd been crowned Minnesota's Junior Miss in 1985, placing as first runner-up nationally. Her movie, about an impoverished teenager (Kirsten Dunst) who wants to win a scholarship to college so she can be a news anchor like her idol Diane Sawyer, relentlessly skewers the darker elements of beauty contests: the ferociously pushy parents, the corporate sponsorships, the awkward negotiation contestants face between sexualizing themselves and touting their chastity (in one scene, Denise Richards memorably waltzes with an effigy of Jesus nailed to the cross). But with Mary, Drop Dead Gorgeous nods grimly at the cost of pressuring women to be perfect.
That pageants continue to exist is remarkable, as John Oliver pointed out during a 2014 segment on his HBO series Last Week Tonight that took aim at their bizarre conventions, their "inexplicable ventriloquism," and their hyperinflated claims of academic sponsorship. Miss America, Oliver noted, claims to award $45 million worth of college funding every year, but the real number is less than one-tenth of that sum. Meanwhile, any women wishing to access its scholarships have to first participate in a public ritual that's largely about humiliating physical assessment while also meeting the fundamental requirement to never have been married or pregnant.
It's hard to find rigorous documentation of how many women and girls participate in pageants in the United States each year (a frequently repeated number is 2.5 million). One study found that a quarter of contestants have an eating disorder. Despite Miss America's historic insistence that finalists are judged for more than their eerily perfect bodies, the swimsuit preliminaries have typically held disproportionate influence: Almost 54 percent of contestants who previously won that portion of the evening went on to win the overall contest. (Miss America cut the swimsuit contest this year, with Gretchen Carlson, the chair of its board of trustees, declaring that it was no longer a "pageant" but a "competition.")
And yet pageants still tend to fascinate. The very word suggests why: The ceremony and accoutrements of beauty contests play a powerful role in the national imagination, with their sashes and their tiaras and their inevitable rows of machine-stitched sequins. The ratings for Miss America have fallen consistently since its heyday, but 4.3 million viewers still tuned in to ABC to watch Nia Franklin triumph at this year's ceremony in September. The pageant, despite everything, still catches the eye, a shiny, contoured, rose-clutching cultural behemoth.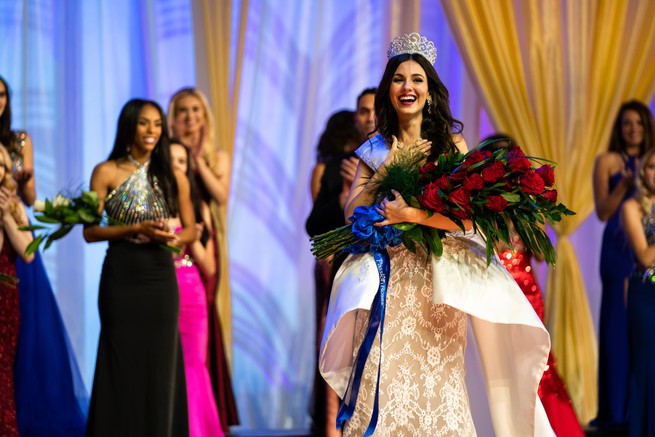 As pageants feel increasingly at odds with a society that aims to value women for more than physical perfection, popular culture is revisiting them. Insatiable, a divisive Netflix comedy that debuted in August, considers a teenager who turns to pageants after losing 70 pounds. Queen America, a new half-hour drama on Facebook Watch, stars Catherine Zeta-Jones as a tyrannical pageant coach in Oklahoma. Dumplin', a movie that recently arrived on Netflix, adapts Julie Murphy's 2015 young-adult book of the same name, about a plus-size teenager who enters a pageant to try to subvert the system from within.
The field is ripe for satire. In a culture preoccupied with debates about no-filter feminism and the sincerity of body-positive brands, pageants represent a paradigm that's easy to tear down. And still the work that mines the most meaning from the subject is the one that tries to understand why the allure of the beauty queen has lasted for so long. Pageants fascinate many women, Dumplin' suggests, because they illuminate deeply internalized ideas about beauty that people are only beginning to call into question.
---
Queen America's opening credits feature a rolling montage of the tortures women have inflicted on themselves over the decades in the quest for physical beauty, from corsetry to lip injections. The series, which seems to be one of Facebook Watch's bigger hits so far (6 million people have watched the first episode), takes a skeptical view of pageants as an enterprise. In the very first scene, Hayley (Victoria Justice), a wannabe Miss Oklahoma, sprints on a treadmill while her coaches try to motivate her. Mary (Rana Roy) hisses at Hayley, calling her a "fat, slow bitch." Vicki (Zeta-Jones) purrs a softer kind of poison in her ear: "What you are today isn't good enough. That's why they call it the American dream."
The show, at first glance, is a strange kind of series: soapy enough for the reality-TV-loving, mostly female viewers who might be drawn to it, but slyly critical of the arena it's investigating. Vicki's dedication to pageants has left her bulimic and alone, having long ago passed her daughter off to her sister to raise. She chugs collagen pills with wine in her pristine, sterile McMansion, and carries herself like a more exacting Cruella de Vil. Queen America's flaws are many (somehow it's managed to cast not one but two actors who are Welsh by nationality to play southerners, and both are clearly perplexed by the intonation), but as it proceeds, it gets less performatively sardonic and more empathetic toward its characters, delving into the various issues that have led them to pursue pageants with such intensity.
That doesn't mean it's on board with them. Pageants, in Queen America, are irredeemably nasty, inhabited with sexual predators, and inherently toxic (one contestant is horrified when she's handed a check after visiting a children's hospital ward and told that Miss Oklahoma never makes appearances for free, no matter the cause). Success requires some combination of starvation, extreme physical exertion, and mendacity. "I help girls become better versions of themselves," Vicki tells her estranged daughter, Bella (Isabella Amara), who's plus-size. "Everything you do with your life is about preventing girls from being like me," Bella replies.
Insatiable, too, is broadly cynical about pageants. It's cynical about everything. The series, created by the writer Lauren Gussis, was widely panned on its release, starting with its premise (an overweight teenager is punched in the face by a homeless man, loses 70 pounds after having her jaw wired shut, and becomes a literal and metaphorical beauty queen overnight). Insatiable seems inspired by Drop Dead Gorgeous, whose unabashedly offensive tone it emulates. In one scene, a cluster of contestants performs an ode to Jesus that includes ludicrously sexualized dance moves and lyrics ("Oh Jesus, you fill me in every single way").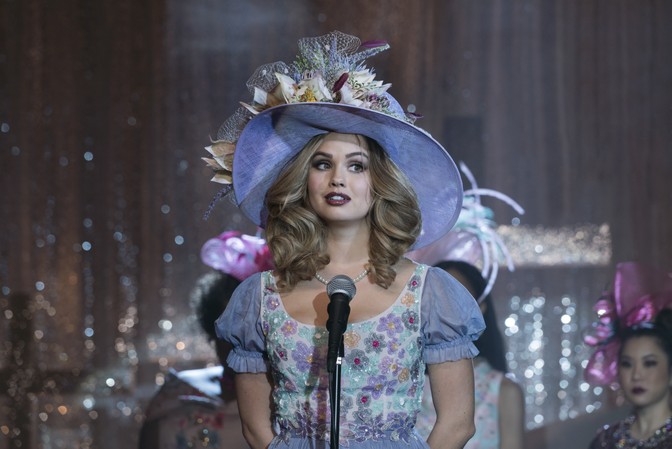 Beyond that, though, Insatiable has no clear intention. Patty (Debby Ryan), its central character, is awful, progressively so as the show proceeds. Gussis has made clear that she wanted to convey how the insecurities Patty had when she was larger manifest in even more toxic forms after she loses weight, to emphasize to viewers that everyone struggles with self-esteem. But the message the show sends, over and over again, is that fatness is a state to be transcended. "You could be a role model for girls who struggle with their weight," Patty's mentor tells her. "You could show them what's possible." Skinniness, the series emphasizes, is a kind of magic. When Patty attends school for the first time as a thin person, she perceives herself for the first time as "pure potential." Insatiable positions itself as if it's satirizing pageants, but it's internalized the exact same reading of the world: Thinness is beauty. Beauty is power.
---
The central character in Dumplin', Willowdean (Danielle Macdonald), is the daughter of a former beauty queen, Rosie (Jennifer Aniston). Like Queen America's Bella, Willowdean was largely raised by her aunt, and she's plus-size, a fact that bothers her only insomuch as it spurs Rosie's disapproval. Willowdean's aunt Lucy (Hilliary Begley), an avid Dolly Parton fan, emphasizes to Will as she grows up that she should love herself no matter what the rest of the world says, and Will, for the most part, does. The teen disdains the pageants that her mother still helps organize, and decides to enter by way of protest, to expose how a system predicated on physical perfection will treat her.
But the rejection she expects doesn't happen. Will is welcomed into the pageant world, along with another plus-size entrant, Millie (Maddie Baillio). While Will is cranky about the whole enterprise, Millie is pure optimism—pageants have always been her dream. "There's nothing in the rules that says big girls need not apply," Millie notes. (She's right: The Miss America rules, somewhat elliptically, state only that entrants have to be "in good health.")
What makes the message of Dumplin' different is that it shares Millie's worldview. There's magic, it suggests, in standing on a stage as a heightened version of yourself, whatever that self might be. The movie turns a coterie of Dolly Parton drag queens into Will's and Millie's fairy godmothers, who teach the girls about self-acceptance, but also about how dressing up as someone else might help you better understand yourself. Beauty, Dumplin' emphasizes, isn't about size; it's about finding and owning your identity. In the movie's most indelible scene, Will and her friend Ellen participate in the swimsuit contest together. Read from the front and back views, their bathing suits spell out a message: "Every Body Is a Swimsuit Body."
It's a strikingly radical moment for a Netflix movie that's characterized more by homespun charm than progressive politics. Queen America and Insatiable both consider pageants from an angle of attack—they ridicule the fake-tan booths, the hours spent trying to turn complex world conflicts into 20-second sound bites, and the anachronistic absurdity of a contest that assesses the physical attractiveness of virginal women. Which is … fair. As John Oliver commented in 2014, it's fundamentally dismaying that the largest scholarship program for women in America requires those women to be "unmarried, with a mint-condition uterus, and … [a] working knowledge of buttock-adhesive technology."
But Dumplin' has an open-mindedness that broadens the parameters of the debate. Rather than abolish beauty contests, however retrograde they might be, it wants to redefine what beauty is altogether, so that anyone can participate. It's a message that brands have willingly co-opted of late. As my colleague Amanda Mull wrote in June, body positivity—as touted by the Dove Campaign for Real Beauty, Aerie, and Target—mostly exists to sell products. "Contemporary body positivity," she wrote, "makes it incumbent on people with nonconforming bodies to change their own self-perception without requiring anyone with any power to question what created the phenomenon in the first place."
Dumplin' essentially preaches the same thing: It's up to women like Will and Millie to impose themselves in a place that has never wanted to welcome them, and to endure myriad humiliations along the way as they try to change the world. But they do, in fact, change it, or at least the small corner of it that they're trying to reform. Meanwhile, the movie itself represents a new, valuable kind of narrative. Dumplin' isn't a story that uses a skinny, conventionally pretty protagonist to pick apart a realm that rewards women exactly like her. It's more imaginative than that, open to the idea that beauty itself is more expansive and subjective than either Hollywood or pageants have ever allowed it to be.