The Cheesy Endurance of the Made-for-TV Holiday Movie
The Hallmark Christmas flick has become a genre in itself—one that insists, against all odds, on the inevitability of the happy ending.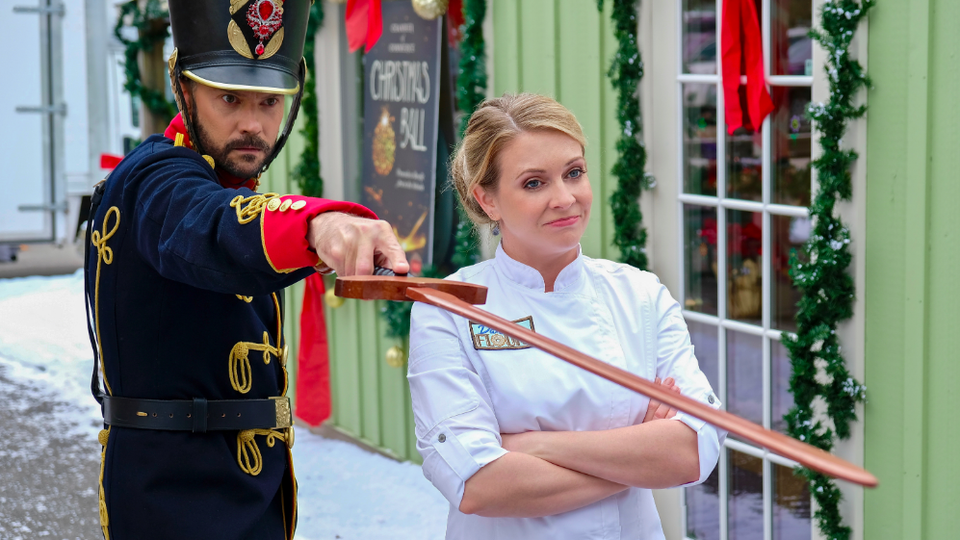 Here is the plot of the 2018 Lifetime film A Very Nutty Christmas, as summarized by the network that airs it:
Hard-working bakery owner Kate Holiday (Melissa Joan Hart), has more cookie orders than she has time to fill this holiday season, and when her boyfriend suddenly breaks up with her, any shred of Christmas joy she was hanging onto, immediately disappears. After Kate hangs the last ornament on the tree and goes to bed, she awakens the next morning to a little bit of Christmas magic. She gets the surprise of her life when Chip (Barry Watson), a handsome soldier who may or may not be the Nutcracker Prince from Tchaikovsky's The Nutcracker, appears in her living room.
This description, despite its zaniness—I would like to take this opportunity to reiterate that this enchanted nutcracker, ostensibly constructed of wood and also coming to life in the home of a bakery owner, is named Chip—doesn't quite capture the particular kind of film that A Very Nutty Christmas is. The Hallmark holiday movie, whether it happens to be airing on Lifetime or on Freeform or on Netflix or, indeed, on Hallmark itself, is a genre that transcends its network. And, via a magical nutcracker, here it is on Lifetime, distilled down to its essence. There's the small town and its quaint bakery. There are softly lit Christmas cookies. There's a climactic Christmas pageant (in this case, a Christmas ball), and ice skating, and lots of snow, and liberal musical use of "The Nutcracker Suite." And there's a classic protagonist of the genre—a woman who is frazzled, but who does not need to be—who faces, as Lifetime's summary suggests, the gravest threat these films can imagine on behalf of their heroines: Kate Holiday, yes, is in danger of losing her Christmas Spirit.
"There's no Christmas for me this year, okay?" Kate tells her best friend and bakery assistant, Rosa (Marissa Jaret Winokur), after her cad of a boyfriend admits to cheating on her. "I'm just going to muddle through the holidays myself."
This, when uttered in the context of a Hallmark holiday movie, is a beacon to the Christmas spirits, who know one thing, and pretty much one thing only: No one should simply muddle through the holidays. Whether you celebrate Christmas or not—however you find meaning in the time of year that these movies shorthand as "the season"—the ideal, these films insist, is unmitigated joy. Christmas, here, isn't a religious observance or even a seasonal festival; it functions, often, simply as a deadline: the day by which, in the framework of the films, it is no longer tenable to keep putting off the thing that will bring that joy, whether it's a declaration of love or an apology or a reunion or the rediscovery of one's Christmas Spirit.
The Hallmark film, during a time when so much television is anxious and moody—when so much television, that is, is reflective of the world itself—takes residence in an alternate reality. It will not let you, dear viewer, merely muddle through. It wants so much more for you. It wants love. It wants fulfillment. It wants magic. The genre, the snow globe in video form, offers its own kind of reassurance: of order, of ease, of predictability itself. Within its contained universes, happy endings are not only possible, but also insistently inevitable.
For Melissa Joan Hart, who executive-produced A Very Nutty Christmas in addition to starring in it, that's a big part of the point: The joy of these movies is their consistency. "They're sort of predictably charming," she told me. You could think of them, she added, as very seasonal soap operas, with their fusions of certainty and surprise. They're aggressively comforting. They're the kind of light fodder you can have on in the background at home as you're wrapping presents or getting ready for guests or, say, baking cookies. The films can function "like a soundtrack to your life during the holidays," Hart says.
That does a lot to explain why these plentiful and relatively low-budget movies are so popular. This is a year that finds Netflix dabbling once more in the genre, with princesses switching places and lifestyle bloggers becoming princesses. It is a year that finds Freeform (the renamed network ABC Family) getting in on the holiday action. The movies they air aren't merely plays for the audiences of 2018, but also investments in the networks' futures: One of the features of the made-for-TV holiday movie is that the genre is, compared with others, relatively timeless. New titles blend with old ones, creating, once you've been at it for a while, a back catalog that allows for endless recycling. (Hallmark, for example, is airing 22 original movies for the first time this year, but the network's library of earlier films consists, according to one count, of 232 titles.)
And the casts of the movies, finally if extremely belatedly, are expanding beyond the Candace Cameron Bures and Alicia Witts and other white leads to become more representative of the world at large. Mariah Carey starred in a Hallmark movie, the aptly named A Christmas Melody. Tatyana Ali starred (with Patti LaBelle!) in Christmas Everlasting. Tia Mowry-Hardrict starred in A Gingerbread Romance. (As for rom-com plot lines that revolve around queer pairings? That will have to wait, it seems, for another time.)
Recent entries in the genre have also adopted a certain self-consciousness: There's often a heavy dose of irony woven into their formulas—the comfort of the weighted blanket mixed with the winking absurdity of the ugly Christmas sweater. In A Very Nutty Christmas, Chip, adjusting to life in the America of 2018, brings some classic fish-out-of-water jokes: He wields a wooden sword (believing his mission to be protecting Kate from the Mouse King, he is ever ready to do battle). He jovially breaks out into renditions of "O Tannenbaum" at inopportune moments. He is also—à la Buddy in Elf, another fish who finds himself suddenly landlocked—excessively fond of sugar.
Chip soon proves himself, as well, to possess a superhuman ability to crack nuts (with his palms, his fist, his flexed bicep)—a development that, after Rosa takes a video of him at work and posts it, makes him, briefly, an Instagram star. And he gets Kate out of a professional jam: Her mechanical nutcracker breaks, and she needs to make nut flour in order to make her cookies. "At your service," the anthropomorphized kitchen gadget tells her, before putting himself to use.
The absurdity, too, is the point. A movie that titles itself A Very Nutty Christmas is, after all, in on its own joke. It refuses to take itself too seriously, and invites you not to take yourself that way either. And that, during a time of year that can be Magical and Joyful but also pretty Stressful, is its own kind of relief. How, precisely, will Kate give herself over to the magic that has brought this hunk of wood into her life? Will Chip remind her of the joys of the season? Will he save her from the Mouse King? I won't spoil any of it, but also I am incapable of spoiling any of it: The promise of a Hallmark-style holiday movie is that, effectively, it cannot be spoiled.