The Marvelous Mrs. Maisel's Gauzy, Gorgeous Fantasy
The second season of Amy Sherman-Palladino's 1950s comedy about an indomitable performer is as delightfully escapist as ever.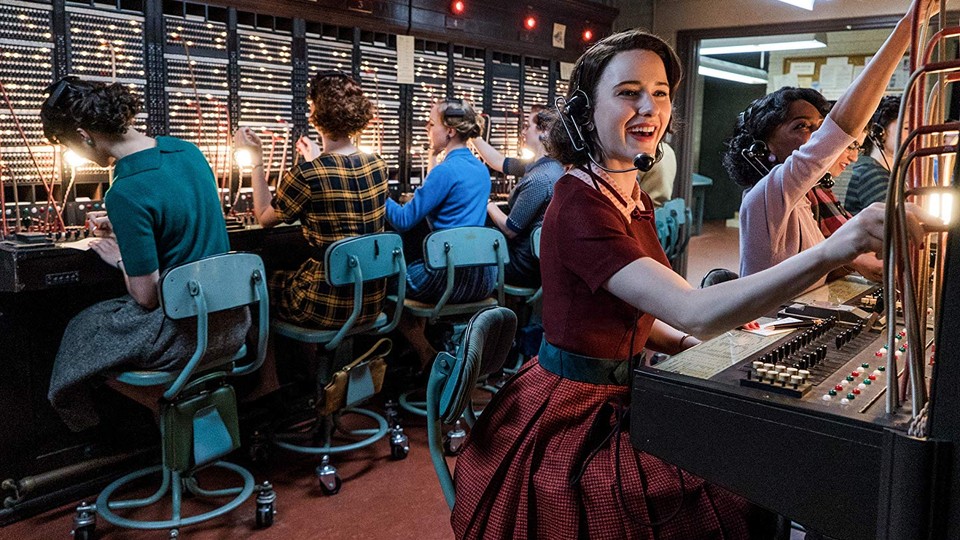 There are a handful of fleeting moments watching The Marvelous Mrs. Maisel when reality bites. Like when a well-intentioned woman in a Paris nightclub gives the stand-up comedian Midge (Rachel Brosnahan) the number of a psychoanalyst, telling her, "He's done wonders for my friend Sylvia Plath." Or every time Susie (Alex Borstein), Midge's manager, is referred to as "that" or "it." The pleasure of watching the series, for me, is always slightly tempered by the anxiety that Midge has lost or forgotten one of her children—an event so plausible that the neglect of baby Esther has been written into Season 2 as a running gag, where even Esther's first word seems to be a response to the fact that she's so persistently ignored.
None of this, though, is the point. Of course The Marvelous Mrs. Maisel is a fantasy: The strands in its double helix are formed out of old Leslie Caron movies, Borscht-belt humor, millinery, and whimsy. It's gorgeous, spun-sugar escapism, with pearls, a potty mouth, and a Lilly Daché pillbox. Whenever anything even bends in the direction of inconvenience, it's swiftly dispatched by Midge's indomitable optimism and/or her rapid-fire repartee. A cheating husband, sexist comedians, threats of violence from an overzealous manager—all are overcome in what feels like minutes, bitter fruit squeezed ferociously by Midge into the captivating lemonade of her comedy act.
The first season of Mrs. Maisel won critical acclaim, two Golden Globes, and eight Emmys. The second, released in its entirety Wednesday on Amazon, is just as beguiling, even if it circles the runway a good few times before landing. If Season 1 was the origin story for how the wreckage of Midge's failed marriage helped her find an unlikely new calling, Season 2 is the part where she has to reconcile the two very different faces of her superheroic identity. By day she's a working mother (with more narrative emphasis on the "working" part), operating the switchboard at B. Altman after a makeup-floor fracas with her husband's ex-mistress got her booted from the Revlon counter. By night she's an up-and-coming comedian (the word struggling doesn't really apply), honing her act and fighting her boorish rivals, whom she humiliates onstage.
Amy Sherman-Palladino, who wrote and directed half of the 10 episodes (her husband and producing partner, Daniel Palladino, wrote another four), goes all in on the escapism front, sweeping Midge and her parents, Abe (Tony Shalhoub) and Rose (Marin Hinkle), off to Paris in the first episode, after Abe finally notices that his wife has absconded to the city. The scenes that follow are loaded with every cliché in the 1950s-film playbook: street musicians, obstreperous French apartment managers, couples in clinches on the banks of the Seine. It's a lavish, lovely spectacle, even if it quashes some of the momentum surrounding Midge's career, a question mark that seems to frustrate Borstein's superb Susie. ("Money is my main goal," she tells Midge. "I don't have any, and I'd like some.")
Midge's privilege, pointed out by some critics in Season 1, becomes more exposed in the new episodes, if not fully illuminated. Midge's boss at B. Altman tells her that she's the "most presentable of the basement girls," a lightly veiled statement that ushers Midge back from switchboard purgatory to the first-floor cloakroom. Susie repeatedly reminds Midge that their stakes in her career are very different. For Midge, comedy is a thrilling diversion, but for Susie—who becomes at least partially homeless and scrounges food wherever she can find it—it's a lifeline. In one scene, Susie comments nakedly on Midge's "doorman and your maid and your child care and your bottomless closet," a moment that seems to nod to Midge's frequent moments of delusion (in a subsequent scene, Midge blunders into an ill-advised wedding speech that brings the bride to tears).
Brosnahan's performance, though, doesn't leave much room for unlikability. She's just too charming, too unflappable, too determined to bend the world to her will. In the fourth episode, Midge, her parents, and the kids (it's unclear for a good 10 minutes whether Esther is in the car) head to their annual summer vacation in the Catskills at a Dirty Dancing–style camp called Steiner Mountain Resort, complete with a beauty salon, 10-pin bowling, rowboats, and its very own welcome song. Mrs. Maisel's costume designer, Donna Zakowska, goes to town in the new locale, dressing Midge and Rose in an endless array of floral-print sundresses and bonnets and cat-eye sunglasses. It's a reminder that few shows on television look as unfailingly lovely as this one, or have the budget to scheme up such elaborate period productions.
The Catskills excursion also gives the show the opportunity to provide the world with a visual bonbon it never knew it needed: the sight of Tony Shalhoub, in a tan romper, going through the motions of a 1959 fitness routine. Shalhoub is, as ever, one of Mrs. Maisel's greatest gifts, and the second season makes ample space for Abe's endearing eccentricities, as well as his renewed relationship with Rose. The show also spends more time with Shirley and Moishe Maisel (Caroline Aaron and Kevin Pollak), Midge's in-laws, and the strange dealings of their clothing business (one of the more engaging plot threads involves Shirley having squirreled money away in locations she draws on a treasure map because the Maisels don't trust banks).
For all its costume-party clothing, hijinks, splashy locations, and detailed montages (and Sherman-Palladino takes the opportunity for a montage every time she gets one), the heart of the series is ultimately Midge's comedy. Anything else the show might do, whether it's heartbreak on moonlit Paris streets or comic interludes in Rose's life-drawing class, feels like wheel-spinning. That's why it's so gratifying whenever Midge finally gets on a stage—any stage, and the mechanics of the first few episodes have her finding a fair few by happy accident. It's her true gift, her irrepressible passion, her calling. Midge's most successful stand-up routines find power in truth, whether she's pinioning sexist comics who colluded to make her the last person onstage, or feeding off a French audience that finds her tales of her husband's infidelity highly unremarkable.
Sherman-Palladino's writing is never sharper than in Midge's act, and Brosnahan's timing and charisma sell her completely as a nascent star. Mrs. Maisel is the kind of show that could easily go on forever: Not because of its thorny romantic subplots (Zachary Levi plays a new suitor for Midge in Season 2, even though her chemistry with Luke Kirby's Lenny Bruce is more interesting) or Midge's engagingly offbeat relatives, but because the trajectory of Midge's career seems so obvious. Sherman-Palladino has written a woman who's fearless, blunt, and brilliant at what she does, and watching her rise is Mrs. Maisel's trump card, even if the show is taking a moment to truly play it.