Say Her Name Explores the Insidious Circumstances of Sandra Bland's Death
A new documentary stops just short of examining how a system of oppression contributed to the young woman's apparent suicide.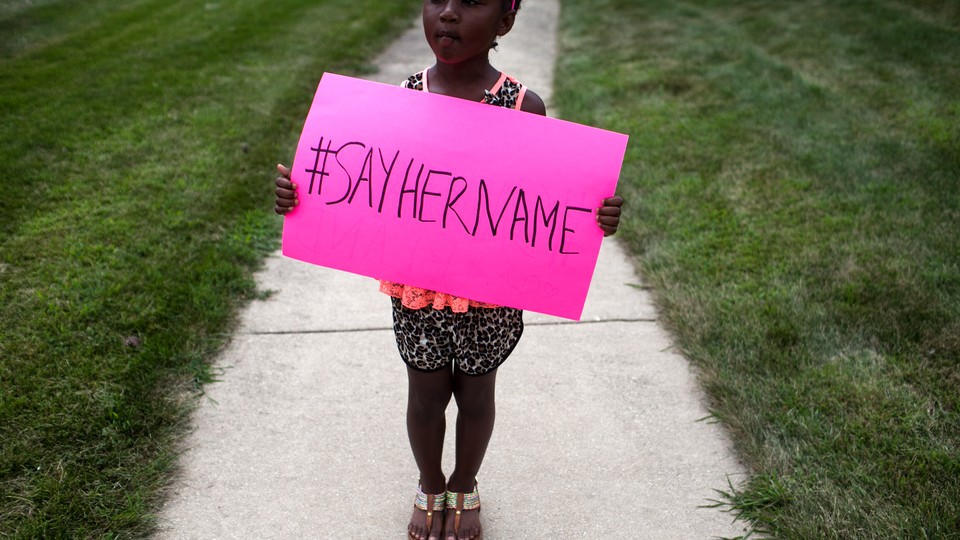 "I want white folks to understand that some of us are doing the best we can. And we can't help but get pissed off when we see situations where it's clear that black life didn't matter." The opening scene of the HBO documentary Say Her Name: The Life and Death of Sandra Bland features video of Bland herself eerily foreshadowing the sentiments surrounding her own tragic loss of life.
The film follows her family and friends in the weeks following Bland's suspicious death in a Waller County, Texas, jail. Her mother, Geneva Reed-Veal, and sister, Shante Needham, are recorded at her grave site, promising to find out: What happened to Sandra Bland? The question ultimately became a rallying cry when the 28-year-old woman's story spread across the news and social media three years ago. By its end, the documentary seems to harken back: What didn't happen to Sandra Bland?
The timeline is short. On July 8, 2015, Bland drove to Texas from Illinois to follow up on a job opportunity. On July 10, she was pulled over by the state trooper Brian Encinia for failing to signal a lane change. Trooper Encinia arrested her for allegedly assaulting an officer. On July 11, Bland made a phone call to her sister from jail asking for help to pay her $515 bond. Two days later, as her family worked to put together the money, Bland was found dead in her cell, hanging from a noose made of a plastic garbage bag. Shortly thereafter, bystander footage of her arrest went viral, thrusting Bland and Waller County, Texas, into the national spotlight.
Say Her Name does a good job of illuminating who Sandra Bland was. Known as Sandy to friends and family, Bland was deeply concerned with injustices against black people. A Chicago native, she was a high-school cheerleader who later attended the historically black Prairie View A&M University. She worked for Cook's, a food-service equipment company, but ultimately resigned after feeling conflicted about its business relationships with correctional institutions. Clips from her Facebook video series, Sandy Speaks, documenting her thoughts on subjects such as police violence and black history are interspersed throughout Say Her Name.
The documentary goes on to highlight what remains unknown, and it asks more questions than it answers. For instance, Waller County Sheriff R. Glenn Smith appears, stating that the legal operation of the jail had nothing to do with her death, but also that the jail had a moral responsibility to check on her and failed (how Bland ended up alone in a cell with access to a large trash bag remains unclear). The film shows that Waller County officials are sure Bland died of suicide, but that they also timidly ponder their culpability in her death.
Explaining how Bland died is a complicated process that the documentary simply doesn't have the time to unpack. It certainly makes an honorable attempt: Bland's sorority sister LaToya Smith mentions that the small city of Prairie View, where Bland was arrested, is policed by five different law-enforcement agencies, making stops like Bland's commonplace, and the pastor and activist Hannah Bonner says decisively that racism is what killed her. Bland's mother affirms unequivocally that she does not believe her daughter died of suicide.
But in just threading together those statements, the film doesn't fully interrogate the systems of oppression that made Bland's death possible: the over-policing that heightened the probability of Bland's arrest by Trooper Encinia, the $515 bond that Bland and her family could not afford, and the lack of appropriate process by Waller County officials during her detention.
For instance, no mention is made of efforts across the country to end the use of money bail, a practice that disproportionately affects low-income people of color who can't cover the fees. And the film doesn't discuss what the 2018 book Suspect Citizens might call discriminatory policing. The book tracked data on traffic stops in North Carolina from 2002 to 2016 and found that compared with their share in the population, black drivers are almost twice as likely to be pulled over as their white counterparts—even though the latter drive more on average. (North Carolina was the first state in the country to mandate the collection of data on traffic stops, offering the most comprehensive look to date on the demographics of people stopped by police.)
Still, the documentary aptly portrays the family's pursuit of justice for Bland as a complicated tug of war. Trooper Encinia was indicted for perjury and fired in 2016, but all charges against him were dismissed last year. Bland's family ultimately settled with Waller County and the Texas Department of Public Safety in September 2016 for $1.9 million and a promise of jail reform, which included mandating that county jails divert people with mental-health and substance-abuse issues toward treatment, and that they hold police de-escalation training. And though provisions such as requiring police officers with a history of racial profiling to undergo training were struck, the Sandra Bland Act was signed into law last year and includes the aforementioned changes.
The circumstances of Bland's death don't exist in a vacuum. And while it's easy to imagine racism as theoretical, Bland's story marks the many ways racism can not only disrupt lives, but also end them. Viewers may understand why her loved ones don't believe Bland was suicidal, and likely will also understand why her arrest and its aftermath could have left Bland feeling hopeless enough to end her life.
Bland's legacy is similar in many ways to those of other African Americans whose deaths have sparked discussions about policing, racism, and criminal justice in America. When such stories go viral, critical details can be missed and misinformation can spread. As the stories fade out of the 24-hour news cycle and the hashtags disappear, families, friends, and oftentimes attorneys are left navigating complicated legal battles and struggling with tangible grief and inexplicable loss.
Documentaries such as Time: The Kalief Browder Story, Rest in Power: The Trayvon Martin Story, and now Say Her Name take on the heavy lifting of providing fuller, more nuanced narratives about ordinary people catapulted into the public spotlight after suffering unjust deaths. The families sharing their stories knew all along that the victims' lives had meaning, and the filmmakers chronicle the ways these relatives ensure that the deaths of their loved ones have meaning, too. The films also contribute to the work of teaching society about racial profiling, harmful bail laws, and mass incarceration. But not all documentaries are created equal. Because many of these subjects are complicated and difficult to understand, a film like Say Her Name, with a run time of 103 minutes, only scratches the surface.
The family's heartbreak after learning that Bland died alone, bruised, and in pain is palpable. It is clear that her life should not have ended. The film doesn't get close to showing how discriminatory systems contributed to Bland's death, but it tries to articulate the broader impact by showing her family's fight for reform. Sandra Bland was a woman who thought deeply about broader issues of racial justice and offered plans to address them. It's unfortunate that this documentary could not do the same. Despite that, it is worth watching—if only to learn the details of just how unnecessary Bland's passing was.