The Blunt-Force Power of Widows, in One Scene
The Atlantic looks back on the key film moments of 2018, this time a highly metaphorical unbroken shot in Steve McQueen's heist thriller.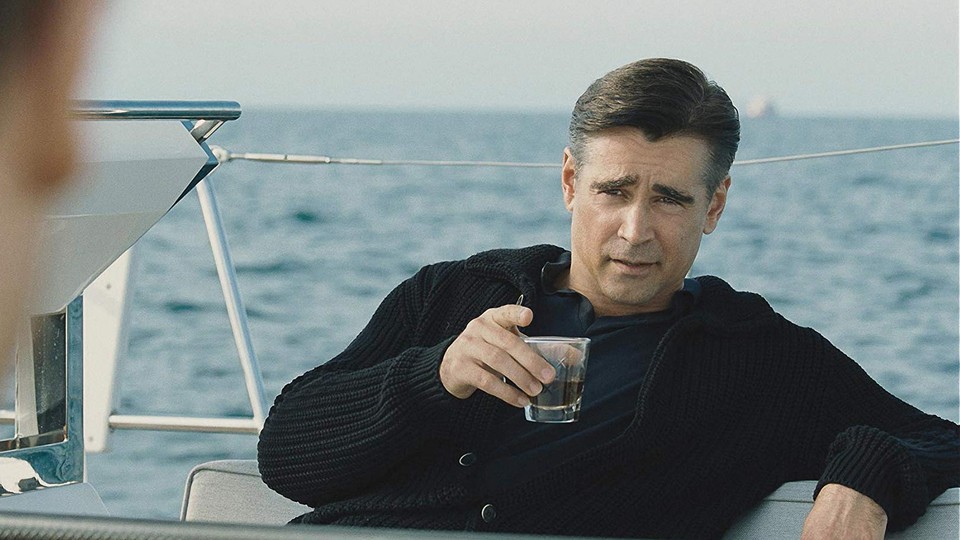 The Atlantic's "And, Scene" series delves into some of the most interesting films of the year by examining a single, noteworthy cinematic moment from 2018. Today: Steve McQueen's Widows. This will be the year's final installment of the "And, Scene" series, which can be found in its entirety here.
---
There are heists happening at every layer of Widows. The central story follows Veronica Rawlings (Viola Davis), whose husband, Harry (Liam Neeson), died during a robbery; Veronica assembles a new team mostly made up of his crew's widows and executes Harry's next job to pay back his debts. But that is hardly the only stealing going on. In fact, Veronica and her crew's theft comes at the end of a long chain of thefts. She's robbing from Jack Mulligan (Colin Farrell), a candidate for alderman in Chicago and the scion of a political family; he, in turn, hired Harry's crew in the first place to rob his electoral rival, Jamal Manning (Brian Tyree Henry); and the money being taken from Jack's vault has been skimmed from corrupt government contracts he awarded.
In adapting Lynda La Plante's 1983 British TV drama, Widows, Steve McQueen (and Gillian Flynn, who co-scripted) transplanted the action to Chicago and turned the story into an epic of municipal decay, one where the central crime becomes an act of reclamation and redistribution. Veronica is stealing from Jack, but really she's just taking back money he took from the city; in the end, she gives her cut to Chicago's schools, while one of her recruits, Belle (Cynthia Erivo), helps fund a local black-owned business (a beauty shop) in her neighborhood. But in one of the film's most pivotal and telling scenes, which comes some 30 minutes in, Jack claims that's all he's trying to do as alderman.
Jack is the son of Tom Mulligan (Robert Duvall), a fossilized relic of Chicago's past who has clung to his alderman seat for decades and is finally passing it to his son. But the Mulligans' district is now majority African American, and Jack is facing a tough challenge from Jamal. So he holds a press conference for his father's MWOW program; the letters stand for "Minority Women Owned Work." Jack dispenses platitudes, ignoring questions from the press about bloated contracting and instead inviting a group of black women (his "success stories") onstage to tout his connection to the community.
Later, we learn that MWOW is somewhat of a scam, providing money to black female business owners up front but eventually demanding hefty repayments with little support. It's a Band-Aid for a bullet hole, but Jack is a politician who only understands optics, and so McQueen shows just how specious they are. Batting off the persistent press, Jack storms offstage and into his car, accompanied by his campaign manager, Siobhan (Molly Kunz). Then McQueen and the cinematographer Sean Bobbitt perch the camera on the hood of the car, giving the audience a view of the outside as the vehicle drives from Jack's campaign stop to his headquarters, taking in the neighborhood.
Viewers hear Jack ranting as the car drives through a dilapidated section of the South Side. "Do you know how many shootings happened in this city last weekend alone? Thirty-four! These people are killing each other! This is not where I want to raise my children!" he screams. As they drive, the streets turn leafier, the houses get bigger, and finally, the car stops at a gated manse: Jack's campaign headquarters. "Dollar signs and empty promises. Anyone who thinks different is fooling themselves," he says, sighing. The dialogue is direct, but the images are even starker; this is a city so segregated that a journey of just a few blocks feels like traveling between two different worlds.
Reportedly, the studio tried to cut the car-mounted shot, which was originally planned to look inside the car, with just a few shots out the window. The external view is both striking and damning, turning a piece of expositional dialogue into something approaching agitprop; this is the world Veronica and her team are operating in, one where the heist has been ongoing for decades, at an institutional level. It's the clearest use of the blunt-force power of visual filmmaking I've seen in a while, in one of the best films of the year.
Previously: Burning