Priyanka Chopra, Nick Jonas, and the Two Internets
What the mystifying alliance between a Bollywood star and a former boy-band member reveals about a global inability to communicate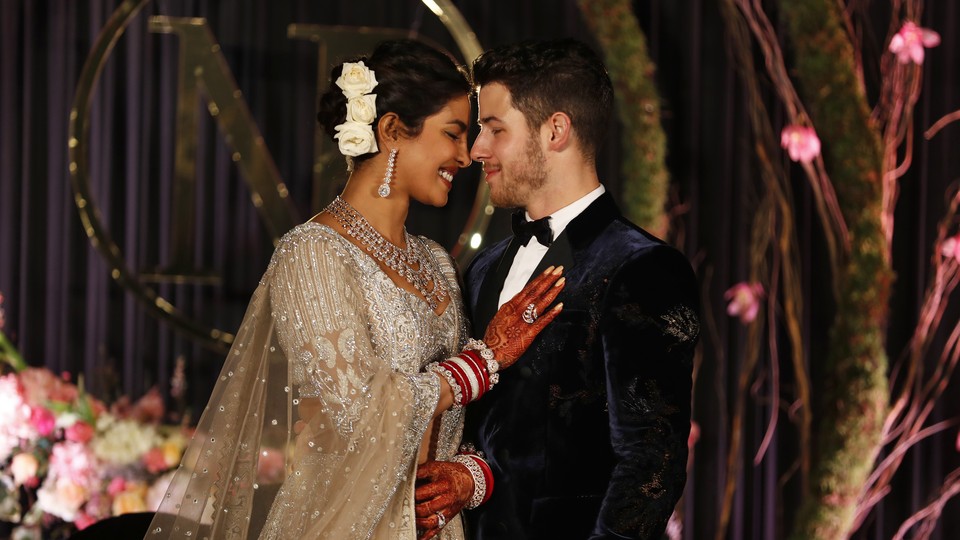 India is commonly called the world's largest democracy, a title that may confuse anyone raised to think of America's claim to democracy as primary in every way. Similarly, India outranks the U.S. in terms of how many people in the country are on the internet: upward of 450 million, by various recent reports, in comparison with the U.S.'s more than 250 million documented users. (Only China has more internet users than either country, at around 800 million.)
This week, numbers once again seemed less critical than hegemonic power, especially for followers of one of the biggest Indo-American internet dramas perhaps ever: the marriage of the actor Priyanka Chopra to the former boy-band heartthrob Nick Jonas. An American perspective has dominated media coverage of the event, to the point that one of the biggest flurries in the Indian press around it had to do with an American article on the subject. A take on New York magazine's The Cut went viral on Tuesday (then was deleted, after stoking widespread backlash) for deeming Chopra a "global scam artist," in a tone that pinged confusingly between snarky and earnest. Its assertions were backed mostly by lines that led with the word I; the conclusion, which urged Jonas to escape on his baraat horse, painted him as both the victim and hero of the story; Chopra was a devious villain.
The internet is far from a communal space. More often, its architecture exaggerates the divides of the real world. Writing in this publication in 2013 about the internet's geography, Emma Green explored the work of the analyst John Kelly, who visualized the silos of the web and showed how they can work against comprehension of important topics. Those with divergent opinions on the same issue rarely communicate with the other side, though each might benefit in dramatic ways by doing so. "With a broader reach, communities can put their perspectives into dialogue," Green wrote. "Car lovers might start to understand the environmental effects of their hobby, and environmentalists might start to understand the heart-stopping beauty of a blood red sports car."
A marriage between an Indian woman and an American man hardly ranks as a paramount global concern—and yet it also serves as a chance to connect different perspectives through the act of cultural analysis. Chopra, a Bollywood star turned American TV fixture (as the lead of the recently canceled ABC drama Quantico), paired up with Jonas, whose own fame arguably hit a peak in the early 2000s, before his band, the Jonas Brothers, retired. The coupling offers a Ph.D. dissertation's worth of material to parse. Chopra's status in India as a superstar seems not to translate to America, while Jonas's quick slide into Indian married life—notoriously hard to exit from, and beset with many familial players—appears dazzled and hasty. Meanwhile, the visual opulence of the duo's courtship is matched only by the swiftness of its timeline. The invitation of Indian Prime Minister Narendra Modi, the wedding's most divisive guest, affords an opportunity to examine the uneasy merger of celebrity and politics. Instead, any such analysis has taken a backseat to a media drama that reveals—to a greater degree than does most celebrity coverage—a modern inability to connect.
The intricate, layered optics of the pairing are reflected in the ways in which critical dissection of it has fallen short. Both phenomena—the coupling itself, and the debate around it—make clear how segregated the online town square, so to speak, is. As a member of a prime overlap in interested parties—I am an Indian American woman in media—I've found the most elucidating analysis to be among desi women, who text other desi women sophisticated hot takes that are rarely, if ever, shared in mixed company. Likewise, that an article as glaringly off-key as The Cut's gets okayed in the first place reflects an institutional homogeneity in how ideas are vetted.
Writing at Jezebel about the latter misstep, Prachi Gupta, who happens to be Indian American, decried the American lack of awareness of Chopra's immense level of fame in India (which Gupta blames for the Cut writer's "racist and sexist" narrative). In an aside, Gupta makes a telling, if perhaps unintentional, reveal as to why such a blind spot, in general, persists. She notes that she has spoken with "every Indian woman" she knows about the implications of the romance between this particular brown woman and white man. Gupta even adds that the pairing is a topic in her therapy sessions, and that her therapist (also an ethnically Indian woman) speaks of discussing the matter with her own Indian girlfriends. These women all share a broadly similar take, according to Gupta, in opposition to the one blasted out at The Cut. Their interpretation revolves around two questions: "Who is Nick Jonas?" and "Does this white boy understand that he is marrying into royalty?"
In my world too, South Asian–rooted women have been talking of little else, among themselves. "PC and Jonas have taken over my life," a Pakistani friend texted me amidst the wedding and subsequent fallout this week. Another has sent me variations on Gupta's friends' refrain with each development in the Chopra-Jonas romance: When engagement photos sent brown Twitter into a tizzy this summer, for their oddly staged appearance, she wrote to me that Chopra could, essentially, do so much better; she repeated the sentiment after the Cut debacle.
Unlike for Gupta though, the most incisive takedowns of the pair have also arisen, in my earshot, from brown women. In India and the diaspora, Chopra has the reputation of a chameleon; her Americanized accent alone has launched a cottage industry of think pieces. One India-born friend linked the accent to what she saw as the shamminess of the marriage, both features of a Chopra quality she perceives and, at turns, admires and reviles: a hunger to get ahead, even if she loses herself in the process. Another Indian American friend, a woman who works in Hollywood, offered that Chopra should be so lucky as to live forever with a man as reputedly good-natured as Jonas. Chopra's diva qualities are legendary enough to anchor a joke in a "Newlywed" video included in the recent Vogue spread that unveiled a shiny history of the couple; it was helmed—as per a stage-managed script—by the couple themselves.
As I flit through disparate worlds, I'm struck by the hermetic quality of conversation inside each. In American media pieces, Indian journalists aren't cited. Indian pieces, meanwhile, enter bare-knuckled into the fight. An India Today article takes the Cut writer—a woman of color—to task for enacting what it frames as a bullied-turned-bully move against an immigrant "arriviste." "It's okay for their homegrown celebrities to have 'Spon-Con' weddings and sell exclusives to magazines," goes another Indian article, bristling at the national narcissism underlying the Cut piece, "but how dare someone from a third-world country?" The latter Indian article cites the sold wedding pictures of Demi Moore and Ashton Kutcher and the baby pictures of the Jolie-Pitt tribe as American precedents to Chopra's nuptials that supposedly pass without judgment. Arguably though, a difference lies in the quality of the judgment that is passed. Both Jolie and Moore have engendered reams of analysis in the by-lanes of the internet, while a rare American treatment of Chopra to consider her beyond the mask of celebrity did so in language that was off-color and narrow in perspective.
That same Indian article applies a sharp eye to Chopra's intentions and no thought to Jonas's. Yet, no matter how clumsily The Cut's article put it, the mercenary ostentation of what is framed as a spontaneous, heartfelt union can't be denied—Ralph Lauren, Amazon, and a vodka brand are among the couples' rumored corporate sponsors; the agendas of both Chopra and Jonas might thus merit equal speculation. The Indian analysis in question focuses on its own homegrown main character, though, coupling a prevailing local notion of Chopra (as an ambitious, perfectly serviceable actor) with Hollywood's own bad rep (as a tough place for nonwhite strivers). The first Bollywood star to really successfully cross into the U.S., Chopra nearly became a prodigal returnee this year when her show was canceled. Only, she pulled what the aggrieved Indian piece calls "a big coup"—that is, her management of her marriage to Jonas. Framing the latter in the language of a role, the piece argues for its functionality in securing the goal of Chopra's crossover: "the fact that an American institution like People magazine would be willing to pay for her wedding pictures," goes its reasoning, "catapults the couple into A-lister territory."
Meanwhile, in all the current noise, the crux of the conversation threatens never to surface: what to make of one of the most provocative public acts of coupling in recent memory, no matter one's reference points—or, by extension, of the twin spectacles of fame and marriage, writ large, in international letters. On brown Twitter, a tongue-in-cheek, frustrated refrain went up after The Cut's article debuted: The piece's lazy tropes suggested a writer and editors with little sense of the world beyond their own and, suddenly, desi commenters felt enlisted to defend a circus they'd enjoyed deriding. A new, tangential outrage cropped up to distract from the key one. So long as lanes of analysis fail to intersect, such small transgressions threaten full comprehension of major ones. Claws inevitably come out. It's rarely on the level when someone on the outside—absent the knowledge born from experience—makes fun of your family, in life as on Twitter.