Hasan Minhaj Invites You to Take Off Your Shoes
The host of the new Netflix series Patriot Act turns a tested sphere—the topical talk show—into an immigrant home.
Minutes before the start of a recent New York City taping of the Netflix show Patriot Act, my dad walked out of a backstage bathroom. I'd been given a last-minute plus-one, and he was in town for Thanksgiving break. When I disclosed my guest's identity to Hasan Minhaj, the 33-year-old comic who co-created, co-writes, and hosts Patriot Act, Minhaj's large eyes widened. He held out a hand before my dad was close enough to touch it. "Hi Uncle," he said, with emphasis on the second word. "I know who you are," my dad said in response (we'd binge-watched the five episodes of the series available at that point a few days earlier). Minhaj, whose parents immigrated to America from India, as mine had, looked more hyper-alert than usual. He seemed to pick up on the undercurrent of disapproval built into the terse speech patterns of many an immigrant parent. My dad wasn't about to say whether he liked Minhaj and his work, only that he knew it. "My dad was here, too," Minhaj confided to my father, as if to say that he understood the sting of the two fathers' common language—one used to indicate a "conditional love," as Minhaj described the immigrant-parent mode in his 2017 comedy special Homecoming King.
Signals to certain members of the public aren't hard to hear, out of Minhaj's mouth. Patriot Act, a half-hour weekly talk show that recalls in its spirit the newsy gravitas of the host's alma mater, The Daily Show; the pace and likability of E's Talk Soup; and the aesthetic packaging of, as Minhaj likes to call it, "a woke TED Talk," has piqued the interest of viewers and critics in part for its presumption of a new audience demographic. Episodes use knotty topical issues to dissect hypocrisies and injustices on a national and global scale.
The issues sometimes seem drawn from a Minhaj-specific mood board: that of a Muslim American, basketball-playing kid of the 1990s, raised in the shadow of 9/11. By phone, Bela Bajaria, vice president of content at Netflix, confirmed this sensibility. Bajaria is ethnically Indian—her family is originally from Gujarat, by way of East Africa. Her first meeting with Minhaj, she told me, was "more ... about being Indian," than much else—she cited Indian dads and extended family among the topics covered. "Being a kid of immigrants, Muslim, having that point of view," she told me, "felt like a very relevant voice for right now in 2018."
Minhaj often uses phrases such as our own community, or refers to the audience as we in his segments, as if everyone in the crowd shared a brown, Muslim psyche, like himself. A glance at the studio audience on any given Wednesday—the show airs every Sunday—indicates he's not totally off. Hijabs and dark hair are the norm. At the taping I attended, I snapped a surreptitious photo of a line of only heads with long, black hair in the row in front of me. The sight felt momentous at a taping of a current-events show in America. The show isn't meant only for fans with the inclination to buy a ticket and head to a Manhattan studio. Reaching nearly 200 countries, it makes a bid for a global audience, with a 32-episode order issued in several cycles (this month will complete the first). "Netflix is hoping that Minhaj's ethnicity and his personal compass for news stories will help him reach viewers … outside the United States," reported the writer Dave Itzkoff in a recent New York Times profile of Minhaj, adding that the streaming network "plans to promote the show heavily on YouTube and social media."
One of those efforts resulted in a viral video that's racked up nearly a million views on YouTube, more than most of the other top videos that pop up in a search for Patriot Act. The clip pairs Minhaj with Tan France, another Netflix personality—the clotheshorse on the streaming service's smash hit Queer Eye. In the video, France, a Brit of Pakistani origin, styles Minhaj as the two nimbly banter at their ethnic intersection: parsing the usefulness of coconut oil, or tel, to use the desi term; the correct pronunciations of each other's name. With Patriot Act, Minhaj has turned such banter into something between performance art and brand management. "He injects words only Indian people would know into modern parlance," his longtime writing partner and one of the show's executive producers, Prashanth Venkataramanujam, told me by phone. Onstage, tel resurfaces as the punch line of a joke. Kumon classes, the bane and destiny of so many Asian American kids with SAT-minded parents, anchor several bits. One metaphor hinges on the lota, a word that can mean "cup" in some South Asian languages, or as Minhaj used it, a cup specifically meant to aid in a water-based cleaning protocol at the toilet.
Minhaj's language joins and targets discrete viewerships: people in and out of his community. "Muslims are investing in the dog market," he joked, in an episode titled "Saudi Arabia." His point was two-pronged, to denounce Muslim allegiance to and U.S. federal complicity with a nation oft-blamed for fomenting many of the world's violences. To illustrate the intimacy of Saudi-U.S. relations, he revealed Saudi investment in various American apps, including a dog-walking service called Wag. "That is crazy," he exclaimed to the live audience, his whippet-like body vibrating with intensity as he shifted the focus from America with a capital A to the diasporas it holds. "You know how we feel about dogs!" As with many such pivots, the "we" covered any denizen of a culture sharing obsessions with his own; I was reminded of my Hindu parents, subject to hang-ups about hygiene, stowing my yearly pleas to Santa for a dog in a deep closet, never to be entertained.
A few days after the taping, Minhaj dropped the word we at closer quarters. He and I sat in a small office inside the show's midtown studio. I had brought up Stephen Miller, the White House official known for his deeply nativist politics, whose college antics Minhaj addressed in the episode my dad and I watched him film, on immigration. Minhaj launched into an explanation of why Miller in particular riled him, which had to do with the synchronicity of their lives: Miller is his age, also from a small California town (Minhaj was raised, attended college, and taped Homecoming King in Davis, California). Miller's demagogic style, already evident in an unearthed video from high school, struck Minhaj as so familiar as to be maddening. "Because you know that guy," I offered. "We know that guy," Minhaj corrected me.
The moment stopped me short. Minhaj is ludicrously telegenic, a quality that can belie his attempts at inclusion. He might say "we," but he looks at first glance like one of "them," so to speak—an in-crowder, seemingly built to do "well in any room," as one old industry friend of Minhaj's, the sitcom director Payman Benz, put it to me, with affection in his voice. (Minhaj himself is deprecating about his looks. Venkataramanujam characterized them to me more humorously: "We'll get like four hours of sleep and he'll wake up looking the way he does, and I'll just look like a gremlin ... He's like a brown Ken doll … I mean that in the most loving way possible.") Put another way, I found it hard to imagine him feeling wrong in his skin.
My biases were one-sided, as biases typically are. Evidence suggests that I shouldn't have been surprised by that refrain of "we," by Minhaj's ability to project many aspects of personhood at once. My initial exposure to Minhaj's mix of leading-man charm and intentional inclusiveness was in the comic's 2017 special Homecoming King. Minhaj had the boyish air of someone used to being liked, but he was saying inconvenient things. Here was an Indian American who was successful in a mainstream way—Daily Show correspondent and all—for once, refusing to systematically mispronounce his name for the benefit of others, and in a sense, himself. Instead, he taught the crowd in the Netflix special how to say his first and last name correctly. Watching him race through uncle references and immigrant hypocrisies with the speed of someone who's run the paces many times before, I sensed what his fans, and advocates, seem to gravitate toward: a person who relishes and catalogs the cultural specificity of his life—who sees, too, that the latter can secure, not hinder, mainstream success.
If Minhaj liaises between an inner and outer world, Venkataramanujam is in some ways his opposite: the behind-the-scenes guy. Soft-spoken with a dash of emo spirit, he calls Minhaj and himself "yin and yang" forces, telling me, "I can be a little darker, sometimes, with my sensibilities." In a twist of cultural synchronicity, he also happens to be an Indian American born into the apposition of a Muslim heritage—a Hindu one, though he tells me that he identifies as "atheist agnostic." Meanwhile, Minhaj is semi-observant, and open about his religiosity. His first big hit, you might say, took place in 2017, weeks before Homecoming King aired. Minhaj was invited to host the White House Correspondents' Association dinner, a job he took without much debate.
He tells me now that he sees his rise as a combination of timing, luck, hard work, and hunger: No one else wanted to speak at the dinner, so he and Venkataramanujam, billed as the speech's head writer, took the opportunity to construct a monologue that was hard to forget. In it, Minhaj weaves his now trademark rhythm between the personal and the political; it's part story, part comic bit, part heart-tugging locker-room pep talk urging the nation to do better. One joke revolves around the president's sobriety, with Minhaj conjuring relatability for Trump's tweets via a line about how "we've all had that excuse, haven't we? Been like, 'I said what? No, listen, babe, I swear to you I was hammered.'" (The punch line: The president has no such excuse.)
One year later, Minhaj showed up on The Late Show With Stephen Colbert to promote Patriot Act and accepted a celebratory glass of Martinelli's apple cider—stating that he doesn't drink (no matter what that old joke suggested). The exchange is coded, a prime example of Minhaj's ability to manage optics and multiple segments of viewership. The change from the Correspondents' Dinner speech also shows how much has shifted in Muslim representation in one year, with Minhaj's sensitivity to a room turning him into a barometer on that aspect of the culture. "I can't drink on camera," he says pointedly, before speaking directly to the "minternet," or Muslim internet. "Minternet, you see this? Apple cider," he says. To me, he explained that he avoids pork and liquor as per the terms of Islam, but laughed that he finds it hard to pray five times a day; he also gave up beef in recognition of his wife's Hindu background.
Minhaj's references to his Muslim identity send up a flare of special significance inside a show that already speaks to the South Asian diaspora. Other notable public figures of Muslim background have been critiqued for playing down the specificity of their religious heritage in their quasi-autobiographical work, as in the case of Aziz Ansari's character on Master of None. When Ansari named his televisual avatar Dev Shah, some brown viewers wondered what motivated the choice of a stereotypical Hindu name—particularly one of a pronounceable cadence familiar to audiences of the odd 1990s movie with an Indian character, neutered of specificity for the ease of non-desi viewers. To self-present as Hindu rather than Muslim is to play, wittingly or not, into the so-called model-minority trope. Because Hindus make up India's majority, Hindu culture can rule the popular notion of subcontinental identity.
Indeed, Ansari responded to critics that he simply liked the name Dev Shah, an admission that itself arguably betrays the simplification of Indian identity. That Muslim performers are held so stringently to the task of specificity as to defend the implications of a character's name speaks to the various pressures that complicate certain rides to mainstream success. Concessions are commonly made to draw a wide public but, fairly or not, the call to rep where they come from also surfaces as visibility rises, whether the work is fictional or not.
Minhaj, for his part, also faces a choice in self-projection. He enacts complex loyalties, partnered professionally and domestically with fellow Indian Americans of Hindu background: Venkataramanujam in the former camp, and in the latter, his wife, a doctor whose entry into his family features prominently in Homecoming King. Autobiography tends to anchor his work. "This is what my house is like. I'm not going to tiptoe around it. 'Please take your shoes off,'" Minhaj told me, in imaginary conversation with a viewer, when I asked him where the line gets drawn in his mind on how inside a joke or reference can be (short answer: there is no line, really).
"There was this thing in the past of, like, assimilation is the biggest victory," he told me, when I asked him how conscious the act of "coming out," so to speak, as a Muslim, has been. He contrasts the old mentality with his today, of "putting those things on the record," from the pronunciation of his name to his behaviors. "I want to be who I am. I don't know if I can speak to, 'I represent the Muslim community as a whole,' but yeah, I do fast during Ramadan. I do go back to Sacramento to celebrate Eid with my family … I am that Muslim dude, guy or gal, that you may know, that you went to college with or that you're friends with … It's a part of my identity."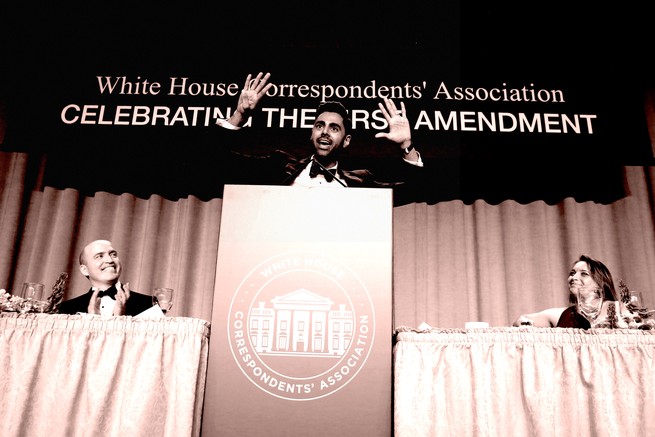 Aspects of his identity can seem to hit viewers differently, depending on their own allegiances. An episode that took down the streetwear brand Supreme, with an analysis of how the company's ties in part fund military expenditures, drew wide ripples of chatter across the internet, as did a similar breakdown for an episode on Amazon. Meanwhile, the Saudi episode hit "people who know," Minhaj told me—meaning, members of society for whom the navigation of alliance with the country is more than a theoretical issue. For a Muslim man to question the morality of the site of Mecca and Medina, and to speak against Saudi Arabia, especially in the wake of the murder of the Saudi journalist Jamal Khashoggi, is to invite fear, not only of private but also of public blowback.
"There was a lot of discussion in my family about not doing it," he said. "I've just come to personal and spiritual terms with what the repercussions are." He's been on pilgrimages to the country before, and regular hajj is, he noted, "a necessary condition to me completing my faith … But it's held in a country that does not represent my values in any way whatsoever." After the episode aired, he said that Instagram accounts that seemed run by bots out of Saudi Arabia started following him. I asked if the episode instilled in him a fear of death, and he said yes, adding that the sensation was heightened because of the presence of his baby daughter.
For Minhaj, an important feature of Patriot Act is its in-studio audience. Minhaj cites a key inspiration to be The Arsenio Hall Show—specifically that show's cutaways to the audience. He recalls watching as a kid and seeing a black audience and knowing he was witnessing something new happening. The aggressiveness with which he engages his own primarily brown audience can sometimes work against the filmed versions of the show. Some jokes hit a vein of laughter that might sound forced to an at-home viewer without knowledge of the many rounds of audience interaction that led essentially to the creation of an inside joke on set. A line about dentist appointments in the immigration episode refers back to an unseen moment, save for those in the crowd. (Between takes, a chatty dental student monopolized an audience Q&A with talk of Minhaj's "perfect occlusion," among other things.)
If Patriot Act's live audience is one kind of statement, the show's credits offer up another. Venkataramanujam told me that he nearly shortened his name years ago. Today, he said, to see his full surname next to Minhaj's in top billing feels like a big deal—"a point of pride, that … this show is Indian as fuck."
Minhaj's act can seem sprung from the ether, but it's been painstakingly developed over years. Earlier iterations of his work available online enact a sort of timeline of his evolution. An early sketch effort, Goatface, premiered last month as a special on Comedy Central. Featuring Minhaj and three other comics, the group originally formed out of a desire to create opportunities for themselves in a not-so-welcoming Hollywood landscape.
One of the founders, Aristotle Athiras, who directed the 2018 special, spoke to me of the need to "talk about important things" as a sort of affliction he shared with Minhaj from the get-go. The two bonded through long conversations, over shared stories of slights small and large. For Athiras, they involved his birthright as a half-Greek, half-Iranian kid born in Texas (one Halloween, a local dad dressed as Athiras's own Iranian father); Minhaj recalled a girl he had a crush on who called his skin "the color of poop." A series from that period, called The Truth With Hasan Minhaj, features a clean-faced, baby-bird-looking Minhaj; those videos vibrate with the same willingness to offend that courses through the Correspondents' Dinner speech. They're funny—I laughed alone at my computer at many moments.
That intense irreverence can seem lost to time in watching Patriot Act, perhaps due to the presence of a live studio audience and the knowledge of a large viewership online. But increased debate about sensitivity has been fruitful, too: Before Patriot Act got greenlit, Minhaj and Venkataramanujam went back and forth on what turned into the show's finely balanced opening episode, on affirmative action. The two hoped to call out members of the Asian American diaspora for opportunistic racism centered on college-admissions policies, without being seen as taking cheap shots at a bunch of uncles with accents.
Minhaj credits Venkataramanujam—who grew up in Chicago, raised by Tamilian-immigrant parents without the sort of financial stability his surrounding desi community considered standard—with keeping him real. Minhaj ascribes a line in Homecoming King that acknowledges the gap in recorded fates for black men in America versus Muslim men on the wrong side of the law to Venkataramanujam's insistence that Minhaj "acknowledge [his] privilege." The two met through the desi writing world in the early 2000s, soon after graduating from college, and decided to "lean into" Minhaj's clear storytelling abilities and Venkataramanujam's behind-the-scenes skills, the latter told me; a strength of Minhaj's, he said, is partnering "with people who can help him get his ideas into cogent lanes of thought."
It's key to Minhaj that, beyond being "extremely technically sound" as a writer, Venkataramanujam shares his reference points. "The way the show would've shaped up would've been very different had the traditional Hollywood thing happened of, 'Hey, we have this young talent, and we're gonna pair them with the seasoned [producer], and you guys gotta work together,'" Minhaj told me. "Seasoned," he explained, typically means an older white guy. (Venkataramanujam dubs the duo's strategy a way to maintain "control" by knowing "all the means of production.")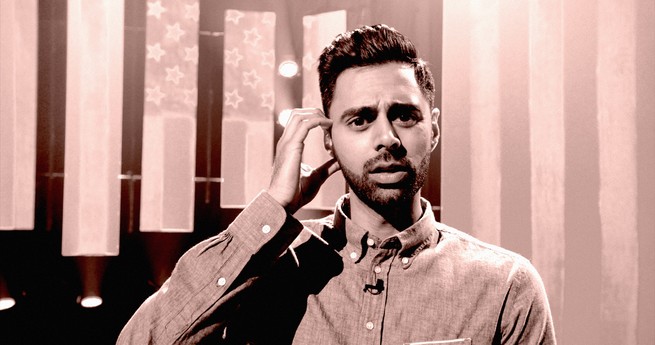 Imran Khan, a college friend of Minhaj's who now works as an editor in Hollywood, remembers the comic's knack for forcing things into action, when the two used to make videos as part of an annual show put on by UC Davis's South Asian student organization. In the theater where Minhaj once stood onstage in college, he later filmed Homecoming King, to an audience that included those who remembered him from his undergrad days, Khan says. "A lot of what drove him then and even now was representation: not being able to see himself represented."
Khan sees in Patriot Act a refinement of the Minhaj he knew at UC Davis. "Intense" and "focused," Minhaj always had a need to "really want to explain things … [often through] a really particular take." And "he may use a really funny metaphor to go along with it … You don't get just a half answer from him." Minhaj, for his part, compares Patriot Act episodes to book reports, and tends to speak, as Itzkoff, in the Times piece, put it, like a meme come to life. The latter tic can be framed, more positively, as a gift for translation. Tech and sneakerhead lingo convert intimate cultural commentary: Indian dads "didn't download all the great dad software" for how to parent with full love, he suggests, in Homecoming King. In Patriot Act, Khan sees a process completed over 15 years: "the coupling of the material with his personality with the pathos that he brings."
Since its premiere, Patriot Act has inspired positive reviews, a few of which predict success for the show despite the odds. Days after the Patriot Act team first convened, the news of two cancellations rippled through the office: the talk shows of comics Michelle Wolf and Joel McHale, also for Netflix. Still, Minhaj expressed some frustration in our conversation about how his show has been analyzed so far, with many a reviewer stuck in "the comparison game," as he put it. Rather than focus on his act, stories tend to contextualize his ability to succeed against the most obvious models who have come before—Jon Stewart, Trevor Noah, John Oliver—as if his task is to prove by way of showing similarities to those men that he deserves a right to be on-screen.
He's landed on the phrase insider outsider to differentiate himself: The term is meant to encapsulate his ability to criticize America with the mixture of affection and distance of a second-generation immigrant's kid, whereas every other major host of the genre is either a white American or a foreigner. He cites his chemistry with Queer Eye's France as a natural outcropping of the sort of pairing he relishes. He didn't walk into that meeting strategizing for maximum virality, he said, but fell into a rhythm that tends to arise on its own with "people [who] … have the same background" as him. "Our starting point is [here]," he gestured to me, marking a line high in the air. He'd made the point before, when I interviewed him after the premiere of Homecoming King. "That's where the interesting stuff is," he said. "It isn't, 'Tell me about your parents.'" I suggested that the singularity of his show is that it aims to exist inside that higher space, where the interesting stuff lives, by presuming an audience that makes him feel as if he'd walked into "my cousin's wedding," as he put the sensation of seeing a sea of brown faces, in one Patriot Act episode.
With me, Minhaj left the room on a note that felt deeply familiar. Toward the end of our interview, as I stood to leave, he brought up my dad. "I was really nervous with him there," he told me. The line struck me as sweet and specific—only utterable by a person at that moment, with his story. How many American TV hosts would care about a random uncle's opinion? Looking at him, his face in the grip of emotions I recognized from my own life, I believed him. I wanted him to succeed. It didn't seem to matter if he said what he said so that I would.